Face ID is one of the most intriguing features Apple added to its latest line of button-free iPhones following the release of the iPhone X. The function took the place of Touch ID, which was available on all iPhones from the iPhone 5s through the 8 series.
Face ID is a revelation to many people because it allows you to log into your iPhone, use a variety of apps and services, and even make secure purchases simply by looking at your phone.
Of course, Face ID has its drawbacks; on occasion, Face ID on your iPhone might not function properly and you might get the message that "Face ID is not available". It may occasionally experience difficulties, such as failing to recognize your face right away, but this is usually resolved by moving the device a little bit farther away or as a result of something temporarily blocking part of your face.
But sometimes the "Face ID Not Working" issue can arise because of different reasons. The initial step you must take to access your phone when Face ID stops working is to manually enter your passcode. The next step is to identify and address any potential problems that could be causing Face ID to not work properly.
It's fortunate that fixing the "Face ID not available" issue is simple. I'll simplify why Face ID isn't working on your iPhone and how to resolve this issue successfully.
The information in the following post should assist you in solving the problem if, following a recent update, you are unable to unlock your iPhone with Face ID or are having trouble setting it up again.
Why Is My Face ID Not Working?
Face ID should always function on your iPhone when configured properly. But I know many people want to get the answer to the question that "Why won't my face ID work?". There could be multiple reasons that may cause this issue.
Sometimes facial recognition is unsuccessful if your face or the TrueDepth camera is blocked by something.
It's been more than 48 hours since you last unlocked your device.
The remote lock command for your iPhone has been sent using the Apple ID.
Pressing and holding the Side and either Volume button at the same time for two seconds brought up the power off/Emergency SOS screen.
Apart from that, sometimes your iPhone cannot utilize the TrueDepth camera because of a software bug. For example, a bug in the iOS 15.7.1 Release Candidate interfered with Face ID somehow, leaving some users unable to use the biometric unlock on their devices. After the update, many users reported about Face ID not working on iPhone 11.
How to Fix The Face ID Not Working Issue On iPhone?
Using Face ID, you can quickly and easily unlock your iPhone, verify downloads, make purchases, and more. These fixes will assist you in fixing the Face ID not available or malfunctioning issue.
Following the troubleshooting advice listed below will help if Face ID cannot be set up on your iPhone, is not available, or suddenly stops operating and no longer recognizes your face. All iPhone models with Face ID, including the iPhone X, and later, are covered by these fixes.
Check the Face ID Configurations
It's wise to start with the basics before moving on to the other fixes. Following these steps will ensure that Face ID is set up correctly.
Step 1: Select Face ID & Passcode under iPhone Settings.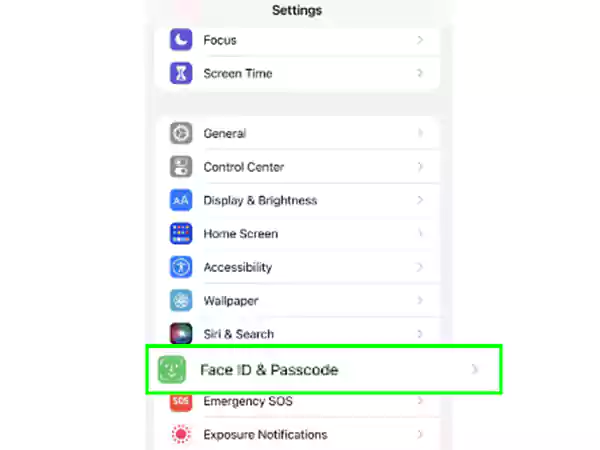 Step 2: If the "Reset Face ID" option appears, Face ID has previously been configured. If not, proceed with the Face ID setup steps to do so right away.
Step 3: Make sure the options for Password AutoFill, Wallet & Apple Pay, iTunes & App Store, and iPhone Unlock are all turned on.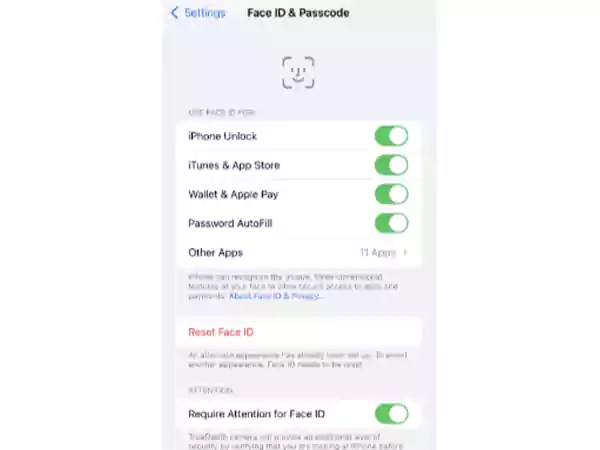 Clean the Camera &Face ID Sensors
Wipe the device's top with a soft, dry cloth to ensure the Face ID sensor is clean. In many cases, if you keep the phone on your ear for too long, body oils and grime will stick to it, making Face ID inoperable.
Second, it would be wise to consider removing any hard cases or thick screen protectors that even slightly block the Face ID sensors.
Ensure That You Are Not Blocking Your Face
Ensure that the TrueDepth camera can see your entire mouth, nose, and eyes. By default, Face ID won't work properly if something is blocking your mouth or nose.
If you are wearing a mask and have a Face ID set up with one, make sure your eyes are not obscured. If you have a face mask on, you might need to hold your iPhone higher. Your iPhone might not unlock if you wear a face mask that is too high or too close to your eyes.
Many sunglasses are compatible with Face ID, but Face ID with a mask isn't made to function with sunglasses. Your sunglasses may be obstructing the infrared light that the TrueDepth camera needs to function if they are made to filter specific wavelengths of light. To use Face ID, try taking your sunglasses off.
Notes
On iPhone 12 and later models running iOS 15.4 and later, Face ID with a mask is supported.
Verify Third-Party Apps' Face ID Permission
Face ID can be used as a login authentication method in apps for third-party banking, payment, messaging, and other services. You will need to input your iPhone passcode each time if you previously denied app permission to use Face ID.
Here's how to make sure Face ID is enabled for an iPhone app:
Third-party apps are listed at the bottom of Settings, which you can access by scrolling down on the iPhone settings. Ensure that the Face ID toggle is turned on for the concerned third-party application.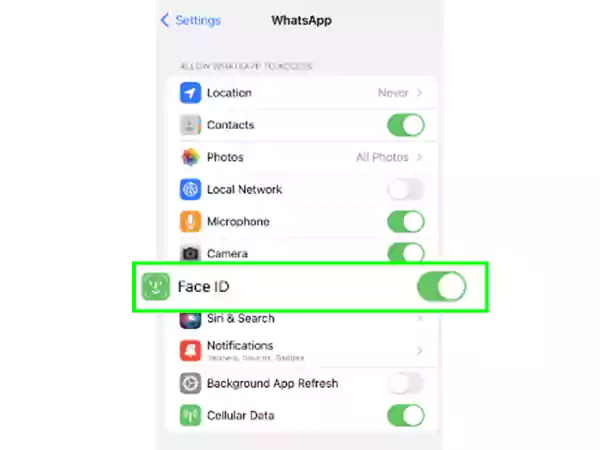 Update Your iPhone to the Latest Version
Apple releases software upgrades to address known faults and problems. If your iPhone won't unlock using Face ID or if it keeps failing, there may be a deeper software issue. Update iOS on your iPhone to the most recent version to resolve the face id not working on iPhone 13 or any other supported model.
In order to fix the Face ID not available issue and close all the bugs and security gaps, updating is definitely worthwhile if you've been delaying it for any reason.
Open the Settings app, select General, then Software Update, and then download and install the most recent version of iOS. This could take a few seconds or much longer, depending on the update. Check your Face ID after the update is complete. The system should be working normally now.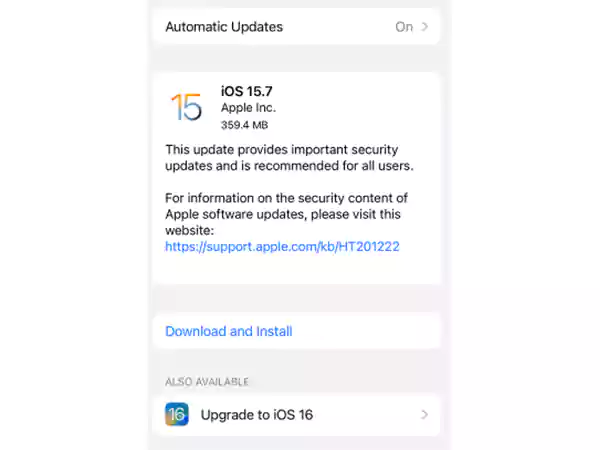 Set Up An Alternate Appearance
For the majority of users, Face ID will adapt as they change over time, but sometimes it does not. Your iPhone will have trouble recognizing your face if you recently cut your beard or started wearing glasses. In such circumstances, we advise configuring a backup appearance for Face ID so that your iPhone can confirm your identity using both your new and old appearances.
To set up an alternate appearance:
Navigate to Settings and select Face ID & Passcode. Enter your passcode if prompted.
Simply select Set Up an Alternate Appearance.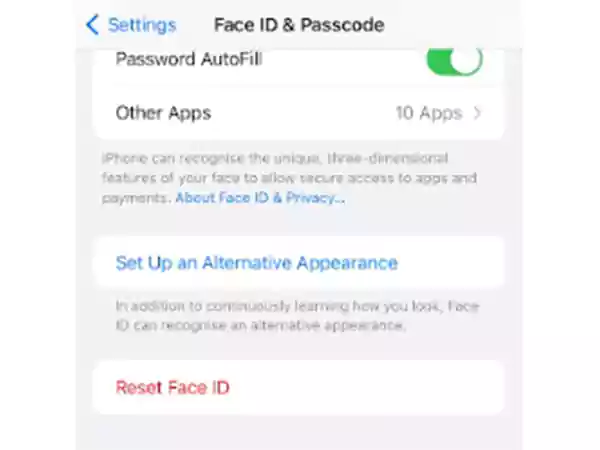 Place your face inside the frame of your iPad or iPhone while looking directly into it.
Turn your head slowly to complete the circle. Tap Accessibility Options if you are unable to move your head.
Tap "Continue" after the initial Face ID scan is complete.
Once more, gently turn your head to complete the circle and tap "Done" once the Face ID setup is complete.
Restart Your iPhone
Restarting your iPhone is one of the simplest yet most efficient ways to resolve Face ID problems. Your iPhone may occasionally be unable to use the TrueDepth camera or any of its associated sensors due to a bug in the system.
If Face ID won't unlock your device, restart it by first holding down the Side button and any available Volume button until the power-off slider appears. In order to turn off your iPhone, drag this slider to the right when it appears.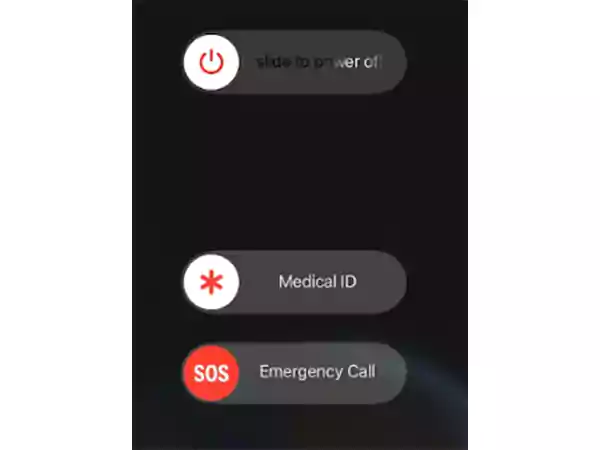 During the initial attempt to unlock your iPhone after it starts up, enter the device passcode. Next, check to see if Face ID is functioning correctly or not.
Reset Face ID
Resetting Face ID, which will erase the saved face and require you to set it up once more, may be helpful when the face ID is not working or being used.
In order to clear Face ID on your iPhone, Go to Settings > Face ID & Passcode > Reset Face ID.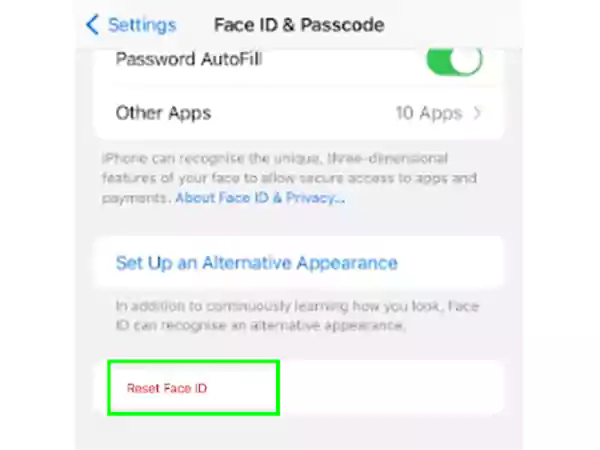 After deleting the face, return to Face ID & Passcode to configure the new iPhone Face ID, and adhere to the instructions displayed on the screen.
Reset All Settings of iPhone
Try wiping all of your iPhone's settings if Face ID is still not functioning. All of the settings on your iPhone's Settings app will be restored to their factory defaults when you choose to reset all settings. This procedure occasionally resolves a problematic software issue that may be challenging to locate.
This action will result in the removal of all of your device's settings, including your Wi-Fi and Bluetooth connections, your Home Screen and Lock Screen layout, app permissions, and other preferences you may have set up on iOS. As a result, we advise you to only take this action after trying out all of the fixes mentioned above.
Go to Settings > General > Transfer or Reset iPhone > Reset, and then select Reset All Settings from the list of options if you want to reset your settings. You can then reset the Face ID on your iPhone after your device restarts.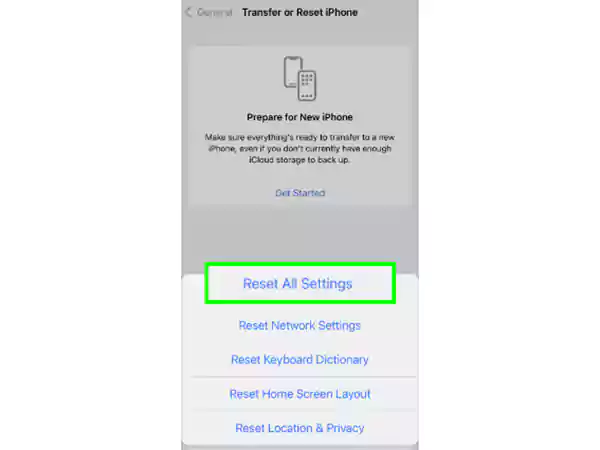 Reset The Factory Settings on Your iPhone
If none of the aforementioned fixes work, think about factory resetting your iPhone. Everything on your iPhone will be deleted as a result, including all apps, pictures, settings, and other data.
Therefore, be sure to first back up your iPhone. You can either set up your iPhone as a new device or restore it from a computer or iCloud backup after the reset is finished.
Get Service From Apple Support
Contact Apple support if you've followed all the steps so far and Face ID is still not working; your iPhone might need to be repaired.
We advise taking your iPhone to your nearby Apple Store if it is still covered by warranty. The only person qualified to service your gadget is a professional. They will check your device thoroughly and give you the final solution to the issue.
I hope one of the above-mentioned fixes helps you in using your Face ID effectively. I'm sure one of the suggestions above should have worked if your Face ID issue wasn't a hardware one.
Enjoy your iPhone experience.