Facebook holds the power to keep you glued to your screen for hours. With so many status updates, pictures, videos, stories, and several businesses and brands' FB pages, it won't be wrong to say Facebook is a complete world in itself. And that's why whenever it goes down, it can leave you anxious.
The moment you find out there is an issue with Facebook, there can be two scenarios- either Facebook is down or the issue is with your device or FB account.
If you are not able to login to Facebook, it might be difficult for you to figure out whether Facebook is down for everyone or it is only you who is facing the issue. So here in this guide, we will find out how to know if Facebook is actually down and you are not facing the glitch alone.
How to Know if Facebook is Down?
To confirm if Facebook is down for everyone and not just you, check the following things:
1. Head towards the official Facebook Status page. This page is hosted by Facebook and it depends on the issue you have, the information shown may or may not be updated.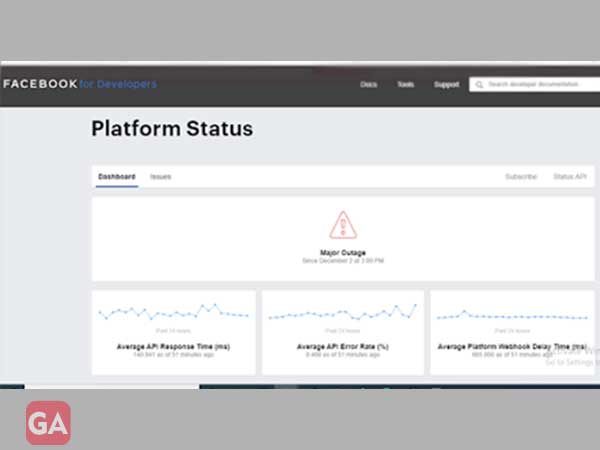 2. The next thing you can do is to search on Twitter for the hashtag #facebookdown. Check tweets made by other people to know if they are facing the same issues.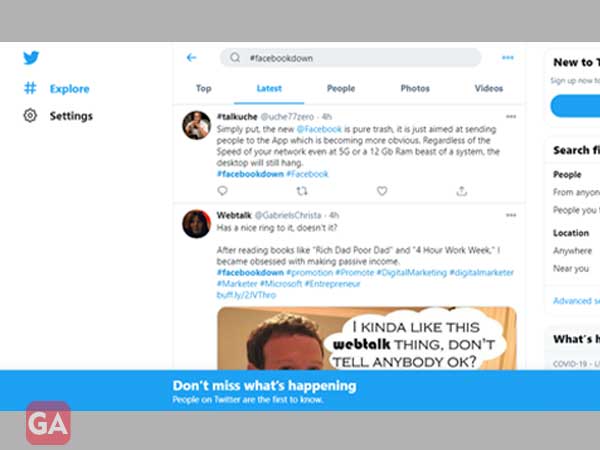 3. Go to Facebook's Twitter page and check if they have provided any update about their server status if it is down or working normally.
4. There are a number of third-party tools to check the server status of Facebook if it is down today; here are some options:
Facebook Outage Map Downdetector
These are all the options that you can use to know if Facebook is really down or it is just you who is facing an issue and if no one else seems to have any issue, the problem might be with your Facebook account or the device you are using for it. There are times when Facebook gets down owing to maintenance reasons and there is nothing you can do about it except wait.
Whenever Facebook is not working for some reason, you will encounter one of the error messages like these:
Sorry, something went wrong. We're working on getting this fixed as soon as we can.
Your account is temporarily unavailable due to site maintenance. It should be available again within a few hours.
Account Temporarily Unavailable. Your account is currently unavailable due to a site issue. We expect this to be resolved shortly.
How to Fix Connection Error with Facebook?
What if you realize that Facebook is not working for you but everyone else is able to login to Facebook normally. This can be perturbing but here are some workarounds that you can try:
1. Check the Authenticity
Are you using Facebook on your desktop or on your phone? You need to ensure that you are visiting the right website i.e. www.facebook.com or using the right official FB app.
For Android users: https://play.google.com/store/apps/details?id=com.facebook.katana&hl=en_US
For iPhone users: https://apps.apple.com/us/app/facebook/id284882215
Also, if you are using Facebook on a browser and it is showing down, try using it on the app and vice versa.
2. Check the Browser
Now, if you are visiting the right link and still facing the issue on your browser, here is what you need to do:
Exit the browser and wait for some time; then try to access Facebook again.
If the issue is still there, clear all the caches and cookies of your browser and then restart it. Clearing all the caches and cookies will give a boost to your browser and will fix the minor glitches Facebook is going through.
3. Restart The Facebook App
If Facebook is down for maintenance and you are not able to access the app, exit completely out of the app and if that doesn't help, clear the cache of the Facebook app from the 'Settings' section of your device. Clearing the cache will make the app run smoothly and may fix all the minor glitches.
4. Scan your Device
No matter what device you own, you must ensure that it is not under the radar of viruses or malware as this can also lead to issues regarding Facebook. Scanning your computer for viruses using a powerful antivirus will ensure that no malware is preventing you from accessing Facebook.
5. Disabled Facebook Account
It is also possible that your Facebook account has been disabled and that's why you are not able to access it. Facebook locks your account whenever it detects something is suspicious about your account or if you have done a violation. For this, you will need to send an appeal to Facebook to unlock your account.
Wrap Up
So these were some corrective measures to deal with one of the major problems with Facebook. If Facebook is really down, you must wait for some time or else go on with the solutions provided above to fix the issues.
READ NEXT: