Do You Know?
On 4th October 2021, Facebook was down globally for more than six hours, making it the worst outage for Facebook since the 2019 incident. Not only Facebook, but Messenger, Instagram and WhatsApp services were also down for the same duration.
Have you ever woken up to a day when you find that your Facebook feed is not loading and when you tried to log in again, you failed? Scary, isn't it? Losing access to your Facebook account is a nerve-racking incident. The range of possible causes goes from common issues to serious concerns.
While signing up for a new Facebook account is quite easy and straightforward, logging in to your account can be a cumbersome task at times, even when you are doing it right.
My Story with Facebook Login Error
Last night, when I was constantly trying to load my Facebook feed, I was always welcomed by this message 'Couldn't refresh feed'. All I could see was a reload button on a blank, white page. In an attempt, I even tried to reset the app and as a result, got logged out of Facebook. I tried to log back in, but to no avail.
I can't Log in to Facebook, What's Facebook Say On This?
Before I open my 'experience chest' with the Facebook login issue or share some troubleshooting, let me tell you what Facebook has to say about this universal error that is inescapable at times and is annoying too.
Go to this link and read about all the solutions to try if you can't log in to Facebook- "I can't login to Facebook"
If the Facebook help page got you in a befuddled state, keep on reading as I have broken down all the important information related to Facebook login errors including the solutions in this full-fledged guide.
Causes for Failed Facebook Login Attempt
If you are wondering why can't I log into Facebook, there can be multiple factors that can be responsible for the issue.
Before jumping straight to the solution for Facebook login problems, it is necessary to understand the causes behind why you can't log into Facebook. For this go through the points given below and check which one is causing trouble for you:
Forgotten password: If you are getting an "incorrect password" message, it means either you have forgotten the password or you are typing it wrong.
Wrong email address: Sometimes it might happen that you have misspelled the email address while typing it and that's why you are not allowed to log in.
Cache, cookies, and history: The cache, cookies, and footprints that get accumulated over time can also cause login issues.
Caps-lock is On: Passwords are case-sensitive and if the caps-lock is on when not required, there are chances that you might enter the wrong password, hence make sure you are typing the correct password using the right uppercase and lowercase letters.
Browser issues: If your browser is experiencing some issues, you are going to face issues while logging into your Facebook account.
Hacked Facebook account: If someone has hacked your Facebook account, you will not be able to log in to your Facebook account.
Disabled Facebook account: In case your Facebook account has been locked or disabled, then you won't be able to log in till the issue gets resolved.
Malware or virus: If the device you are using to log in to Facebook is infected by malware or virus, it can create issues and may not let you log in.
Make sure that Facebook is not down: If Facebook is down for any reason like maintenance or outage, then no one in the world can log in.
Solutions to Try When Facebook is not Letting you Log In
Verify the Login Credentials- The first thing you need to make sure is the email address and the password that you are using to log in to your Facebook account have been entered correctly. To do this, you can copy and paste the information in the correct blanks instead of manually typing it, as that will reduce the chances of making typo errors.
Is Facebook Down?- As I already explained above, Facebook can go down at times, making it impossible for all the billion users worldwide to log in to their respective accounts. So, this needs to be checked whenever you encounter a glitch with the social media giant.
Here is one of the sites I would suggest visiting to check the current server status of Facebook- downdetector.com. Upon visiting the website, you will be able to analyze if all the Facebook users are not able to access their accounts, or it is only you.
If you realize there is an outage, you can immediately stop worrying and relax till the services get restored by Facebook. If not, you can go on seeking some help from Facebook, click on 'I have a problem with Facebook', fill-up the form presented to you and wait for the response.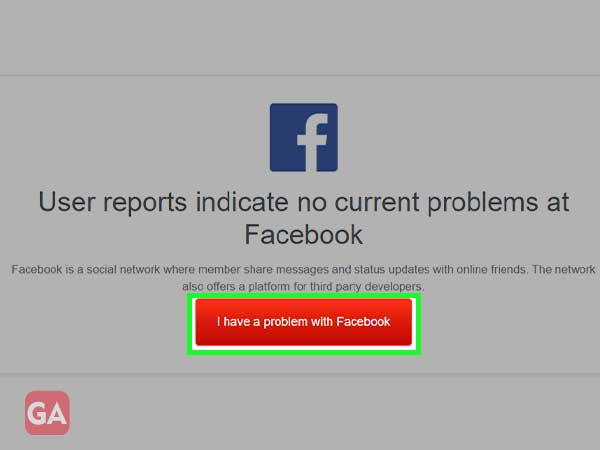 Clean the Junk Off the Browser- The browser acts as a storage box for cache, cookies, and history that get accumulated when you visit a lot of websites on the internet. And to let it function smoothly, you need to clear the junk from time to time. So, if you haven't done that for long, go and clear all the browsing data of your browser and try to log in again. To clear the browsing data, go to the settings of your browser and look for the history option.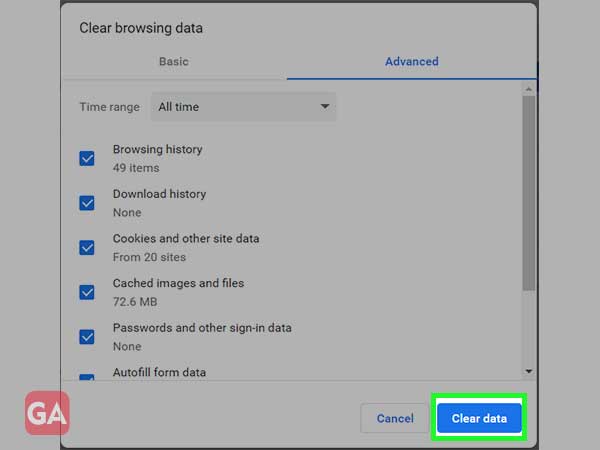 Forgotten Password?- If you are bad at remembering passwords or stay logged in on Facebook app, and as a result, your password left your memory long ago, this could be one scenario where this login error can pop up. Facebook lets you change the password even if you do not remember the current one by resetting it. Here is a dedicated guide on all the ways that Facebook offers to reset the password- Reset Forgotten Facebook Password. Just go through the guide, follow the steps, and you are good to go.
Note- Facebook is only able to help you out if you have access to your phone number or email address using which you created your account, otherwise recovery is almost impossible.
Additional Troubleshooting- Here are some obvious things that you need to check in order to steer clear through the Facebook login error and other related issues as well:
Check your internet, make sure the signal strength is strong.
Try using a different browser of the latest version
If you are on the app, see if it is updated or install the latest version.
Make sure your device is free from virus, run an antivirus scan to check the same.
Report a Login Issue to Facebook
The official way to get help from Facebook regarding the login issue is to fill up their form. Go to https://en-gb.facebook.com/help/contact/357439354283890
and you will land upon a troubleshooting form that looks like this: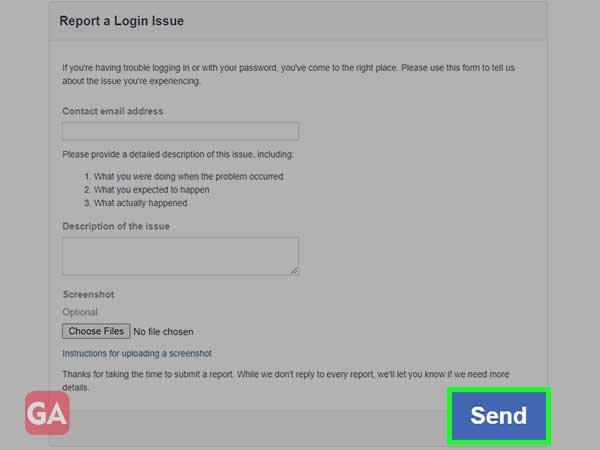 The information you need to enter:
Contact Email Address: Provide them with an email address that they can use to contact you.
Description of the Issue: Here you need to explain the moment you faced the log-in issue, what exactly you were doing, what you expected to happen, and what actually happened.
Screenshot (Optional): If you encountered a particular login error with Facebook and you are able to provide them with a screenshot, take one and upload it in the form. Make sure to read the instructions for uploading a screenshot.
Keep checking the email address that you have provided to Facebook for the response to your request.
Tips to Stop Losing Access to your Facebook Account
As hacking incidents are on the rise and people are losing access to their Facebook accounts every day, I thought why not share some useful tips to prevent your account from the eyes of hackers and spammers; here you go:
'Phishing' is one of the common techniques that is used by hackers in order to steal sensitive information like passwords. Hackers send fraudulent emails to Facebook users that appear to be from genuine sources and the moment you enter your Facebook credentials, you lose access to your account there and then. Hence, it is advisable to act smart and not blindly enter your Facebook login details anywhere.
Similarly, you should never click on links that you receive in your Facebook chat box from random people. These links are nothing but a way to infect your device with malware or virus in order to steal your personal information or to hack your account.
Recently, I came across a new way adopted by hackers to lure people. In the comment section of a lot of YouTube videos related to Facebook recovery, you will see a lot of comments that are suggesting you some random hacker to get help for your Facebook account. This is again nothing but a smart way to make people believe that your FB account can be recovered by a random hacker. But eventually, people end up losing their money to such hackers and their account access as well.
Here is a screenshot from one of my YouTube videos related to the Facebook login error.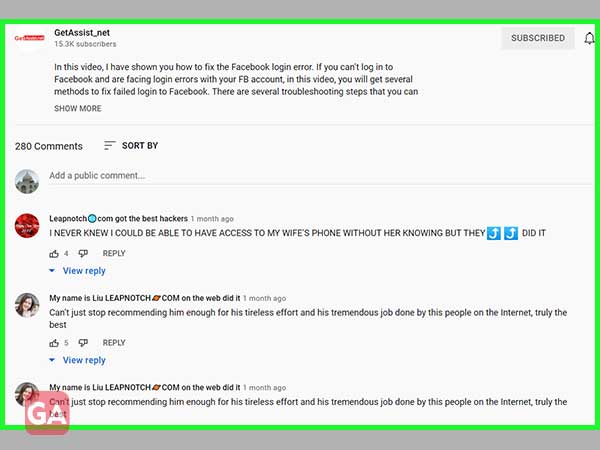 You can watch the video here:
The Bottom Line
Hopefully, I was able to make it easier to understand why you face login issues with Facebook and how you can get away with it with some simple but genuine solutions. I even shared some tips that might help you to keep your account secure in the future as well.
READ NEXT
How to Know Who Viewed My Facebook Profile?
Facebook Ad Account is Disabled, How to Recover?
What Happens if you are in Facebook Jail?
Facebook Messenger is not working, How to fix it?