Getting an audience for your business or brand has changed entirely from the time social media came into the picture. It has become easier to reach to the masses within few clicks. Social media is something that can make your product travel the world and you don't have to move a bit. Isn't that great? But it is not that simple. You need to offer the audience what interests them and not doing that will not encourage any growth to your business.
Facebook is one such platform where you can perform a lot of promotional activities with regards to your business. For this purpose, it provides a free analytics tool known as 'Facebook Insights'. This tool lets you easily measure how your business page is performing. Furthermore, it keeps track of likes, page views, reaches, and more.
The Facebook analytics tool will help you in building brand awareness, interacting with customers, and getting followers. You will get to know which audience are you able to engage the most and how they are getting connected to your page.
What is Facebook Insights?
A really useful and powerful tool to track user interaction for your Facebook page, Facebook insights lets you know the number of active users on your page and this can be checked by all the admins of the page.
Facebook is a platform with billions of users, but that's not enough to grab the attention of a larger audience to your business. It is important to know the metrics of your Facebook page to be assured of that you are targeting the right audience with the right content. Working as per Facebook's algorithm has to be done in order to avoid posting unnecessary content and to know if you are walking the right path.
Using the Facebook page analytics, you will be able to determine the best time to post, the best day to post and what sort of content is high in demand. If you are a beginner, here you will find useful tips to manage Facebook Insights in the best way.
Accessing Facebook Insights
Click on the 'Insights' option that you see at the top of your Facebook Page.
You will see the Insights dashboard that will display the page summary for the last seven days.

If you will click on the first section, you will get to know about what actions have been done on your page in the last week as shown here. You will see the graph for the number of people who clicked the action button, get directions, phone number, or website.
Here you will get to know about the total number of people who viewed your page in the last week. This can be further bifurcated into different categories like by section, by age, gender, or by country, city, etc.
Clicking on Page Likes will let you know the total likes, unlikes, net likes i.e. organic likes plus paid likes, where your pages likes happened etc., so that you can customize your posts accordingly. Clicking anywhere on the graph will show you information for that particular time period.
If you want to promote your page, click on the option that is on the right side of the page. It will create a Facebook ad for your page that will run for a particular number of days as per the amount you want to spend on the ad.
The number of people who saw your posts can be checked in this section that includes organic and paid reach.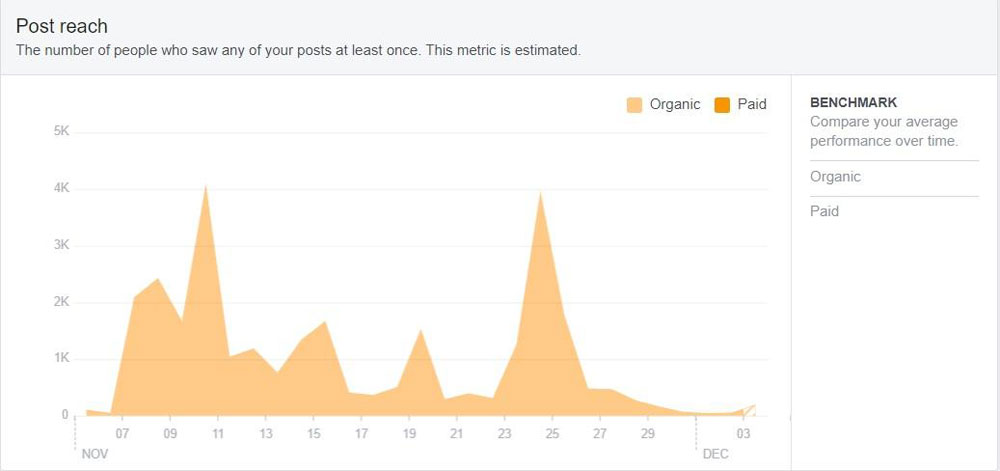 You can also check the graph showing reactions of people to your posts such as comments, shares, answers, and more.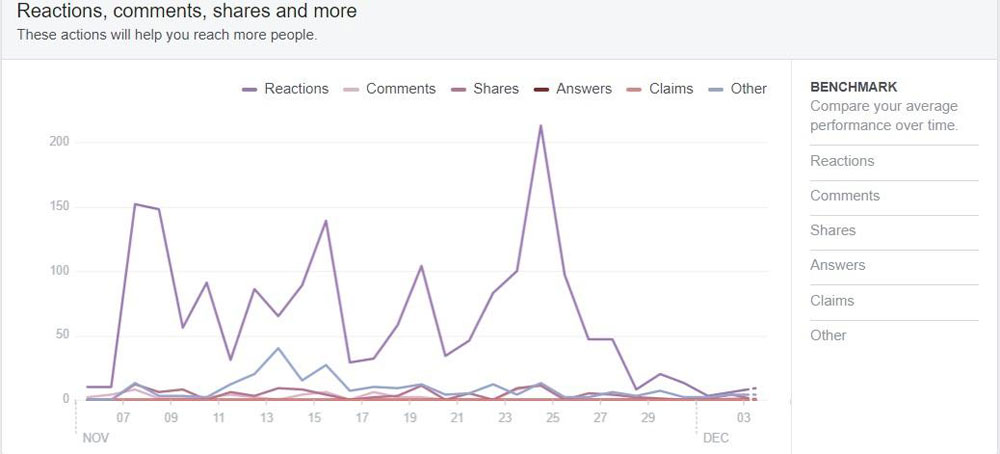 On scrolling down, you will further see how much negative engagement was there. If that will be high, your posts will be shown to less number of people in the future.
Post Engagement shows who is viewing your content, what type of posts are viewed the most based on the average reach and audience engagement and the top posts of the pages you watch. This will help you in determining how your competitors are handling their audiences.
On scrolling down, you will see all the posts that you have published and how they are performing individually. Besides this, you can boost the post that you think can attract more audience for your page.

This section will provide you with information about:
What sort of video content is effective for your page?
The number of times your page's videos were watched for at least three seconds.
The number of times your page's videos were watched for at least thirty seconds.
Most viewed videos on your page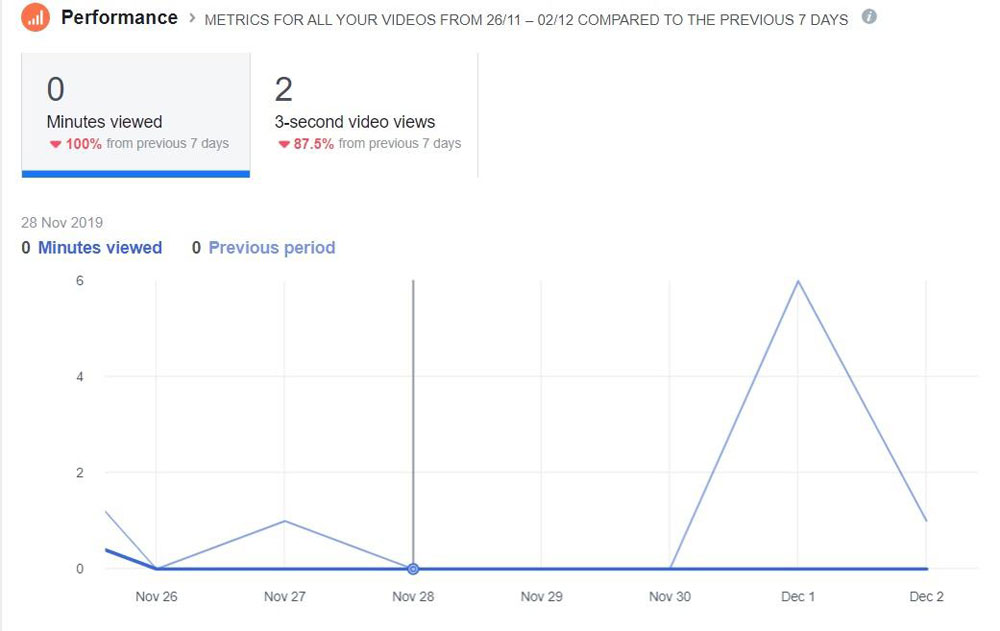 The last major section of your Facebook page that shows how much audience you are able to attract. Who is liking your page, organic followers, paid followers, unfollows, etc., all these can be easily viewed under this section.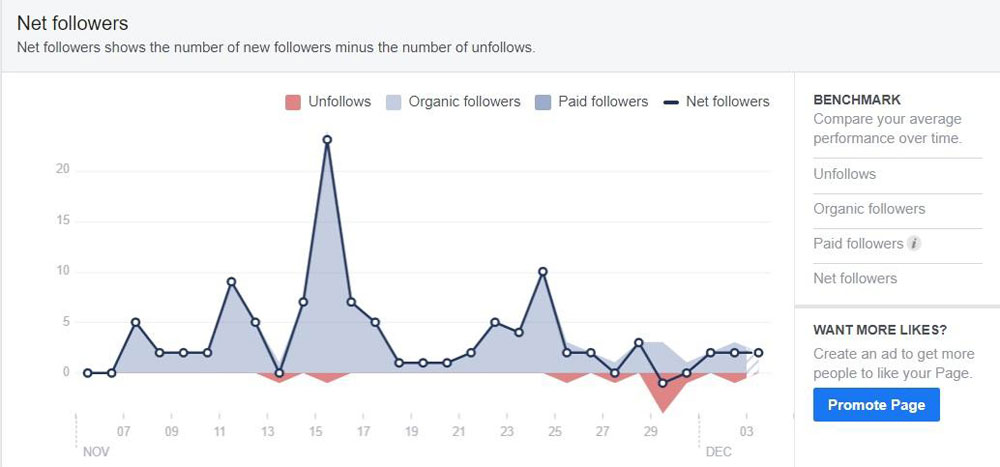 Lastly, you can also export the Facebook analytics data for your page if you want. This can be done from the Page Summary section by clicking on the 'Export Data' option given in the right corner of the page. You will see the dialog box as shown here. Select the 'Data Type' and download it in the excel format to view it later.
Facebook metrics allow you to obtain useful information about your page. It is one of the best ways to take your business or fan page to the next level. If you know what interests your audience and what is largely viewed, you can create useful content and increase your followers.
Facebook Analytics Tips and Tricks
Now you know how to use Facebook insights, here are some tips and tricks that will help you stand ahead of others and use the Facebook insights tools in the best possible manner.
FB insights are never constant, they keep changing and updating so make sure you give proper attention to the changes in the patterns.
Create schedules for your post for the time when your audience will be online.
Make sure your phone number, website address, or any other contact information given on the page are always up-to-date.
Target your posts to the audiences who will connect more to your brand and in a better way.
Get an easy-to-find Facebook page URL for your page so that it ensures easy access to your brand.
Download the 'Facebook Pages Manager App' on your phone so that you can communicate with your audience anytime and keep a constant check on the progress of your page.