Facebook has slowly become an integral part of netizens' life. Apart from connecting with your friends and acquaintances, it lets you promote your business and brands through Facebook pages. So, practically, it is impossible for some of us to stop scrolling through Facebook's news feed. But what if you realize your favorite time killer is not working. I know it can be quite nerve-wracking to face issues like Facebook not responding, unable to login to FB account, the Facebook feed not loading or nothing is working at all.
So if you can't connect to Facebook, no need to fret anymore and consider the solutions I have talked about further in this guide. I will take you through all the causes for facing the glitch and how to fix it; so it is going to be a comprehensive guide, make sure to read it till the end.
Let's make Facebook work.
Possible Issues with Facebook
There can be endless issues that can arise with Facebook and to deal with a problem that you are facing while active on Facebook, you need to look at the reason why it is happening in the first place and then find the appropriate solutions. Here I have listed some common Facebook issues that users have complained about; find the one you are facing and then try the related troubleshooting:
The Facebook App keeps crashing
Facebook News Feed is not loading
Notifications are not Working
Unable to upload photos or make posts on Facebook
Getting error message like 'Unfortunately Facebook has stopped'
So these were just a few issues that have been reported by Facebook users. If you are facing any of these or any other problem with Facebook, just follow these tips and tricks to fix 'Facebook not working' issue.
Note– This guide contains general troubleshooting regarding Facebook applicable to browser, Android and iPhone. If you are looking for a dedicated troubleshooting guide for iPhone or Android, you can directly read these:

Basic Troubleshooting
Ensure that the Facebook app is completely updated if it is not working on Android; you can check if the latest version is available in the app store of your device. The updates are released to offer better security and bug fixes. Moreover, if you don't update the app for long, you may feel the app starts behaving abnormally or eventually stops functioning at all. If you are still facing the same issue, you can uninstall the app from your phone, reinstall it, and then log in to your Facebook account again.
Ensure that the internet is working completely fine and the device you are using to access Facebook is getting the required signal strength. If Facebook can't connect to the internet, you will not be able to use its services. Also, Facebook app won't load due to poor internet connectivity; better switch to a stronger network.
Other Troubleshooting Tips to Make Facebook Work
If doing the basic troubleshooting didn't do the job for you, no need to worry as there are still several steps you can take to bring Facebook back to its normal functioning; follow these useful solutions and see what works for you:
Is Facebook Down?
The first thing to check is if Facebook is down today for maintenance. This will let you know that it is just you who can't connect to Facebook or every user out there is facing the same problem. When Facebook servers are down, you won't be able to perform any activity on the social media platform for the time being, the outage is there. For this, you can visit this link to check if Facebook is facing any problems today. Also, Facebook apps won't load properly when the server is down.
Unable to Play or Upload Media on Facebook
Oftentimes, users have complained that they are unable to upload pictures, videos and that they are unable to play videos from their account.
For the videos, chances are that the operating system is at fault. For instance, if the user is accessing their account on older Windows versions such as Windows 7, Xp, or Vista, they may have to switch to different web browsers such as Chrome, Mozilla, or Edge. One can also keep an eye on the internet connection to see if that is not causing any issues.
For the pictures, it is quite possible that you may face this issue due to the format of the picture that might have changed in case you edited it. Formats such as JPEG, BMP, PNG, GIF, and RIFF files are supported on the platform of Facebook, so try to upload the pictures in the same formats. It is also possible that the platform has restricted you from uploading a picture since if you uploaded something that was abusive or violated the guidelines of the platform.
The same goes for videos. Whenever you are trying to upload one, make sure that you upload it in the supported format and also keep in mind that the file should not be bigger than 4GB and the video shouldn't last for more than 240 minutes. The platform usually prefers videos in formats that include MP4 and MOV files.
Update or Change the Browser
If you are using a web browser to execute all your activities on Facebook, make sure to update it, otherwise it may start creating issues. Also, clear the caches and cookies from time to time to maintain the efficiency of your browser; if that doesn't help, try using a different browser. To clear the cache and cookies of Google Chrome:
Click on menu icon
Then click on 'History'
Select the option 'Clear Browsing Data'
Then select all the items you want to clear and then click on 'Clear Data'.
Disable the Third-party Apps
Third-party applications or plug-ins can also get you in trouble and can be one of the reasons Facebook is not loading. You can try disabling or removing them from your device and see if Facebook is up and running. Third-party applications can interfere in the proper functioning of other apps, hence whenever an issue arises with Facebook, disabling them may work.
Are you in Facebook Jail?
If you are not able to post, like/comment, and send messages on FB, chances are you are in Facebook Jail. It is a type of punishment by Facebook that stops people from spamming on the platform. If you over-indulge in posting, liking or commenting on Facebook, this can get you banned for some time. However, the ban gets removed automatically after some time but if it doesn't, you can read this troubleshooting guide to know how to get out of Facebook Jail.
Disabled Facebook Account
This is another scenario where you will find that Facebook is not working for you, or you are not able to access your account. Violating Facebook's Policies can get your Facebook account disabled temporarily or permanently. You can send an appeal to FB to recover your account and it depends on the severity of the violation if you will be able to get it back or not. Here you will get detailed information about Disabled Facebook Account Recovery.
Turn On the Automatic Updates
To ensure that you are always using the latest version of the Facebook app, you can turn on the automatic updates for the app. To do this, go to Google Play Store and search for the Facebook app. Open the app and press the icon at the top-right and then select the option 'Enable auto-update'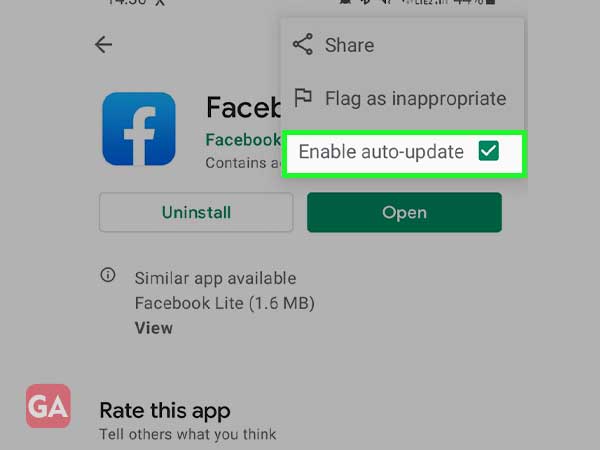 Enable Notifications
Notifications let you know the moment you have received a like, comment or if someone has tagged you in their posts. If you are not getting any Facebook notifications, this can be one of the major issues. Firstly, check if you have enabled Facebook notifications; go to Settings> Applications> Facebook and turn the Toggle on for 'Show notifications'. In the notifications, you can also ensure that notifications for the Facebook activity you want is also enabled.
The Takeaway
So these were some instances where you may find Facebook is not working, or you can't open your account. You can always switch between the Facebook app or browser version whenever any of these is not working. Getting connected to a stronger internet and making sure you are entering the correct credentials can also get you back to normal Facebooking.
READ NEXT: