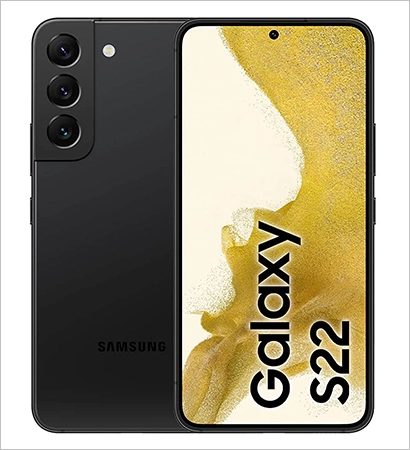 Samsung Galaxy smartphones have vastly improved their performance with time, from the S22 Ultra to S23, users get every decent feature inlined. For example, S22 Ultra came with a dashing build and design, whereas S23 came with a strong processor and epic camera, and guess what? S22 was a version that lies in between. It has got a premium build with decent camera strength to charm the users.
It is a budget-friendly Android smartphone that is affordable, has got 5G capabilities quite similar to Samsung Galaxy A32 5G, and is reliable at the same time, the only difference is that the latter option is expensive. There are long boasting tales on the accomplishments of the S22 as a smart gadget, therefore, let's get to know each one of them through the review ahead. Without any further ado, let's begin.
Pros
Premium look with a 6.1-inch display.
Vast storage space.
Fast processing due to Snapdragon 8 Gen 1 chip.
Rear camera quality is top-notch.
Cons
Doesn't have an expandable SD card option.
Protruding camera leading to scratches at the lenses.
The features of the S22 are believed to be convincing, whether it's the processing, display, or storage, this smartphone impresses the audience very easily.
| | |
| --- | --- |
| Features | Specifications |
| Display | 6.1 inch, 1080×2340 |
| Storage | 8 GB RAM, 128/256GB of storage |
| Battery | 3700mAh, 25W of wireless |
| Processor | Snapdragon 8 Gen 1 |
| Weight | 167g |
| Dimensions | 146×70.6×7.6mm |
| Rear and Front Camera | 50MP+10MP+12MP(Rear Camera)10MP(Front Camera) |
| Price | $799.99 |
This smartphone was launched in the US around the beginning of 2022 and ran into trends. It was a steal deal for users who desired the best smart gadget on a low budget.
Mind-Blowing Features in Samsung Galaxy S22
Samsung has been the best Android creator, and the S22 model is one of its quintessential inventions. Below are discussed features of S22.
Display
Users fall in love with an Android that slips easily into their palms, one that is blessed with a large screen and has an appreciable resolution to watch movies and videos. S22 comes with a glass finish at the back, and a 6.1-inch screen, competing with the iPhone X model. It has got fast scrolls and is the best gadget for professional enthusiasts to capture images and videos in 4k. The outer look is stunning with a strong build thanks to the New Gorilla Glass Victus Plus.
Storage
This Samsung Galaxy smartphone has ample space to work smoothly. Using the 8 GB of RAM and 256 GB of storage, there will rarely be any issues, and surely there is no room for work delays and game lagging. Samsung rarely disappoints in terms of storage, and S22 is one of those mind-blowing Samsung budget-friendly inventions that was ever desired by the current generation. The other affordable model with quite the same storage capability is Motorola Moto G Power.
Processor
You can trust the Snapdragon 8 Gen 1 processing chip of the S22. It runs at a high speed and is one of the capable technologies that can be trusted for the long run. From handling extensive gaming titles to running into different applications, S22 knows the game.
Camera
According to the low budget, the S22 manages to bring decent quality to both front and rear cameras. The 10MP of front camera quality along with 50MP+12MP+10MP of rear camera strength help in capturing captivating pictures. The rear camera is stacked in the back vertically one after another giving it a protruding look, which makes it inconvenient to keep on rough surfaces. This set has got a perfect placement of the front camera, a small circle cut in the display, making it worthy to look at. Although the Samsung Galaxy A51 has a much excellent quality camera, this smartphone is $100 more expensive.
Battery Life
S22 has a 3,700mAh battery power which can get charged with a USB-C charger, a port is present on the bottom of the smartphone. Any 25W adapter can be used to charge, plus it has got 12 hours of battery backup. The box doesn't come with an adapter, and this is one of the cons in it.
Criticism on Performance of S22
There are issues noted around the functioning of the Samsung Galaxy S22. Some of them have been provided below.
The battery strength of 12 hours is just numerically kept in the feature while it drains quickly and is then noticed. Plus, for charging its 3,700mAh battery, a USB-C charging spot has been provided, but the adapter has to be bought by the user itself.
The display of 6.1 inches is decent but not pleasant in front of current new launches. A much bigger display would have been a much-worthy smartphone product.
The front-facing camera is kept perfectly on the display, but it is capable of capturing images with only 10MP strength. The user is gifted the efficient rear camera with 52MP, but then again it's present in a protruded form, and can easily get scratched, destroying pictures' aura.
These were some of the drawbacks of the Samsung Galaxy S22 model.
Price and Availability
This Samsung Android has got freshly launched and is therefore available at various stores.
| | | | |
| --- | --- | --- | --- |
| Retailing Store | Price | Availability | Rating |
| Amazon | $799.99 | Yes | 4.6 |
| BestBuy | Not Available | N/A | 4.3 |
| eBay | $1,450(brand new)$450(Open Box) | Yes | 5 |
| Walmart | $826.96 | Yes | 4 |
The above table has essential information regarding the prices of S22 in the market currently, whereas Amazon seems to be one of the best options among other retail stores to buy S22.
Customer Reviews
The best review of any technical gadget can be gathered from customer reviews, and here are some of the thoughts on S22 performance gathered from various sites.
"I bought the S22 because of the compact size. I will start with the negatives because they need to be noted. Battery life and speaker are subpar. I occasionally get crackling when listening to music or speaking to people on the phone which is a known issue for this phone. I expected the battery life to be subpar because I read reviews but it really is pretty bad. I am getting about 5 hours or 5.5 hours of on-screen time and my old S9 got me about 9 hours which wasn't great but acceptable. The phone is fast and receptive but honestly about the same as my old S9 during my speed check which was a shocker. The S22 is harder to hold compared to my S9 which has a more modern curved screen and is not quite as wide. I would prefer the phone to be longer but less wide and clunky because it is easier to hold." ~ reviewer168
"Perfect size and weight for my hand. Does everything I need and more. You will not be disappointed. Easily fits in the side pocket of my purse. I am very happy with it." ~ GaryD
"Samsung flagship series phones are always great and this one doesn't disappoint. Exceptional speed, great cellular reception, a good camera, perfect size if you want something that will easily fit in any pocket. I have a hard phone case on this for added protection, but it's a sturdy phone with gorilla glass. Call quality and clarity is fantastic. There seems to be a lot of programs running in the background which means heavy use of the phone brings the battery life down to 12 hours. Heavy use would be streaming, gaming or web browsing non-stop. If used every few hours for these things it will last all day, but still would be nice to have more battery life. Standby time is greater than 24hr."~John
"Great device for the cost. The OLED side and display are excellent, and the camera is quick and includes 8K, UHD, and excellent photo edit functions that are standard. If you do not require the increased processing power for all the overlays and glam for running AI, this is an excellent device to use for calls, text, photos, and internet information searching."~RussellG
These were some of the noted views of customers who had experienced the performance of S22 themselves.
Get Assist Verdict: Is Samsung Galaxy S22 Worth An Investment?
Yes, absolutely. The Samsung Galaxy S22 is a worthy smartphone to invest in. It's a budget-friendly Android with premium build quality and has an upgradeable Android 12 system. The camera quality is top-notch plus the storage is huge, leaving users with zero complaints. The battery backup is up to 10 hours and the processor is also powerful and effective.
FAQs
Ans: Yes, S22 is a premium-quality smartphone with a 6.1-inch display. Its processing power is strong and its storage capacity is also good. This is a budget-friendly Android version with all the best qualities.
Ans: Yes, Samsung Galaxy S22 has got a standard rating of IP68, so it can be highly resistant to water and dust particles.
Ans: S22 is much better than S21 in terms of display build, battery backup, processing, storage, and functioning.
Ans: Yes, S22 supports both wired charging and wireless charging.
Ans: No, S22 doesn't have any external SD card support so, it sometimes creates issues for the user who requires a much expandable storage system.
Sources
Lisa Eadicicco, Samsung Galaxy S22 Review: Pocket-Friendly Phone Has Great Cameras, Mediocre Battery Life, CNET, February 25, 2022
Sacha Segan, Samsung Galaxy S22 Review, PCMag, February 23,2022
Also Read:
Blackberry Key 3 5G Review: The Newest in the Android world