To begin with, both are different in many ways, be it functionalities, usage, or technicalities. For a layman, forex trading deals with selling and buying fiat currencies like USD, EUR, GBP, AUD, CAD, etc. to make profits.
Whereas in crypto, it is all about digital cash and virtual transactions, in this ever-changing dynamic digital environment. The most popular cryptocurrencies are Bitcoin, Ethereum (ETH), Litecoin (LTC), DogeCoin, Tether (USDT), and more. However, there is a huge difference between investing and trading with Bitcoin that you must know.
Therefore, to keep you updated and knowledgeable with the modern trends and happenings, this write-up will share a detailed comparison between both two and will tell you how they are similar or different from each other.
What is Cryptocurrency Trading?
It basically involves buying and selling digital assets in a virtual world through the above-mentioned cryptocurrencies.
As a trader, you need a digital wallet and a registered or verified account to begin trading with crypto. Being a digital asset, its supply is finite, which means the availability is affected by overbuying, high demand, and currency scarcity.
Crypto assets are built around Blockchain payment technology and have no tangible value or form. Most significantly, it offers a higher level of transparency and minimizes the risk of third-party manipulation, as there's no central or outside authority to impose transaction fees and control assets.
On the contrary, here the level of volatility is more, when compared to forex trading tips, mainly due to the absence of a tangible value, which makes it vulnerable to speculation. 
As crypto trading is now going through its third generation phase, the latest assets similar to Cardano are proving to be more effective than its previous predecessors such as Bitcoin, where scalability issues were glaring and prominent. There are various advantages and risks of Bitcoin trading which has been solved to quite an extent.
What is Forex Trading?
To be precise, it is the activity of buying and selling foreign currencies and foreign exchanges. In order to trade in FOREX, you need a trading account. In fact, foreign currencies can be traded in pairs, and also as 'speculative' assets. It involves the trading of one fiat/regular currency with another.
Here, profit is earned by leveraging the volatility in the market, which is basically short-term gains. Due to this volatility and complexity in the forex market, it is not the ideal platform for beginners.
Here, you need to understand that the currency rates are subject to macroeconomic factors, geopolitical turmoil, pandemic-type situations, and some fundamental drivers that affect demand and supply.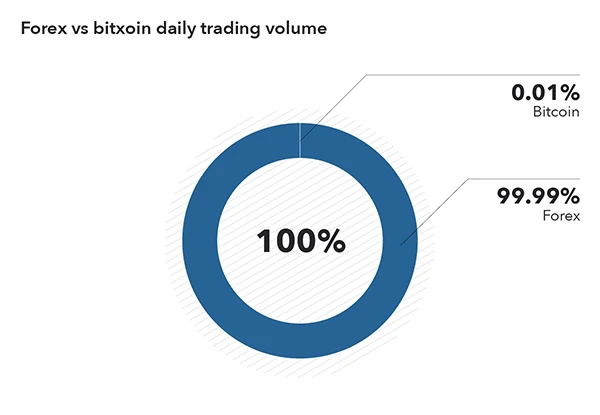 Statistics
These statistics show the share of Forex vs Bitcoin daily trading volume.
The Similarities
The rates of both crypto assets and forex are directly proportional to conventional market factors like demand and supply.
Both of these require an in-depth knowledge and understanding of the respective markets, fluctuations, and speculations.
It is relatively easy for traders and beginners to trade in both forex and crypto.
You can carry out online transactions in cryptocurrency and forex.
The Differences
Forex trading has been there for ages, right from when there were national currencies. But, crypto is a relatively newer concept that has its own set of risks and complications.
Crypto trading comes with a greater amount of risks than forex trading.
The forex market is better regulated than crypto, as the latter is newer, and needs to be fine-tuned and more organized.
Market Capitalization & Size
The forex market is comparatively larger, mainly because it involves a multitude of transactions from entities such as banks, companies, investors, individuals, hedge funds, etc. that usually trade in foreign currency in a real-time manner.
Whereas still in its nascent stage, cryptocurrency has also been making rapid strides, due to the expansion of the USDT payment system and Blockchain networks. As of 2021, the worldwide cryptocurrency trading market was capped or valued at $1.5 billion and is expected to touch $2.5 billion, by the year 2028.
Liquidity Factor
In the case of forex trading, the liquidity factor is more, when compared to cryptocurrency. This is clearly evident when you notice popular currency pairs similar to USD-EUR, which account for nearly 25% of daily forex volumes, as there's a steady and uninterrupted demand.
On the other hand, Bitcoin (BTC) is the one and only cryptocurrency that can be tagged as 'liquid'. But, still, there are a fixed number of tokens that are in circulation. So, you need to know how to pay with Bitcoin, and which are the online trading platforms that accept BTC payments.
The demand for Bitcoin tokens fluctuates in conjunction with prevalent market sentiments, meaning liquidity can reduce or fluctuate at different times.
Fun Fact:
There are over 5,000 different cryptocurrencies.
Volatility
Even though foreign exchange and forex trading is highly volatile, major currency pairs like USD/EUR, USD/GBP, EUR/AUD, etc. are considerably less volatile. It means if prices go on to fluctuate considerably in the short-term, currencies and assets USD-EUR trade on the basis of predictable ranges.
Whereas, cryptocurrency has its share of volatility, even though Bitcoin trading has been experiencing great bull runs in its glorious past.
However, it has shed nearly 70% of its value and market cap throughout 2022, which has been quite turbulent for this particular cryptocurrency. Thus, highly volatile when compared to forex.
Market Participants
With forex, there are several participants like private/commercial banks, investors, funds, retail brokers, companies, and traders. These different FOREX participants have an impactful role to play. For example, commercial banks allow or facilitate the exchange and trading of major currency pairs at an international level.
In fact, a majority of central or nationalized banks set foot in this market not to earn profit margins, but to bring about a stability factor in the currency rate, which eventually impacts the economy as a whole.
In the area of cryptocurrency, there are three distinct participants, viz; traders, miners, and exchanges. Here, exchanges refer to the virtual marketplace, where you can buy and sell crypto assets and digital currencies.
Whereas, crypto miners are individuals that use blocks within a blockchain network. Lastly, crypto traders are ones who speculate the upward or downward trend of the currency prices and do not take any ownership of the crypto tokens or coins.
Conclusion
These were some main similarities and differences between forex trading and crypto, which need to be understood by all traders. Especially beginners who are eager to set foot into the domain of foreign exchange and cryptocurrencies, hoping to earn the maximum profits in a short time.
They can choose any of these, by going through the pros & cons, and thereby choosing a particular trading platform that is convenient, easy, less turbulent, and considerably less volatile, thus reducing the risks. So, why not try your luck, and give it a chance?
---