Samsung is determined to improvise and innovate to enhance the user experience. The Samsung Galaxy A53 5G is no exception in this regard. It offers the best of the features of its predecessor at better pricing. This phone brings the Samsung Galaxy experience to you at an affordable price.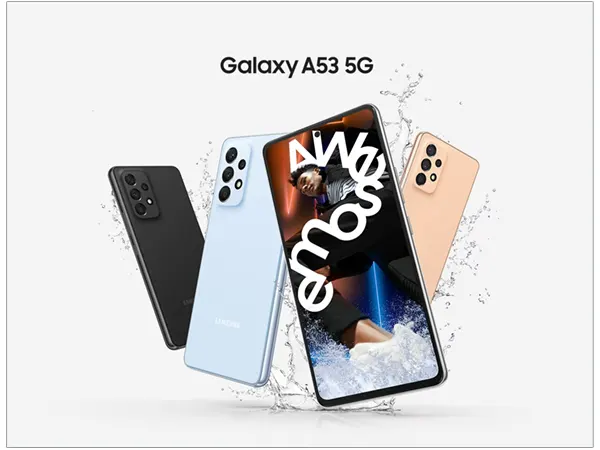 Though Samsung has not fixed the shortcomings of its previous models of the Galaxy A series, it has definitely bumped up the battery capacity and processor overall performance. As its final shot to conquer the mid-range phone market, it has also dramatically lowered the price tag.
In this Samsung Galaxy A53 5G review, we will elaborate on the distinctive features of this handset and examine what makes it better than the previous models of Samsung Galaxy A51 and A52, so read on.
Samsung Galaxy A53 5G Mobile Key Specifications
Samsung Galaxy A53 5G is the successor of the A51 and A52 series; hence, it gives a similar in-hand experience. From its design to its looks, the A53 5G model has almost everything identical to the other two phones in this series. However, what distinguishes this phone from its antecedent is the latest software updates.
To catch up with the entry-level phone market and survive the cut-throat competition, Samsung has upgraded its A51 and A52 models. Samsung smartly upgraded the Galaxy A53 and launched it with better pricing to make it a classic entry-level phone. This Samsung Galaxy A53 5G review will shed light on hardware and software upgrades on the A53 5G model and analyze whether this phone brings value for money.
Here's a quick sneak peek into the key specs of the Samsung Galaxy A53 5G handset!
General Information
| | |
| --- | --- |
| Brand | Samsung |
| Model | Galaxy A53 5G |
| Form Factor | Mobile Phone |
| Touchscreen | Yes |
| Battery Capacity | 5000 mAh |
| Battery Removal | No |
| Weight | 6.7 ounces |
| Dimension | 0.33 x 6.3 x 2.96 inches |
| Colors | Awesome BlackAwesome PeachAwesome BlueAwesome White |
Display
| | |
| --- | --- |
| Screen Size | 6.5 inches |
| Resolution | 1920 x 1080 |
| Resolution Type | Full HD+ |
| Display Type | AMOLED |
| Protection Type | Strong Corning Gorilla Glass 5 |
Hardware
| | |
| --- | --- |
| Processor | Octa-Core |
| Processor Type | Exynos 1280 |
| RAM | 6 GB and 8 GB |
| Internal Storage | 128 GB and 256 GB |
| Expandable Storage | Yes |
| Expandable Storage Type | Micro SD |
Camera
| | |
| --- | --- |
| Primary Camera Available | Yes |
| Number of Rear Cameras | 4 |
| Rear Camera | 64MP+12MP+5MP+5MP |
| Rear Autofocus | Yes |
| Rear Flash | Yes |
| Secondary Camera Available | Yes |
| Secondary Camera | 32MP Front Camera |
| Number of Front Cameras | 1 |
| HD Recording | Yes |
| Dual Camera Lens | Primary Camera |
Software
| | |
| --- | --- |
| Operating System | Android 12 [Snow Cone] |
| Skin | One UI 4.1 |
Connectivity
| | |
| --- | --- |
| Active 5G on SIM Card | Yes |
| Map Support | Google Maps |
| Wi-Fi | Yes |
| GPS | Yes |
| Bluetooth | Version 5.1 |
| USB Type C | Yes |
| Number of SIMS | 2 |
Sensors
| | |
| --- | --- |
| Face Unlock | Yes |
| Fingerprint Scanner | Yes |
| Compass/Magnetometer | Yes |
| Proximity Sensor | Yes |
| Accelerometer | Yes |
| Ambient Light Sensor | Yes |
| Gyroscope | Yes |
Warranty
| | |
| --- | --- |
| Warranty Summary | The manufacturer's warranty can be requested from customer service. Click here to make a request to customer service. |
Though all the hardware components are almost the same, the Galaxy A53 5G has improvised a lot regarding its software. Besides, this phone is available at only $419, which makes it one of the budget-friendly Samsung's flagship phones. We have discussed the distinctive features of this amazing handset in great detail in the next section.
Enchanting Features of Galaxy A53 5G
Samsung Galaxy A53 5G brings you the Samsung experience at an economical price; probably that's why this phone has spiced up the market since day one of its launch. The subsequent sections highlight the enticing features of A53 5G, specifying minute upgrades.
Design
Many Samsung A53 5G reviews have critically analyzed the design of this model because it has taken a lot of inspiration from the previous two models of the Samsung Galaxy 5G series. However, this handset has a classic Samsung Galaxy hands-on feel.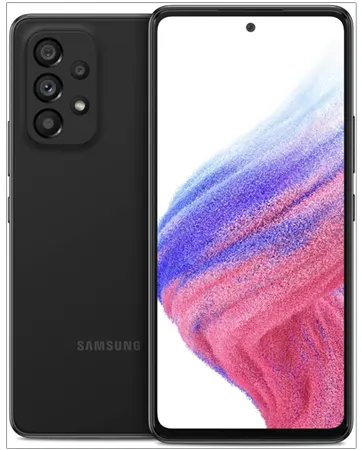 The design is quite sleek, and the matte finish offers the same premium feel as other Samsung Galaxy phones but at a budget-friendly price. The only drawback is that the matte black color attracts more grease and dirt than different colors. So, if you don't want your phone to look dirty, go for the other three colors.
Display
The display is one of the most distinguishing factors that makes an Android phone stand out from others. The Galaxy A53 5G handset has a 6.5-inch 120Hz super AMOLED display with a resolution of 2,400 x 1800 pixels, which is not even present in many high-end Samsung phones like the Samsung Galaxy S23.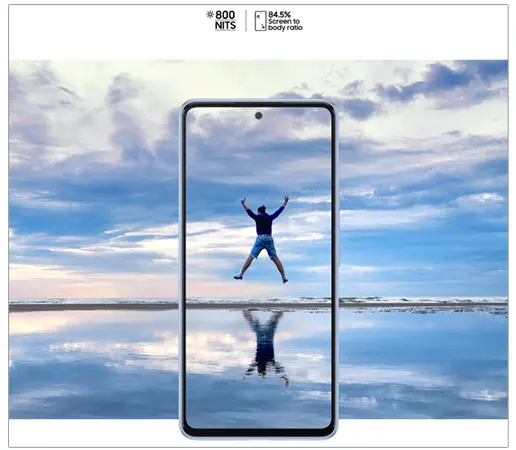 The display is one of the upgrades that Samsung has made to its A53 model, and you can even consider it one of the most vital assets of this phone. The screen is super sensitive, facilitating smooth scrolling, and comprises glowing colors to enhance the user experience.
Storage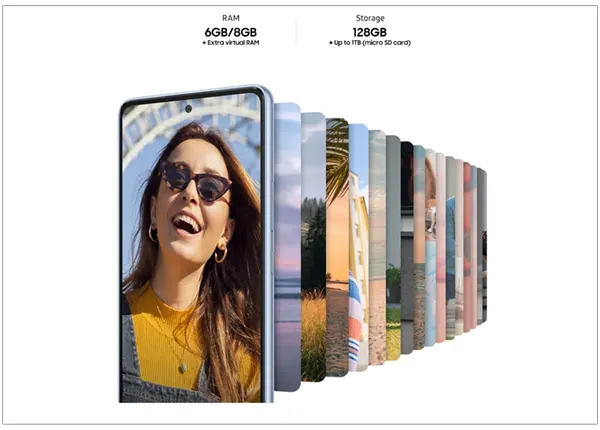 To ensure smooth operation and prevent storage-related issues, Samsung has provided an amazing configuration of 6 GB RAM and 128 GB of storage with the option of expandable storage. Furthermore, you get to choose between a 128 GB model and a 256 GB model, so storage issues are surely not going to trouble you a lot. In the higher storage version, you also get an upgrade of RAM from 6 GB to 8 GB.
Hardware
Samsung has made a very smart selection when choosing the hardware components of Galaxy A53.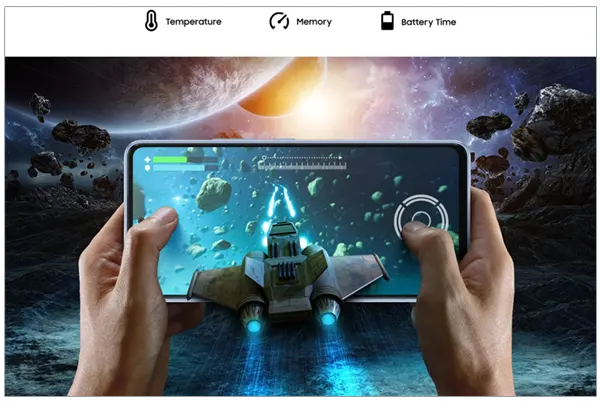 Many Samsung Galaxy A53 5G reviews consider that the hardware components of the Galaxy A53 5G are similar to those of other Samsung phones, but that's not the case. The A53 model has superior hardware in terms of image performance compared to more expensive models. Honestly, in terms of hardware, this handset has very little to complain about.
Software
A53 5G Mobile has made some major software upgrades along with providing four years of OS upgrades.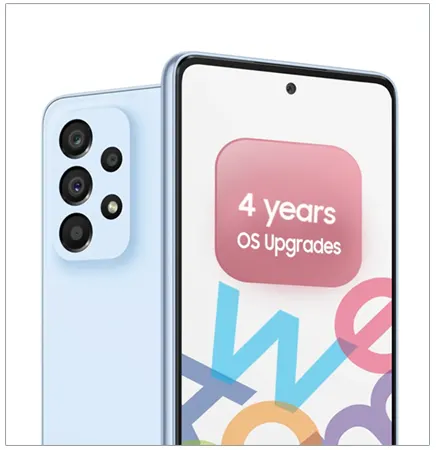 The A53 model features an Exynos 1280 chipset with 2.4 GHZ cortex-A78 cores and Six 2GHz Cortex A55 cores. To accelerate the overall functioning, Samsung has configured the Exynos 1280 chipset with 6/8 GB RAM and 128/256 GB storage. Unlike the A52 5G, which was quite sluggish and outdated, the A53 5G houses one of the most powerful software programs that Samsung offers.
Connectivity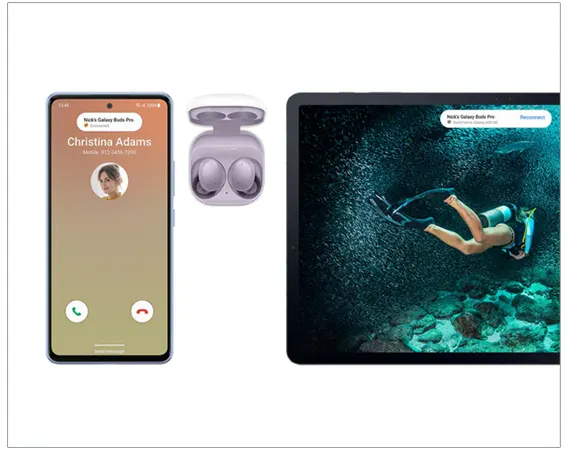 In terms of connectivity, the Samsung Galaxy A53 has done a commendable job by providing the latest networking options and 5G internet connectivity. The A53 5G handset comes with Bluetooth 5.1 and Wi-Fi 5 onboard. For a price of $419, the 5.1 Bluetooth variant and Wi-Fi 5 onboard are too much to expect.
Camera
The Galaxy A53 5G model features a 32 MP (F2.2) front-facing camera for selfies. 64 MP (F1.8) main camera, 12 MP (F2.2) ultra-wide camera, and a 5 MP (F2.4) dedicated depth sensor at the rear to expand your viewing angle and capture every minute detail.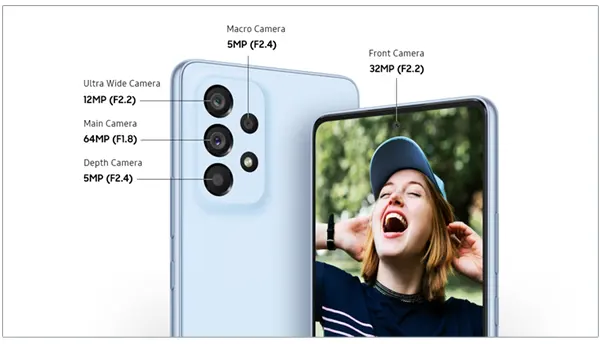 This solid camera combo facilitates 4K video recording at 30fps. The high-resolution 2x zoom camera delivers brighter, more detailed shots even in low-light environments. The only problem we found with the cameras on the A53 5G mobile is that it lacks a night mode.
Battery Backup
One of the key specs improvements of the A53 5G phone is battery backup. Samsung has upgraded the 4,500 mAh battery of the A51 and A52 models to 5,000 mAh capacity in A53.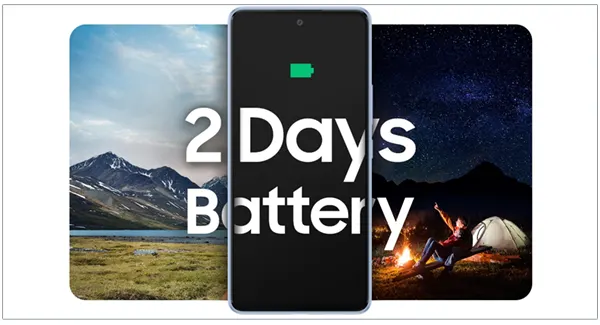 Additionally, Samsung claims that the robust 5,000 mAh battery can easily last for two days with normal usage. We tested these claims, and to our surprise, this phone's battery actually lasted for more than two days with light Wi-Fi usage and almost no extensive tasks like gaming.
Overall Performance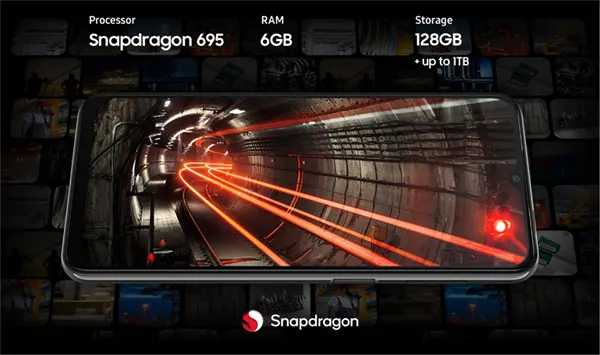 Performance-wise, this A53 5G model is far better than its predecessors and gives intense competition to phones of higher range like Samsung Galaxy S17 5G. The overall performance of this phone is reasonably good, especially if you consider its price, there's nothing to complain about this phone. Honestly, what we feel is at this price point, this is the best you can expect from Samsung.
Moving on, let's take a glimpse at the strengths and shortcomings of the Samsung A53 5G phone and determine whether this phone is worth investing in.
Strengths and Limitations of Samsung Galaxy A53 5G
Galaxy A53 5G has vastly improved its performance and has inlined very decent features. Many critics have considered this phone a smart Samsung gadget at economical pricing in their Samsung Galaxy A53 5G reviews. To, entitle this handset as the best first, we have to analyze its pros and cons.
Pros
Sleek design and AMOLED screen
Exceptionally long battery life
Has versatile cameras
Offers better connectivity than its predecessors
Cons
Lacks wireless charging
Doesn't support superfast charging
Considering the benefits of A53 5G, we can say that the strengths of this phone are quite convincing and are able to impress the audience with ease.
Our Verdict – Nice Entry Level Phone With Better Pricing
You can definitely invest money in this phone if you want to get the classic Samsung experience without burning a hole in your pocket.
Samsung Galaxy A53 5G has almost everything one could ask for in this price bracket. This phone is a bridge between mid-range and flagship realms. Performance-wise, the A53 5G features the Galaxy S experience; however, it cuts a few corners to save on price and make it affordable.
Though the A52 5G has better connectivity options, the A53 5G gets a lead due to its battery backup and software updates. The lower price tag of A53 5G has made it the center of attraction.
If analyzed thoroughly, this phone doesn't reinvent the mid-range wheel but refines a successful day-to-day performance formula at a more affordable price.
FAQ
Is the A53 5G worth buying?

The A53 5G Galaxy has all the important features that an entry-level phone should have. Besides, its smart hardware configuration, battery backup, and software updates make it a good option to invest in.
Is the Galaxy A53 waterproof?

The A53 is rated as IP67 for water and dust resistance, which means that Galaxy A53 stands up to 1.0 meters of freshwater for approx 30 minutes. However, considering it waterproof is still a mistake, and we strictly advise you not to use the Galaxy A53 5G phone in beaches, pools, or soapy water. This phone is safe only against low water pressure.
Does A53 fingerprint work with a screen protector?

Galaxy A53 is designed in such a manner that it is highly sensitive, so it doesn't matter if you are using a screen protector; the on-screen fingerprint sensor will work accurately.