| | |
| --- | --- |
| Product Image | |
| Product Name | Samsung Galaxy A32 |
| Price | |
| Available Colors | Black |
| Review Rating | |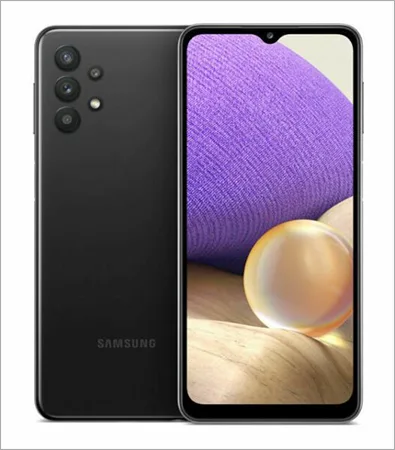 Samsung budget phones are many, and one among them is the Samsung Galaxy A32 5G. It is famous for its outshining display, powerful battery life, sturdy design, and upgradeable software system. It fits the user's demands with a 6.7-inch durable Gorilla Glass display, awesome camera quality, and portable speakers. This phone reigns in the epic phone battle, just like the Tesla Pi Phone.
This article offers an interesting proposition on the newest Galaxy A32 5G; an inexpensive Android phone on the market.
Without any further ado, let's begin.
Impressive design
Awesome camera quality
Long-lasting battery power
Upgradeable software policy
Trusted Gorilla Glass 5 display
Lower quality speaker
The back panel gets scratched easily
Display of low-resolution
There are various impressive features in this cheap budget phone, the Samsung Galaxy A32 5G, and the table below is testimony to these facts.
| | |
| --- | --- |
| Features | Specifications |
| Brand | Samsung Galaxy A32 5G |
| Display size | 6.7inch by 3.0 by 0.4 |
| Screen resolution | 1600 by 720 |
| CPU | MediaTek Dimensity 720 5G |
| Operating system | Android 11.0 |
| Camera resolution | Front-Facing: 13MPRear-Facing: 48MP,8MP,5MP,2MP |
| Battery Life | 13 hours 1 minute |
| Weight | 7 ounces |
| Price | $279.99 |
What are some of the features that the audience looks for in a budget-friendly Android phone? Is it an eye-catching display or a good-quality camera? I guess it's both. Let's learn some pleasing features of the Galaxy A32 and get to know its impressive features.
Pleasing Features in Samsung Galaxy A32 5G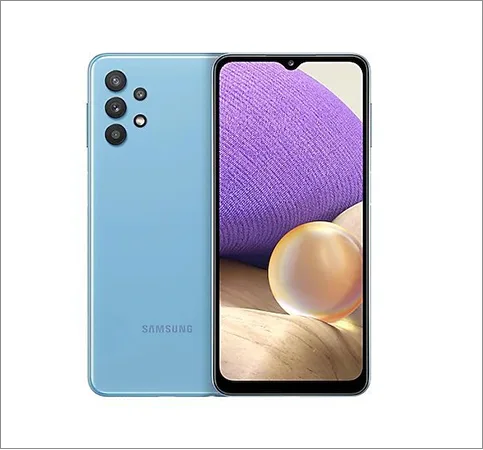 Users can find a USB-C charging port, a 3.5mm headphone jack, and speakers on the bottom of the phone chassis. On the left is a SIM/MicroSD slot, while on the right are the volume and power buttons. It is quite similar to the same budget-friendly phone, the Motorola Moto G Power. A comprehensive display of the features of the Galaxy A32 5G has been provided, which will help you understand it a bit more closely.
Display: You might end up being a happy customer after having just a glance at the display quality of this budget-friendly Android phone. With a grey finish, users get a 6.7-inch display which can be easily grabbed meanwhile, the screen resolution of 1600×720 is a little disappointing. The plastic panel and chassis, plus the fingerprints constructs Samsung Galaxy A32 5G a handsome phone. The textured back can be easily scratched due to a mere accidental drop. Also, you won't be able to find any IP standards for any resistance proofing.
Speakers and Volume: As discussed, the volume button is present on the bottom of the phone chassis. The output volume is 86 dB, which is portable for busy traffic calls. It is highly advisable to use good headphones while doing tasks other than mere calls, like Skullcandy Crusher. Volume quality is decent, with bearable mids and lows.
Battery Life: What are real users' demands when it comes to a budget-friendly Android phone? This Samsung Galaxy A32 might be that one future-proof long-lasting companion. So, you might be impressed with the 13-hour performance of the Galaxy A32 5G. With this battery backup, you can end up watching HD videos with a WiFi connection. The applauding performance of the battery is due to the 5,000mAh battery support, which can be easily charged with an 18W fast charging system.
Camera: On the back panel, there are three sensor bumps stacked vertically, whereas present on their right are sensor flush and flash. The camera construction is quite similar to Samsung Galaxy A51. Galaxy A32 5G surpasses the normal expectations of a normal budget Android phone as it bestows the best shots with clearance and a proper blend of colors. The selfie camera also provides vivid and crisp pictures.
Operating System and Updates: Samsung Galaxy A32 5G has an inbuilt Android 11.0 software system. The most impressive feature is the upgradeable system in the camera, Microsoft Office, and many more. You also get an improved application for development like Samsung Daily and Google Discover.
Storage: This handsome display Samsung Galaxy phone also has got impressive storage quality. With 4GB of RAM comes 64GB of ROM, and a 720 5G chipset MediaTek Dimensity. Users won't be in despair with this decent amount of storage pack.
After visiting the tempting features, take a brief look at the drawbacks too.
Loopholes in the Performance of Samsung Galaxy A32 5G
In order to get an honest gadget review, we must also learn the negatives. Some of the drawbacks of the Galaxy A32 5G are as follows.
The back panel of Galaxy A32 5G gets easily scratched and this makes users wonder about its display quality after years of strenuous use.
This Samsung invention does not come up with any ratings either for its water or dust resistance. Users might have to pay a considerable amount after accidental drops.
The speaker volume is non-impressive, with a peak volume of only 92dB. You are going to suffer with mids and lows. Lower volumes are manageable and are present at the bottom.
The external storage of 64GB could have been extended. It has been limited to 128GB.
Features Ratings of Samsung Galaxy A32 5G
Ratings after speculating the features of Samsung Galaxy A32 5G from popular websites like PCMag and CNET have been provided.
| | |
| --- | --- |
| Features | Ratings |
| Display | 4.5 |
| Battery Backup | 4 |
| Camera Quality | 4 |
| Speaker | 3.5 |
| Storage | 3.9 |
After knowing the ratings, let's get some knowledge on the price and availability of Samsung's cheapest great invention, the Samsung Galaxy A32 5G.
Price and Availability
Galaxy A32 5G is available in the market at an MSRP of $279.99, while at many stores like Amazon, and Flipkart, one can avail of some of the best offers like early delivery and exciting prices. The table below represents various online retail stores with their price and availability.
| | | |
| --- | --- | --- |
| Website | Price | Availability |
| Amazon | $259.36 | Available |
| Flipkart | $243.21 | Available |
| Best Buy | $269.99 | N/A |
| Walmart | $255.99 | Available |
| eBay | $259.98 | N/A |
After gaining knowledge on various price offers in the market for the Samsung Galaxy A32, it is imperative to know the customer's reviews at the end.
Shipping Details in The U.S.
Numerous famous retailers with a worldwide presence, like Amazon, BestBuy, and eBay are helpful for the U.S. audience to buy several technical gadgets like the Samsung A32 5G. Users need to provide their shipping details, from their shipping address to their phone number and Email ID.
Best offers for U.S Inhabitants could be gained from Amazon and Flipkart websites, which offer amazing price offers, around $100 to $200 off. The corresponding store with the lowest price for U.S. users is AliExpress, which is currently clearing its stock of Galaxy A32 for only $236.49.
Customer Reviews
Here are some of the honest reviews by Samsung customers who are aware of the real-ground performance of the Galaxy A32 5G. Some of them have been listed below.
"Ridiculous, but impressive. If you want a snappy phone that is RARELY glitchy, if at all, has a good-sounding speaker, makes and takes solid and clear calls, texts, and emails, and does very well surfing the net, then this phone is very capable. Out of the box, it is at 50% brightness and looks great. Wifi and 5G have been solid on Tmobile. The battery seems solid. There are some complaints about the phone by folks that expect blazing speed, unsurpassed this and that, blah, blah, blah. Have at it buying all that for a grand. At the price this phone is, it is more than fine." ~ Larry
"The product is as well made and functional as any Samsung we have purchased. We got this for my daughter, who is just entering Middle School. There are no problems with the phone itself except it is not compatible with our provider. The product information indicated otherwise, but we were told it was an error in the product description. I'm not sure whose air that is. The operating speed is good. The graphics are nice. The camera works really well. It has a good amount of storage." ~ Bronx
"I'm very pleased with the phone so far now mind you I came from a flip phone to this phone so it's working well. What I'm most impressed with is the Best Buy associates that helped me with this phone and especially the girl that set up the phone on the Verizon network excellent workers." ~ Midnight
"ll features for this phone are great and work great. It is a fast 5G smartphone. I just love it. I could have gotten it cheaper elsewhere, but I bought it at Best Buy because it offered next-day delivery. I am absolutely astounded at this phone's performance. I like it also because, when I type, it clicks on each letter I write. I strongly recommend this smartphone. It is easy to use also. All you want you will get in "Settings". The rest comes naturally to you. Great, great phone. I registered it with Samsung, and I have a one-year manufacturer warranty, which is not available if you buy on eBay or elsewhere." ~ Danny
"This is a good product for the older generation with some tech. skills. Does everything I need and some more. I found it not too difficult to get used to." ~ Eric
Reviews above must have helped you get a vivid picture of the performance of this handsome Samsung Android phone.
Our Verdict: Is It Worth to Buy It?
If you desire a budget-friendly Android with top-notch qualities, the Samsung Galaxy A32 5G is the one. With the best camera quality, appropriate storage, and an awesome display, users will surely stay comfortable. With a 6.7-inch fingerprint speaker and rightly placed volume and power buttons, this smartphone has a competitive presence in the market.
Closing Thoughts
Samsung Galaxy has always amazed its audience with the cheapest Android discoveries with top-notch quality, hence filling all the needs of the current generation. The Samsung Galaxy A32 5G is one of those great Android inventions that brought amazing features, from its display to camera quality, at a low price, making it one of the best options available in the market.
FAQ
Is Samsung Galaxy A32 5G a good option to choose from?

Yes, it's absolutely the best option for Androids currently available on the market. It's price-friendly, has the best display, and has a top-quality speaker with appropriate storage, which makes this Samsung phone the best available option.
Where to buy the new Galaxy A32 5G at the best price?

One can buy the Samsung A32 5G at the best price from Flipkart and Amazon. Users can receive various offers, prices, and free delivery from these two retail shops.
What is the pixel density on the display of the Galaxy A32?

A resolution of 1600 x 720 results in a pixel density of 270 pixels per inch.
hat is the average 5G speed of the newest Samsung Galaxy?

After testing the Samsung Galaxy 5G on the T-Mobile 5G network, its speed has been estimated at around 141.9 Mbps down and 42.8 Mbps up.
---