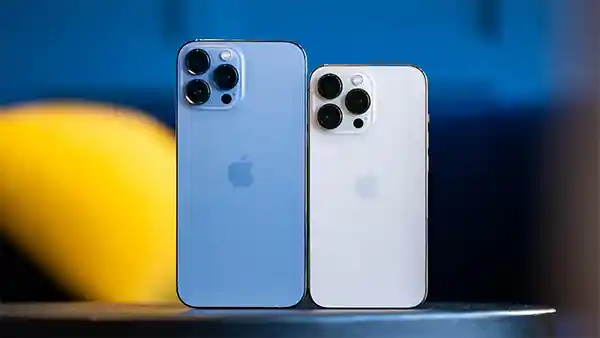 Currently, technology has reached unprecedented levels of transformation and development. Mobile phones are turning smart too, tracing people's location, easy online payment, Face ID unlocking potential, and many other tedious tasks are done within mere seconds.
When we talk about smartphones, the first product that pops into our heads is the iPhone which is popular among the masses, highly successful, dropping jaws and blowing the audience with many splendid and enhanced features in every new launch. Meanwhile, if your face ID doesn't work one can fix it easily too.
In this article, we have the iPhone 13 Pro Max and iPhone 11 Pro Max competing with each other for the title "Price For Value." Let's find out:
Specs of iPhone 11 Pro Max and 13 Pro Max
The detailed specs below showcase a comparison between the two iPhone paragons, iPhone 11 Pro Max and 13 Pro Max. A close analysis will help to figure out the differing performance of the two smartphones in various categories.
You can also checkout the iPhone X Detailed Review. Is It still Worth Buying in 2023.
| | | |
| --- | --- | --- |
| Specifications | iPhone 11 Pro Max | iPhone 13 Pro Max |
| Display | 6.5 Inches, 1242X2688 pixels, OLED 60Hz | 6.7 inches, 1284X2778 pixels, OLED, 120Hz Pro Motion |
| RAM | 4GB | 6GB |
| Storage | 64 GB | 128 GB |
| Processing | Apple 13 Bionic | Apple 15 Bionic |
| Camera | f/1.8 aperture, 1.4µm pixel wide camera, 0.5X, 13mm, f/1.8 aperture ultra-wide camera | 26mm, f/1.5 aperture, 1.9µm pixel wide camera, 0.5X, 13mm f/2.4 aperture ultra-wide camera |
| Battery | 3,969mAh, 12 hours of video streaming | 4,352mAh, 25 hours of video streaming |
| Charging Speed | 18W, 7.5W wireless | 20W wired, 15W MagSafe wireless |
| Price | $840 | $1200 |
The specification table above helped to distinguish the two models based on various features. Also, several hacks and tricks make the iPhone a little more capable and user-friendly.
Features Comparison of Both iPhone Models
Do you wanna know what major changes came in iPhone 11 Pro Max and iPhone 13 Pro Max? Were they comparatively similar in storage, ProMotion, brightness, and price? Which iPhone has mind-blowing features, colors option, and storage? Get to know the display, battery, camera, and many other benchmarks in the discussion ahead.
Battery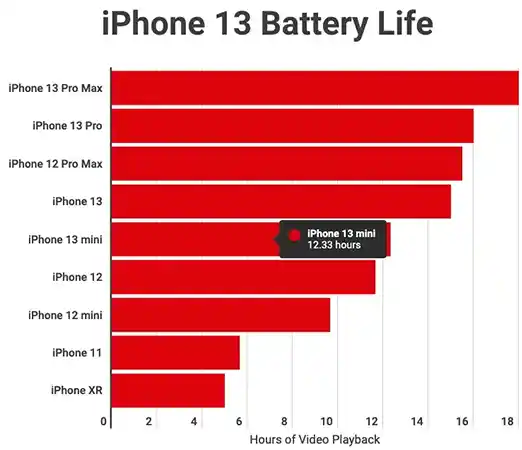 How does a battery backup of full 2 days sound to you? Well, iPhone 13 Pro Max does the same with its 4,352mAh battery cell. This is the longest battery life that can be expected, one which helps the user survive the maximum.
Users can stream videos for almost 25 straight hours. The other model, iPhone 13 Pro max, has 20 hours of battery backup with 11 hours of video streaming, powered by a 3,969mAh cell. The two models have approx 10% difference in their battery performance, and it is one of the prior reasons why the iPhone 13 Pro Max is much more expensive.
Disappointingly, iPhone 11 pro max doesn't come with any charger; therefore, users have to buy the Apple fast charger themselves. This charger is believed to charge with a maximum 20W charging speed; meanwhile, iPhone 13 Pro Max had a much faster charger, 27W charging speed.
Display Quality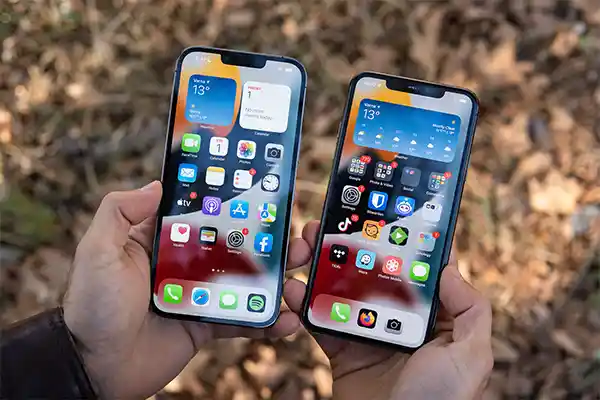 Smartphones that are lightweight, smooth to grip, and modest in design are highly preferred. 11 Pro Max is blessed with curved edges and a 6.5-inch screen with OLED technology to provide vibrant colors resulting in an unmatched experience. The other model, iPhone 13 Pro Max, has a much bigger screen of 6.7 inches, resulting in a much heavier and bigger size, hard to grip. Meanwhile, if this heavy model drops, there are chances of cracks and screen replacement.
The common part in both models is the resolution and sharper text quality. iPhone 13 pro max model is much evolved with a higher peak brightness of 120Hz for smooth scrolling. The color option in 13 Pro is Sierra Blue, Blue, Graphite, Silver, and Gold, quite more than iPhone 14 Pro Max with Silver, Gold, Gray, and Midnight green option.
Camera
iPhone 11 Pro Max has evolved some of its camera properties, like Night mode, whereas the other model 13 Pro Max sensors have got much enlarged. Both of the Apple models are gifted with a triple camera system. If the user is trying to zoom with 3X, iPhone 13 pro max can do it easily, whereas the other model only has 2X zoom. "Photographic styles," a new feature in 13 Pro Max, allows users to edit real-time pictures, either vibrant or subdued looks. The table below illustrates the camera hardware specification of both iPhone models.
| | | | |
| --- | --- | --- | --- |
| iPhone Model | Wide Camera | Ultra Wide Camera | Telephoto Camera |
| iPhone 11 Pro Max | f/1.8 aperture, 1.4µm pixel | 0.5X, 13mm, f/1.8 aperture | 2X zoom, f/2.0 aperture |
| iPhone 13 Pro Max | 26mm, f/1.5 aperture, 1.9µm pixel | 0.5X, 13mm f/2.4 aperture | 3X zoom, f/2.8 aperture |
The camera quality of the iPhone 13 Pro Max is much developed, and the above table is testimony to this fact too. Meanwhile, it also takes only 1s for capturing night pictures, whereas the old model 11 Pro Max takes 3s. In the ultrawide camera, iPhone 11 Pro Max disappoints with no support for night mode in the given lens.
Much exciting development in the camera of 13 Pro Max is the macro mode capturing and recording pictures and videos respectively that are 2cm close.
Processing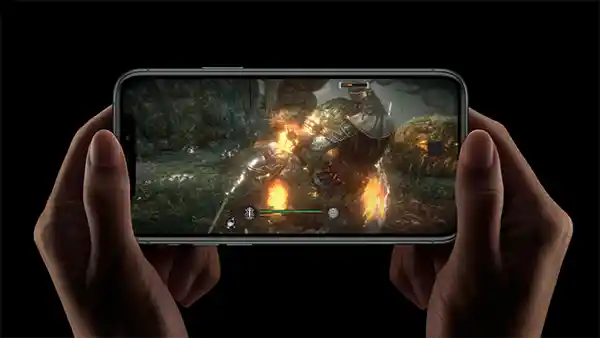 Talking about the various processing like CPU, GPU, AI, and camera ISP improvement, the A15 Bionic chip in 13 Pro Max is expected to bring much-developed processing performance. In comparison to the A13 processor chip of iPhone 13 Pro Max with 7nm tech, the other model is built on a 5nm technology with 6.5 Billion more transistors resulting in speedy processing. If looking for 5G connectivity, the new model 13 Pro Max gifts this connectivity upgrade while the 11 Pro Max still lags with 4G LTE connectivity.
While looking at GPU performance, the new model 13 Pro Max can be renamed as an "ultimate gaming machine" due to higher frame rates in its on-ground graphic performance.
Storage
With every new launch, the storage capabilities in iPhone models have always startled users with more capacity strength. iPhone 13 Pro Max gifts its user 128GB storage, which is extremely high from the 11 Pro Max storage capabilities, i.e., 64GB. The RAM storage of the iPhone 13 has 2GB more than the other model. Good storage will ensure great support to keep huge files and folders, leading to minimum storage issues.
Price
The price of the new model, iPhone 13 Pro Max, is around $1,100. Meanwhile, the 11 Pro Max is available at the price of $840. The former model's stature is high due to various challenges it threw on the old models, and it enhanced itself with every required feature like display, processing, battery storage, night mode pictures, and the list goes on.
Pros and Cons Table
The pros and cons table differentiates iPhone 11 Pro Max and 13 Pro Max on various benchmarks. Have a look at this brief chart to acknowledge which is the best version of the two.
Pros
iPhone 11 Pro Max: Perfect display 6.5 inches and size, easy to carry and grip
Face ID works fast with wider angles
Video recording quality with XDR
iPhone 13 Pro Max: 27W battery fast charging speed
A15 Bionic chip enhances GPU, CPU, AI, and camera graphics improvement
5G connectivity available, higher brightness level, 120Hz ProMotion
It has more color
Cons
iPhone 11 Pro Max: Doesn't come with a charger
Take up to 3s for night pictures.
64GB storage is less
20W slow charging speed
Exorbitant price
No USB-C
iPhone 13 Pro Max: Heavy and bigger display of 6.7 inches, difficult to grip
Expensive
USB-C is not provided
Cinematic mode is less polished.
Audience View on iPhone 13 Pro Max and iPhone 11 Pro Max
It is important to hear the customer's reviews on their experience with the two epic modes, withstanding to prove their real abilities in the highest way possible.
"I'm really enjoying this phone. I went from Touch ID to Face ID, and I'm really enjoying it. This phone takes beautiful pictures. I traded my 8plus for the 11 pro max vs. 12 pro max due to I thought it was the better buy with a lot of the same features the 12 max pro offer." ~ Belvie
"For two-three years, Android phones were churning out better photos than the iPhone. With the iPhone 11 Pro Max, Apple has reclaimed the top spot in smartphone photography and how!" ~ Nipun Sharma
"Purchased it after the release of the 12 series, which now makes the 11 series way cheaper and full value for money. Additionally, the discount on my credit card helped. Would never purchase a newly launched iPhone ever. Would suggest the same to everyone. They charge too much Apple tax." ~ Noor Sayed
"This new iPhone separated itself from the rest, is lighter, it feels right on the hand. The transition from a physical button to a digital operation is painless. I will recommend this iPhone to anyone with an iPhone 8 and below. Newer phones are very similar, but I will still say the iPhone 11 pro is a better phone." ~ iPro11user
"Wanted the regular-sized Pro but thought about giving the Pro Max a shot, and it was the best decision ever! It got comfortable in my hands in about 15 minutes, and the battery for the Max Size is unbelievable; I got 11 hours of screen time over the last 2 days on a single charge!" ~ KruArora
Above were some customer reviews describing the performance of the two models through their real experience and the thoughts of users.
Our Verdict: Which One to Choose Between iPhone 13 Pro Max and iPhone 11 Pro Max?
With the launch of the iPhone 13 Pro Max, the older model 11 Pro Max sounds obsolete as every tiny detail from the display to the charging speed has been enhanced to an applaudable level, making the former model an "iconic technology gift". Yes, iPhone 13 Pro Max outshines with its better display of 6,7 inches, enhanced photographic styles, 4,352mAh battery speed, 3X zoom telephoto camera, and 128 GB storage.
With 5G connectivity support, users might face the least difficulties in between their games. On the other hand, when iPhone 11 Pro Max was released, its features and performance tempted the world, and it earned the "fastest smartphone" title, but now this crown is set on the 13 Pro Max. Whether it's the camera pixels or the storage capabilities, 11 Pro Max does not fill the various demands of the current audience.
FAQs
Ans:iPhone 13 Pro Max being much more expensive, is powered with the best battery power, storage quality, camera capabilities, and graphic processing. On the other hand, iPhone 11 Pro Max has a perfect display and camera for the users, but its storage, battery, and processing are less strong in comparison.
Ans: No, both models have different display sizes. iPhone 13 Pro Max display is 6.7 inches, quite bigger than the 11 Pro Max, so it is impossible to use the same case.
Ans: Yes, iPhone 13 Pro Max has better camera quality with 3X zoom, night mode support, and 26mm, f/1.5 aperture, 1.9µm pixel wide camera.
Ans: If you are ready to pay an extra price, iPhone 13 Pro Max has various enhanced features in storage, display, battery backup, and camera quality to impress.
Sources
Patrick Holland, iPhone 13 Pro, and 13 Pro Max review: Apple gave us features we've wanted for years, CNET, November 19, 2021
---
Also Read:
How to get the best price for iPhone 12 Pro?