Theoretically, sending a text message between any two mobile phones should be possible. But occasionally, problems do arise, particularly when switching from iOS to Android. It's possible that iPhones can't text Android devices.
There can be instances and times when you are unable to connect to Wi-Fi or cellular Data, at that time SMS options are your only savior. Many iPhone users have been experiencing message delivery problems recently and receiving error messages like "iPhone not sending texts to Android" or "iPhone can't text Android".
Fortunately, you've arrived at the right time and place if you're having trouble sending texts from your iPhone to your Android device or if you're dealing with any of the issues mentioned above or something similar.
Let's get going so we can free you from this annoying snare of iPhone not sending texts to android.
Fix 1: Review The Device Settings
This may not often be a problem if all of your communication is done via iMessage with other iPhone users, but there is a setting that can be the reason iPhone is not sending group texts to Android. It makes sense to activate this setting first.
Step 1: Make sure that your device is connected to cellular or Wi-Fi.
Step 2: Go to Settings and click on Messages.
Step 3: From Messages, turn on your iMessage services, and make sure that the "Send an SMS" option is turned on.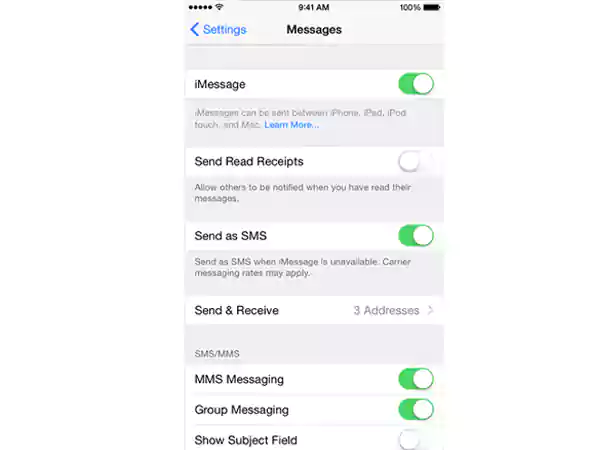 Fix 2: Check Recipient's Number
If the SMS is sent to a non-existent number, an error message pops up that could be the reason why iPhone can't text android. Always check to see that the recipient's phone number is entered correctly and in the correct format when sending a message from an iPhone to an Android device.
Additionally, you must ensure that the number you are sending to is not blocked, which can also be the reason iPhone is not sending texts to Android. To determine whether this is true:
Step 1: To start, launch the Settings app on your iPhone, then select Messages.
Step 2: Next, navigate to Blocked. Here, see if the phone number is on the list of blocked numbers, and if so, delete it.
Fix 3: Restart The iPhone
Another easy fix is to Restart your iPhone. This will clear out any temporary glitches not just in the wireless network software, but also in the Messages app and various background services.
Just long-press the power button and the volume button simultaneously and slide the screen from left to right. Just reboot and try to resend the messages, you must be able to send text messages now.
Fix 4: Turning On and Off Airplane Mode
Another quick way to break WiFi and cellular data network connections is to go into Airplane Mode, and then back out of it. By doing this, it eliminates any bugs that might be preventing the texts from being delivered.
By tapping the plane icon in the Control Center, you can quickly access this mode. Tap it once more to deactivate it after a short while. That should make things clear and fix the issue of the iPhone not sending texts to android.
Fix 5: Update Your iOS
Many features, such as sending SMS messages through the built-in messages app, will not work properly if you use a device with outdated firmware.
It might be possible that there is a software issue on your iPhone device that is continuously causing troubles while sending messages to Android devices. If that is the case, just go through the following steps to update your iOS to the latest version:
Step 1: Open the General settings in the Settings app.
Step 2: Click on "Software update" here, and if an update is offered, just download and install it.
Fix 6: Check the iMessage System Status
To work with this fix, just directly go to your Apple Service System Status page and check the working status of iMessage services.
Read More: 6 Quick-Fixes to Resolve Issues with iMessage/Text
Fix 7: Reset Network Settings
Resetting the network settings will bring everything back to normal and fix any major text message problems that the earlier fixes were unable to address. Although you will lose your WiFi, Bluetooth, and VPN data when you reset network settings, your data won't be affected, so there's no need to make a backup.
You might have changed some network settings in your iPhone unintentionally or due to certain circumstances, to disable these changes and enable messaging services, follow the steps below:
Step1: Open Settings in your iPhone.
Step 2: Open General Settings, then select "Reset Network Settings" from the list of options under "Reset."
Fix 8: Check Date and Time
Your device's network-related features, such as text messaging and internet access, will be affected if the date and time are off. In order to send an SMS to an Android device, the iPhone needs to accurately record the time and date.
Fix 9: Reset Factory Settings
Your phone will be completely erased after a factory reset, including any bugs that might be preventing you from sending messages. If all other fixes have failed, you should consider this as one of your last options.
Remember to make a backup of your data in advance, otherwise, you will lose all of your data. To reset the iPhone to factory settings:
Go to Settings >> General >> Reset >> Erase All Content and Settings
Fix 10: Contact Your Carrier Services
If none of the above fixes works for you, just talk to your network service carriers by calling them or mailing them directly, regarding all the required messaging queries. You might get the possible solutions from their side to effectively send texts from your iPhone.
Depending on the problem's root cause, the aforementioned fixes will be effective to fix the issue of the iPhone not sending texts to android. Although there may be a unique solution for your text message issue, one of the above suggestions should help you with that.