USD 600 billion, which is the estimated market size for social media e-commerce revenue over the next few years. Is your company ready to join the action?
Recently, the TikTok Shopify app revealed their collaboration, ushering in a seamless integration enabling brands to sell their goods in-app. Users can now buy your product while watching their preferred influencer gush about it on TikTok.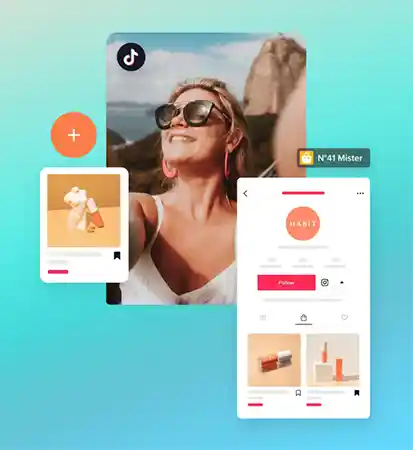 With more than a billion active users globally, TikTok is one of the most well-liked social media platforms among Gen Z and millennials. TikTok is developing into a potent tool for companies to reach a younger audience and boost sales thanks to its viral content and short-form videos.
Integrating your Shopify store with your TikTok account is a fantastic way to boost your sales if you want to sell on TikTok. We'll walk you through the process and provide you with information on how to sell on TikTok with Shopify in this guide.
Why Do You Need to Sell on TikTok?
Most likely, your company is already active on TikTok. You might already be considering influencer marketing initiatives and paid promotion. Have you yet to combine Shopify with your TikTok endeavors?
For all types of companies, Shopify is an all-in-one e-commerce solution. Shopify is trusted by businesses ranging from side businesses to well-known companies. Among these top vendors are Kylie Cosmetics, Fitbit, Whole Foods, and Penguin Books. TikTok selling is more than just showing off. It entails providing prospective buyers with a seamless encounter.
In 2021, more than half of US adults made a transaction through social media, and businesses have noticed. In just one year, TikTok saw a 76% rise in the number of sellers adding the Shopify integration to their channels. Here's how your company can make the most of this chance.
How to Set up TikTok Shopify Integration?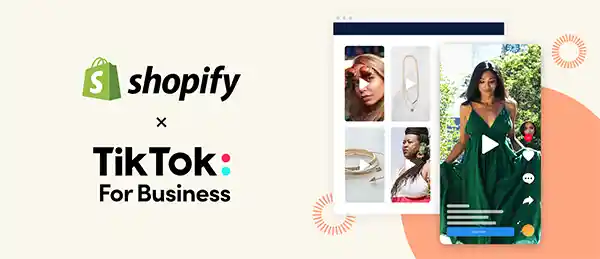 Fortunately, establishing TikTok Shopify integration is not too difficult. Simply follow these easy steps if you're set to launch your online store on TikTok:
Step 1 – Create a TikTok Account and a Shopify Account
You must have both a TikTok account and a Shopify account to know how to sell on TikTok with Shopify. You can make one for free if you don't already have one.
It's easy to register for a TikTok account. On your mobile device, download the TikTok software, and register with your email, phone number, or social media account. After establishing an account, you can begin using TikTok and making your own videos.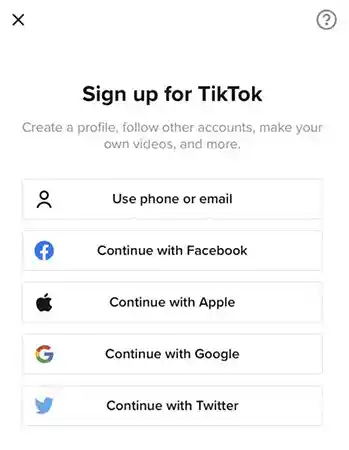 A Shopify account is also simple to set up. Visit the Shopify website to create an account. You must pick a pricing strategy and give some fundamental details about your company.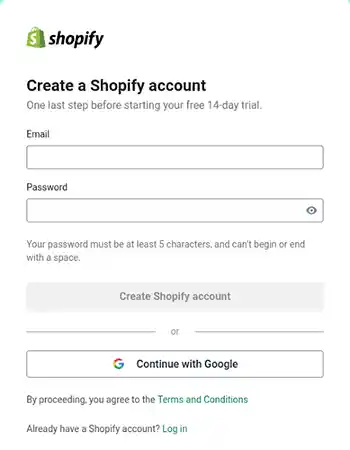 Step 2 – Set up Your Shopify Store
You must first establish your store on Shopify once you have an account. It entails picking a theme, including your goods, configuring your payment gateway, and setting up your shipping preferences.
Go to the Shopify dashboard and pick "Online Store" in the left-hand menu to select a theme for your store. After that, hit "Themes" and pick a theme that works for your company. Using the Shopify Layout Editor, you can further modify the layout.
Go to the "Products" section of the Shopify dashboard and select "Add Product" to submit your products to your store. Information about your goods, such as their name, description, price, and images, must be entered.
Go to the "Settings" area of the Shopify dashboard and select "Payments" to configure your payment gateway. Several purchasing methods are available, including credit cards, PayPal, and Apple Pay.
Go to the Shopify dashboard's "Settings" area and select "Shipping and Delivery" to customize your shipping preferences. Based on the weight and final destination of your goods, you can configure your shipping costs.
Step 3 – Install the TikTok Channel App
Install the TikTok channel app from the Shopify app shop in order to sell on TikTok with Shopify. You can use this app to link your TikTok account to your Shopify shop.
Go to the Shopify app store and type "TikTok" into the search bar to install the TikTok channel app. To add the app, click "Add app" and follow the on-screen instructions.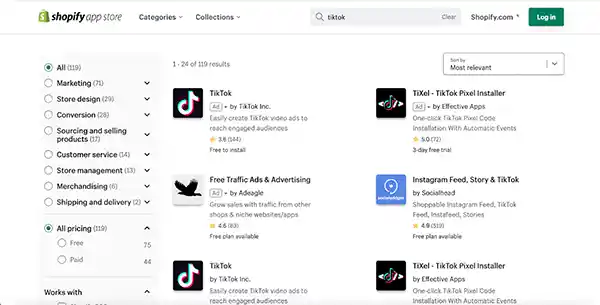 Step 4 – Connect Your TikTok Account
You must link your Shopify shop and TikTok account after installing the app. You can accomplish this by adhering to the app's instructions.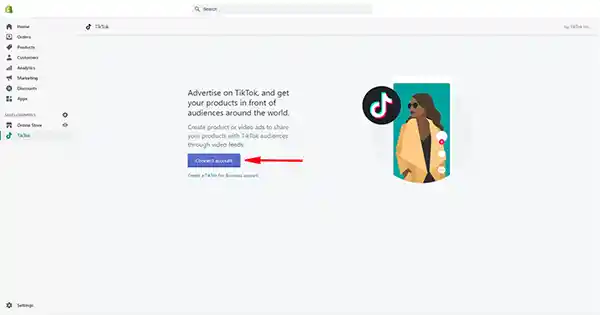 Go to the "Apps" area of the Shopify dashboard and select "TikTok" to connect your TikTok account.
After that, select "Connect account" and enter your TikTok login information.
Your accounts will then be linked by the app and TikTok Shopify integration is finally done.
Step 5 – Create a TikTok Ad Campaign
You can start a TikTok ad campaign in the TikTok Ads Manager after linking your accounts. You have the option to build your advertisement and select your target market.
Visit the TikTok Ads Manager website and register for an account before creating a TikTok advertising campaign. Afterwards, select "Create campaign" and to create your campaign, simply follow the instructions. You must decide on your campaign's goal, target market and spending limit.
Your campaign's aim should line up with your company's objectives. For instance, you could select the "Conversions" aim if your goal is to boost sales. You can select the "Reach" or "Video Views" objective to raise company awareness.
To make sure that the right people see your advertisement, you can choose from a variety of demographics, hobbies, and behaviors when selecting your target audience. People who have interacted with your website or social media profiles can also be retargeted.
Another crucial step is creating a budget. For your program, you can select a daily budget or an overall budget.
The last step is to make your advertisement. TikTok advertisements can take the shape of sponsored hashtags, brand takeovers, or in-feed advertisements. In-feed advertisements resemble normal TikTok videos, but they are marked as sponsored and the Brand takeovers are full-screen advertisements that show up when users launch an app. Choose any of them and you are good to go.
Step 6 – Track Your Results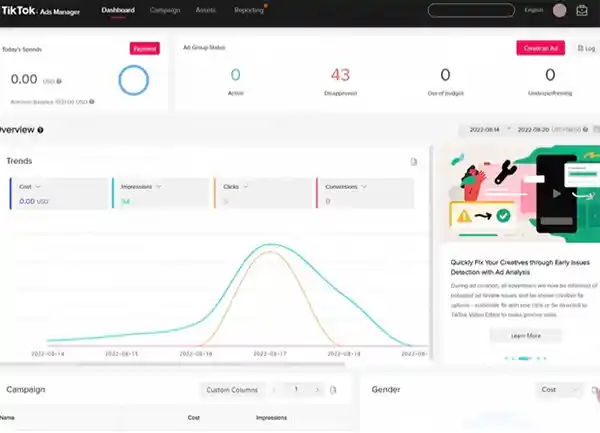 You must monitor your results after your ad strategy has begun to determine how well it is working. Impressions, clicks, and conversions are just a few of the data that are available from the TikTok Ads Manager.
Go to the TikTok Ads Manager and select your campaign to monitor your outcomes. The metrics that indicate how many people have seen, clicked on, and converted on your ad are then displayed to you.
You can increase your sales and optimize your advertising strategy using this data. For instance, you can change your targeting or your ad creative to make it more appealing to your target audience if you notice that your ad is receiving a lot of views but few conversions.
Advanced Strategies for Selling on TikTok with Shopify
You might be wondering what else you can do to boost your sales and engagement on the platform if you've already set up your TikTok Shopify Integration and made a few advertisements. Here are some cutting-edge tips for using Shopify to sell on TikTok.
Work with influencers: Collaborating with well-known influencers in your field is one of the best ways to grow your TikTok audience. Look for influencers with a sizable fan base who are compatible with your brand, and think about giving them a commission or free item in return for promoting your goods.
Use user-generated content: TikTok users enjoy producing and sharing content, so take into account using UGC in your advertisements. This might entail sharing videos of clients using your goods or holding a competition where participants make content for your business.
Try a variety of ad formats: TikTok provides a number of ad formats, including in-feed advertisements, branded hashtags, and sponsored challenges. Try out various formats to determine which ones are most effective for your audience and business.
Utilize the TikTok algorithm: TikTok's algorithm aims to surface interesting and pertinent material for users. Utilize the best time to post on TikTok and ensure that the material you produce is of the highest caliber & engaging in order to increase the visibility of your advertisements.
Test and improve your campaigns: To increase the efficacy of your TikTok ad campaigns, you should test and improve them just like you would with any other marketing channel. Utilize the TikTok Ads Manager to track success indicators like click-through rates and conversions and make necessary corrections.
Common Mistakes to Avoid When Selling on TikTok with Shopify
While using Shopify to sell on TikTok can be a fantastic way to expand your customer base and boost sales, there are a few mistakes you should avoid to make sure your advertising campaign is successful.
Not choosing the correct target audience: When choosing the target audience for your advertising campaign, it's critical. The demographics, hobbies, and behaviors you choose should be those that are most pertinent to the use of your product or service.
Neglecting the value of creativity: TikTok is a platform that appreciates originality and ingenuity. To engage your audience, make sure your advertisements are both aesthetically appealing and interesting.
Failure to optimize for mobile: Since TikTok is mainly a mobile application, you should make sure that your Shopify store and advertisements are responsive. Make sure your website is responsive to mobile devices and that your advertisements display well on portable devices.
Not keeping data records: You must monitor your results and make data-driven decisions if you want to improve your advertising strategy. To track the effectiveness of your ads and make any necessary modifications, use the TikTok Ads Manager.
Giving up too soon: TikTok is a new and quickly developing platform, so it's essential to be patient and persistent with your ad campaign. Although it might take some time to see results, with some work and trial and error, you can design an effective campaign that increases traffic to your Shopify shop.
Future Trends and Opportunities for TikTok Marketing
It's critical to keep up with the most recent trends and chances for marketing on TikTok as its user base continues to expand. When using Shopify to sell on TikTok, bear in mind the following trends and opportunities.
AR effects: Users can make entertaining, interactive videos on TikTok using AR effects. Brands will have new opportunities to develop distinctive and unforgettable experiences for their audience as these impacts become more sophisticated.
Niche communities: The TikTok algorithm is made to highlight niche communities and content, making it simpler for businesses to connect with a highly specific audience. In order to raise your exposure and engagement, think about concentrating on particular niches or micro-influencers.
Livestream shopping: After growing popularity in China, livestream shopping is currently getting ground in other markets, including the United States. If you want to showcase your goods and interact with your audience in real-time, think about holding a live shopping event on TikTok.
Transparency and authenticity: TikTok users value transparency and authenticity in content, so it's critical for businesses to produce relatable and authentic content. To increase your audience's sense of confidence and credibility, think about incorporating user-generated content, behind-the-scenes shots, and other genuine content.
You can remain on top of the curve and continue to promote sales and engagement on TikTok by keeping these upcoming trends and opportunities in mind. Never stop experimenting and tweaking your strategy in response to your audience's comments and the newest trends.
Final Thoughts
Reaching a younger population and increasing sales by selling on TikTok through Shopify. You can set up your Shopify store, link it to your TikTok account, and build an effective ad campaign by following the instructions provided in this guide.
Don't forget to pick a theme that represents your company well, add your goods to your store, configure your payment and shipping options, install the TikTok channel app, link your TikTok account, make a TikTok ad campaign, and monitor your progress.
You can take advantage of TikTok's viral potential and increase sales with Tiktok Shopify integration. Good luck!