A year of rating and searching for a great solution for your site just started. If you are somehow related to the subject of art, this article is a must-read. In it, we'll highlight super cool templates in the Shopify art store theme category. The TempleMonster website was always famous for keeping its finger on the pulse and throwing great products at us from time to time. Readers can find a complete list of offerings for arts, antiques, supplies, paints, printing, and similar businesses.
Firstly, we'll briefly define the basic concepts and why buying a template. Then we'll provide our expert opinion about the three new products added in 2023. Whether or not you should buy them, find out by reading our brief review.
Shopify Art Store Theme – Is It Worth Buying
Themes are pre-made designs for online stores that buyers can easily edit to create the look and feel they've been dreaming of for a long time. At the same time, you can learn how to do all the tasks yourself, thanks to the attached instructions. No coding skills are required either unless you want to make drastic changes.
Shopify is the CMS you use to work with the website. For creative businesses related to art (antique shops, art galleries, painters, sculptors, prints, paint, and clay manufacturers), programmers make different templates for the site. So, they take into account their experience and apply it to consider the interests and needs of your target audience. Therefore, after installing the theme, the visitor is more comfortable searching, choosing, and making purchases.
Is It Worth Buying a Template on TemplateMonster
Reasons to pay for a theme can be different:
Desire to save money. Such a development from a personal designer costs a lot of money. In comparison, Shopify themes start at just $70.
Saving time. Creating a unique design takes a long time. It needs to be made and tested.
Low price and many features. Most often, buyers receive more than just a template. The design adapts automatically to any screen size and type, is prepared for SEO promotion, has color schemes and fonts, and is integrated with Google Maps and social networks.
Ease of use. Not only are all actions intuitive, but buyers can also move components on the page and edit them without writing codes. Move a single element to the right place with the help of a computer mouse. Also, to help customers, the developers have added an extensive document with instructions.
As you can see, the purchase is worth the money spent. Investments are small, but the results are immediately visible, and you can successfully handle the product yourself if you wish.
Super Novelties 2023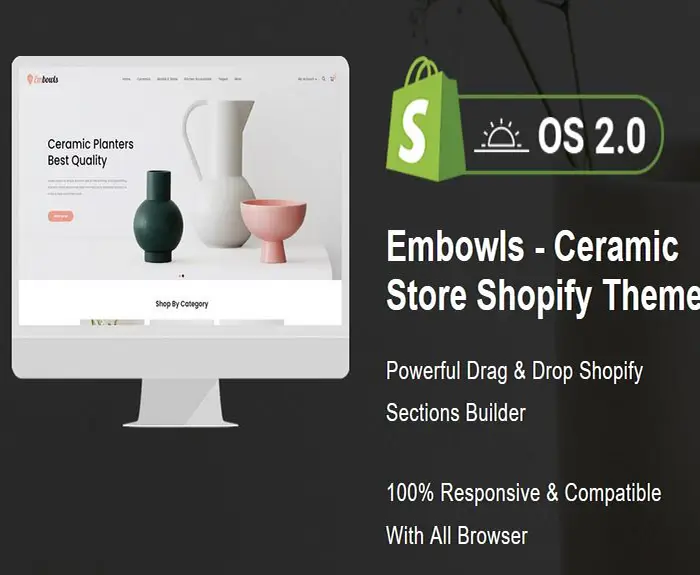 The first on our list is Flowsum. This product was published on the site just a few days ago, in April 2022. Although the photos of an online flower shop were posted as a preview, the template is perfect for an art theme. All thanks to a simple, clean, incredibly understandable design. See how vibrant and fresh the colors of the banners are on a pleasant gray background. In addition to the obvious advantages of the invention, we note that the theme is responsive, has a convenient Ajax search for visitors, and there is Drag-and-Drop that allows you to easily and quickly edit. You may see many bright and beautiful icons when viewing the Demo. The development is worthy of attention and is obligatory for purchase.
Another interesting product is Embowls. In our opinion, the developer very well-selected examples of pictures for demonstration. Perfect for artists, sculptors, and art galleries. Light colors perfectly emphasize every curve of the work of art. The appearance looks like an ultra-modern showcase for goods, highlighting its advantages. Nothing distracts from viewing the product itself. In the development, there are all the advantages described above. Additionally, programmers built an online store. This means buyers can make payments or place orders immediately on the site.
Apparelix is the third very interesting development. Appeared on TemplateMonster in the Shopify art store theme category in February 2022. Positioned as a product for printing, printing canvases, paintings, and photographs. A closer look at the Demo shows the template perfectly adapts to any innovative products. You may create an online store for stationery, equipment, or art supplies. There is a neutral background and bright accents. The theme is mobile responsive.
Findings
The year started with good news and proposals. They are bright and colorful. Sometimes there are concise and clean designs. Therefore, it's possible to choose the design option according to your wishes. Of course, we shouldn't forget the older developments. Enough people have already tried them to draw full conclusions. Previous products are equally useful as new ones. An additional plus is that they already have a rating, and you can see customer reviews. However, if the goal is to get a unique layout, new developments are the best solution. After all, many people haven't had time to buy templates before you. Products are worth ordering! The full offers list readers can view at TemplateMonster.
FAQ
What is the Shopify art store theme?

This is a website design. It's applied immediately after installation. Available for editing. People like it because even beginners can use it. Many settings and low prices make the product as attractive as possible. Buyers can change color schemes, fonts, and the layout of components on the page.
How to set up a Shopify art store theme?

Try to do it yourself using the instructions. The developers wrote for you the most important settings in this document.
Where to buy Shopify art store theme?

You can place an order on the same TempleMonster. Many buyers tested the site over time. All payments the marketplace specialists made were safe.
Does the Shopify art store theme have support?

Yes, the service will be active immediately after purchase. At the same time, the developer provides it for free for six months.
---