If the mouse cursor has disappeared from your Windows device, and you are thinking, "how can I use my Windows now and fix this issue?" keep reading.
There are some users who have complained about the issue of how their mouse suddenly disappears in their Windows. There can be many reasons behind why this issue happens. While it isn't impossible to work on your Windows without a mouse, it can certainly be a little difficult task to do.
Doing one click and getting the job done is much better than taking forever by getting stuck at pressing arrow keys, right? So if you want to continue the smooth functioning of your cursor, read the article to find the easy fixes for this annoying issue.
Why does the Cursor on Windows 10 keep Disappearing?
If you are wondering why the issue of "Cursor on Windows 10 keeps disappearing" is happening, there can be plenty of reasons behind it which could be causing it. So here we are going to mention some of the possible reasons that could be most likely making it occur:
After a Windows update
Scrolling using fingers on a laptop touchpad
In one program only, like Chrome
While typing
Switching from sleep mode
Now that you know the situations where the issue of disappearing cursor happens, let's get right into the solutions for fixing it!
Methods to Solve the "Cursor keeps Disappearing on Windows 10" Issue
There are some methods that can be helpful in solving the issue of "Cursor keeps disappearing on Windows 10". Make sure you follow the solutions given below, as one of them will most probably work for you and help you solve the issue.
Re-enable your Mouse
Here are the steps if you are planning to re-enable your mouse using a laptop:
Press the key combination on your laptop keyboard that can turn on/off your mouse. Usually, it is the Fn key plus F3, F5, F9, or F11 (depending on your laptop, you may need to consult your laptop manual to find it out).
If you want to enable your Mouse using another way, follow these steps:
Note: In order to follow these steps, you have to use the arrow keys and enter button, since the mouse has disappeared.
Go to Start Menu and search for Mouse Settings.
Once you see Additional mouse options, click Enter.
Now in the Mouse Properties Window, press Tab until the Buttons option is highlighted.
Then open Device Settings using the right arrow key on your keyboard.
If your device is disabled, press Tab on your keyboard until the Enable button is highlighted, and press Enter to enable the device.
You will successfully be able to see your missing pointer if this method works for you.
Check its Batteries and Connection
Another method is to check the batteries and connection of the mouse. As USB technology is pretty reliable these days, it can still be tricky at times. So follow the given steps:
Unplug your mouse, wait for a second and then plug it in again.
Note: You may also want to try a different port, which sometimes also solves the issue.
If your mouse is connected through a docking station or hub, try connecting it directly to the computer or unplug the hub and reconnect it.
Restart your Computer
Starting off with the common way, you should first try to restart your computer. Just in case there is a fault from the computer's end, it will get resolved, and the mouse pointer will appear.
Reinstall Mouse or Touchpad Driver
Another way is reinstalling a mouse or touchpad driver. This will fix a disappearing cursor if the problem is an incompatible or wrong device driver.
Open Device Manager. Do the Run command: devmgmt.msc.
Use Tab to jump down to the categories, and then the down arrow to land on Mice and other pointing devices.
Open the menu using the right arrow key.
Now, using the down arrow, highlight the mouse you want to use.
Press Alt, then A, and then U to trigger the uninstall option.
Confirm by pressing Spacebar with Uninstall highlighted.
Restart your computer.
Disable 'Hide pointer while typing'
Sometimes there are Settings that are mistakenly activated or switched on by another user, and this can result in the disappearing of your mouse. If you see your mouse pointer only going away while you type, there's a good chance the "Hide Pointer While Typing" option has been turned on. To check if this has happened:
Open the Start Menu.
Type Mouse Settings and open it when it appears.
Select Additional Mouse Options.
Select the Pointer Options tab.
Uncheck the Hide pointer while typing.
Run the Built-in Troubleshooters
You can also bring back the mouse pointer by using Windows' built-in troubleshooting tools. We'll take a look at how the Bluetooth and the Hardware and Devices troubleshooters can help resolve this issue.
To get started, here's how you can use the Hardware and Devices troubleshooter:
Press the Windows key and type Settings in the search box.
Use the arrow keys to select the Settings option and then press Enter.
Next, type Troubleshoot in the search box, use the arrow keys to select the Troubleshoot option, and then press Enter.
In the next window, move to the options on the right-hand side using the Tab button.
Then from there, use the arrow keys to navigate to the Hardware and Devices troubleshooter.
Press Enter once the Hardware and Devices troubleshooter is highlighted.
Then, press Tab to highlight the Run the troubleshooter button, and then press Enter to continue.
When you finish, you can now run the Bluetooth troubleshooter. However, this will only be helpful if you're using a wireless mouse.
To get started, open the Troubleshoot settings window as per the previous steps.
Next, search for the Bluetooth troubleshooter and then run the troubleshooter as per the previous steps.
Check if the Mouse is Switchable
If none of the methods mentioned above helped you, then maybe it's about time that you switch and move on from the current device it is connected to. Since some Bluetooth mice, such as the MX Master series, support multiple device profiles. So at the touch of a button, you can simply switch between different devices. If you have this type of mouse with a similar feature, check that it's set to the correct profile for the computer you want to use it on.
5 Best Mouse Cursors to Tweak your PC's Look
Now that we have discussed the easy solutions for the issue "cursor keeps disappearing on Windows 10", we are going to talk about some really cool mouse cursors, using which you can enhance the look of your PC. So let's dive right in!
Redglass Mouse Cursors: Redglass is a collection of attractive red mouse cursors with a pixel size of 32 and 48. The set is the re-creation of "Redglass" cursors on Ubuntu 16.04.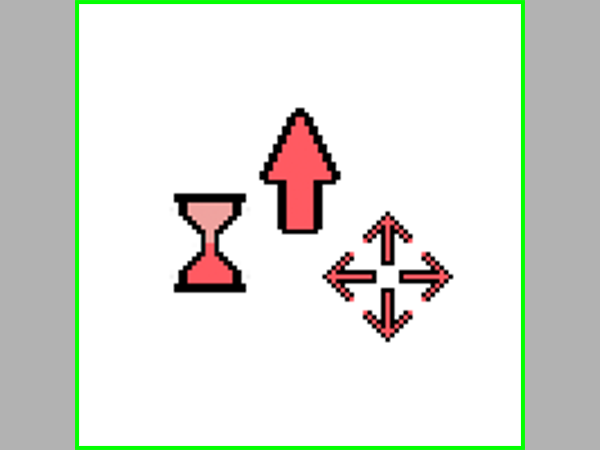 Portal Themed Cursor Set: The Portal mouse cursors look like a Portal gun crosshair. Specially made for Windows, you have to zip the file to download it. It has a combination of colors of black, blue, and orange cursors.
Night Diamond V2.0: Night Diamond v2.0 is one of the best-animated mouse cursors. Its premium version has more creative designs, but that is an optional choice. In this season, the mouse pointer variations include Topaz Yellow, Ruby Red, Zircon Cyan, Emerald Green, Opal White, Amber Orange, and Amethyst Purple.
Vocaloid Cursors V5: Vocaloid is a sound bank software developed by Yamaha Corporation. There are characters you can use for virtual singing production. You can use various styles from the software as a mouse pointer. These are numerous exciting and colorful doll-like characters.
Neon Rainbow Cursors Set 01: If you like vivid colors, you can give this cursor set a try. It is just like getting a feel of an elegant neon rainbow. These are a total of 113 mouse cursors; 14 cursors per color set. They have various statuses like Help Select, Working in Background, Precision set, etc. 
Also Read: A Comprehensive Guide to QuickBooks Online Login and Related Products
FAQs
Ans: To get the cursor back, follow the given steps:
Go to Control Panel > Mouse > Pointer Options.
Then uncheck the Hide pointer while typing and see if it makes the problem go away.
Lastly, you can try pressing one of these key combinations and see if to get the pointer back: Fn+F3, Fn+F5, Fn+F9, Fn+F11.
Ans: The last but not the least potential cause of a missing pointer is malware, that can turn out to be a serious issue. Some malware can take control of your system, including input devices such as the mouse and keyboard.
Ans: Ctrl+Alt+Del can trigger the screen, and some users have reported temporary relief from the disappearing cursor by simply opening that screen and then exiting it. Even though it is not a permanent solution, it might be helpful if none of the other solutions worked.