Key Takeaways:

If you've temporarily disabled your Instagram account, you may easily reactivate it at any time by logging in.

You can file an appeal if Instagram accidentally disabled your account.

There is no way to activate a permanently deleted Instagram account; the only option is to create a new Instagram account.
Have you ever encountered a circumstance where it is challenging to access your Instagram account again? Well! Most of us have experienced this. Whatever the cause, suddenly losing access to your Instagram account can be terrifying.
If you are not able to login to your Instagram account or are getting error messages like 'no users found', this guide could be the savior for you; it will take you through all the ways using which you can reactivate your Instagram account and get back to your social life; keeping aside the reason for its deactivation.
How Can You Reactivate Your Instagram Account?
You can quickly reinstate your Instagram account by logging in if it was temporarily disabled or canceled. You won't be able to reinstate your account if it was deleted. If you're having issues logging in, you can contact Instagram's customer service or try to fix typical problems.
When Instagram is Temporarily Disabled or Deactivated
Instagram gives you the option to temporarily deactivate or disable your account, just in case you need a break from the social turmoil. If you have ever tried that, you must be aware of all these consequences that follow:
Your account can only be disabled or deactivated once per week.
You are free to terminate your Instagram account whenever you choose.
When you deactivate your account, you become invisible on this social media network for the duration that you have it disabled. During that time, nobody will be able to get in touch with you.
Your data—including images, videos, direct messages, and other content—remains intact while your Instagram account is still inactive.
Reactivation Process: 
Open the Instagram app or visit www.instagram.com on your web browser.
Log in to your Instagram account by entering your linked email address or mobile number followed by the password.
That's all; your account has been reactivated; continue Instagramming!
 When Instagram Temporarily Disabled your Account
Another instance where reactivation is feasible is if Instagram inadvertently canceled or disabled your account; in this case, the procedures to be followed are different from those in the previous situation.
Instagram can disable your account even for minor reasons such as:
For logging in from a new/unrecognized device
Due to using a VPN to access your account
For making a few unsuccessful login attempts
Due to making too many posts, comments, and so on.
For frequent log-outs and log-ins
Therefore, there is a 100% possibility that Instagram will be reactivated if it was accidentally deactivated or for any other small infraction.
When you attempt to log in or use the app after Instagram deactivates your account, you will see the following warning.
The message reads, "Your account has been disabled for violating our terms. Learn how you may be able to restore your account."
Step 1: Tap "Learn More."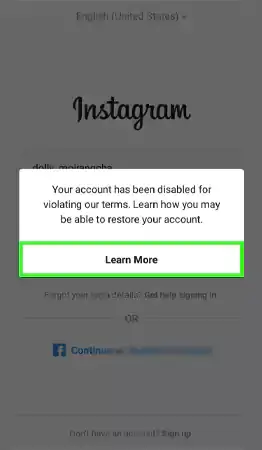 Step 2: Doing this will direct to a new page, probably on a browser and if it doesn't, you can directly go to this link- https://www.facebook.com/help/instagram/contact/606967319425038 
Step 3: Submit an appeal for your disabled or deactivated Instagram account. The appeal form will look similar to the one in the image below. The information you need to enter in the form includes:
Full Name
Your email address; the one linked to your Instagram
Your Instagram username; ask your friends if you don't remember it
Your mobile number; can be any number you currently use
The reason why you think your Instagram account was mistakenly deactivated; tell them you haven't done any violation, and also explain to them what exactly you were doing when deactivation happened.
Step 4: Click on 'Send' and wait for a few hours or maybe a few days to get the reply.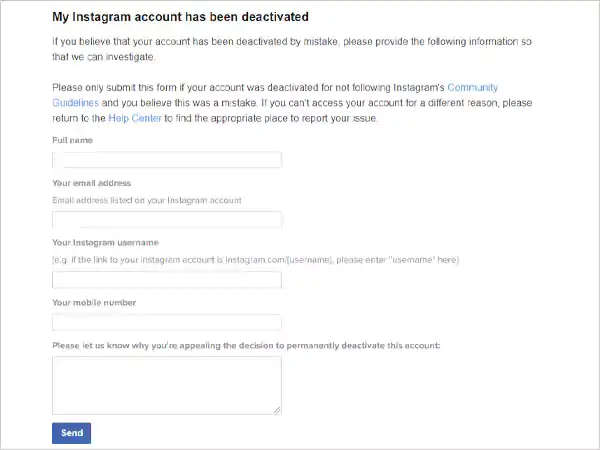 The majority of the time, after an appeal is submitted, Instagram accounts that have been suspended only on the basis of suspicion are immediately reactivated.
The positive news appears as follows: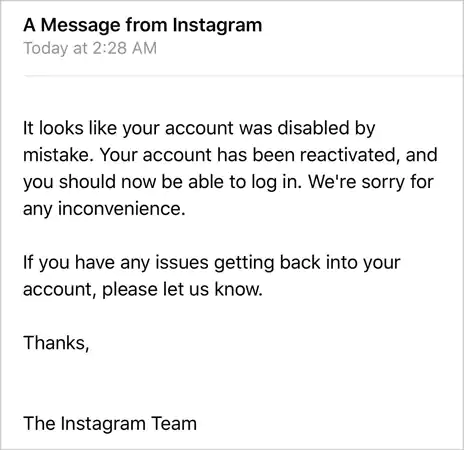 When your Instagram Account is Scheduled for Permanent Deletion
The word 'permanent' looks scary when it is accompanied by another word 'deletion'.
Now, imagine a situation where you have deleted your Instagram permanently without realizing it, or someone from your family did this to take away the distraction from your life.
If you change your mind, Instagram only provides you 30 days to reactivate your deleted account. Therefore, you can quickly reactivate your account if you are able to recognise your error within the allotted time.
However, if the 30-day grace period has passed and you were unable to take action in time, you will be greeted by the phrase "no users detected" when you attempt to log in or reset your lost Instagram password.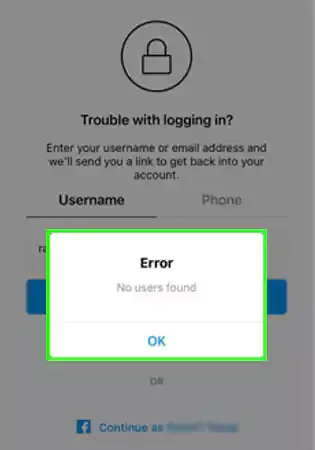 Reactivation Process:
To check if you can still recover your permanently deleted Instagram account, here is what you need to do to reactivate or restore it:
Open the Instagram app or go to www.instagram.com on a web browser.
Sign in to your account by entering the login credentials, i.e., email address or phone number and password.
If there is still some time left for your Instagram account to get permanently deleted, you will see a question 'Want to Keep Using This Account?' along with a message; tap on 'Keep Account' to get back to your Instagram account.
Voila! Your Instagram account has been successfully reactivated.
When Your Instagram Account is Disabled for Violations
It's not always a mistake for Instagram to disable your account; occasionally, your account may be removed for grave infractions of Instagram's terms of service and community guidelines.
If that is the case, Instagram would have permanently deleted your account, making it impossible for you to get it back. What Instagram has to say regarding accounts that are permanently disabled is as follows:
"Bear in mind that we may permanently remove an account that repeatedly violates the Community Guidelines or Terms of Use".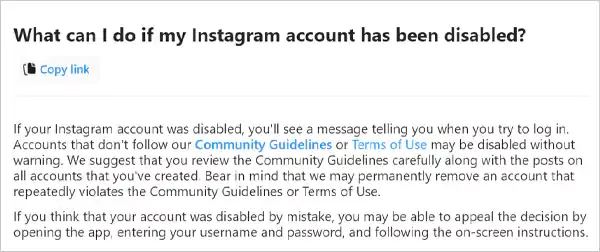 So, if you were involved in:
Posting Hate Speech
Illegal Activities
Promoting Nudity and,
Promoting Graphic Violence
Don't anticipate getting your account activated again because Instagram has deleted it or permanently deactivated it. Additionally, everything in your profile, including your images, videos, comments, likes, and follows, will be completely wiped when you delete your account or when it is permanently deleted. In this scenario, you can only sign up for a new Instagram account.
Other Steps You can Take to Reactivate your Instagram 
Apart from the above scenarios, there can be some reasons due to which you are not able to get into your Instagram account; here is how you can try to reactivate it:
If you are not able to log in using your email address or phone number, you can use your username and vice-versa.
Sometimes it can be the incorrect password that can be the reason you are not able to retrieve or reactivate your Instagram; you can easily reset your password by following the steps mentioned in this guide- Forgot Instagram Password? How to Reset/Change or Recover It
Try using an alternative Wi-Fi or cellular data connection; it's possible that this is one of the issues preventing you from properly completing the reactivation procedure.
If you are experiencing problems with the Instagram app, try using a web browser.
Ensure the Instagram app is current.
The Instagram app should be uninstalled and installed again in order to address any small issues.
Frequently Asked Questions (FAQs)
Ans: According to the service's privacy policy, you can delete your account once every week. The quantity of such deactivations is unrestricted. However, you cannot deactivate it once it hasn't been inactive for seven days.
Ans: Instagram will remove a user's page if they don't visit it for a while. Although the service does not give a precise time frame for deactivation, active usage of the account is encouraged. The account will function flawlessly if you visit the page at least once every month.
Ans: The temporary deactivation of your account won't be disclosed to followers. They won't learn that the page doesn't exist unless they visit your page. Nobody will know when you activate your account, either.
More Related to Instagram: