Outlook is one of the most prominent email services equipped with a lot of useful features. As an email service, Outlook has never disappointed its users except when it starts behaving abnormally.
One of the issues that have been faced by most of the Outlook users is when they are not receiving some emails; however, this error is temporary and can be fixed by applying appropriate troubleshooting.
There can be several reasons due to which Outlook is not receiving emails, let's talk about them first before starting with the solutions.
Why Outlook is Not Receiving Emails?
Before you get started with trying the solutions, it is important to know the causes due to which Outlook is not receiving emails:
The problem is due to the faulty internet connection of your computer.
The mails might have landed in the spam folder instead of the inbox.
Your email account is not properly configured with Outlook.
The login details that you have entered are not correct.
The firewall or antivirus might be blocking the emails from arriving.
The problem is occurring due to an Outlook plugin.
The Outlook's server is down
The malware attack has corrupted Outlook data and that's why you are not receiving emails.
The email profile has gone corrupted or you have set incorrect email settings.
Outlook has been set for offline use.
These can be the possible scenarios where you might not receive emails on Outlook 365.
How to Fix 'Outlook Not Receiving Emails' Issue?
No matter if you use Outlook 2013, 2010, 2016, or 365, this can happen anytime with anyone depending on the reasons listed above. Now let's have a look at what solutions you should use if you are not receiving an email with Outlook. Also, the given fixes work in both the situations whether Outlook is not receiving all or some emails.
Check the Internet as well as Outlook Server Status

No email service can run smoothly in the absence of a network connection, be it Outlook. So you should begin by ensuring that your device in which you are operating Outlook is connected to the internet and confirm its stability as well.

The other scenario can be when the internet is working but Outlook itself is down making it difficult to receive emails. Check the server status of Outlook by visiting this page. If Outlook is marked as red, wait till the issue gets resolved.

Check the Blocked List

It is possible that you may have added someone mistakenly to your Outlook's blocked list, hence are not receiving any emails. To check who all you have blocked from your Outlook account, go to the 'Junk email' folder of your Outlook version and then check for 'Blocked Senders and domains'; using the edit option, you can unblock the addresses that shouldn't be there.

Check the Junk Folder

Make sure to check your Junk folder before you go on deleting its emails. Because sometimes Outlook marks some of the genuine emails as junk and sends them to the junk folder instead of inbox. The placement of the junk folder depends on the Outlook version you are using.

Look for the 'All Folders' option and there you will find one as 'Junk'; look for the email you were expecting.

Manage Inbox Space

The Outlook Inbox has limited space to store emails and if you have exceeded the limit, Outlook will stop receiving emails. So to overcome this, you must get into a habit of managing your inbox every often. Delete all the emails that you will not need any more or those that are just useless. You can even create a backup of your Outlook data and then clear the space from the inbox. You can also use the 'Sweep' feature provided by Outlook to delete all the older emails from a particular sender.

Reset the Filters

Outlook lets you set filters for your inbox to make it more organized but this can be the culprit sometimes. If you are not receiving any emails, go to your inbox and remove the unwanted filters, and using the 'Sort by' option, set the emails to show up from a recent date.

Remove the Outlook Rules

Outlook has another feature that lets you set rules for your incoming and outgoing emails. In case, you have set any strict rules, this can stop you from receiving Outlook emails even if you can send one.

To get rid of the Outlook rules, go to Outlook Settings, and in the 'Mail' column, click on 'Rules'; delete all the existing rules by clicking on the 'Trash' icon.

Remove Multiple Accounts

The best part of Outlook is you can configure multiple accounts such as Yahoo, Gmail, SBCGlobal, AT&T, and others. But adding too many accounts at once can create many problems such as difficulty in receiving emails. So if you find that Outlook email is not working, you can remove any of the connected accounts from the 'Accounts' section.

Check if your Outlook account is Blocked

If Microsoft has blocked your Outlook account for some reasons, such as suspicious activity or malware attack, you will not receive any emails or will not be able to access your inbox. To fix this, you can follow the steps provided on the 'Unblock your Outlook account' support page.

Check the Outlook Settings

If you have realized that Outlook is not receiving emails but can send, chances are you have entered incorrect IMAP or SMTP mail settings while setting up your Outlook account. Go to the account settings, and review all the important settings.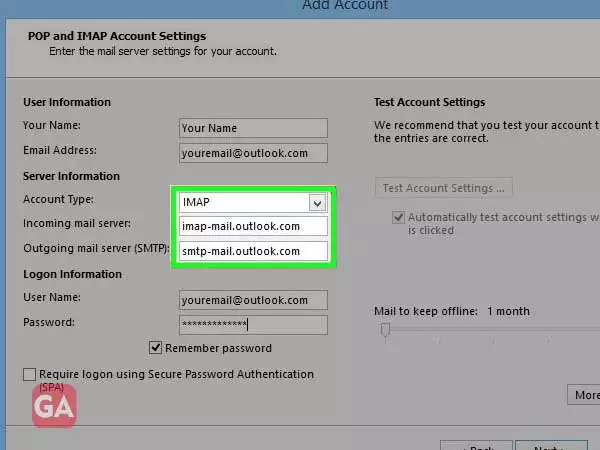 Preventive Measures to Take While Using Outlook
Change your Password

To not get locked out of your account or to keep it secure, you must change your Outlook password often so that no one else gets access to it.

Update the Recovery Information

Make sure to keep the recovery information updated on your Outlook account so that in case you get locked out of your account, you can get quickly back by resetting the Outlook password.

Be Ready with the backup

Outlook stores the data on the local storage, hence it would be a great idea if you create a backup of the important files. Create a copy of your PST files and save it to some location.