It's important to know how to change your Gmail password. Unfortunately, data breaches happen rather frequently. Although Google has never been directly affected, your Gmail account is at risk if you use the same password for Gmail and a service that has been hijacked.
Everyone has heard of someone whose account was compromised. There are methods you can step up your cyber security efforts to make sure your information is safeguarded, regardless of whether it was their social network account or their Gmail. You can routinely change your Gmail password in addition to using multi-factor authentication.
Your information is safeguarded from hackers by often changing your Gmail Gmail password, which also keeps your messages safe. When accessing any Google product, including YouTube, YouTube TV, Google Photos, and Google Maps, you'll need to sign in using the new password after changing your password.
Using one of the top password managers and turning on two-factor authentication for your Google account is obviously a must. Here's how to change your Gmail password, which may also turn out to be a crucial step.
Change Your Gmail Password on Computer
You must have access to your Gmail account to change your password. You will need to reset your Gmail password if you are unable to log into your account.
Now, typically, different devices are used to access Gmail accounts, and the procedure for changing the password varies a little bit for each of them. But don't panic; the procedures are very straightforward. To learn more about how to modify your Gmail password on your computer, keep reading.
Step 1: You must first log into your Google account. You may either do this by going directly to http://myaccount.google.com or by using Gmail to go there.
In order to choose the latter, open Gmail and then select your account symbol in the upper right corner. This will either be your photo or your initials. Choose "Manage Your Google Account" from there.
Now, navigate to the Security section from the page for your Google account. It can be found in the navigation bar on the left, fourth from the top.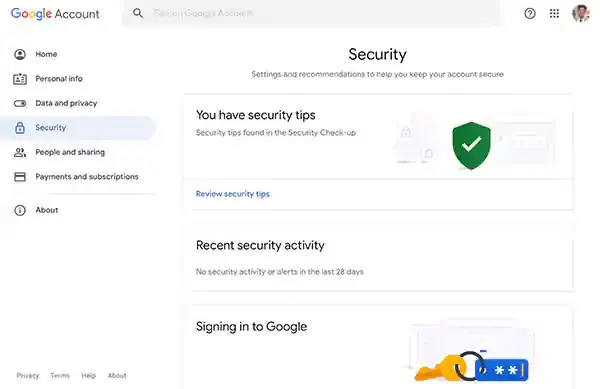 Step 2: Find the "Signing in to Google" area by scrolling down. Click here; Google will probably ask you to re-enter your login information so they can confirm you are who you say you are.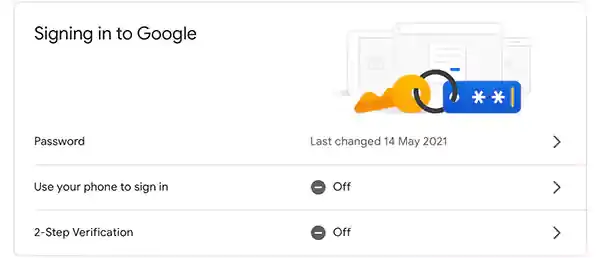 Step 3: Choose a new password at this point and confirm it after entering it again. Google advises using a password that is at least eight characters long and unique to this site.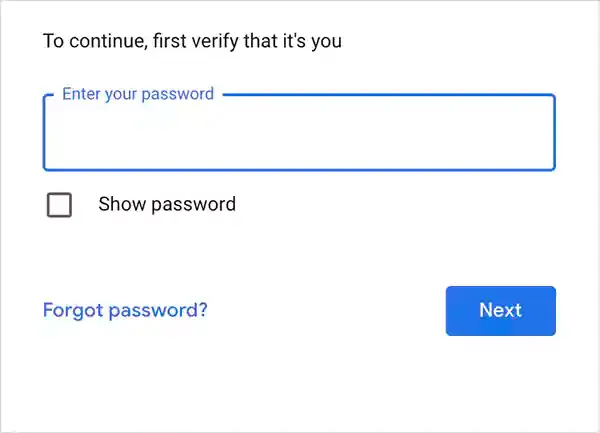 That's sound advice, but we'd also advise using a password manager to generate something secure at random and storing it on your behalf. Additionally, we believe that the password should have at least 12 characters and should contain both upper- and lowercase letters, numerals, and punctuation.
Step 4: You will now be taken back to the Security of your Google account without a confirmation prompt, but you can simply verify that the change was made.
You can find out when your password was last updated by returning to the password area and scrolling down. It ought to display a recent timestamp.
Don't forget that setting up two-factor authentication will increase the security of your Google account (2FA).
Change Your Gmail Password on Android
Step 1: Go to Settings on your Android. Typically, the app drawer's gear symbol represents this.
By swiping down from the top of the home screen and tapping the gear in the top-right corner, you can easily access Settings.
Step 2: Click Google as you scroll down. You typically see a "G" on the Google choice, depending on your phone or tablet.
Step 3: Select Manage your Google Account.
Step 4: Then, select Security. It is at the very top of the display.
Step 5: Tap Password after swiping downward. It is listed below the heading "Signing in to Google"
Step 6: Tap "Next" after entering your current password. You will then be directed to the "Password" page.
Step 7: Enter your new password in the box at the top. Make sure to use a combination of letters, numbers, and symbols in your password, and that it is at least 8 characters long.
Step 8: In the "Confirm new password" field, enter the new password. It must be typed precisely as it appeared in the first box.
Step 9: Select Change Password and just like that your new Gmail password has been updated.
Change Your Gmail Password on iPhone/iPad
You may modify your Gmail password on your iPhone in a number of different ways. It's comparatively simple to change your Gmail password if you know your old one.
Here's how to use the Personal details page on an iPhone to update your Gmail password:
Launch the Gmail app on your phone shown as the red and white envelope icon.
Then tap on the three horizontal lines given at the top left corner of the screen.
A menu will appear, scroll down towards the bottom and then tap 'Settings'.
Next, select the account for which you want to change the password.
Next, tap the option 'Manage your Google Account'.
Select the option 'Sign in and Security'.
Tap 'Password' which is the first option in the menu.
On the next page, enter the new password twice to confirm and then press 'Change Password'.
How To Reset Your Gmail Password?
Your Gmail account password can be reset in a few different ways. Here is the simplest of them:
Step 1: Click "Forgot password?" after entering your email address on the Gmail login page.
Step 2: Click "Next" after entering the last password you can recall.
Remember that you don't need to use your most recent password to proceed; any previous login information relating to this account will do.
Step 3: Verify your backup email right now. A 6-digit verification number should have been sent to you through email.
Step 4: The 6-digit code must now be entered into the relevant section on the Gmail website.
You can change your password now, assuming the code was successful.
Otherwise, the moment has come to go through the procedure of account recovery if this approach doesn't work for you.
Additional Security Measures for Gmail
Consider the following advice if you've experienced password theft or are concerned that someone else might be accessing your Gmail account while it is open on a public computer:
Remotely log out of every Gmail session to guard against unauthorised access from lost or stolen devices.
Check to make sure you identify any applications or users accessing your Gmail account. For further security, enable 2-step authentication for Gmail.
Changing your password might help you keep your Gmail account secure. However, the password must also be robust to make it challenging for hackers to guess. Your account's security is always guaranteed by a strong password, which will also safeguard your emails, files, and other data and prevent unauthorised access at all costs.
Tips for a strong password
Your password must be created using 8 characters or more consisting of a combination of letters, numbers, and symbols.
Avoid using a password that you have used before.
The password must not be easy to guess for anyone such as using a phone number or date of birth as a password.
Use a different passcode for each of your social accounts so that they don't get hacked altogether.
Use a password manager tool if it is difficult for you to remember all the passwords.
Store your password somewhere that is completely secret.
Always keep the recovery information of your account updated.