The internet is full of apps, programs, and software that let us communicate whether it's text messages, audio calls, or video calls. Yahoo is one of those giving its contribution to the growth of the digital world since its launch.
Even though it is lacking behind other social giants like Google and Facebook, still, Yahoo has always tried its best to make its move count. One such useful tool was Yahoo Groups but sadly they no longer exist.
One fine day when I tried to access my Yahoo groups and found them disappeared; it took me one long hour to realize that the company had decided to take them down.
The Rise of Yahoo Groups
Yahoo Groups belong to the early internet age when there was no Google or Facebook Groups. Moreover, there were just one-tenth internet users as compared to the present. They gave rise to group discussions based on different niches, for instance, there were TV show fan communities that used to discuss their favorite TV shows or groups involved in the computer or technology-related topics. Users could share files, pictures; create polls and mailing lists, and much more.
Launched on January 30, 2001, Yahoo Groups helped its users in building relationships, staying in touch with family and friends, sharing ideas with them, and discussing things of common interests by the way of e-mail and Web-based tools. One of its notable features was it allowed reading and responding to email chains; that was mainly an exchange between a message board and a Listserv.
It may look basic now in 2020 when everything is so advanced but back in 2001, things were different. Wikipedia launched the same year as Yahoo Groups so now you can imagine how fascinating it was back then.
It was in 2010, Yahoo got 115 million Group users and 10 million groups. Yahoo even had a contract with around 100 carriers and handset makers to preinstall Yahoo apps on their mobile devices.
However, Facebook was giving tough competition to Yahoo and it became difficult for the latter to survive the competition and to retain its user base. Yahoo even tried to promote its groups and show them better than Facebook groups on several events.
As per Yahoo's director Greg Rosenberg, "On Facebook, if you have hundreds of friends, you have to be careful about posting something that might be offensive or just not relevant to somebody. With Yahoo Groups, you can start up a neighborhood page with a smaller group, for example, that would be of interest only to those neighbors living in the neighborhood."
The Fall of Yahoo Groups
With the rise in the number of social platforms, Yahoo Groups started losing its presence and it even impacted the entire brand throughout 2010. It was then in 2017 when Verizon bought Yahoo's operating business for $4.48 billion. It formed a new subsidiary named "Oath" including both Yahoo and AOL but that even failed to compete with Facebook and Google.
After almost two decades of its operation, Yahoo Groups is going to shut down on December 15, 2020, and the users have been given time till December 14, 2020, to download their content.
Here is the official tweet from Yahoo Customer Care:

You can also have a look at the announcement on the official Yahoo Groups website: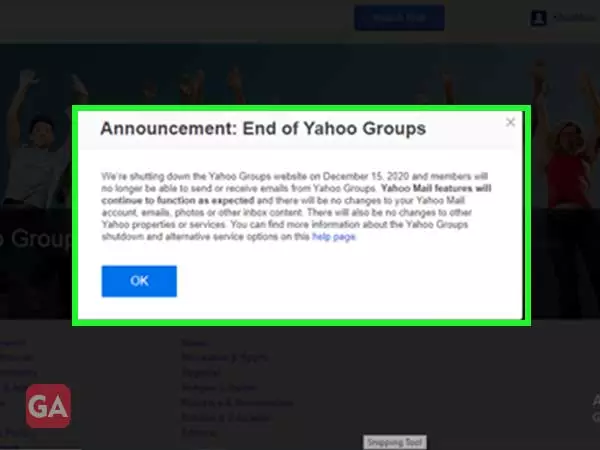 After 15th December, all sorts of content such as Files, Polls, Links, Photos, Folders, Calendar, Database, Attachments, Conversations, Digest, Message History, Email Updates, and Message will get removed from the platform. So if you were thinking about what happened to Yahoo groups, I hope you got the answer.
Also, if you are wondering 'Does Yahoo group still exist?', yes they do but only till December 15. There will be no effect on Yahoo mail features however, Yahoo Groups features such as photos, folders, calendars, email updates, polls, and message history will be no more operational.
The reason for shutting down Yahoo Groups has been mentioned by the company as follows:
"Privacy is critical and we have taken this decision to better align with our overall principles. If you would like to keep any of the content you've posted or stored in your Yahoo Group, please download it by December 14," as told by the Yahoo team to its users in an email.
"Photos and files can be saved right from the Yahoo Groups site, or you can download your data from the Privacy Dashboard," Yahoo said.
Does that mean everything is gone? Not really, Yahoo Groups directory will be still accessible.
Current Status of Yahoo Groups
Yahoo Group saw major competition from Facebook, Google, and Twitter that led to its final demise. Before they became juggernauts, Yahoo tried to fight back but received only disappointment in return. Here is an overview of the journey of your beloved Yahoo Groups:
| | |
| --- | --- |
| 1996 | eGroups (FindMail) founded |
| 1997 | ONElist founded |
| 1998 | Yahoo Clubs launched |
| 1999 | ONElist merges into eGroups |
| 2000 | Yahoo acquires eGroups |
| 2001 | Yahoo Groups launched and deleted adult groups |
| 2004 | Yahoo Groups Japan launched |
| 2009 | Yahoo Groups has over 100 million users |
| 2010 | Yahoo Groups has 2.2 million groups |
| 2014 | Yahoo Groups Japan shut down |
| 2015 | Yahoo Groups has 2.7 million groups down |
| 2020 | Yahoo Groups will shut down on 15 December |
Where to Find Yahoo Groups?
If you are looking for your Yahoo groups, you can only find them through email. You will be no longer able to visit the website or use any of its features.
Alternatives to Yahoo Groups
You must be missing Yahoo Groups wondering what to do now. There is nothing to worry about as there are many apps that work similar to Yahoo Groups and are available on the internet to fill the void.
You want a platform where users can share information, discuss common interests, and exchange the information that they want to, here are the available options:
Facebook Groups

It is the most popular in the list and if you are a Facebook user, you are allowed to create a group, post information, share files & pictures, and use several other features. You even get to decide from private or public groups. Furthermore, the ability to create events got a big thumb up from Facebook Group users. 

Google Groups

Just like Yahoo groups, Google Groups are meant to assist in communication. Another similarity is you can email everyone in the group through the same email address. Apart from that, document sharing and event management are the additional features of Gmail Groups. However, they are not as popular as Facebook Groups but seeing the number of Gmail users, the idea is not that bad.

Skype

If you want something to facilitate both text and video calls, Skype is a good option. It is very easy to make group calls with Skype and is popular these days. Moreover, in a group video call, you can add up to 50 participants.
Final Words
Yahoo Groups no longer exist in the way they used to. But you can still look for the alternatives available that can facilitate communication in a much better way. Moving to an advanced technology is always better as you get a broader scope of features to work with.
READ NEXT: