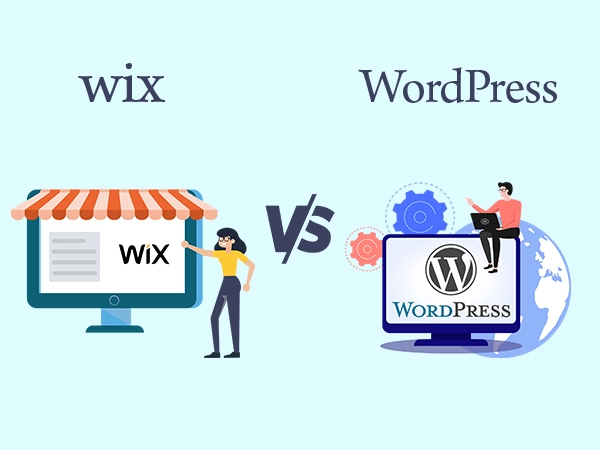 In the current internet revolution, everything has gone digital with the help of websites. However, with that many websites, it has become way more competitive to rank your page on top. Here, the SEO comes under the highlight. There are a lot of options and ways to promote a web page, but which one is the right for you?
SEO encompasses a range of strategies aimed at enhancing your website's visibility in search engine results. These strategies include keyword optimization, crafting user-friendly web addresses, and implementing paramount tags. Your site host also plays a role in supporting your efforts. 
Wix and WordPress are the two main contestants in this field. That said, let's explore some key factors to consider when comparing Wix and WordPress and find out which one is the best for you.
Making Sure Your Site is Always Available
Website availability is a major aspect of SEO. If your site experiences frequent downtime or is inaccessible when users attempt to visit, it can adversely affect your rankings. WordPress hosting has an impressive uptime guarantee of 99.95%, whereas Wix offers a slightly lower uptime assurance of 99.8%. It's necessary to exercise caution when evaluating claims of 100% uptime, as they may not always hold true.
Where Your Website is Located and How Fast It is?
Speed is a pivotal aspect of user experience. Slow-loading web pages can lead to user frustration and higher bounce rates. The geographical location of the server hosting your site can influence its speed. Ideally, your server should be situated in close proximity to your target audience to ensure optimal speed and user satisfaction. WordPress has better strategies to boost performance and tends to excel in this regard, providing faster loading times compared to Wix.
Making Your Site Secure
Protecting your WordPress website from security threats is a big concern for SEO. Web pages secured with HTTPS are deemed trustworthy by search engines like Google. Integrating robust security measures from the outset is needed for success. Both of these alternatives provide the option to secure your internet site with HTTPS, providing the required security for your efforts.
Enhancing SEO often requires actions beyond the page. Wix puts out a dedicated tool called SEO Wiz, designed to assist you in planning and implementing strategies. It aids in keyword research, integrates with Google Analytics, and provides support for Google Search Console. This tool is particularly valuable for beginners who are not very familiar to launch any websites.
Statistics:
According to research by W3Tech, WordPress is the most famous platform for Content Management Systems in terms of usage. With a 43.1% user base, it ranks on the top followed by Shopify with 4.0%, Wix with 2.5%, Square Space with 2.1%, and Joomla with 1.8%.
In contrast, WordPress relies on plugins, such as Yoast, to bolster your efforts. Plugins like Yoast facilitate SEO-friendly content creation and seamlessly integrate with Google Analytics and Google Search Console.
On the other hand, it provides more extensive options, it requires users to add these tools manually, making it an ideal choice for those with prior pages and knowledge.
Improving Your Website's SEO
Both of these alternatives excel in enhancing on-page optimization, allowing you to optimize titles, descriptions, headings, web addresses, and alt text for images. This is another beginner-friendly feature offered by both of these platforms.
Till now, WordPress has been the undisputed king in the market even for SEO, but in the current developing scenario, competitions like Shopify and Wix are also improving. This is why choosing one platform out of Wix and WordPress is not that easy.
Making Your Site Easy to Understand
XML Sitemaps play a major role in helping search engines comprehend your structure, which will positively impact SEO. Both platforms support the creation of XML Sitemaps. However, WP streamlines the process further by providing plugins that generate and notify Google about these sitemaps.
How Links Look
The structure of your links significantly affects SEO. WordPress is known for its user-friendly and well-organized link format. Moreover, it renders plugins to monitor and rectify broken links, which can harm your optimization. In contrast, Wix's link structure, which includes a "#" symbol, may not be as favorable to search engines, making it a more friendly option in this aspect.
Customizing Your Website
Both Wix and WordPress empower users to create visually appealing and user-friendly web pages. However, if you seek advanced customization requiring code modifications, it supplies more flexibility. Whereas Wix allows users to insert HTML code, it may prove challenging for beginners compared to WP, which excels in enabling code adjustments on specific pages.
For quick insight, you can take a glance at the table that depicts the comparison of multiple aspects of both platforms:
| | | |
| --- | --- | --- |
| | Wix | WordPress |
| Cost | USD 27 to USD 45 | USD 4 to USD 45 |
| Drag and Drop Interface | Yes | Yes |
| Storage Space | 3 GB to 50 GB | Depends on host |
| Free themes/templates | Yes | Yes |
| Custom Domain | Yes, provided you have a free plan | Most hosts provide one for free for first-year |
| Free SSL Certificate | Yes | Most hosts provide this free |
Making Your Website Work on Phones
Mobile optimization is required for optimization, as it impacts user experience. Both platforms provide tools to ensure your functions well on mobile devices. Wix allows you to rearrange elements to optimize mobile display, whereas WP puts out extra plugins to enhance mobile responsiveness.
WordPress has a vast array of plugins that expand your functionality, including numerous tools. When Wix provides some options through its App Market, the selection is more limited compared to the extensive plugin available library.
Some interesting added features, WordPress includes:
Dark mode

Augmented Reality

Custom Design

Voice Search

Live chats and chatbots

Accessibility and mode for widgets
These added features can certainly help in making your site more effective and interactive.
Choosing Between Wix and WordPress for SEO
The choice between Wix and WordPress for SEO hinges on your specific needs and expertise. If you prioritize a visually appealing website and have limited knowledge, Wix is a suitable choice. 
However, if you are committed to driving organic traffic to your site through SEO, you must create a WordPress website because it has a more comprehensive set of tools to optimize your website for search engines and users alike. WordPress stands as a top choice, thanks to its versatility and robust capabilities.
---