Headsets are mostly preferred when they have a closed, comfortable, and sturdy design. They are mostly demanded by gamers or in offices, where noise cancellation and perfect music bass are required to perform the task.
Are you looking for a headset with a perfect, comfortable design and rummaging through online stores for an ideal music companion with the best sound quality for your everyday work? Well, headsets are an essential device after gaming keyboards and graphic cards to have a breathtaking gaming experience too. Polk Audio headsets have gained trust among a wide array of users and are appreciated as a long-journey companion. If you are looking for headphones to help you in podcasting, Polk Audio is the one. Let's find out if the Polk Audio Buckle headset is a better version than the competitors.
What is Polk Audio Buckle?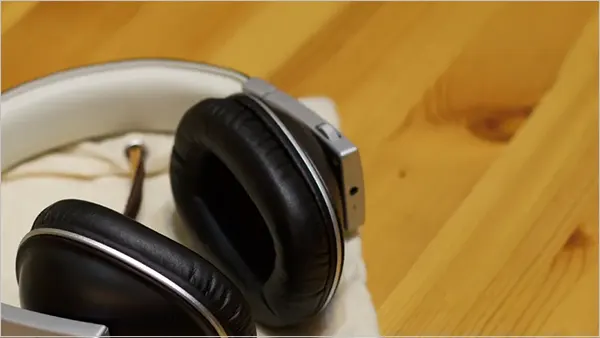 It is a noise-canceling capable, sufficiently comfortable, attractively designed, premium-looking headphone. They are an ideal option for gamers, office workers, and video editors but not for sports fans, gym freaks, or commuters. The heavy, broad design isn't suitable for physical activities. With great noise cancellation and proper controls for music, calls, and volume controls, you can expect its well-padded headbands and ear bands to provide A-grade convenience and portability.
In appearance, they have an attractive old-school design look, easily capturing a massive crowd. The headphones cannot be folded much and are also heavy in size, thus making them a less convenient option to be carried along while traveling sometimes.
Specifications of Polk Audio Buckle Sturdy Headphones
In this headphone box, you get a headphone, a 1/8″ to 1/4″ adapter, an audio cable, a carrying pouch, and a manual. The table below will take you close to the specifications and features of this headphone.
| Features | Specifications |
| --- | --- |
| Type | Over-ear |
| Enclosure | Closed back |
| Wireless | No |
| Weight | 0.8lbs |
| Clamping Force | 1.2lbs |
| Frequency Response | 10-21,500 Hz |
| Noise Cancellation | Yes |
| Call/Music Control | Yes |
| Microphone Control | No |
| Wireless | No |
| Mic | Yes |
| Color Options | Black with silver accents and Brown |
| Bass Amount | 1.38 dB |
| Treble Amount | -6.42 dB |
| Analog Audio | Yes |
| USB Audio | No |
| Multiple Device Pairing | No |
| Year | 2013 |
| Price | $54.90 |
After having a look at the specifications table, let's discuss the features briefly in the coming article and find out the compatibility of the product.
Polk Audio Buckle Features
These headphones are excessively searched for and reviewed due to their sturdy design, various controls, and best quality quite similar to Arctis 3 2019 Edition. Its features are as follows.
Design
Headphones have a sturdy and rustic design with leather across the headband and matte-finished metal across the body. Highly preferred for the design, they have premium quality with a perfect build that won't break easily with a few accidental drops. The design is decently stable to be used for normal walks or online learning sessions, as they don't move much and are tight enough.
Do not consider them for the gym as the weighty earcups and design would lead to accidental drops and wear/tear situations. One can consider Skullcandy Crusher headphones for heavy activities like running. The Polk audio gaming headset is relatively small for an over-ear design and does not fold, making it less portable to be carried along. Practically, you cannot carry them without a bag, and the design also does not lay them flat either.
Various Controls
The users get an efficient controlling system with a single-purpose toggle that provides various functions, from voice/call, track skipping, and volume controls. You can experience issues while pausing some tracks, as it may cause the volume to rise high. Microphone control is missing in this sturdily-designed gaming headset.
Weight and Clamping Force
The headsets are comfortable due to decent weight and clamping force specifications. You may feel the design weight to be rather bulky, but due to the padded headband and earcups, the weight/tension is evenly distributed around the ears.
Polk Audio Buckle Case
Within the headset box, you get a case that protects this Polk headphone from minor scratches and scuffs. The soft fabric of the case might not withstand an accidental drop or impact happens, and the headset may severely suffer due to it. You may find them as comforting as Bose QuietComfort 25 headphones.
Sound Quality
The headphones have average frequency response consistency, as the bass range is susceptible due to positioning preferences and the head/shape of the listener. The excellent sound quality resembles the LucidSoundLS31 wireless headsets. The deviation in the treble range is low and within good limits. It is suitable for music addicts.
After knowing the features, let's move on to the pros and cons table to have a clear view of the performance of the Polk Audio Gaming Headset.
Pros and Cons
The coming table will shed light on the functions and features of Buckle headphones.
| | |
| --- | --- |
| Pros | Cons |
| Premium design look | Less color option |
| Softly padded headband | Poor noise cancelation |
| Efficient control system | Heavyweight |
| Great bass and treble | Less portable |
| | Sturdy design |
The efficient table above gives a clear view of the Buckle gaming headphones' performance. After this, let's ramble into the reasons to buy the Polk Audio headset further.
Reasons to Buy It
The various reasons to choose the Polk Audio Buckle Headset are as follows:
The headset is very pocket-friendly when balanced with the features and premium design it has. Anyone with a low budget can give it a try.
Being decently stable in design and construction, users won't suffer in online gaming or studying sessions, as it has an appreciable clamping force.
The sturdy design with the perfect build of premium quality makes the Polk Audio Buckle headset the primary piece to be selected among the competitors.
With a decent clamping force and a balanced weight and design, it is suitable for office workers, gamers, podcasts, online learning sessions, and much more.
If you enjoy bass in music, the Bucket headset is the authentic piece to provide you with the best service, as it has a good bass range. The mid-range sound functions are also cool, muddy, and forward sounding, bringing vocals to the front of any mix.
Obviously, we get multiple control schemes in the headset to control the music, call, and volume simultaneously, and this is the major reason that makes Polk Audio headset a forever companion.
The overall leakage through the headset is quite low, as the leakage is spread across the wide range of 300 Hz and 4 kHz, bringing great leakage performance.
Drawbacks in Polk Audio Buckle Headset
Unfortunately, this headset does have many drawbacks, from its design to the sound quality, that hinder its performance. Let's take a look at some of them.
The noise cancellation is incredibly poor; therefore, you won't find active noise cancellation or bass range isolation. The mid-range achieves 4 poor dB isolation, though, in the treble range, the noise isolation is 27dB which is quite decent but not applaudable.
The ear cups are the weak points that can get easily damaged. The toggles are mounted on a spring mechanism and may get worn out.
The earcups are bulky, and the design is heavy, which makes them unsuitable for physical activities like gym and jogging.
We also do not have versatile options for choosing the headset colors except for black and brown.
Should One Give It a Try?
After watching the infrastructure and sound mechanism of this headphone, it is clear that the design supports the users who do the least movement, like office workers, students with online lessons, or gamers with end-less sessions.
The sound quality is not exciting, making them the least preferred for music listeners. The noise-canceling feature doesn't allow the bass range to isolate, while the treble range is quite decent.
The portability and stability are not quite pleasing due to the bulky design, which doesn't lay flat and makes it cumbersome to be carried practically at all times.
Final Verdict
The article tried to discuss authentic thoughts and ideas on the features of this Polk headphone model. The customer reviews, rating chart, discussed benchmarks, and specifications brought us close to the conclusion of whether to buy it or not.
FAQs
Ans: No, except for the call, volume, and music, headphones don't have any microphone-controlling system.
Ans: No, they are not wireless; you need to connect them to the system to taste their quality. 
Ans: The headphones are decently supportive for gamers, as the bass and treble quality are quite outstanding, and there is no fear of any battery support either. The perfect design and style also support the long-hour online sessions of gaming geeks. 
Sources
Marc Henney and Yannick Khong, Polk Audio Buckle Headphones Review, RTINGS.com, September 19, 2017
Also Read: