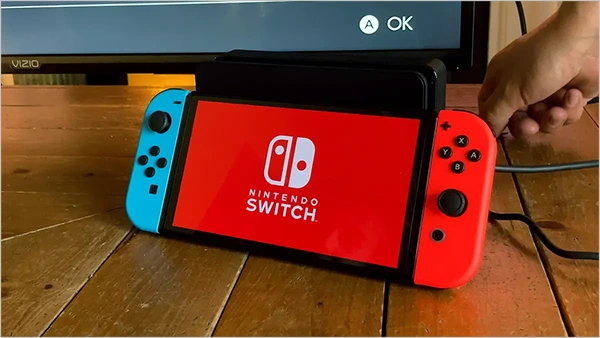 Nintendo Switch is a mind-blowing gaming console discovered in 2017 with an excellent hybrid design model. It provided users with an unparalleled gaming experience through its joy-con controller switch, epic game library, online multiplayer possibilities, and regularly-updating software. It allows the user flexibility and freedom, whether choosing online/offline mode, picking a game from the eShop library, playing alone, or connecting to a TV for a multiplayer experience. It is a decent hand-held gaming console, similar to the Valve Steam Deck.
The article will discuss the performance of the Nintendo Switch, its features, drawbacks, customer reviews, and ratings. Let's find out if this 2017 gaming console is worth an investment for gamers.
Pros
Joy-con controller switches for the multiplayer gaming experience.
It has a fantastic gaming library containing numerous updated games.
Strong built quality.
Can be used both for online and offline playing.
Cons
The display quality is not good. Can easily get scratched.
Downloads in the gaming library cannot be paused.
Battery support is only 2-6 hours.
Weak processing power leads to an adjustment in pixels and graphics.
Nintendo Switch was discovered by Nintendo as a gaming console, it has got great flexibility due to its joy-con switch, gaming library, Amiibo figures, and much more. The feature specifications have been provided in the table below.
| | |
| --- | --- |
| Features | Specifications |
| RAM | 4GB |
| Graphics | NVIDIA G20M Maxwell-based GPU |
| Processor | ARM Cortex Octa-core |
| USB | 1 USB 3.0 port, 2 USB 2.0 port( on the dock), 1 USB (Type-C) |
| HDD | 32GB |
| Ethernet | No |
| Weight | 297g |
It's an on-the-go gaming console with various features and has thus become a mass attraction among gamers.
Fascinating Features of Nintendo Switch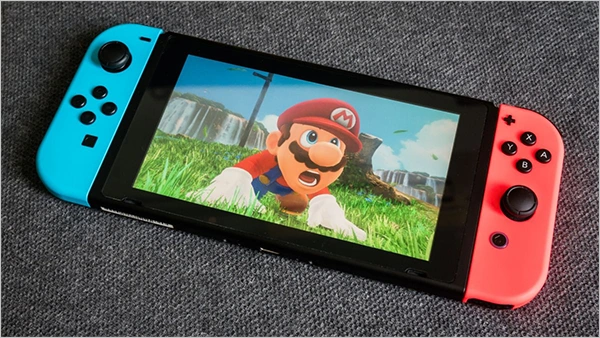 This invention of a hybrid console was always needed in the gaming world, where gamers have various options to boost their gaming performance. Its features cover the top 10 features of gaming laptops too. Some of its impressive features have been provided below.
Different Playing Mode: Yes, the Nintendo Switch can be used in various ways. Either one can connect it to the television and play it with family and friends through a connecting dock or connect a joy-con controller beside the console and begin playing alone. It is portable and thus supports on-the-go gaming.
Offline and Online Mode: Nintendo Switch has a variety of games in its gaming library, which includes The Legend of Zelda, Pokemon, Mario Kart, and many more. It also allows downloading games digitally from its eShop. In addition to this, Nintendo liberates its users to have online gaming fun too. This service of Nintendo Switch Online helps the user have an online multiplayer gaming experience worldwide and connect with friends and family.

Interestingly, in the online gaming experience, users get exclusive deals, can have a voice chat experience, and can dive into the library of Classic NES, and Super NES games.
Joy-Con Controller: The console Nintendo Switch has got a detachable joy-con controller, which can be used separately by two gamers or combined for a single use. These controllers have motion-sensing capabilities that help in effective gaming.
Amiibo Figures: Nintendo Switch also has fantastic toy-like Amiibo figures. These toys can be scanned by the controller and thus help in locking features and content in supported games.
Nintendo eShop: This library consists of various major releases and Indie titles, where a huge range and variety of games can be downloaded. One can easily download or purchase games with the help of the Nintendo eShop.
Portable Console: This is an incredible gaming purchase to make because, with amazing features, it is also light-weight i.e., only 297g of weight. This hand-held console is portable and can be used during long journeys to remove boring traveling and add excitement through games.
Parental Control: This gaming console also has parental control access where easily content, online interaction, and playtime can be controlled.
The features above combine to give joyful gaming moments to its users. This invention can effectively be called a mini-laptop, providing a similar gaming experience as the ASUS ROH FX503.
You can also checkout next-generation gaming console PS5 review.
Drawbacks in Nintendo Switch
Nintendo Switch had incredible features, but there were still numerous drawbacks in its functioning. Here is a list of some loopholes and criticisms.
Slow Processing: Even though the Nintendo Switch became every kid's and gamer's desire in 2017, it was still not a trustworthy console in consideration of its processing power. It was noted that the ARM Cortex Octa-core gave lower quality graphics and weaker processing than PlayStation 4 or Xbox One.
Weak Storage Capacity: The internal storage expands only to 32GB with a support of 4GB RAM. Disappointingly, this amount of storage is not enough and will surely disturb gaming. One can expand the storage through the use of micro SD but, it is costly.
Short Battery Life: This hand-held hybrid model gaming console cannot be trusted for extensive games due to less battery life. The battery only lasts for 2-6 hours, thus ruining the moods of gamers and spoiling their gaming experience with the early shutdown.
Restricted Online Gaming Experience: Although Nintendo Switch provides an online gaming experience to its users, it has provided restricted capabilities to its users. There is only voice chat available with no improved capabilities.
Joy-Con Controller: This controller added the hybrid facility to the console Nintendo Switch but has received complaints regarding its functioning. During the online experience, users have complained about involuntary movements in games, even when the user does not perform any.
Price and Availability
Various stores still have stock of the Switch available, and that's exciting for users who want to grab them. Below is a table showcasing some online retailers and their availability status.
The best offers from sales and free delivery can be availed of from the retail service of Amazon and BestBuy. Furthermore, to get more products at a much cheaper rate, eBay is the best store.
Features Ratings: Nintendo Switch
The features rating provided below has been taken after reading various facts and performances through articles of TechRadar, CNET, and PCMag.
| | |
| --- | --- |
| Features | Ratings |
| Joy-Con Controller | 3.8★ |
| eShop | 4.5★ |
| Battery Life | 2★ |
| Weight/Portability | 5★ |
| Processor | 3.7★ |
| Storage | 2.8★ |
Customer Reviews
The reviews below illustrate the real performance of Nintendo consoles and the user experience.
"The Nintendo Switch is a unique hybrid console that can be used as a handheld device or a home console. It has a variety of games from different genres and developers. The Switch also comes with two detachable controllers called Joy-Cons that can be used in different ways, such as motion control or multiplayer gaming." ~ Switchhh
"What more can I say about this system? If you don't have a Nintendo Switch, you need to go out and get one now! You can play the system on the go or you can use the dock to connect the system to your TV and play at home. This versatility is what gives this system such a huge appeal. Not to mention the first-party and third-party games that are available for the system, which for the most part are all extremely high in quality. Now the online functionality, an online menu still needs tweaking however it gets the job done. There are three versions of this system. The initial version comes in a primarily white box which is the original, the second version comes in a primarily red box which has better battery life, and the smaller handheld only Nintendo switch lite." ~ Nyce1esq
"Over been debating getting the switch for over a year now. Once spring break started and I would finally have time to play, I decided to just go for it. Even though the grey joy cons are boring, grey joy cons are the best and easiest to customize with vinyl skin, so I highly recommend the grey over the blue/red (no matter how enticing the colors are, it's easier to change up the colors via vinyl skins)."~ Celine
"The Switch has some drawbacks. The battery life of the original model is also short, lasting only about 3 hours on average. The Switch OLED and Switch Lite models offer some improvements, such as a brighter screen and a smaller size, but they also have some trade-offs, such as no TV mode or no detachable controllers." ~Danny
"I bought it and have loved the versatility between playing it handheld and then docking it to a TV. I've wanted to play Witcher 3 but I didn't have any other gaming system that could support Witcher 3 to run smoothly. I bought it with this switch and it runs beautifully and can play anywhere I want. I don't have to be tied to my desk with a PC or to the couch with a PS4/Xbox." ~ Shrink
These were some experiences of customers with varying criticism.
Our Verdict: Is Nintendo Switch Worth a Buy?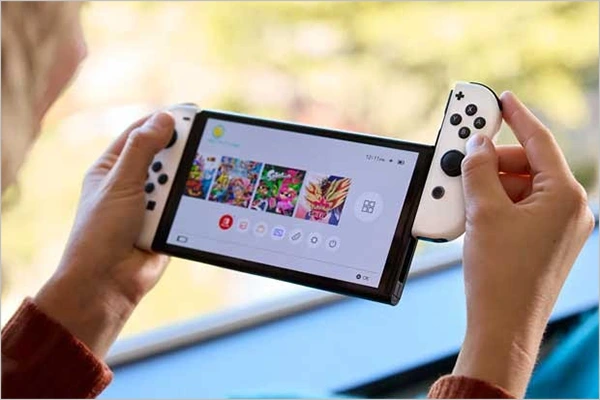 Nintendo cannot be considered a worthwhile buy, though it has satisfied its numerous customers through its very first launch. There are various functional issues in it, starting with processing to ending with storage; users will surely someday end up being frustrated with it. Even the Joy-Con feature gathered various criticism when it started working itself into online games.
Nintendo Switch has got an impressive eShop library, parental control feature, and multiplayer gaming abilities, and thus can be called a perfect family gift. There are various disturbing loopholes in its functioning but it is still able to impress a vast audience through its hybrid hand-held properties.
Nintendo Switch is surely worth a buy, but you have to make full use of it. It is possible that you won't be satisfied with a Switch on your hands. If this is true, you should check out a high-end gaming laptop like Dell Alienware M15 R6.
The list of products below is quite similar to the Switch we discussed.
FAQs
It's a new hybrid gaming model that acts as both a hand-held device and a home-gaming console. The price rise is mainly due to its parts and components, software, and online/offline playing capabilities.
No, Nintendo Switch doesn't give an exemplary gaming experience at 4k resolution with AAA games availability. The Nintendo Switch supports resolutions up to 1080p only.
Yes, the OLED Switch is $50 more expensive than the Nintendo. The major reason is the upgrade in processing, battery life, storage, and functioning. 
Xbox Series X and PlayStation 5 are the strongest gaming consoles.  
Sources
Will Greenwald, Nintendo Switch Review, PCMag, September 15, 2021
Also Read: 11-top notch gaming laptop for playing sims-4 for all time