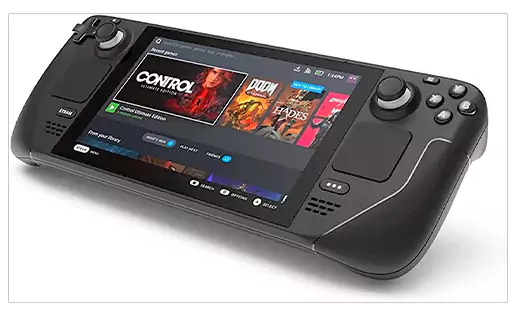 Gaming consoles are getting upgraded, and therefore the revolutionary change in the Steam Machines and Steam Controller also got welcomed at the end of the year 2022. Steam Deck is a gaming console that can be simply called a mini laptop. Though gaming laptops like ASUS ROG FX503 give an exemplary experience, Steam Deck promises to amaze its users with its all-in-one gaming device. It is an incredible invention that enhances gaming through a focused display, storage type, Steam library, and many other interesting and productive features.
In this review, a comprehensive discussion on Steam Deck will be held, which is a mind-blowing discovery for gaming nerds. So without any further ado, let's begin.
Pros
It comes with a big impressive 7-inch screen.
User-friendly Linux Desktop.
The Touchpads, switches, and buttons are nicely placed.
Expandable storage from 64GB to 512 GB.
OLED vibrant display with 1,280 by 800 pixels.
Cons
Ports are limited to 3.5mm headset jack and USB-C.
It's quite a hefty deal to spend on, $399 price.
Steam Deck is known to perform better at standard game settings, therefore the feature specification of Steam Deck has got some latest tech qualities. The below table gives a vivid view of Valve Steam Deck's benchmarking software and hardware.
| | |
| --- | --- |
| Features | Specification |
| Gaming Console | Valve Steam Deck |
| Display | 7.1 inches, OLED |
| Desktop | Powered by LINUX |
| Ports | 3. mm headset jack, USB-C charging port |
| Storage | 62GB($399), extendable till 512GB |
| Price | $399 |
Features of Valve Steam Deck
Valve Steam Deck is an amazing gaming peripheral that became popular after its release in July 2021. Valve is a mini gaming laptop and contains almost all the top features of a gaming laptop too. Valve Corporations creation is powered with benchmark features which are listed below.
Display: With vibrant colour through OLED, the 7-inch touchscreen display of Vale Steam Deck is enhanced. Meanwhile, the 1280×800 pixels on the custom SteamOS version based on LINUX give a stunning gaming experience to the users.
Storage: This gaming console gives storage extending liberty in its already present 64GB eMMC or through the microSD card slot option. 16 GB LPDDR5 RAM is another applauding storage feature in Steam Deck.
Ports: Valve may not have many port options for good connectivity, but the user does get a USB-C charging spot, Bluetooth wireless connectivity, headphone jack, and Wi-Fi for online connectivity.
Steam Library: This is a premium feature provided by Valve as users can get a desktop or laptop experience without having them in real life. So through Steam Library access, users can enjoy existing games, or even download them as per their requirements. The console experience through the Steam library is quite quick and interesting as users get everything on the go including the settings.
These are some essential features that must be noted carefully. Next, let's have knowledge of the price and availability of Valve's Steam Deck.
Price and Availability: Valve's Steam Deck
Steam Deck is available at affordable and exciting prices at some retail stores, meanwhile, the MSRP of it is $399. Amazon is currently not the right spot to look for Valve Steam Decks because Steam Decks on Amazon are present at an expensive rate of $484. Interestingly "other sellers" on Amazon only are selling it for up to $400 too, Users can avail the best interest here by activating their coupon code.
| | | |
| --- | --- | --- |
| Retailing Store | Price (64 GB, varies with increased storage) | Availability |
| Valve Steam | $399 | Available |
| Amazon | $400 | Available |
| eBay | $560 | Available |
| BestBuy | $699 | Available |
The revolutionary invention of Steam Deck turns its price at its peak, therefore regardless of the situation in the market, in the initial years of 2021-2024, there won't be a change in its price. Valve is high in demand even though it has a strong competitor (ASUS 2-in-1 q535) beating its market presence. Interestingly, eBay has the best offers on second-hand steam decks and open boxes which are $439 and $450 respectively.
Customer Reviews
Different types of gaming consoles have always been there in every new generation. Well, Valve Steam Deck came to impress the progeny of the 20th and 21st centuries. But is the above fact really true? Let's find out by reading the customer reviews:
"It's awesome. I unfortunately haven't gotten the chance to play it as much as I'd like but from what I have this thing is amazing, which I knew it would be. It's like having a low to low/mid-tier gaming rig in your hands (and if you don't have a PC right now due to astronomical prices for components it's your best option right now)" ~Nicole
"I got this for a little under $600, it has really nice quality and it works fast enough, you can buy Steam games on this and it's like actually having a computer in your hands. Here's the reason I put 4 stars and not 5 tho… You'd think with the advertisement for a computer in your hands and the games that require a bunch of space to download there would be a lot of storage on this thing, enough for maybe 5 or 6 games…" ~Jack Henry
"Steam decks are awesome when it comes to playing games. There are many games like WWE 2k22, which have been marked as "unplayable", however, most of them actually work and are very much playable with a bit of tweaking with the settings. I had a Nintendo Switch, Xbox series s, and PS4, yet I went for this because I wanted to play AAA games on the go." ~Souvik Chandra
"I had an expectation that the lower capacity Steam deck would be glacially slow and only useful to people who played low overhead games in Steam. I couldn't have been more happily proved wrong. This thing is great." ~Jason650
"I absolutely love my steam deck. It blows my Nintendo Switch out of the water. The only qualm I have is that 64 GB isn't much. But a bigger SSD card is soooo easy to install! Definitely recommend. I'll never get anything done now!" ~Candace Stephenson
Our Verdict: Is Valve's Steam Deck a Worth It Product?
After the Impeccable Dell Alienware Aurora Gaming Desktop, Valve has turned the gaming world upside down by bringing the OS system, a convenient and epic option to be considered. This gaming console brings the idea of playing online games possible anywhere and anytime, therefore, a better option than a gaming PC and laptop.
Valve's Steam deck is a great option to invest in to taste top-notch gaming inventions. The users who are crazily interested in spending money on a portable gaming peripheral, this is an awesome option to give a try. It's always now or never when discoveries like these enter the market.
Closing Thoughts
The article tried to review Valve's Steam deck through various means. At last, we found this gaming device a fun and interesting companion for gaming nerds who want to use every second either smashing their online gaming opponent or having an adrenaline rush with every new game they try. This invention with the LINUX desktop environment is a cherry on the cake, and users can expect a drop in its price not early but at least 5 years later.
FAQs
Ans: Under the price of $399, Valve Steam Deck is a little hefty for a gaming console. Users who are okay with this amount can comfortably enjoy it with the premium display, storage, or battery issues.
Ans: Yes, Steam Deck has a LINUX- backed desktop background that is ready to provide an environment that is highly similar to a PC. Many gaming apps are already downloaded in it whereas users can also download it easily in Valve's system.
Ans: Yes, users can absolutely enjoy gaming in Steam Deck offline until and unless the game requires it.
Ans: Yes, major Steam Deck features to ensure longevity and portability, whether it's about storage compatibility or providing a whole PC environment to the user.
Ans: Steam Deck was released around late 2021 to enhance the gaming experience of Steam machines and Steam controller users.
Sources
Will Greenwald and Gabriel Zamora, Valve Steam Deck Review, PCMag, April 6, 2023
Dab Ackerman, Steam Deck Review: This Handheld Gaming PC Surprised Me, in Ways Both Good and Bad, CNET, February 8, 2022