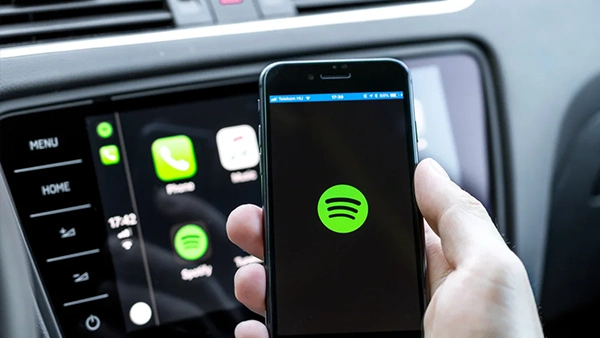 Spotify is among the most prominent music streamers, with 489M active users worldwide, and a safe cocoon for music entertainers. From building personal free playlists for users to suggesting numerous music labels, Spotify has always bestowed more love and affection than ever expected.
The new car accessory, "The Car Thing," launched by Spotify, is one of the new touchscreen car streamers. A Bluetooth Spotify remote control for your phone that promises to provide your old car dashboard with a touch screen with a personal Spotify music connection. Disappointingly, it does not connect to your car's system personally to help navigate or take calls, so you may have to add some of your local files to Spotify to enjoy the music you like.
This article will give credible reviews of the 4-inch touchscreen Spotify music discovery. First, let's find out if this technical car accessory is a real help to driving humans or just another waste of money.
What Is A Spotify Car Thing?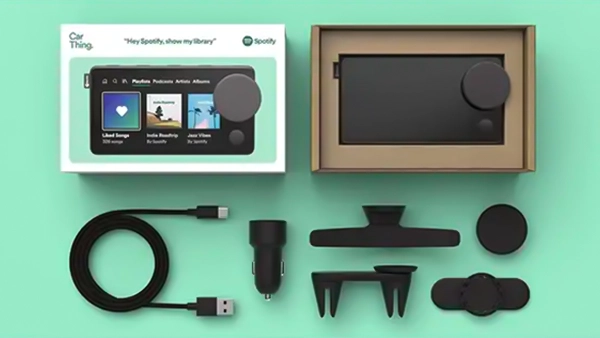 A Spotify car accessory acts as Bluetooth remote control for your smartphone's Spotify application. It gets connected to your dashboard, vent, or CD Drive. You can easily connect it to the dashboard through a magnetic puck and start your musical driving with just the "Hey Spotify play my favorite playlist" voice command and you are off on a pleasant journey.
It's a 3x5x1 inch smartphone type with 480×800 pixels, quite a decent display for you to watch throughout your journey. Sadly, it doesn't connect with your car's system but just keeps intact and operates once your car's ignition system starts. To connect it to your car, you need a 12-volt adapter, Type-A to Type-C cable. The simple steps for connecting it to the car are coming ahead.
How to Connect "The Car Thing"?
While unboxing the Car Thing, you will find a 4-inch small smartphone, with three different mounts to connect it to your car's dashboard, vent, or CD player that includes a vent clip, CD mount, and adhesive mount. It also includes an adapter and a cable that is helpful in connecting the Car Thing with the car itself. You also get a pamphlet in the box that contains a QR code that is helpful in connecting your smartphone with the Car Thing.
In order to connect the Car Thing to your car, all you need to do is
Take the adapter and connect it to the 12-volt socket below your car dashboard.
Connect the USB-A of your connecting cable with the Car Thing and USB-C with the socket. Remember to connect USB-A to the back of the screen.
You will be asked to connect your smartphone to your car via Bluetooth.
Successfully, Car Thing connects to your phone automatically while you ignite your car.
After knowing the easy brief steps to connect the Car Thing with your car, let's get close to finding the various features of this car accessory in the article ahead.
Various Fascinating Features of Spotify Car Thing
Car Thing draws mass attention due to its epic shape, function, and car connectivity. Here are listed some of its features that make it a worthy car accessory.
Size and Display

This small black smartphone has got a plastic body. The front panel is made of glass, which displays a 4-inch screen with 480×900 resolution. Watching the display, buying a Car Thing is the right decision. While unpacking it back after use, you won't struggle much, rather end up fixing it easily and fastly at the glove box during any rush. With such a decent screen size and resolution you won't face issues seeing it while driving.
A Navigation Wheel

One of the attractive things on the display of the Car Thing is the navigation wheel. It helps in selecting things and changing volume. It is like a large rubberized button on the right of the display. There is also a smaller plastic button below it that functions as a BACK command. Interestingly, there are four programmable buttons on the top too, which do various other functions like changing your favorite artist or creating a new playlist.
Voice Recognition

This feature helps you continue with the Car Thing device with just the phrase "Hey Spotify". Without making much interaction with the screen itself, you can easily connect with your favorite music while traveling a 100 miles road back to your home. Voice recognition is made possible with the help of four microphones that are integrated into the Car Thing. This voice recognition makes you more smart and attentive towards driving, so you don't have to look at the screen simultaneously to play your favorite artist or music.
Your Spotify Buddy

If your favorite music streaming application is Spotify, you need to get Car Thing on your dashboard because all it does is play your desired playlist through voice recognition easily. You can stay calm throughout your journey with your year-old memorable playlist that works as a savior for long chaotic traffic routes or on certainly boring roads.
There are numerous advantageous features in the Car Thing accessory that make it worth its $90 price. But, it is also essential to know the drawbacks before buying it which are present in the article ahead.
Drawbacks in Spotify Car Thing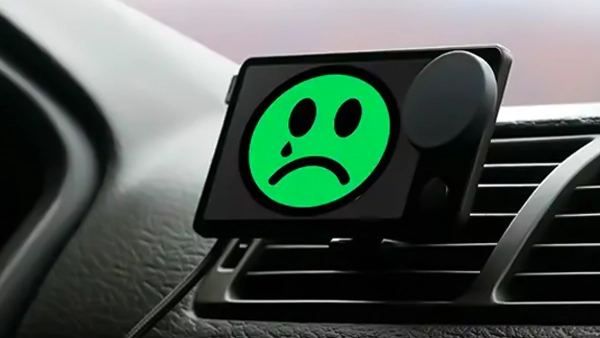 After going through the fascinating features, you should learn about some drawbacks of Car Thing from Spotify essentially before buying it. These drawbacks are the major loophole in the absolute functioning of this technical facility.
No Maps

With the $90 price we were also desiring a smart touch screen that provides helping directions and useful maps while traveling, well, sadly we don't have any option like this here. The 4-inch screen only connects your phone with the Spotify app and showcases songs and playlist on the display screen.
No Apps

Being Spotify car equipment, we do not expect it just to feature its application only. Users have to get tucked in with the same music application the whole time with no escape to taste other music streaming applications. This is a major drawback drawing a major dislike from the audience. This also makes Car Thing completely dependent on the Spotify application, if your Spotify keeps stopping, you will be stuck in traffic with all your so-called car accessory investment in waste.
No Equalizer

The Equalizer feature that is usually present in the Spotify applications on smartphones is disappointingly absent in the Car Thing. This may lead you to listen to disruptive music when you want to make some changes in its imperfections. The Presence of an equalizer helps us listen to the part of music that we desire, by slowing the undesirable part. Having an equalizer feature would have been a boon.
No Music Storage

Surprisingly, you also don't get music storage in it. This might end up with issues when the phone battery is about to die and there is a long distance still to cover and without music, that distance will also get multiplied by a million miles. Hopefully, with $90 of the price of Spotify Car Thing, we expected decent storage that could keep certain songs and playlists always saved for destitute times as discussed above.
After walking through the various drawbackswe have found that 90 dollars for a device with restricted functions are not worth it. Instead, the car display with an Android auto does more functions than Car Thing.
Spotify Car Thing: Is It Worth Spending For?
Spotify Car Thing sounds like a useful musical streaming touchscreen Bluetooth device, that makes our mundane long drives easy with Spotify music; nevertheless, it also provides our old car with a touchscreen small 4-inch dashboard, which helps manage music. But the essential question that pops up is, "Is it worth spending for?"
While going through the display, size, and function of this Car Thing, we were blown away by its small 4-inch effective smart-touch design which has assisting buttons on the display, for example, a navigation wheel on the display itself. There are various other buttons too, to make a new playlist and much more. The Most fascinating part was the voice control, which will help you drive without looking much at the Car Thing, just say "Hey Spotify" and it will comprehend your instructions accordingly for you. The four microphones in the Car Thing system help in listening to all your commands effectively.
With a resolution of 480×800, you get an awesome display screen that programs your car with a nice sound display. So, if you are a huge fan of Spotify music, you are going to love it immensely, but if you wanna play another application's music, you need to wait for another upgraded version of Car Thing.
Also, if your car system lacks Bluetooth or doesn't even allow the wired connection, it is impossible to connect your car system with Car Thing.
Pros and Cons
The table of pros and cons will give a brief representation of various strengths and weaknesses of The Car Thing.
Numerous assisting buttons
Beautiful display of 4-inch
Easy to operate
A navigation wheel for easy interaction with the screen
 Microphone doesn't work properly, Voice instructions are not heard easily.
 Expensive price of $90
 Only has Spotify application
 No Map, leading to no help in navigation
 Too much thin in size
Customer Reviews
The customer reviews will surely help you provide an on-ground performance of the Car Thing through credible reviews of customers.
"The device is well designed and I like all the buttons. I like that it's touchscreen as well as controllable through the big dial. It's way thinner and lighter than I was expecting. Major kudos on making it thin and lightweight. The size is about right (it would be nice if it was a little bigger but it could end up being too big and blocking buttons around it depending on how you have it set up in your car)." ~ MattSuda
"So I've had a few weeks to drive around with Car Thing and get a feel for how it works and fits in with my typical driving experience, and I have to say I've been impressed overall! It's a great little device and a huge upgrade from the simple Bluetooth adapter/remote I've been using to control my music listening up to this point. It's so nice to be able to easily use Spotify voice commands as well as see what is currently playing." Dinomight
"I think that overall the concept is very solid, but I have a major complaint with it. I discovered that Carthing won't work in the car because it doesn't have Bluetooth, aux, or USB audio. I was expecting it to just connect to my phone and plug into the car and then play, but it requires those connection paths. The thing is if your car has Bluetooth, USB, or AUX just play the music using that(I can't think of many cars where this doesn't apply)" ~ Newbie
"I would like to use car thing, because my car does not have Bluetooth and the aux plug. I am a free user and would like to use the car thing without a premium subscription. Why does the car thing require a premium account? When will it be available in France? ~ Flanstario1
Hopefully, the reviews above gave you an idea of whether to buy the Car Thing Dashboard or not.
Our Verdict: Should You Buy It?
If you are a big fan of Spotify and would love to suffice with its Car Thing limited version with just songs and a playlist, this is your perfect car accessory. Meanwhile, if you really want your $90 to get effectively spent on an efficient car accessory, wait for its next more updated version to come. But, What if your Spotify is not working?
You might get fascinated with its 4-inch touchscreen display and desire to keep it on your car dashboard or vents but later with time, you might feel the need for some really essential parts like maps, navigation, and more apps.
Closing Thoughts
In the article, we tried to bring a discussion on the performance of Car Thing through various means like a pros and cons table, features, drawbacks, and customer reviews. We found that to buy a car accessory it is essential to invest in a wholesome product, which does the most work even if it costs an extra buck to the pocket. Car Thing doesn't fit the needs of a long companion rather ends up filling only music needs, that too in a restricted manner.
FAQ
Is the Car Thing still available in the market?

No, you won't be able to find Car Thing in the market due to the supply chain disruption of it. Spotify has recently stopped producing this car accessory.
Is Spotify Car Dashboard worth it?

Yes, for people who have a Spotify premium account and do driving most of the time, for them Car Thing is worth an investment.
How much does the Car Thing cost?

Car Thing's price varies from $89.99 to $95 due to market disruption in its chain supply.
Will Car Thing from Spotifycome back?

No, Spotify Car Thing is unlikely to come back in the market due to a stoppage in its production by Spotify itself.