There are a lot of desktop software programs that provide several picture editing tools so that you may create different types of photographs or discover answers to different problems when it comes to photo editing, but these programs also frequently have a high price tag. Although this isn't a deal-breaker for seasoned experts who are frequently hired, it can be problematic for infrequent users and other newly qualified professionals. We'll be examining the VanceAI Productivity series because there is obviously a need for an app that provides reasonably priced photo editing. The VanceAI online image editing platform, which uses AI and machine learning, offers a range of photo editing tools called the Productivity series.
For those looking for affordable picture editing software, the Productivity series may be the best option. Additionally, because much of the work is completed automatically by the AI itself, the design that is based on AI and Machine Learning significantly simplifies the process of photo editing itself. A picture upscaler, background remover, passport photo creator, image sharpening, and many more are among the incredibly useful utilities in this series. Each of these tools has a wide range of possible applications. The Productivity series can be a very useful tool for you if you work with photographs or are just a casual user who is moderately engaged on the Internet, such as social media. It is undoubtedly useful to have a selection of simple-to-use photo editing tools for rapid and affordable results.
Also, Read: Best AI Video Quality Enhancer to Improve Low Video Resolution
Pros:
A powerful platform is VanceAI. It has a good presentation and hardly ever has any issues.
Every month, VanceAI provides free image credits. Additionally, there are many reasonably priced paid subscriptions.
The Workspace is an extremely useful tool because it enables you to organize all of your essential tasks in one location and upload photographs.
Cons:
The former Workspace design, which you may reach from the home page's top-right corner, works better with some tools.
Only JPG, PNG, and JPEG are currently supported by VanceAI.
What is VanceAI?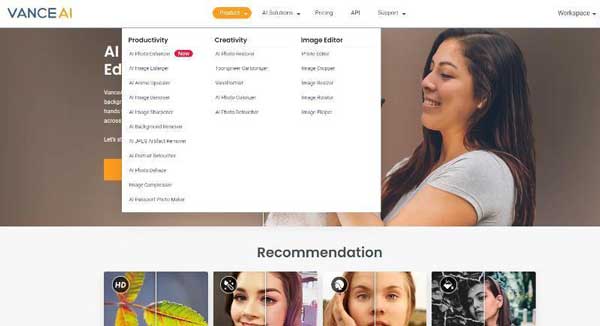 Image Credit: VanceAI
VanceAI is an online tool and platform that was just launched, but it already provides a wide array of photo editing tools. A VanceAI subscription may be purchased for as little as $5.94 per month for 100 image credits, making it one of the most affordable photo editing options available. Furthermore, you can use any VanceAI tool with the image credits. Although VanceAI's Productivity series is the most extensive, there are other tools available as well, as you can see from the image. Other outstanding capabilities that you have access to include image cropping, photo colorization, and more.
You may have a very diverse photo editing experience with VanceAI because it offers a variety of options. Additionally, you can combine a variety of techniques to further improve the quality of your photographs. For instance, you can repair a damaged old photo and then use an image enhancer to enhance the shot's inherent quality to make it appear brand-new. Similarly, rather than paying for various applications and utilizing them separately, there are additional combinations you can try that are all under $5.94 per month.
Review of Tools from VanceAI Productivity Series with Examples
As the heading states, we will evaluate the Productivity series tools using sample photos to have a clearer understanding of both their functionality and performance.
VanceAI Image Sharpener Can be Used to Eliminate Photo Blurs
When shooting images, blurs frequently happen, and this is true even when using DSLR cameras of a professional caliber. Blurs can also result from using the wrong camera settings, particularly the ISO. Using VanceAI Image Sharpener, you can eliminate excessive blur. The tool quickly detects and fixes blur using artificial intelligence. The best feature of this application is that it lets you select the type of blur effect you wish to work with. You may set the app to target one of four types of blurring when you upload an image to the Workspace. There are four types of blur: general, lens, soft, and motion.
Now, many people would undoubtedly be unable to differentiate between various blur effects. If that applies to you, all you need to do is enable the Automatic Parameters option on the workspace, and the tool will conduct its own analysis and present you with the ideal solution image. Almost all tools offer customization possibilities. VanceAI aims to strike a balance between customization and automation. Finally, you can modify how much sharpening you wish to perform on the Workspace. Just enough sharpening was applied to this image to improve contrast rather than all the way through.
Improve the Quality of Your Images with VanceAI IMAGE ENHANCER
The ability to enhance images generally is quite helpful and beneficial in many ways. With VanceAI Image Enhancer, you are able to enhance the quality of images in a number of ways without having to upscale them. Again, the Workspace offers a wide range of customizing possibilities when you use the picture enhancer. The needs of the user are crucial when it comes to altering or improving images. A user could or might not choose to modify specific elements or avoid over-contrasting the image. VanceAI provides customization options in order to let users have some degree of control over the tool. You can utilize the tool's Portrait Retouch feature to enhance the quality of your portraits or selfies.
This tool has a wide range of applications. You can use this tool to process all of your low-quality photographs if you are a user to improve your photo collection. Not to add that it is best practice to edit your photos before sharing them on social media or through any other available marketing platforms. Simply put, they also frequently perform higher on search engines.
Image Noise May be Instantly Removed by VanceAI Image Denoiser
Another annoying problem with photography is image noise, which probably occurs in pictures just as frequently as an undesired blur. If you want to minimize or even get rid of image noise from your photos, use VanceAI Image Denoiser as your go-to tool. Now, just like a blur, picture noise may also be employed to improve the aesthetics of an image. As a result, you will find customization choices on the workspace that let you control how much sharpening the image receives. It should be easy to use for any type of user because a lot of it merely involves utilizing the slider bars.
The picture denoiser tool is able to significantly reduce image noise, as the aforementioned sample shows. The original image is filled with image noise, which is notably obvious in the sky. This is the outcome when we increase the sharpening level to 70. The utility successfully eliminates all picture noise from the new image, giving it a clean, new appearance.
Utilize VanceAI Image Upscaler to Enlarge and Improve Images
The VanceAI Image Upscaler is a tool that significantly improves the quality of an image, much like the image enhancer. The image is also upscaled by this tool, though. Up to eight times the original image size is possible. Therefore, utilizing this technology to achieve 4k resolutions is undoubtedly achievable. This program first examines the pixels in an image and then begins to replicate them in order to fill in the gaps for upscaling utilizing unique AI algorithms. Additionally, this technique enables the tool to preserve details when enlarging an image. With the help of this tool, you may upscale any image you get from the Internet, regardless of its resolution, and use it however you choose.
Facebook cover photos and YouTube channel banners typically demand high resolutions to be visible. In these circumstances, you can surely utilize an image upscaler to acquire high-quality photographs with a large resolution. In addition, you need these photographs for platforms like websites and similar ones. This photograph was upscaled four times in size, and the outcome was shown instantly.
Removes Backgrounds with BGremover Quickly and Precisely
Comparing background removal to some of the other photo editing techniques, it is clear that it is not an easy task. The process of removing backdrops gets laborious and difficult when utilizing the software. Thanks to the AI design of BGremover, a lot of the tension can be reduced. With VanceAI's BGremover, all you have to do is upload a picture and wait while the program automatically recognizes the image, draws the object out, and eliminates the backdrop. There are many ways to alter your image with the new translucent background.
The tool gives you a choice between two algorithms. Either a person or an object can be cut out. The object algorithm encompasses a wide range of things, including animals, genuine objects, and more. Following image processing, you can also use the Edit option to swap out the translucent background for another one that is either a solid color or a natural scene of your choice.
Photo Editor Offers Several Simple Editing Tools Collectively
There are actually several editing tools tied to only one, as seen in the figure above. VanceAI Photo Editor tool is this. The features of this tool are represented by the icons on the right side. Beginning with the picture cropper, it is clear that there are two ways to crop an image: you can either use the ratio option, which is essentially an automatic option, or you may crop the image the conventional way. The ratios are consistent with Instagram Stories, Facebook cover photos, and many other factors. The program also includes tools for image improvement and background removal. In addition, you can manually remove elements from an image by using the eraser tool. Using the relevant tool, you may also rotate images.
By putting a lot of helpful tools in one place, the VanceAI Photo Editor simply streamlines and simplifies basic photo editing.
VanceAI Pricing
By clicking on any of the previously provided links, you can access VanceAI. Simply click the Sign Up button in the top-right corner to begin the account creation process, and use your Google account to speed things up. Every VanceAI user receives three free image credits each month that can be applied to any VanceAI tool.
Start with the yearly plan, which costs $5.94 per month and provides 100 picture credits per month, if you want more features and image credits. 100 image credits will be included in the monthly plan, which will cost $9.90. Additionally, VanceAI has unveiled a half-yearly package that runs $7.42 per month for 100 picture credits each month. Additionally, 200 image credits are available for $24.99 each. If you desire extra image credits each month, you can upgrade to any of these programs.
There is a separate subscription plan for the VanceAI API bundle. The plan offers 1000 picture credits each month and costs $39.8 per month. The next step is 10,000 picture credits per month for $398.
Other VanceAI Products
Platforms that perform similarly to their counterpart VanceAI products but lack the extra capabilities are known as VanceAI alternatives. However, they are competent enough to complete the necessary tasks. Visit the website photoenhancer.ai to find an alternative to Image Enhancer. However, image-upscaler.com is a good substitute for the Image Upscaler program. Along with these platforms, VanceAI Technology provides a free online PDF processing tool under the domain name VancePDF.com.
Final Verdict
Undoubtedly, VanceAI provides a cost-effective photo-editing experience. This platform is improved even further by additional features. For instance, there are numerous tool alternatives available to consumers. One program can handle a variety of photo editing chores, which only makes it more affordable than many other online platforms, which are typically constrained by the number of capabilities they provide. Since almost anyone can use it, the AI-based design also gives the program exceptional performance and accessibility. You will get similar effects if you try other creative VanceAI tools including Photo Restorer restoring old photos.
---