We all experience frustrating times when the video quality is not up to the mark. A low-resolution video kills the mood as well as makes important details quite vague. But that's not the end of the world.
Luckily, all you need is a competent video quality enhancer to enhance your low-resolution video efficiently. Today, we are going to introduce you to the best software for AI video upscaling that anyone can use irrespective of their skill levels.
Without any further ado, let's cut to the chase!
Part 1: Why Should You Use a Video Enhancer
Modern smartphones, tablets, laptops, and TV devices can stream a video in HD and 4K. But not every video you see on the internet is available in higher resolutions like 1080p or 4K. That's where video enhancers come into play.
Using these tools, you can enhance video quality and get a better visual experience. Some of these programs allow you to manually adjust the video details including its resolution, contrast, saturation, brightness, etc. While others offer an automatic procedure to upgrade a video resolution.
The most important task is choosing a reliable tool to get the best possible results. Expecting quality output from an ordinary video enhancer is nothing but a waste of your time and money.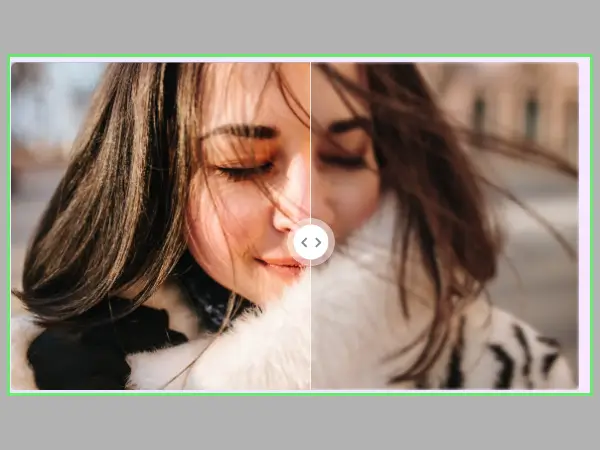 Part 2: Best AI Video Quality Enhancers You Should Try
If you're looking for the best and most affordable video resolution enhancer, then HitPaw Video Enhancer is your ideal choice. Powered by advanced AI, it can enhance a video to any resolution you want including 720p, 1080p, 4K, or 8K.
The results are so professional that you cannot tell the difference between an enhanced HD video and a native HD video. Even more impactful is its simple procedure. You don't need to perform any manual operation other than choosing the output resolution. The program itself detects and enhances the video to the preferred quality.
But most importantly, HitPaw Video Enhancer empowers users to enhance tons of low-resolution videos at once. Plus, it boasts of its three powerful AI models for upgrading video quality. These are:
General Denoise Model: This model is a go-to option for upgrading old videos, particularly the ones related to real landscape. Plus, it also removes noise from clips and makes them look super cool.
Animation Model: Have anime videos of poor quality? Worry not and use this model to restore the clarity of animated videos as well as enhance their resolution.
Face Model: This model is used for enhancing the videos of human faces. Turn your face videos into flawless quality with just a single tap. In addition, it can also make your portrait videos less blurry.
All these stellar features coupled with an easy-to-use interface make it the #1 ranked 4k video enhancer in 2022.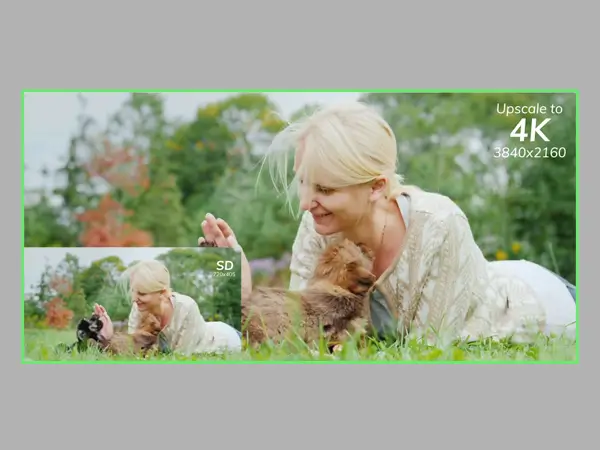 Key Features
It offers a one-click procedure to enhance low-resolution videos.
Allows batch processing to upgrade multiple videos in one go.
Its speed is several times faster than normal programs.
Uses state-of-the-art AI tech to make videos sharp and clear.
Comes loaded with three advanced AI models for enhancing different videos accordingly.
Compatibility with all popular video formats including MP4. MOV, MKV, and more.
Works on both Mac and Windows.
Offers a free customer support service to all users.
Part 3: How to Improve Video Quality with HitPaw Video Enhancer
Using HitPaw Video Enhancer is as easy as it can get, even for non-technical users. Here's how to enhance video quality using this program:
Step 1. After installation, run HitPaw Video Enhancer on your PC.
Step 2. Drag and drop your videos on the program or hit "Choose File" to import them.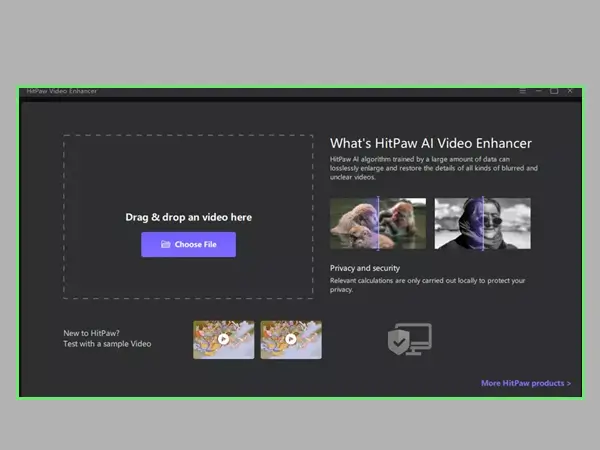 Step 3. Now, choose an AI model depending on your video type. Also, select the Resolution and output format as needed.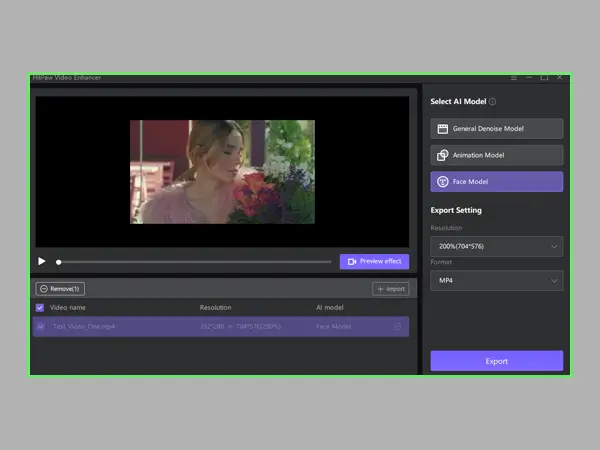 Step 4. Now, click on Preview Effect to begin the enhancing process. The program will let you preview the output.
Step 5. If you're satisfied with the quality, click on Export to save it on your device.
Final Remarks
Gone are the days when enhancing video quality was considered a tech-savvy task. Now, you can upgrade the resolution of any video using HitPaw Video Enhancer. Compatible with both Mac and Windows, it offers a very simple procedure to improve a video with stunning clarity and sharpness.
The best thing is you can get started with this video resolution enhancer without any prior knowledge. If you have any questions, feel free to ask us!
Also Read: How Can I Extract Background Audio from My Video?
Q&A
Read out the below questions to improve your understanding of the topic under discussion.
How do I upscale 1080p to 4K AI?
You need to reliable 4k video enhancer like HitPaw Video Enhancer to upscale 1080 videos to 4K. Simply install it on your PC, import your video, and use any of its AI-powered video enhancing models to get the job done.
Can I convert old videos to HD by using HitPaw Video Enhancer?
Yes, absolutely. This video quality enhancer boasts of its ability to transform old, blurry videos into clear, sharp ones. All it takes is a single click to convert old clips to HD using this powerful tool.
Is it possible to convert a low quality video to HD quality?
Today, even a toddler can convert a low-resolution video into an HD, all thanks to programs like HitPaw Video Enhancer. This tool offers an automatic procedure, backed by AI technology, to enhance your videos.
Is HitPaw Video Enhancer safe?
The answer is YES. HitPaw Video Enhancer is among the safest and most reliable programs to improve video quality. The company employs cutting-edge cyber security to ensure the safety of your data. All you need to do is install the program from its official website.
---