Because you can now erase scratches from old photos online, old vintage photos and family images are becoming increasingly popular. This helps users to make their outdated images look brand new and even attractive once more. Naturally, there is an ever-increasing presence of ancient photo restoration software that can restore and improve the quality of old photos. Such graphics are then reproduced in real life in order to make frames and other items. With that said, we will investigate VanceAI Photo Restorer to see how it can improve outdated images, as well as its features, price, and other aspects. With such an application, you may get started on your own old photo restoration and create an amazing vintage photo gallery.
Why Should You Use an AI Photo Restorer?
While expensive image editing software apps can bring old images back to life with amazing effects, they do have a few downsides that may dissuade novices or casual users from utilizing them. When utilizing software such as Photoshop or GIMP, it is assumed that you know how to utilize it and achieve the desired results. These software applications provide users with incredibly strong tools that allow them to construct anything they desire, but the tools are not automatic, thus users must also be specialists.
When it comes to platforms like VanceAI.com, though, things are a little different. You are not required to update anything here. You only need to upload an image and select your options. The tool will automatically restore the photos for you.
The automatic method of image processing may be quite useful for inexperienced users because it not only eliminates the need to be an expert but also saves time when it comes to image editing in general. Old photo repair is not a straightforward operation, typically necessitating a significant amount of time and expertise if the image is severely damaged. Another advantage of online photo restoration is that it does not require high-end equipment to function. While software applications can run on lower-end devices, there is a notable performance gap. VanceAI's performance is rather consistent across the board. While a quicker internet connection is not required, it does benefit. Considering all of these aspects, an AI old photo restoration application can be really beneficial to many people.
How can I Use AI Photo Restorer to Repair Damaged Vintage Photos?
You can use the VanceAI Photo Restorer online program to engage in old photo restoration by following these steps.
Step 1: First, utilize the anchor text above to navigate to the product's page, where you can see Upload Image, which allows you to upload an image.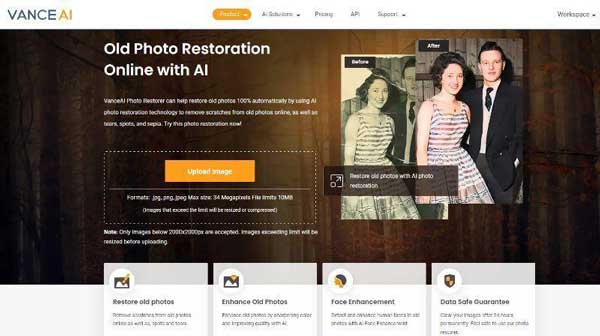 Step 2: Once within the VanceAI Restorer Workspace, look for the upload box. It is used to upload photos to the Workspace. In the Workspace, you can also view your remaining image credits, modify tool settings, and switch between other VanceAI tools. After selecting the image to be restored, click the Start to Process button.
Step 3: After a few seconds, the output image will appear on the right. You can view photographs in greater detail by using the Zoom option. You may save the image in your local directory by clicking the Download Image button.
Because most VanceAI tools follow the same format, these procedures can be considered the norm for using VanceAI tools.
VanceAI Photo Restorer Restores Old Photos
We will use the photo restorer tool to restore ancient photos and assess the results.
Repaired Historical Photograph
Because of the image noise and color fading, it is simple to discern that this portrait is quite old. We can detect a significant improvement after processing it using the antique photo restoration program. The photo restorer not only restores the image's quality but also alters the color tone to make it look more presentable. Not to mention that when it comes to such photographs, the tool focuses specifically on facial augmentation, as people will naturally focus there, especially if the image is an old family portrait.
Improved Photo of an Elderly Couple
This photograph produced results that were identical to the prior one. The preceding image had a lot of image noise and a damage mark, which the program removes but not totally. Close inspection reveals that there is still visual noise surrounding the two people in the photograph. However, the technology once again excels in face improvement.
The Edit option in the program allows you to manually delete marks from an image. In such instances, this functionality can be useful.
Colorized and Enhanced Vintage Photo
Colorization is another function that distinguishes photo restoration software. When you're in the Workspace, you can colorize an image while it's being repaired. This capability is enhanced by the fact that its AI-based algorithms allow it to apply extremely realistic colors. This gives an image a fresh look while retaining its original artistic sense.
Conclusion
VanceAI Photo Restorer is a well-rounded VanceAI utility. Now, the outcomes aren't always perfect, but the fact that the application delivers extremely outstanding functionality, image processing speed, and more to consumers works in its favor. In terms of pricing, you can utilize VanceAI for free for a short time after creating an account. You can sign up for 100 picture credits and unique features for as little as $5.94 per month.
VanceAI's Additional Options
VanceAI's platform includes a variety of image editing tools that can be used in conjunction with the Photo Restorer to produce better images. For example, if you want to improve the quality of an image, you can use an AI image enhancer, which significantly improves the quality of any type of image. Aside from that, VanceAI Photo Colorizer can be used to add color to black-and-white images. Aside from picture editing capabilities, VanceAI also provides VancePDF.com, a free online PDF processing solution. You can also turn to VanceAI Productivity Series if you are fraught with photo editing problems.
VanceAI Alternative for Free
VanceAI provides an alternative platform that can be used in place of the VanceAI Photo Restorer utility. The difference here is that the alternative will not provide the same additional benefits as the original technology. You can get to the alternative by visiting photorestoration.ai.
---