Pokémon Go is a location-based game; while playing it, users must walk or move from one position on the map to another. But for every Pokémon Go fan, driving or walking is not possible every time. This is why people want to know how to play Pokémon Go without moving. Pokémon trainers worldwide prefer to catch Pokémon without leaving the comfort of home. Today, we will learn how it is possible to become a Pokémon Master using location spoofing tools for PC and iOS.
Is It Possible to Play Pokemon Go without Moving?
If you are in self-imposed isolation or not able to go outside, using GPS spoofing software will help you to play Pokemon Go without walking. But, as many players start using these tools, Niantic started soft-banning players who used them. A lot of these GPS spoofing tools got banned by Niantic. Besides, you cannot safely use too many GPS tools to spoof your location in Pokemon Go.
After the three strikes, i.e.
You'll get a warning message for the first time but still, be able to play.
The second strike will close your account for only a month.
And once you get the third strike, your account will get banned permanently.
you won't be able to play Pokémon Go again. So, make sure you want to use spoofing apps; get a reliable one. In the following part, I will provide you with safe ways to play Pokemon Go on your device.
How to Play Pokemon Go on iPhone Using iAnyGo?
To play Pokemon Go without moving on your iOS device, we recommend using iAnyGo. A genuine professional tool developed only for iOS devices. This tool will enable GPS movement without leaving your place. It is among the safest software to play Pokemon Go on your iOS device without moving. It not only allows you to spoof your location safely but also allows you to simulate movements in a fake location. Besides, it is also compatible with the latest iOS 14. Here's how to play Pokemon Go without walking with iAnyGo iOS Location Spoofer.
Open your browser and try to download and install iAnyGo on your PC or Mac instantly.
Now, launch the tool on your computer and connect your iPhone to the computer.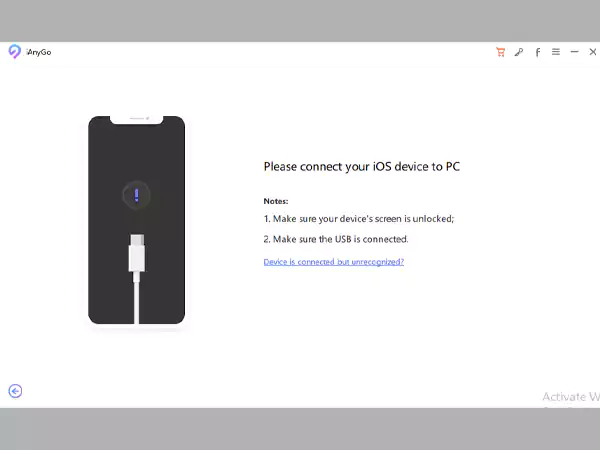 Select the "Joystick Movement" and click "Enter" to proceed further.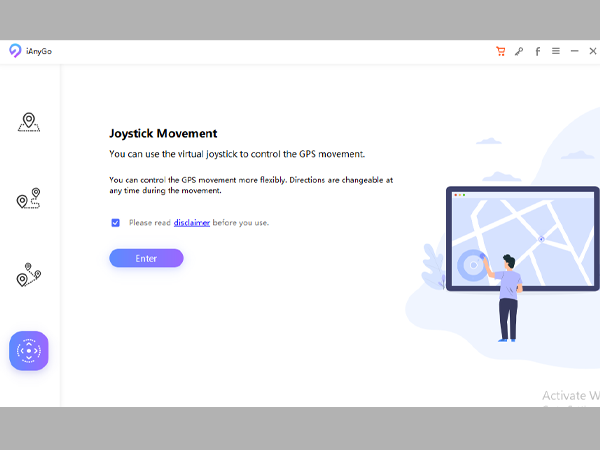 With Joystick Movement, all you need to do is set up the moving speed and click on the circle on the map to start the movement. During moving, you can change the direction by using the left and right keys on the keyboard. Once you need to stop, just click the "Pause" button to stop.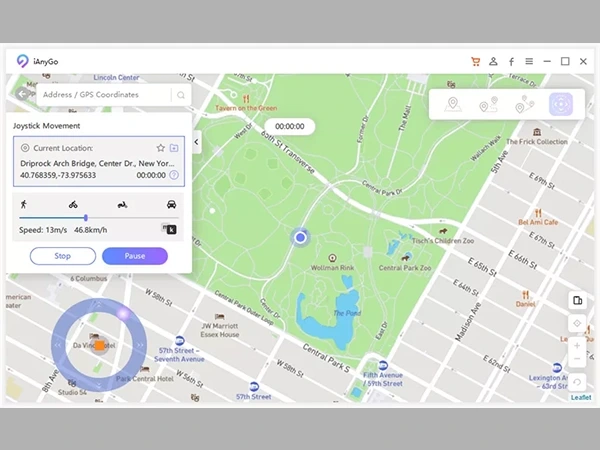 And that's it. That's how to play Pokemon Go without moving using iAnyGo.
You can also refer to the below-posted videos, to learn more about iAnyGo.
How to Play Pokemon Go on Android?
Download and Connect
You must download the Spoofing software and connect your device to your PC. Once connected, select your device from the list given to play pokemon go on pc.
Get Your Device Prepared
You have to follow the guide given to you by the app—Select Gaming Mode for Pokemon GO.
Teleport Mode
Next, a map will load. Select Teleport Mode from the dropdown menu to set a fixed fake location. Then, go to the search bar in the upper-left corner and type in any destination in the world; you can also try using GPS coordinates. Finally, Click "Move" to confirm the new location.
Simulate GPS Movement
Apps like Pokémon require traveling long distances, so you should start your movement by selecting Joystick Mode, the first option. Try to limit your speed; otherwise, you will get banned if you move fast. The keyboard will help you to control your movement while playing Pokemon Go.
Note- To change your location on Pokémon GO, you won't need to root your phone to get the full qualities of this tool. It helps to connect with any iOS or Android device to let you play securely on the official Pokémon GO app.
Other Tips to Play Pokemon on iPhone
You can add some unique features in Pokemon Go to provide depth to the gameplay. Just select the Pokemon who can become more powerful versions of themselves for a limited time. To activate this feature, you must accumulate Mega Energy by beating Mega Raids as fast as possible.
Niantic has responsibly introduced alternative ways to play Pokemon Go at home to keep its players safe and healthy. You can buy Remote Raid Passes for 100 PokeCoins each in the shop. These let you virtually team up with other players to take down and capture special legendary Pokemon, most recently Giratina.
Frequently Asked Questions(FAQs)
ANS: Using iAnyGo to implement the Pokemon GO walking hack is extremely simple, and you don't have to jailbreak the device. The app can also allow you to fake your location by teleporting.
ANS: Please open your Safari browser on your device, open the Game Play Colour website, and add it to your iPhone device home screen by tapping Play Now>Share.
ANS: Delta is an all-in-one emulator for iOS that allows you to emulate and play old-school Pokémon games.
ANS: To play Pokemon Gameboy Advance games on your iPhone, go to EclipseEmu.me, an emulator that allows you to play Pokemon Go on your devices.
Closing Remarks
There is no doubt that you can play Pokemon Go without moving both on iOS and Android devices. The most important thing is choosing the right and safe way to do that. A tool like iAnyGo is used by most Pokemon Go players so that you can try it.
---