Key Takeaways

Selecting a gaming phone requires a lot of consideration and preferences.
Storage, RAM, and processor will determine the performance of your smartphone.
Display and touch sensitivity is another factor to take into account.
Look out for special gaming-specific features such as a headphone jack for good-quality sound.
I am a gamer. Not because I don't have a life. But I choose to have many.
Gaming phones are specially built with the latest processors, sensitive touchscreen, and long-lasting battery life for you to enjoy the thrilling experience without any interruptions.
For passionate gamers who want to play games on a phone without lag, a gaming phone is a must. It is a smartphone that is specially designed and optimized for the same.
But how do you choose the right one for your needs and budget?
Worry not! In this article, we will answer this question and will help you find the best gaming phone in Pakistan that suits your preferences and expectations. 
Interesting Fact
Approximately 78% of the gamers are Android users.
So, without further ado, let's get started!
Performance: For Lag Free Gameplay
Performance is the key to an excellent gaming experience on a smartphone. You want your phone to run games smoothly without any stutter or frame drops. To achieve this, keep an eye out for vital components like the processor, RAM, storage, and cooling system.
The processor, aka the brain of your Android. The faster and more cores it has, the better your gaming performance will be. Look for top-notch processors like Qualcomm Snapdragon 8 Gen2, MediaTek Dimension 9000+, or Apple A14 Bionic.
RAM – the memory that stores all the data and instructions it needs to run games and apps. The more RAM you have, the smoother your gameplay will be. Opt for the ones with 8GB, 12GB, or 16GB of RAM.
Storage matters too, as it determines how many apps and games you can install on it. With bigger storage options like 128GB, 256GB, or 512GB, you'll have plenty of space for all your favorites.
Some of the top contenders in terms of performance are Asus ROG Phone 6D, Xiaomi Black Shark 5 Pro, and Nubia Red Magic 7.
Display: Crystal-Clear Graphics
After all, you want your games to look stunning and responsive, right? A large, high-resolution, and high-refresh-rate screen is what you should be looking for. The size of the screen affects the immersion, so consider options like 6.5 inches, 6.7 inches, or 6.8 inches.
For sharp and clear graphics, check out resolutions like 1080 x 2400 pixels, 1440 x 3200 pixels, or 1440 x 3440 pixels. And to ensure smooth and fluid gameplay, go for refresh rates of 90Hz, 120Hz, or 144Hz.
Touch sensitivity is another vital factor. Faster and more accurate touch sensitivity means better control in games. Look for touch sensitivities of 240Hz, 300Hz, or 360Hz.
Top gaming phones with killer displays include
Asus ROG Phone 5: This beauty sports a 6.78-Inch AMOLED screen with a 144Hz refresh rate and a touch sensitivity of 300Hz.
Sony Xperia 1 IV: If you crave premium gaming experiences, this phone's 6.7-inch OLED screen offers 240Hz touch sensitivity and 120Hz refresh rate.
OnePlus 11: Tight on budget but still want a great display? The 6.55-inch Fluid AMOLED screen on this device with a 90Hz refresh rate and 240Hz touch sensitivity has got you covered.
Long-Lasting Battery
For non-stop gameplay, you need a long-lasting battery life for your phone. Look for devices with larger capacities like 5000mAh, 6000mAh, or 7000mAh. And when you need to recharge, opt for devices with faster charging speeds of 30W, 65W, or 120W.
Some top options for a large battery capacity are:
Asus ROG Phone 6D: Its dual-cell battery with a total capacity of 6000mAh and 65W charging speed ensures you never have to worry about running out of power.
Xiaomi Black Shark 4 Pro: With a 4500mAh single-cell battery and 120W charging speed, it offers a quick boost when you need it most.
POCO F4 GT: On a budget but still need power? This phone's 5065mAh single-cell battery and 67W charging speed will keep you going.
Unique Gaming-Specific Features
Lastly, let's talk about those special gaming-specific features that can take your gaming experience to the next level.
Check for one with a headphone jack if you prefer wired headphones for better sound quality and lower latency. Stereo speakers deliver richer sound experiences, so consider devices with dual speakers for an immersive vibe.
Some of them even come with shoulder triggers or physical controls for better gaming accuracy and comfort. These accessories can make your cell feel more like a console or PC, which is incredible!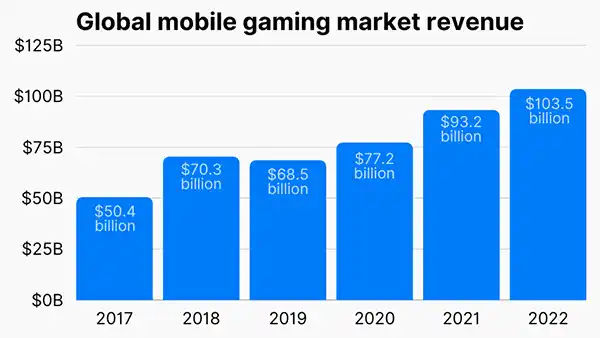 Closing Remarks
Alright, we've covered it all! Now you know what to look for in your perfect gaming phone. Even if it's the ultimate performance, stunning display, long-lasting battery, or those sweet gaming-specific features, you'll be all set to level up your experience.
Before wrapping this up, let's check out a great way to save some money while shopping for your dream gaming phone – use Savior! It's Pakistan's first cashback app that rewards you with cashback every time you shop online. From electronics to fashion, food, travel, and more, you can use Savyour to find the best deals & discounts on your favorite products and services.
So what are you waiting for? Download Savyour today and start saving money while shopping online. Happy gaming and happy saving!
---