There are a lot of errors that we come across in the technical world. One of them is the "No Data Available" error on Facebook.
When you go to the app to see who liked or commented on your pictures, only to find the "No Data Available" error, it must feel bad. The users have been complaining about how they are not able to get over this issue. And since every problem has a solution, worry not about this issue as we have got you covered. In order to solve this issue, all you got to do is follow the steps discussed here, and then you'll be good to go.
In this article, we are going to discuss why the "No Data Available" error occurs and how we can solve this issue using some easy methods. We are also going to share what error is and how it happens. So without further ado, let's get the ball rolling!
What is the "No Data Available" Error on Facebook?
Despite being the old goat in the game, Facebook continues to release new features (like the vanish mode on Messenger and getting to update your profile picture without anyone's notice) and stay up to date. However, no matter how good a brand is, there is always some error lying around that one can face at one time or the other since it's technology after all. The users are complaining about a Facebook error that says "No Data Available". This has got the users confused as they seek the problem's solutions. So, what is the "No Data Available" error going around on Facebook?
No data available on Facebook means when the users click on likes, comments or to see the views, there is no data available for them. They face the issue whenever they tap on the total likes or the comments section under any post, and they can't find anything. The only thing that appears is either a blank screen or the error showing "No Data Available". It might appear on your posts as well as your friends' posts, but you don't have to be concerned about your internet connectivity, your account, or your device. As it is a technical bug or a glitch in the app itself, and it can be present on both Android and iOS.
Why is No Data Available on:
Facebook News Feed Page
When the users tap on the likes or the comments under a post to see them and nothing appears or the error "No Data Available" displays, that is when the News Feed Page on Facebook gives users a hard time.
The error is a glitch or a technical bug itself and happens at times, but the users need to stay calm about it and understand that it isn't a fault on their end.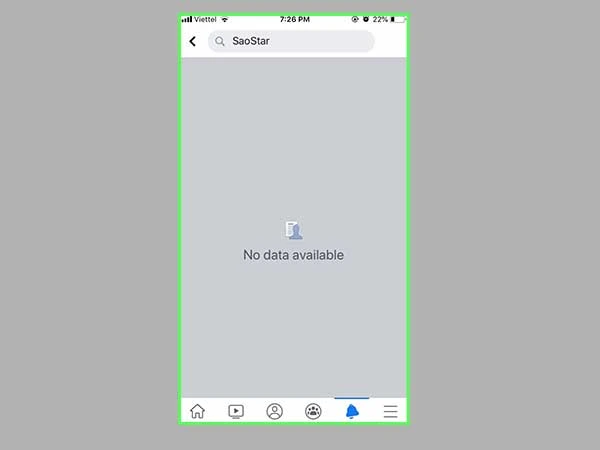 Facebook Groups
The users may face the "No Data Available" error in the Facebook groups as well where they cannot see the participants or any other data related to groups.
It is because of the glitch in the Facebook app, which can be resolved by clearing the cache, updating the app, or switching to the Facebook website.
How to Fix the "No Data Available" Error on Facebook?
If you are also facing the error "No Data Available" on Facebook, then we have gathered some easy solutions for you. Keep reading and follow the methods given below:
Log out of Facebook: One of the most common ways that come in pretty handy is logging out of Facebook whenever you are facing an issue. Then close your app or browser, wait for a few seconds and log back in. Check if the error is gone.
Update your Facebook App: There may be chances that data not available issues come in the latest version of the Facebook app. So, wait for the next version of the Facebook app. So, then update the Facebook app. For that, go to the play store and update your Facebook application to the latest version. And then, open the Facebook app and check whether the same problem continues or not.
Check if Facebook is Down: You don't always have to take the blame and seek solutions when it is the other one at fault. It is rare but not impossible for a social media giant like Facebook to be down. So make sure to check before taking further steps.
Clear Browser Cache and Cookies: If you're using a web browser to log in to your Facebook account, clearing your cache and cookies may help fix the problem. However, if you are using the Facebook app, then make sure that you clear its cache by going to the Settings of your device.
Switch to the Facebook Web: Open the Facebook website on your mobile browser or web browser. On the Facebook website, log in to your account and gain access to Facebook without any error. Because the error usually occurs only in the Facebook application (android and iOS) and not on the Facebook website.
Use a Different Connection: Make sure your network connection is stable. If possible, switch to a different connection and test if you notice any improvements.
Update your Browser: You must check that the browser that you are using is up-to-date and if not, update it to the latest version available.
Use a Different Device: You can try to log in to your Facebook account from a different device and check if the error still persists.
Disable your Extensions: If you're using ad-blockers or privacy extensions, they might be interfering with Facebook's scripts and causing the "error fetching data" message.
FAQs
Ans: This error simply occurs because of a glitch or bug in the Facebook application.
Ans: You can try to fix the "No Data Available" error by updating Facebook or clearing the cache, but it may persist. Therefore, to fix it until Facebook resolves the bug, you can switch to the Facebook website.