Almost three-quarters of people, which is 73% of people, do not watch the news, but not all of them are unaware of what's happening around the globe. Do you know how? Because they do check their social media feeds like Facebook News Feed, which helps them stay up-to-date with major news.
And if that's the case with you as well, the Facebook news feed not working or Facebook feed not updating can be a blunder for you. But worry no more; I'm here for you to help if you're struggling with how to refresh a Facebook feed and looking for ways to make it work.
You wanna know what's funny?

Everywhere I turn around in my days. Bam, I get hit with a issue from my dad on Facebook. Like yesterday when his news feed's not working. He thinks I work for @Meta. Which I don't, if I did. I'd quit that job.

— Ryan Bartley (@Ryan_Bartley21) November 22, 2021
If you are also facing the 'Facebook news feed not working' issue or know someone who is, like, the user in the above-given tweet, read on. There are various reasons which could be leading to the issue. Let's find out!
What Causes the "Facebook News Feed Not Working" Issue?
Before moving on to the solutions, it's important that we note the possible reasons which could be leading to the issue of the 'Facebook news feed not working' or 'Facebook feed not updating'.
One of the most common reasons for issues on social media apps is an unstable or bad internet connection. So before checking out for other possible reasons, check if your internet connection is working correctly, as that could also cause issues in the proper loading or refreshing of Facebook News Feed.
Another possible reason which could lead to the problem of the Facebook news feed not working is issues from Facebook's end. It is rare but not impossible for Facebook servers to be down. So you can see and confirm if that is the reason in your case.
Most of us tend to ignore the updates we get on apps and our devices. And if you think that you have missed out on any updates from the Facebook app or the browser is not up-to-date, this can also cause errors in the smooth functioning of the Facebook news feed.
In case you have the wrong date or time entered on your device, it will be a problem for not only Facebook but the other apps as well to work properly. This will confuse the app to find out the authenticity of the device and the user.
Issue in preference settings
If you have set the wrong preference settings for your news feed on Facebook, there could be glitches in showing the Facebook news feed as per your preference. Hence, causing the 'Facebook news feed is not working' issue.
Steps to Fix "Facebook News Feed Not Working" Issue
Now let's head over to one of the most important parts of the article – fixes for 'Facebook news feed not working'. We will be explaining different methods, and you can go through them as any of them might work for you.
Check your Internet Connection
The first and foremost step that you should take before trying anything else is to check if your internet connection works fine. Because if it is not stable and its range is poor, this can lead to the issue of 'Facebook news feed not working'.
Whether you are using mobile data or Wi-Fi/LAN connection, you can try restarting them and see if that helps. Apart from that, you can also if the same is happening in other apps or websites too or if the issue persists on Facebook only.
Restart your Device
Another method that can help you possibly get rid of the 'Facebook news feed not working' issue is restarting your device. It can also be the case that your device has some bugs and restarting will refresh the apps on your device. Just press and hold your device's lock button until it restarts. And after that, you can try using Facebook again and see if that helps.
Refresh Facebook News Feed
Sometimes all an app needs is a refresh in order to start functioning smoothly, and the same can be done here by refreshing the Facebook news feed. It is pretty simple to do so. Just head over to the top of the news feed on Facebook and swipe down. Once you do that, the news feed will refresh, and now you might be able to view the new posts.
Check if Facebook is Down
It is not necessary for the issue to be from your end only, as Facebook might be down too. So for checking it, all you have to do is:
Go to your browser and search 'is Facebook down?'.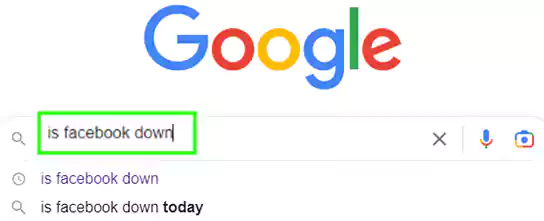 Now you will be able to view on top whether it is up and reachable or down.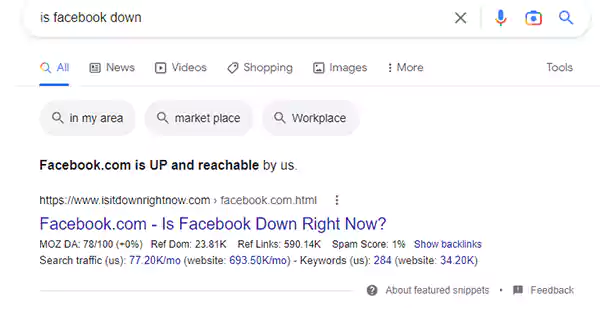 Or you can also,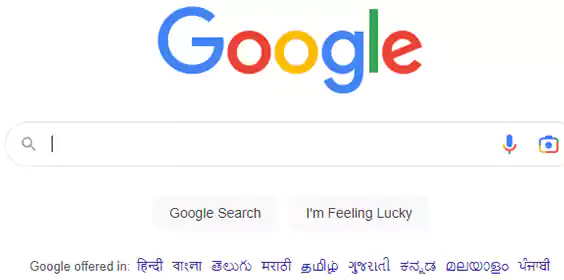 Enter Facebook in the search bar.
Relaunch the Facebook App
Sometimes there is an internal glitch issue that ends up causing issues like 'Facebook news feed not working'. So restarting the Facebook app might solve the problem. For doing the process, follow the steps below
Press and hold the Facebook app.
Once the list of options appears, click on App info.
Now select Force Stop/Force Quit and tap on OK.
Now you can relaunch the app and see if the Facebook news feed is working normally again.
Clear Cache and Facebook Data
It often happens that the cookies and cache collected by websites and apps get stored in the device along with temporary data for a long time and hence, cause issues like Facebook not updating. So in order to solve this issue, you can delete the stored cache and data. The steps for how to clear the Facebook cache are as follows:
Open Settings < Apps/Manage Apps.
Now look for Facebook and tap on it.
Select Storage and then click on Clear Cache.
For clearing the data on Facebook, follow these steps:
Launch the Facebook app.
Tap on Settings.
Select Account Settings.
Tap on Clear Data.
Modify Facebook News Feed Preferences
It is also possible that there can be a case of incorrect Facebook News Preferences that might have been changed if you updated your Facebook app or restarted it. Now all you have to do is make some changes in your Facebook News Feed Preferences. For that, go through the steps given below.
Open Facebook.
Now press on the downwards-facing arrow.
Select News Feed Preferences.
Click on Prioritize to select whoever's posts you want to appear first.
Then click on the Menu icon of three horizontal lines from the top left.
Click on See More.
Now scroll down and select Most Recent.
Lastly, refresh Facebook and go ahead to see if the method worked.
Update the Facebook App
If you have been ignoring the updates for the Facebook app or your browser is outdated, as discussed earlier, this can contribute to the 'Facebook news feed not working' issue.
Go to the App Store or Play Store.
Search for Facebook.
If you see the option of 'Update', tap on it.
Once the app gets updated successfully, check if the issue is resolved.
Set Correct Time Zone
When we restart the device or simply update it, sometimes the date and time get changed or reset to default. And thus, this can prevent the proper functioning of Facebook and other apps as well. So what you can do is check if this is the case and if it is, follow the steps given below:
Solution Synopsis: Settings < System < Date and Time < Enable Set Time Zone Automatically
Solution Synopsis: Settings < General < Date and Time < Enable Set Automatically
Reinstall the Facebook App
In case none of the methods discussed so far worked for you, worry not! As, we have one last resort left for you- and that is to reinstall the Facebook app. The steps for the process are as follows:
Uninstall the Facebook app from your device.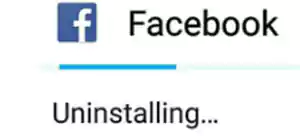 Now head over to the App Store or Play Store and look for Facebook.
Once the app appears, tap on it and tap on Install.
By using the methods explained so far, your Facebook news feed will now start working, hopefully. Now let's talk about the process of backing up your data on Facebook using one of its features.
How to Backup Facebook Data?
When it comes to devices and technology, the situations aren't always in our favor. It goes both ways, even leading to problematic circumstances like losing all your data. So if you don't want that to happen to you, especially on Facebook, read on!
Open Facebook on your browser.
Now login to your Facebook account.
Go to Settings.
After that, select Your Facebook Information.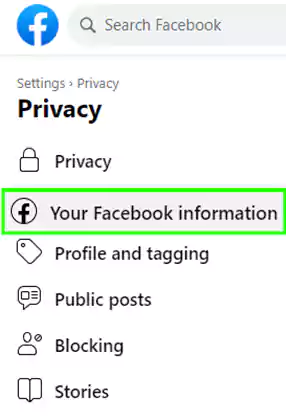 Then tap on the View link button for Download Your Information.

Now select whether you want to delete all your data or not from the Date Range.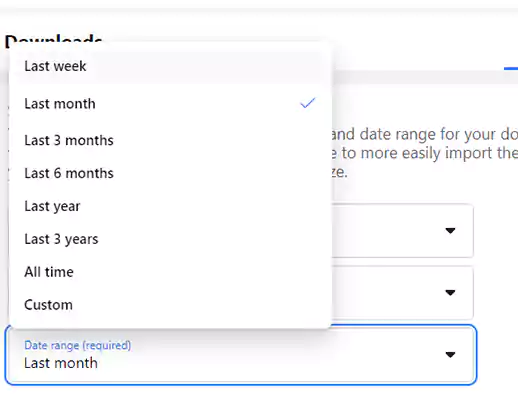 Tap on Request a download button.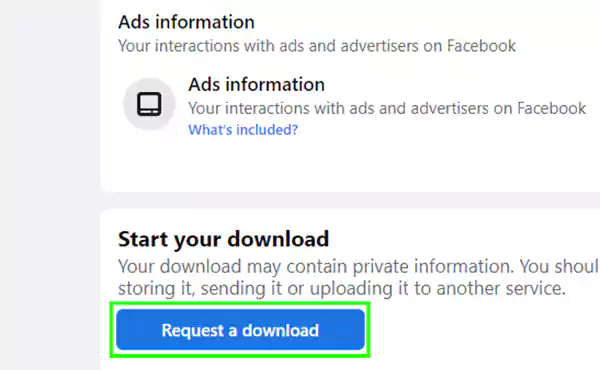 Lastly, a message confirming the initiation of the download will appear to inform you that the file has been created successfully. Now you can choose the location of the download.
Now your Facebook data will successfully get backed up and saved, and you don't have to worry about losing it.
ALSO READ:
Conclusion
As Facebook is the most used app that helps billions of people to stay connected, at times it also has issues, and one of them is 'Facebook news feed not working'.
For those users who are facing this issue, we have provided the solutions in the above article. Hopefully, with the help of the possible reasons causing the issue and different ways to fix the issue, you will be able to get rid of the 'Facebook news feed not working' error.
FAQs
Ans:If the Facebook news feed is not showing posts, there could be an internet issue, an outdated app or browser, etc. causing the issue.
Ans:There is no such thing as restarting your Facebook news feed. However, you can reset your news feed preferences or refresh it as explained in the article.
Ans:One of the most common reasons why your Facebook is not updating can be a poor internet connection.