Apple Pay is expanding, NFC technology in your iPhone is becoming more widely accepted by retailers, and it's undoubtedly the quickest and safest way to complete transactions (alongside wireless chip cards).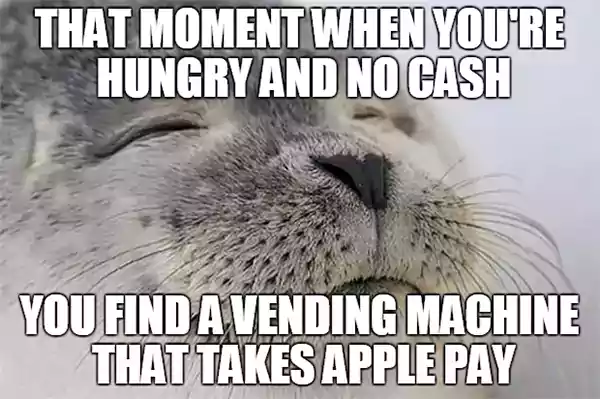 Apple Pay streamlines your life and your wallets, at least when it's functional. Though the service is amazing, people still end up asking "why is Apple Pay not working online?", which can be really frustrating; it can wreck your day. Apple Pay isn't flawless and occasionally stops functioning.
It is incredibly frustrating to run into barriers at the moment of payment, and it can even put you in a tight spot. There are a number of remedial techniques you can use to fix the issue of Apple pay not working.
What is Apple Pay?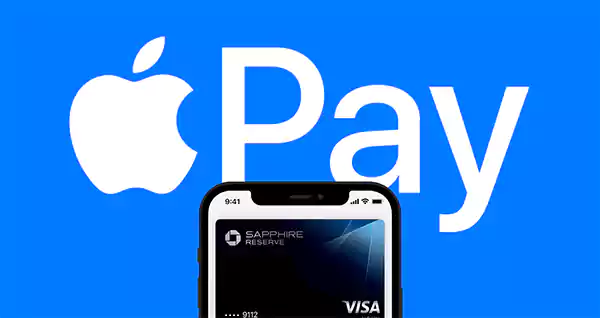 Apple Pay replaces your physical cards and cash with a simpler, safer, more private, and more secure payment method, allowing you to transfer money to loved ones or shop online or in person.
Establishing Apple Pay is extremely easy, your iPhone's Wallet app needs only to have your credit or debit card added before you can start using it. You continue to receive all of your card's rewards and advantages too, so you won't lose any of your earnestly accrued miles or points.
One of those indicators that we are living in the future is Apple Pay. You can now simply put the same smartphone you use for texting, taking pictures, and watching TikTok videos near the point-of-sale machine and it will instantly charge your credit account rather than making you reach for a wallet full of cash or even a stash of plastic credit cards.
Why is Apple Pay Not Working?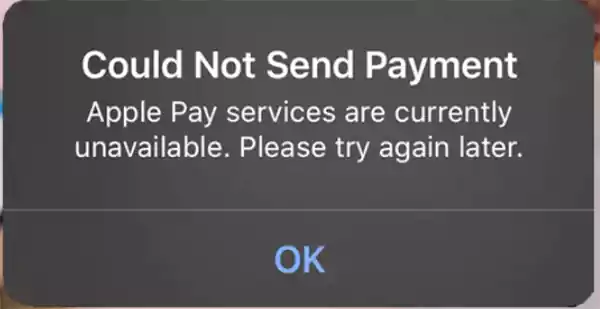 The two most frequent causes of Apple Pay not working are that the phone's battery is running low or that the establishment is unable to take Apple Pay. The Apple Pay servers, a problematic digital payment terminal, or a specific bank or credit card could also be blamed.
There are many reasons why Apple Pay is not working on your iPhone. The most frequent ones, though, that stop you from using Apple Pay are as follows:
Hefty phone covers.
Apple Pay system is not available.
Malfunction Point of Sale terminal.
A bug on your iPhone
Faulty wallet app.
Low battery.
How to Fix Apple Pay Not Working? Try 10 Easy Ways
Paying with Apple Pay is simple, quick, and safe. However, if Apple Pay isn't functioning on the iPhone, things aren't quite as good. Here are some quick fixes if you find your Apple pay not working.
Verify that Apple Pay is Compatible With the POS System
Let's get to the simple things first. Despite being well into the twenty-first century, some point-of-sale devices still do not support contactless payment methods like Apple Pay and Google Pay.
Ask the person behind the counter if they support Apple Pay, in case you attempted to bring your iPhone close to a terminal and nothing occurred. They can advise you on where to position your phone and whether another terminal will provide you with better results, in addition to whether it supports Apple Pay.
Replace your Phone's Cover
Although it may seem like a no-brainer, phone cases can obstruct the NFC interactions that Apple Pay depends on. Sometimes the thick rubber heavy-duty shockproof cases that surround your complete phone prevent the NFC from functioning.
It can also be difficult to use cases with metal or magnetic components, such as those that connect to in-car mounts. Of course, taking your iPhone out of its case and testing Apple Pay is the best method to verify this. You might need to consider purchasing a new phone cover if it functions this way when taken out of the case but not when in it.
Verify That Apple Pay Isn't Down 
You might think that if Apple Pay isn't working, your iPhone or iPad must also be having issues, but that isn't always the case. Just the fact that Apple Pay's backend web service is presently unavailable could explain the situation. You might only need to wait a short while for it to come back online if this is the case.
It's nice to know that you won't have to wait for confirmation to find out if that is the case. If the Apple Pay service is experiencing any issues, you can check the Apple System Status page.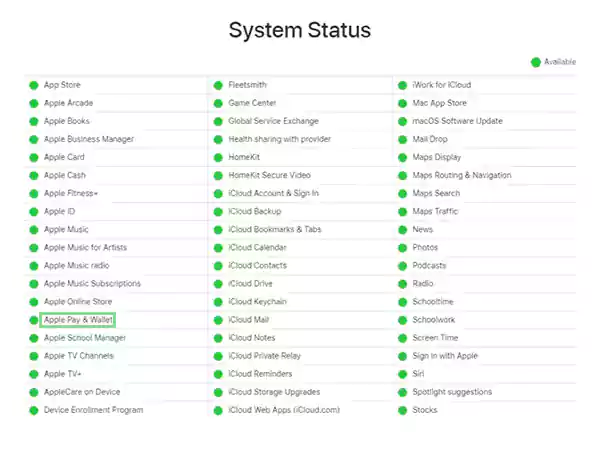 Select a Card Manually
When Apple Pay and the terminal are operating normally, bringing your phone close to the terminal immediately launches the Apple Pay wallet with your default card selected. But if that's not working, the terminal might just need a little assistance; select a credit card manually and then attempt the terminal again:
Open the Wallet app on your iPhone.
Tap the credit or debit card you want to use to make the transaction.
Place the phone close to the point of sale device.
If it's functioning, you can now finish the purchase as usual.
Re-login to Your Apple ID After Signing Out 
This workaround has been noted by some users who have been trying to use Apple Pay between their iPhone or Apple Watch and an NFC reader on their Mac.
Although this approach has been successful when using Apple Pay on a Mac, it's also worthwhile to attempt if Apple Pay on your phone isn't accepted in stores or other situations. To login back into your Apple account, you must log out first.
Restart Your iPhone 
There are a few other steps you can take if none of the choices mentioned above doesn't work for you or if you're using it to make an online purchase rather than in-store. Simply restarting your phone can be the easiest fix to this problem of Apple pay not working.
People frequently believe that such a straightforward remedy will never be successful. Actually, when you restart your phone, different statistics and data fragments are reset. A restart should take care of any issues that could have been impacting Apple Pay.
Charge Your iPhone
Charging your iPhone is another apparent easy fix for the Apple Pay not working issue. More features switch off as your battery level drops to help protect the remaining capacity. Apple Pay may not function if the battery level falls below 10%, so charge your smartphone before going shopping.
Add Your Card Again 
You might want to try removing your card from Apple Pay and adding it again if it regularly gives you problems. This is also helpful if you recently received a new card from your credit card provider because Apple Pay may not always immediately recognise the updated information.
Open "Settings -> Wallet & Apple Pay" on your iPhone.
Tap "Remove Card" after choosing the card you want to add again.
Revert to "Settings -> Wallet & Apple Pay," choose "Add Credit or Debit Card" and then adhere to the on-screen instructions to add your card.
Make Sure You Have Active Internet 
While you may have a strong Wi-Fi signal at home, the shops you visit might not always have guest Wi-Fi, so you'll need a strong cellular or mobile data signal. Check your signal intensity if Apple Pay isn't functioning properly for you. The problem might be a shoddy link.
Check out our collection of solutions for cellular data not working if you frequently experience issues with your iPhone's Internet connection.
Contact Your Bank 
It's conceivable that your card is the problem if you've tried everything else. You can check the functionality of the real card in a shop. Talk to your creditor if not.
Credit and debit cards occasionally have errors and malfunction when used in mobile wallets or by directly swiping them. It's possible that you'll need a new card from your bank. The bank might be able to help you and other customers by fixing the problem with the card readers that the store employs, which could be problematic with some card types.
Final Thoughts
In general, one of these fixes should fix the issue of Apple Pay not working in apps or online. It's important to note that the issue is typically brought on by your phone case or a glitch in the Apple Pay programme. These issues can be fixed by taking off the case and rebooting the phone.
Additionally, bear in mind that occasionally, even if your Apple Pay is in perfect working order, the retailer or the payment terminal may be at fault. Making a payment requires a connection, an maybe the other person needs to ask "why won't my Apple Pay work?" instead of you.
Further, you'll need to get in touch with Apple customer support or go to an Apple store if none of the aforementioned solutions has worked for you.
FAQ
Why isn't Apple pay accepting my card?

Your card wasn't issued by a bank that participates in the programme, or the bank doesn't support that particular form of card for use in digital wallets, is the most typical explanation. To be certain, confirm with your creditor. When attempting to register with Apple Pay, some chip cards have been known to experience problems. To find out if this is the issue, contact your bank.
Does my card's expiration date affect Apple pay?

Yes, your credit card name and expiration date are both crucial information. Next time you see Apple Pay not working in apps, you must update your card details in Apple Pay if either of these changes. If not, the programme will consider your card to be expired and not functioning.
Why is my Apple pay not working while travelling?

Even though Apple Pay is generally accepted in many nations and areas, it isn't everywhere. Make sure Apple Pay is recognized where you'll be going before you go.
Which prepaid cards work with Apple pay?

Prepaid cards from Visa, Mastercard, and American Express are compatible with Apple Pay. Some Discover cards are compatible with Apple Pay as well.
Where does Apple pay work?

85 percent of U.S. retailers, including Best Buy, GameStop, Walgreens, Costco, and Target, take Apple Pay, claims Apple. Apple Pay is generally accepted wherever contactless purchases are accepted. Apple Pay is accepted at some vending machines, cabs, and subway stops.
Why isn't my Apple pay not working in messages?

With Apple Pay not working in messages, It's possible that the individual you're trying to send money to isn't authorized to accept text message payments. In addition to unlinking and relinking your card, you might try restarting the Apple Pay and Messages apps after deleting the conversation and starting a new one.