Wix Review Summary
Small and medium-sized businesses, new businesses, and individuals who want to maintain an online presence frequently use Wix to create their websites.
Wix is a top website builder that enables you to quickly create appealing websites, even if you have no design or coding experience.
The cost-effective Wix plans are worth taking a closer look at if you want to create a website without spending a load of money.
Wix provides you with both free and paid plans, hundreds of design templates, integrated SEO, mobile friendly tools, and a full range of in-demand features that aid in the creation of an efficient and appealing online presence.
Wix is a scalable and user-friendly platform that can be used for small business websites as well as personal online portfolios.
Let me drop a truth bomb here
It's never been more crucial for your company to have a website because around 85% of consumers conduct online research before making a purchase.
According to statistics from the report published by Nasdaq in 2017, approximately 95% of all purchases made globally in 2040 will be made online.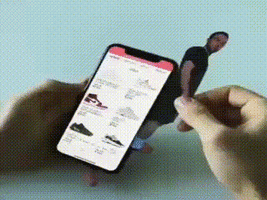 As more conventional businesses move online, it is essential to set up a professional website for your business.
The question is, how do you differentiate yourself from the competition and create a strong yet user-friendly website?
Well, utilizing a reputable website builder and hosting platform, such as Wix, may be the solution. You can easily build a responsive website for your company with Wix that looks fantastic on desktop and mobile devices as well. I have done it and you can do it as well.

Wix has been used to build free websites by more than 180 million people worldwide. You can do it as well.
But!
Is Wix the right choice for you?
This comprehensive Wix review covers every aspect of this well-liked website builder, including pricing, features, integrations (plugins and add-ons), design themes, SEO features, e-commerce potential, help & support, and more, to aid you in finding the best platform for you.
So let's get going without wasting much time.
Wix: An Overview
After Gal Gadot, Wix is the most popular thing originating from Israel.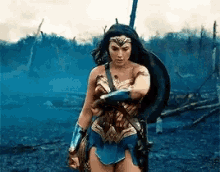 Wix is also nothing less than the "Wonder Woman" of the website-building universe. It was established in 2006 by a group of tech entrepreneurs as a software company. It is one of the most famous, cost-free, and simple website builders that doesn't even require any technical expertise.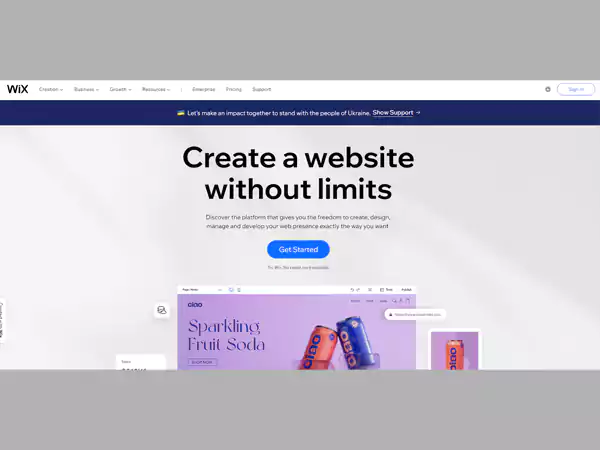 Since its inception, its growth has increased dramatically. In 2009, it added a million users, and by 2011, there were ten million.
In addition to its headquarters, Wix has expanded its regional offices to Brazil, Canada, Germany, India, Ireland, Japan, Lithuania, Poland, the Netherlands, the United States, Ukraine, and Singapore.
Since their IPO in 2013, when they entered the public market, they have raised millions of dollars. It had 100 million users by 2017. At the moment, 45,000 new users are added to the platform daily. Their numbers are just insane and this tells you about their reliability.
Just like Hostinger, its user-friendly drag-and-drop builder and intuitive user interface, which enable the creation of fantastic websites without prior knowledge of coding or experience, are some of the factors contributing to its appeal.
Market Share of Wix
Even statistical evidence points to Wix as the preferred platform for 37% of companies that use basic website creation tools. It ranks higher than the website builders from GoDaddy, Squarespace, and Weebly.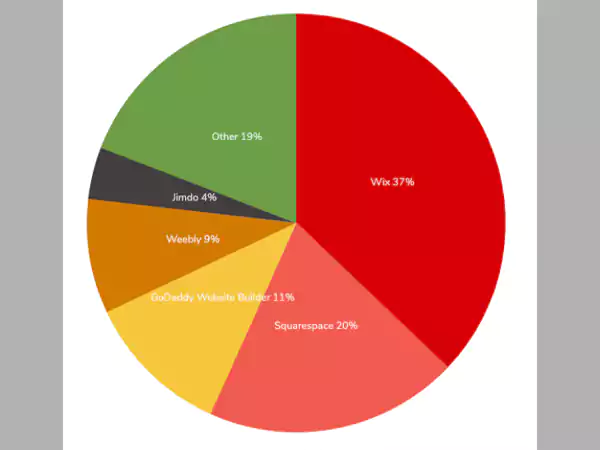 Additionally, it is the second most famous website builder for the top 10,000, 100,000, and one million websites on the internet.
Here is an example showing how Wix has increased its global market share and customer base for Content Management Systems (CMS) over time: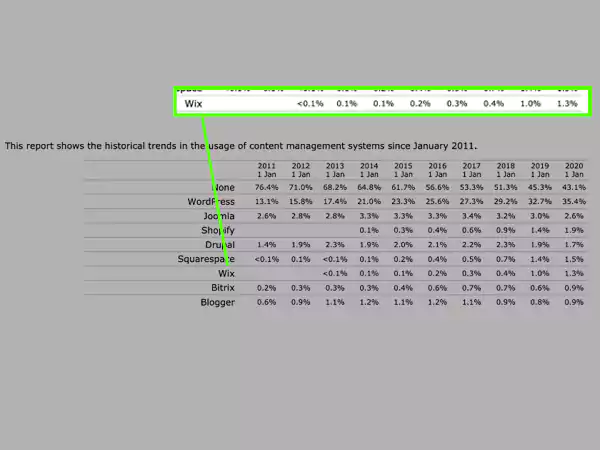 The table above illustrates how steadily Wix has expanded since its relatively recent launch. Wix was able to grow by more than 220% in just two years. Given the prevalence of industry leaders like WordPress in the international CMS markets, it's not a small accomplishment.
Growth Comparison With its Competitors
Several of the more well-known platforms have actually seen a recent decrease in market share, according to the CMS growth statistics compiled by W3Techs.
Between 2018 to 2020:
| | |
| --- | --- |
| Company | Market Share |
| Blogger | Stopped at 0.9% without exhibiting any signs of growth. |
| Joomla | Decreased from 3.2% to 2.5% |
| Magento | Dropped from 1.2% to 0.8% |
| Drupal | Decreased from 2.3% to 1.6% |
Wix increased from 0.4% to 1.3% during the same time period. This platform is therefore one of the undisputed leaders when it comes to overall growth in the website builders market, despite the fact that it doesn't top the popularity charts.
Wix: Pros and Cons
If you're looking for a builder that's simple to use, has a ton of extra features, and gives you a lot of creative control, then this is the one. Here are all of its pros and cons:
PROS✔️
CONS❌
Its editor is incredibly simple to use, even for beginners without any prior tech experience, thanks to the minimalist drag-and-drop building tools.
Once you've selected your initial template, you can't change the template to a totally different one. It is possible to alter the template's design, but you cannot choose a different one entirely.
Its templates are by far the most noteworthy feature. The designs are outstanding and provide pre-built layouts for numerous industries.
When you first open the Wix editor, it may feel overwhelming because there are so many features and design options available.
Wix enables you to finish your work "pixel perfect" and allows you to move around elements without any restrictions.
Visitor analytics are not offered on the free or combo plans.
You can easily customize your template so that it looks exactly how you want it to by taking advantage of the great flexibility and creative freedom it offers.
All plans have storage
restrictions.
Only a few website builders, including Wix, allow you to animate text and other elements.
It is a great option if you want to start an online store because it has a great selection of e-commerce tools.
Your website's backup points are automatically created by Wix and are always available for restoration. This ensures that you never misplace any crucial information.
Built-in SEO and 200+ App integrations are available for the consumers to effectively utilize the software.
Is It Easy To Use Wix?
The setup procedure is very easy to follow. A quick-start menu is provided, allowing you to select the editor you want to use and the type of website you want to create. You would be genuinely shocked to learn how quickly a website could be created.
Here, I will talk in more detail about some easy-to-use features of this brilliant tool.
Easy To Use Editors
Wix ADI and Wix Editor are your two options for editing.
Wix ADI (Made For You Instantly): With the aid of Wix ADI (Artificial Design Intelligence), you can quickly and easily create a beautiful website. Simply respond to a few questions to receive a fully designed site with integrated content and images.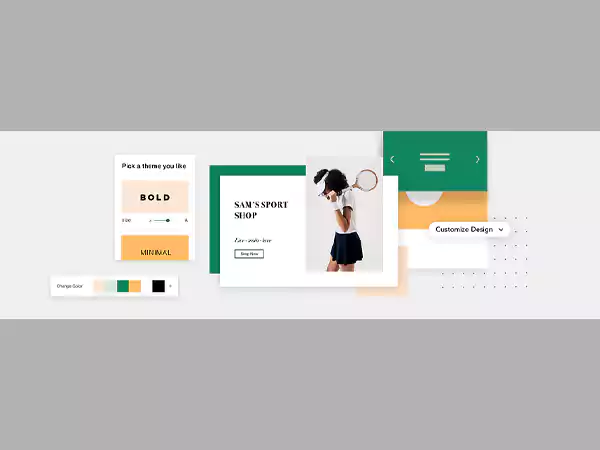 By selecting a design theme and a unique color scheme that goes with your desired aesthetic, you can make it uniquely yours. To stay true to your brand, you can always upload your own photos and content.
Even though you have the option to alter the final design, this approach is not the best if you want total control.
Wix Editor (Design It Your Way): The Editor gives you total creative control. You can arrange items however you like on your website thanks to drag-and-drop technology. By simply clicking and holding an item on your website and dragging it to the desired location, you can reposition any element as needed.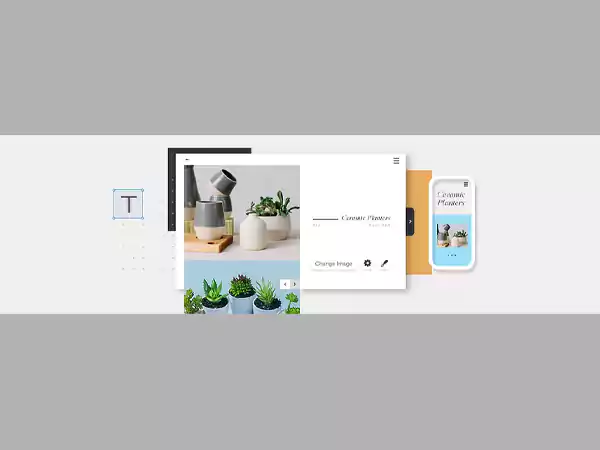 Each component of the design can be changed. To get the perfect look, adjust elements' sizes, colors, rotations, and alignments. Then, select from thousands of user-friendly tools and built-in features to build a credible online presence.
Wix ADI is simpler to use because it creates a website that is customized to your needs, doing the majority of the laborious work for you. Only a minor adjustment is required before it is ready for publication.
The classic Wix Editor is what I advise instead because it's still incredibly simple but gives you more creative freedom. The drag-and-drop editor's ability to create websites quickly particularly impressed me a lot.
Wix Marketplace: Hire a Professional
Even better and easier option, you can hire a Wix Partner to help you with a specific project, redesign an existing website, or build a brand-new website for you.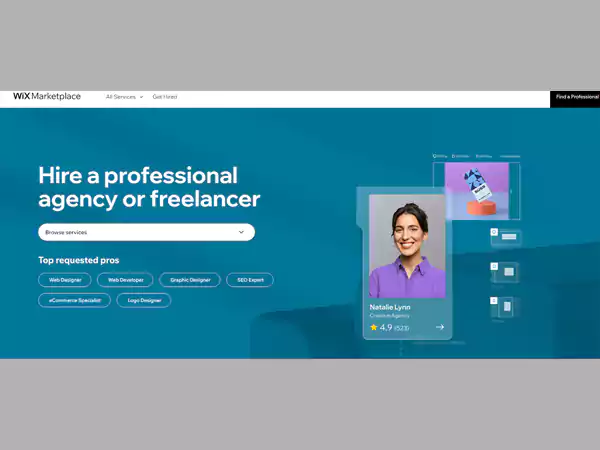 Wix provides you with the ideal Partner for you, ranging from marketing experts who can promote your website to graphic designers who can develop the look of your brands.
To find the right match, either look through the Partners' library or respond to a few questions here. Choose services and look through a carefully curated list of experts who can assist you in achieving your objectives.
In addition to viewing their portfolios and reading reviews, you can filter matches based on location, cost, and language.
Isn't that great, you do not have to go to any other platform to look for experts. Wix is bridging the gap and providing you with the best professionals.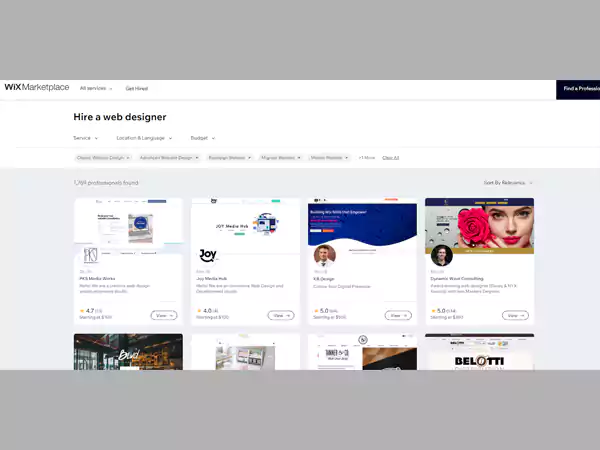 Wix: Tools and Features
When it first started, it was Flash-based and always a little distinctive. But because of the continuous advancements, they have evolved into one of the cool kids, steadily moving up the ranking.
Here is a closer look at Wix's best features:
Pick The Template You Love
There are more than 800 templates available on Wix. Despite the fact that they are all expertly made, some look more attractive than others, so choose the template wisely.
Your site design will have a solid foundation thanks to its templates, which are primarily contemporary, stylish, and in style.
Hot Tip 🔥: Given that you cannot change designs once your site is live, I advise spending some time selecting your template carefully.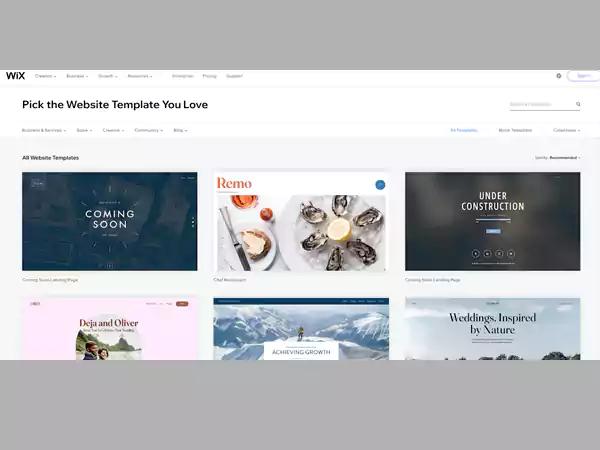 Making a good first impression, ensuring a seamless user experience, and satisfying your visitors all depend heavily on the design of your website. To put it another way, selecting your template is a very important task.
Each Wix template is divided into different categories of websites, such as business, blogging, photography, etc., and is fully mobile responsive. This implies that your website will automatically resize to fit the screen sizes of both mobile and tablet devices.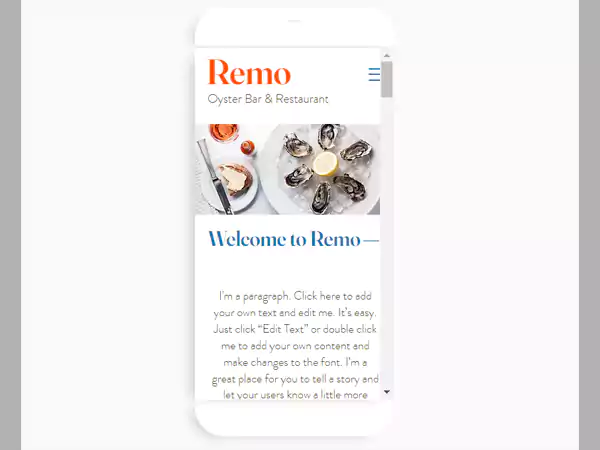 Personalize Your Designs
Set the right mood and get into it.
Wix really shines when you start using more creativity. You'll quickly discover that you can create something unique using its templates.
Each of them can be altered to create the ideal appearance for your website.
You can select from a wide range of available fonts and custom color schemes.
Plus one can improve the design with more sophisticated elements like original transparent videos, unique animations, and vector artwork.
Wix offers a sizable collection of images, graphics, and videos for use on your website for no charge. You can save a ton of time and effort by using the free media content available.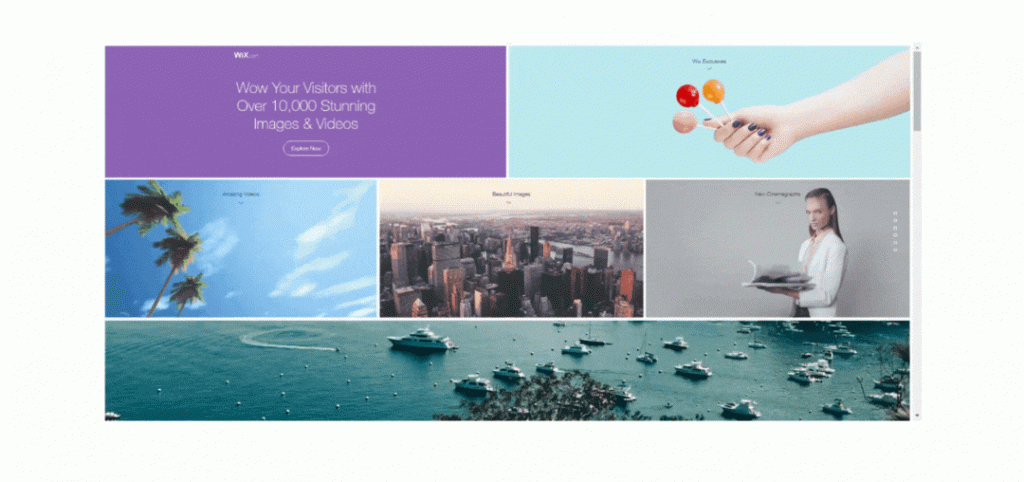 Additionally, you have the choice to upload any file, which will ensure that your website is exactly how you want it to be.
Adding blogs, restaurant menus, contact forms, music players, maps, interactive slideshows, video backgrounds, and many more strips to your site is also possible.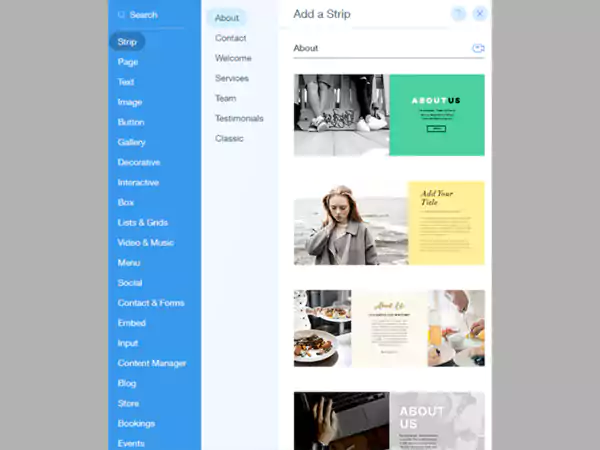 Velo By Wix
An open development platform called Velo makes the process of creating web applications faster. With the full-stack development platform Velo, you can easily create, maintain, and distribute high-quality web applications.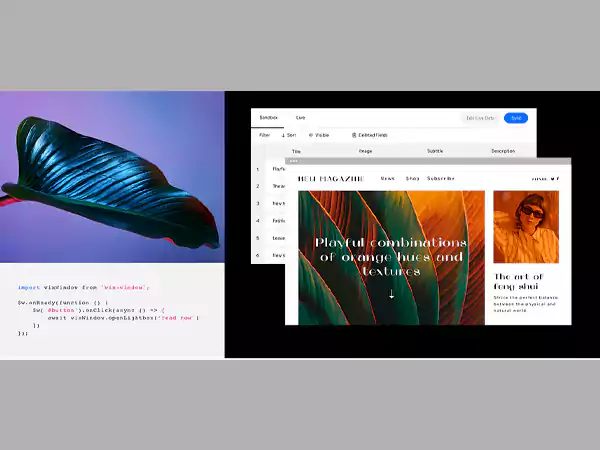 You can utilize Velo by Wix if you're a little more technologically skilled. This enables you to have access to and modify the underlying HTML code of your template for even more customization.
Although it is not required, using Velo by Wix is an alternative if you want to delve a little deeper. Using an open, extensible platform, you can:
Work in Wix's visual builder,
Add custom functionality and interactions using Velo's APIs,
Use your own tools, and experience serverless development in both the front-end and back-end.
Features of Velo
Your web app creation can be hassle-free because of the following Velo features:

Database
Utilize the built-in database to arrange and manage the data on your website.
Create and maintain as many collections as you require for the content you wish to display on your website or for user-submitted data.
You decide where and how to utilize this information on your website, as well as who has access to see, update, and contribute to it.

Coding
You can use our APIs and your own JavaScript code to add unique functionality and interactions to a Wix site.
Additionally, Velo offers a complete Node.js-based server-side runtime framework. Using ES2016 modules and Velo's web modules, you can export functions from the backend to the client side.

Security and Production Ready
Gain confidence with safe Wix Cloud hosting that is fully maintained and watched over for you.
The ready-to-use environment enables seamless scaling and one-click deployment.
Ecommerce: Manage and Grow Your Business Online
"What started as a passionate side hustle is now a $2M business."
These are not my words. Amanda Buhse from Coal and Canary quoted this while sharing the experience of opening an eCommerce platform on wix.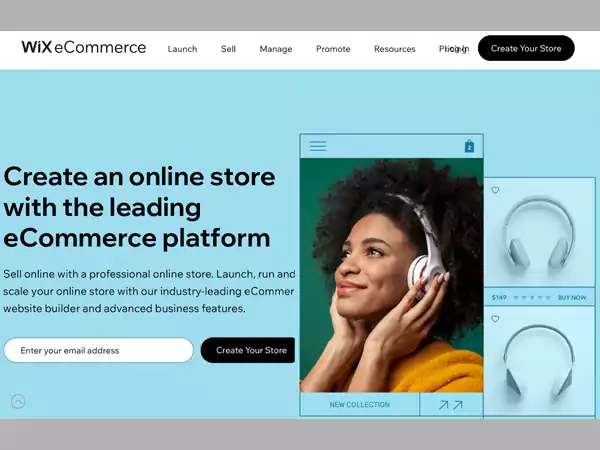 Wix enables you to sell an infinite number of goods and services, whether they are tangible, digital, or service-based.
Through its mobile app, you can also make discounts and promotional codes, manage your shipping choices, and even manage your store while on the go. Due to the fact that by 2020 mobile commerce is anticipated to represent 44% of all US retail transactions, the mobile app in particular is advantageous.
Wix has upgraded all of its sales tools in recent years, making significant advancements to its e-commerce offering.
Wix has also worked very hard to improve the strength of its eCommerce analytics. You may now get internal data that rivals that of dedicated e-commerce systems through its dashboard shop analytics.

Sell More Online

Fully customizable online store
Secure cart & checkout
50+ payment providers
Dropshipping & print on demand
Gift cards & product subscriptions
Point of sale solution (in-store & online)
Enterprise-level security

Manage Your Store

Efficient inventory management
Multiple shipping & delivery options
Easy tracking of orders & fulfillment
Automated sales tax
Custom business reports & analytics
Mobile management app

Grow Your Business

Multiple sales channels (e.g., Facebook & Amazon)
Advanced SEO tools
Facebook & Instagram ads
Email marketing
CRM & automation
Live chat with customers
Branded mobile app
Wix is a wonderful choice for anyone just entering the e-commerce space because it has a lower price point than competitors like Shopify and BigCommerce.
Testimonial for Wix eCommerce:
"I went from selling in my town to selling nationwide in one week. It's a whole new business now."RanD Pitts,Owner, Evolveclothinggallery.com
Additional Features
One can utilize the Wix website builder to create a website and the integrated professional business suite to market and manage your company all in one location.
Utilize landing pages, Facebook advertisements, email marketing, and customer management systems to generate leads and increase conversions. After that, you can also use Wix Analytics to monitor your progress and make data-driven decisions on how to get better.
There are tons of features on this platform and covering each one of them in one blog is not possible. But here we will try to look at a few more important features available for you on wix.
Social Media Integration and Domains
For the first year after joining any of Wix's premium plans, a custom domain name is free. Once you upgrade to a premium plan, you can transfer an existing name and connect it to your Wix site for an annual renewal fee of $16.89.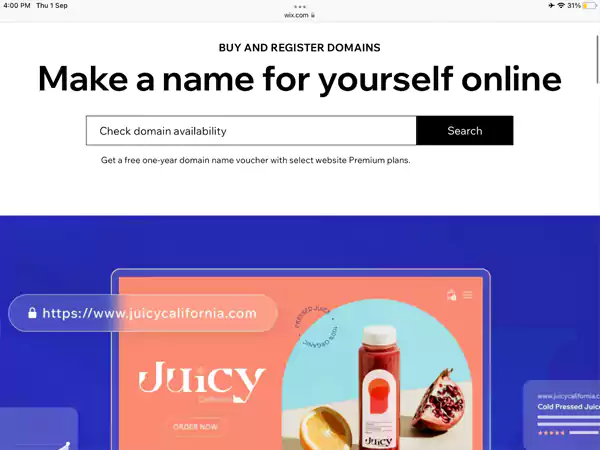 Linking your website to social media accounts is a fine way of increasing engagement.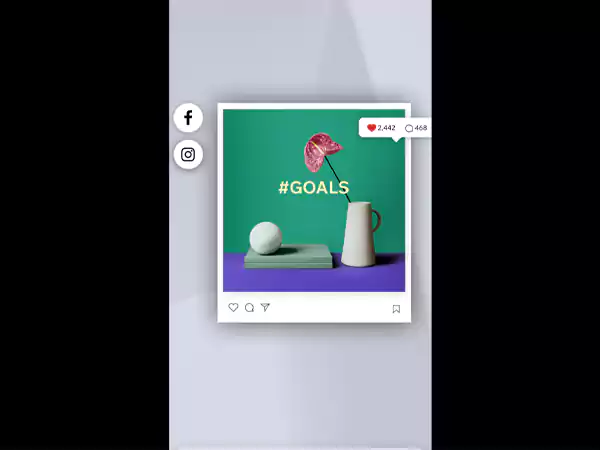 You can easily be found and followed anywhere by adding social media buttons, likes, shares, feeds, and follower counts to your website with Wix. But Unlike with Shopify and BigCommerce, you can't now sell things directly on social media or marketplaces.
SEO Toolset
Search Engine Optimization plays a major role in landing your target audience to your website.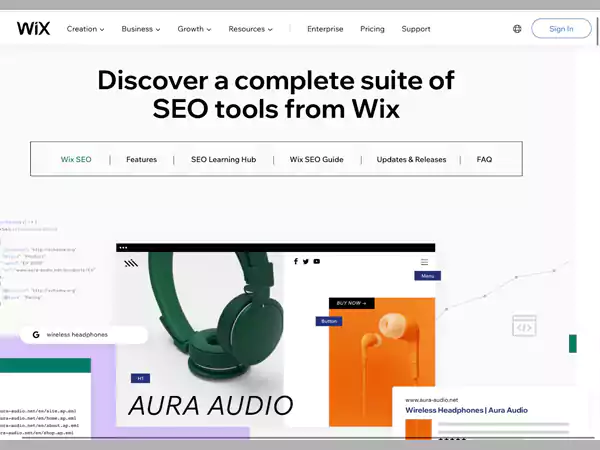 Wix is one of the greatest website builders when it comes to helping you rank highly on Google thanks to its integrated SEO capabilities. In addition to editing header code, you may also change URLs and meta descriptions.
If you need direction or keyword support, Wix's app store also offers a tonne of SEO tools.
You name it and Wix got that to enhance your SEO abilities.
App Market
Although Wix's built-in tools are great, they can't accomplish everything. Fortunately, there's undoubtedly a Wix app that can do whatever they can't.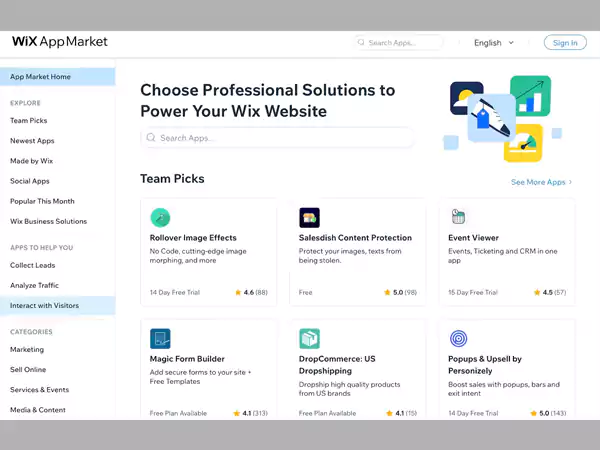 In essence, this means that some tools are not included in Wix's core offerings, so in order to cover this gap, Wix offers hassle-free, 1-click installation of tools created by outside service providers.
Similar to the "plugins" or "extensions" you may install to WordPress or Chrome, Wix applications are essentially the same thing under a different name.
Useful connectors like shopping carts, live chat widgets, and marketing tools are available in the Wix App Market. Many of these tools are free, however, several of these applications provide premium versions for a nominal monthly price so that you can access more functions.
 Wix Ascend: Marketing Suite
As its name implies, Ascend by Wix aids in the growth of your company. It is an all-inclusive solution that enables communication with clients, workflow automation, and general business promotion.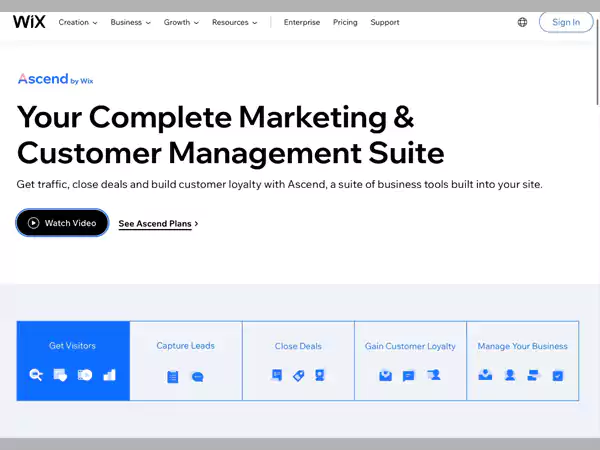 The Wix package is significantly more comprehensive even if Squarespace and Weebly have added more marketing capabilities. It addresses 20 product categories in one location, including
Live chat
Wix Automation (like personalized messages and notifications)
Email advertising
Posts on social media
SEO
Like how that sound?
Well, all Wix plans include the free version of Ascend by Wix, but its premium plans are accessible as a separate subscription for just $10 to $49 per month.
Security, Backups and Restores
So will your data and your client's data be safeguarded if you choose to use Wix?
The quick response is "yes"!
Built-in SSL security certificates are included with every Wix website. The little padlock emblem that shows next to your URL lets visitors know they are on a secure page, which is all that SSL, or "Secure Sockets Layer," truly entails.
In the event that something goes wrong, Wix also includes a helpful autosave tool to keep you from pulling out your hair. Your website will be backed up in many versions, allowing you to quickly restore it to a previous state.
Well, that's a major relief.
Wix Pricing Plans: How much Does It Cost?
It does have a free plan available, unlike many other website builders. Up to 500 MB of storage, bandwidth, and online customer assistance are all included in the subscription.
With this plan, users can still create a beautiful website, but they won't be able to create a unique domain name, and Wix advertising will show up on each page. The free version is most appropriate for anyone who wants to test the waters of website creation before committing to a paid service.
In addition to a free plan that you can use for as long as you like, Wix offers eight paid options with monthly prices starting at $16 (billed annually).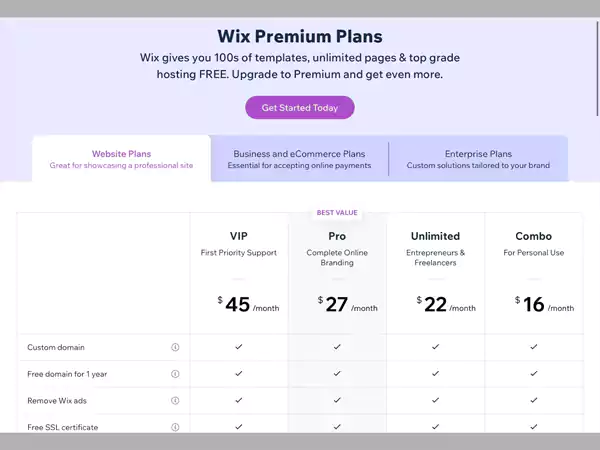 The monthly fee for Wix ranges from $16 to more than $500. (billed annually). The $16/month Combo plan is the least expensive and gets you an ad-free website, but the $22/month Unlimited plan is perfect for independent contractors.
If you want to get into e-commerce, you should start with one of Wix's Business plans. There are three options, with the $27/month Business Basic plan being the least expensive.
It also provides Wix Enterprise, a premium business solution with a tailored pricing structure for large companies.
Wix Website Plans
| | | | | |
| --- | --- | --- | --- | --- |
| | Combo | Unlimited | Pro | VIP |
| Monthly Price | $16 | $22 | $27 | $45 |
| Custom Domain, No Ads, and Free SSL Certificate | ✔ | ✔ | ✔ | ✔ |
| Storage | 2 GB | 5 GB | 50 GB | 100 GB |
| Logo Creation | – | – | ✔ | ✔ |
| Customer Support | Available 24/7 | Available 24/7 | Available 24/7 | Priority support available |
Wix Business and E-commerce Plans
| | | | |
| --- | --- | --- | --- |
| | Business Basic | Business Unlimited | Business VIP |
| Monthly Price | $27 | $32 | $59 |
| Custom Domain, No Ads, and $300 Ad Vouchers | ✔ | ✔ | ✔ |
| Storage | 50 GB | 100 GB | Unlimited |
| Automated Sales Tax | – | 100 transactions per month | 500 transactions per month |
| Loyalty Program | – | – | ✔ |
| Customer Support | Available 24/7 | Available 24/7 | Priority support available |
You can just look at the website for more in-depth screening of various pricing plans and decide for yourself.
Help & Support
Wherever you are in the building process, Wix scatters question mark buttons across its editor to provide step-by-step instructions. Despite being little, these buttons are quite helpful!
It has its own informative blogs and step-by-step guides for mostly every feature available on the platform. So, you can just browse and become an expert yourself.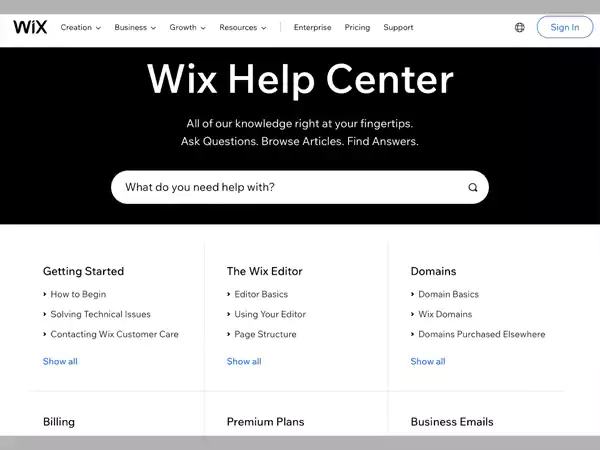 It also offers a 24/7 call-back service if you're seeking for a more personalized touch, or you can fill out the form on Wix's Customer Care contact page to get more specialized assistance.
Hot Tip🔥: Although live chat help has recently been added by Wix, it is not yet available in all languages, therefore I advise verifying before contacting Wix's support. If your language isn't supported, you can ask Wix a question directly on social media or find a user who can help you in the Wix forum.
Testimonials
The fact that several firms, including world giants like Deloitte, Hilton, and CBS already trust and employ the services of Wix speaks volumes about the credibility of this fledgling platform.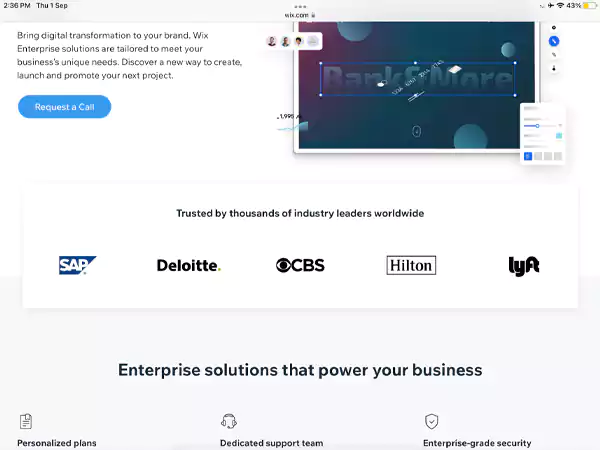 See why people love Wix:
We found Wix very easy to build our website. It's really simple and does a lot of the legwork for you, such as providing pre-made templates and color schemes.

I would definitely recommend Wix to other
creatives and freelancers who want to build a
simple portfolio or a simple small business website. It's an easy-to-use way to build a nice website fast.

Naz & Ella
Final Verdict
Simply put, Wix is the best website builder for small websites that demand immaculate appearance and also has something to offer everyone.
Wix is often easy to use (and also free), so if you're still wondering if it's the best option for you, we strongly advise giving it a try.
There are many ways in which Wix's creation is outstanding, and its rate of development is nearly stunning. Just be careful to test out the free plan to see if it's the best option for you before switching to a premium plan.
Frequently Asked Questions (FAQs)
ANS: Yes. You can select the website-making method that works best for you from among the several options Wix offers for free website creation.
ANS: Your monthly fee includes the cost of hosting. The same is true for your security and domain. You still don't have to pay anything if you're using Wix's free plan, but your site will have a Wix subdomain and Wix advertisements.
ANS: You will see the "Domains" tab after signing into your Wix account. You can input the domain name you intend to use here very easily. They will demonstrate how to transfer the domain name to Wix if you have previously registered it.
ANS: It does not matter whether you are using a Mac or a PC, it operates on your web browser (Google Chrome, Mozilla Firefox, or Microsoft Edge).