Are you looking for the best hosting service provider that provides optimum results and is friendly with your pocket? Selecting an effective web hosting service plays a vital role because your respective web host has direct influence on various things which are significant for overall growth. Such things prominently include page loading speed, uptime and other performance benchmarks.
But you don't have to worry about it as after performing in depth research, thorough examination and analysis of various hosting services available, I have come down to a name. The respective hosting service provider upholds all the traits and attributes that it requires. So, whether you are inaugurating a new website from the ground or looking to switch providers, this hosting service will take care of all.
And the name is "Hostinger"
Hostinger: Introduction
Hostinger is counted as one of the profound free web hosting service providers who has been offering its compelling and captivating services for over a decade.

The reason behind its tremendous success being best hosting service provider is indeed its characteristics, be it ace-level hosting or fantastically affordable plans, Hostinger got your hand.
Its web hosting solutions range from shared hosting, VPS hosting, cloud hosting to WordPress hosting and more. Hostinger's alluring traits and attributes made it across 178 different countries and upholds 29 millions users worldwide which is quite phenomenal.
So, that's a quick overview on Hostinger and its characteristics. Now, it's time to deep dive into the Hostinger world and know more about it.
Hostinger: Pros and Cons
In this universe, there is not a single thing that ceases to exist without imperfections, everything has its own pros and cons and this universal rule applies to Hostinger too. In the forthcoming section, you will be going to gain knowledge of Hostinger's positive side and shady area which I have cited after performing comprehensive research, required testing and examining.
So, bestir yourself and let's check out the positive side of the Hostinger first and that we look at what has been hidden in the shady area.
Hostinger Pros
Rapid Loading time
We humans are fond of speed, we like things to happen with a snap of a finger and this applies to the websites too.
Loading speed is one of the aspects of your website that aids visitors to access your website seamlessly and overview the services & products you offer on your platform.
It is a fact that many people do not agree to wait for more than a few seconds for a site to load, and why should they? Keep yourself in the place of a visitor, do you like to hang on a site that takes time to load things ?
We believe your answer will indeed be NO!
And, that's where Hostinger steals the show as one of the biggest positive sides of Hostinger is that it offers rapid hosting speed. Likewise, you, I was curious too, to check whether this is the reality or not.
In my test, I started with shared hosting, VPN hosting and lastly for WordPress hosting and hands on! Hostinger really gave me what I was looking for.
What I performed in my test is, I put a test site for each of these hosting types on another hosting provider for about a month and the results were pretty decent as each one managed to come under one second load time.
And the Hostinger turns came, the end results were compelling as with Hostinger's VPS and WordPress hosting estimated right around 470 milliseconds. The outcome was significantly faster and superior as compared to other hosting providers I tested in those categories.
Another fascinating thing about Hostninger is that despite your and your visitor's location, the overall loading time will be rapid enough. The credit for it goes to Hostinger as their servers are installed not just in the United States but also in the UK and Asia too.
Pocket-Friendly
What could be better when you get that lightning fast speed in your pocket?
Yes, you can experience that adrenaline with Hostinger alluring plans which are super pocket-friendly and fantastically affordable.
For a sole site, shared hosting ranges from $1.99 dollars per month and as far as multiple sites plan or placing more resources are concerned the pricing starts from $2.99 per month.
And, if you like to know about the cost for WordPress and VPS hosting, their cost rises up from $1.99 and $3.95 per month respectively. However, both of these hosting types don't ask much more of an investment.
The story doesn't end here, as there is a twist in the tale that these engrossing pricing can be availed only if you agree on a long-term investment for straight 12 months. This can be hard to swallow for some who are not willing to commit to four years right away.
However, Hostinger has scaled up the best pricing for premium shared hosting plans to one year commitments too. Let me simplify it for you, it means that you have to pay a sum of $35.88 today and with that you can bag out Hostinger's widely known shared hosting package for an annual year which also comes with a free custom domain.
Get Your Money Back
Ever heard that a hosting service provider offers a money-back guarantee? We bet you sure not! With this Hostinger feature, you can get your money back, if you are not satisfied or your experience is not that captivating that you were assuming.
Hositnger provides you a time period of 30 days to try out, in this time span, you are required to report to the Hostinger that you are not satisfied with the services, if you wish to avail this compelling feature.
However, keep in mind that only the hosting, domain transfers and SSL certificates are the only things that are part of this 30 days money-back guarantee scheme.
Domain name renewals, redemption fees and privacy protection are the only things that are side players when it comes to opting for this Hostinger's feature.
Domain at Free of Cost
"Free" is a word that attracts people like ants to sweets, so, what's free Hostinger is offering? Lets us briefly, when you avail for any of the Hostinger's web hosting plans above the single-site tier, you will get a domain for absolutely free of cost and as you know that a walk step by step with hosting, you will require a domain.
Free Website Builder
Another free service? It seems like Hostinger got a pirate's hidden treasure. With your respective Hostinger plan, you can lay your hands on one of the best website builders without spending a single penny, thanks to Hostinger's partnership with Zyro.
Zyro's easy to access builder is a great alternative to provide an edge to the company website. Not only this, but with this amazing website builder you can also structure out a fully functional online store with it, doesn't it sound fun?
And as far as templates are concerned, three are over 100 templates you can choose as per your desire. Although, there is a general misconception amongst people that free things come with something less, this is not the case with Hostinger as this free site builder possesses all the capabilities.
Laymen' Friend
When I was exploring and testing Hostinger's hosting products, the thing that caught my attention and inclined me ponder how friendly it is with users. It doesn't matter whether you are a first timer or have acquainted with Hostinger priorly, its neat and clean interface, structured setup and a dashboard will be there 24*7 to make things seamless for you.
All you have to do is to sign up for the Hostinger and opt for a hosting plan and after that the hassle-free use begins and with its simplicity, don't get stitched up that they forgot about powerful tools and worthy servers.
Just place your hand in Hotsinger's wizard hand and experience how to pile up into a fully functional website for you.
Hostinger Cons
Lack Of Call Support
It's human nature or say psychology that when a person listens to your problem, you feel relief that someone is there to hear you and resolve your problem, you get consolation that your issue has been reported and will be fixed.
But, unfortunately Hostinger doesn't offer the feature of call support, the only path to contact customer support is via live chat which is quite an option but as we stated above about the psychology it lacks there.
Something is Missing Budget Plans
As I have thoroughly researched about every aspect of Hostinger and with every aspect includes comparing entry-level plans too. While comparing its entry level plans with its competitors, I have noticed that there are some helpful features. However, it is not that concerning the matter or deal breaker but still I thought it would be worth knowing.
So, the noteworthy case I have noticed is with Hostinger's WordPress hosting which doesn't come with a content delivery network (CDN) and automatic daily backup on the single and starter plan.
Lastly, ensure going through over the full feature set before opting for a hosting plan.
There is a possibility that you may have to pay for a higher tier plan in order to enjoy all the features, services and tools you require.
Downtime with Shared Hosting and WordPress hosting
When the discussion is about Web Hosting quality, speed and uptime are the two key factors that play a vital role. Speed simply resonates with how rapidly your pages load for visitors whereas uptime is basically the calculation of server reliability.
As I have cited above, I have performed in depth research centering Hostinger and compared with its peers, in that research, I have examined countable downtime especially with their shared hosting and WordPress hosting. The downtime is one to two hours per month which is a full day per year when your website wouldn't be accessible to visitors. There are several causes behind a hosting server that can go down from unprecedented errors to planned maintenance.
However, when testing their burlier hosting offerings, I have noticed major improvements and enhancements. I clearly remember, when I examined Hostinger's VPS hosting back in late 2021, it got started in only 17 seconds of total downtime which is quite remarkable.
So, these are the positive side and shady areas of Hostinger hosting service provider, Now, what's next? Definitely, the very next thing we go after is its plans and pricing.
Hostinger Plans and Pricing
Hostinger offers numerous plans from which you can easily choose the respective plan as per your wish and need. Each plan has its own unique characteristics that fulfills specific requirements.
However, this popular hosting service provider doesn't offer any free plans, but interestingly Hostinger's Single Shared Hosting Plan is so pocket friendly and affordable that it almost gives the vibe of free.
So, this is an excellent destination to begin!

Hostinger Single Plan
Hostinger single plan is the most basic plan which is offered by Hostinger, this plan has all the characteristics that you will require when you are just starting out with a website. It is a perfect option for those whose pocket does not allow for high-priced web hosting.
With this interesting plan, what Hostinger does is it splits the cost of the server amongst others to get the ball rolling and that's how you can enjoy Hostinger hosting services. Although, the only concerning part is the speed to which you have to deal with as it is evident that when so many people use the same server, it will affect the speed.
Hostinger Single plan costs start from $1.99/month if you are ready for a 48-month commitment and if you are not agreed on that you can opt for a monthly commitment for which you have to pay $9.99/month, choice is yours.
With this plan, you will get 1 website, 50 GB worth of SSD storage, 100 GB worth of Bandwidth, a free SSL certificate, 10 GB of solid-state storage, 1 email account and much more.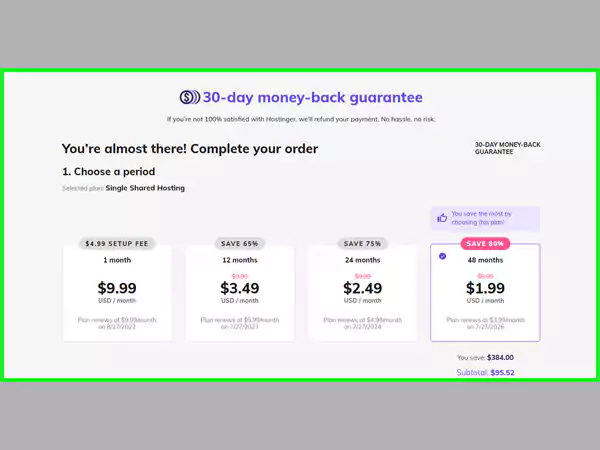 Hostinger Premium Plan
Want all the single plan services including free of cost domain registration (for the initial year only) with unlimited bandwidth which adds up to 100 websites? As well as support of 100 GB of SSD storage up to 100 email accounts and much more?
Then, Hostinger premium plan is especially for you and if we talk about the pricing of this plan, the rate starts from $2.99/month for 48 months commitment and $11.99/month for a monthly commitment.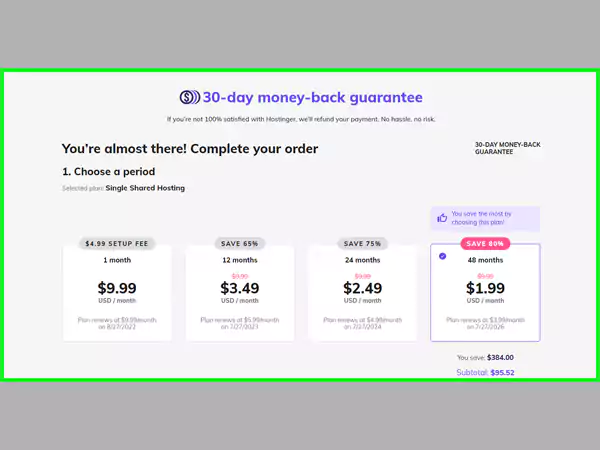 Hostinger Business Plan
With Hostinger Business plan things got wider, you can say it is a buffed up version of the premium plan. With this power-packed plan, all the premium plan services are in your pocket adding daily backups, 200 GB worth of SSD storage, almost four times processing power and what not.
The Cost of the Hostinger business plan commences from $3.99/month for 48 months and heads up to $14.99/month for a monthly commitment.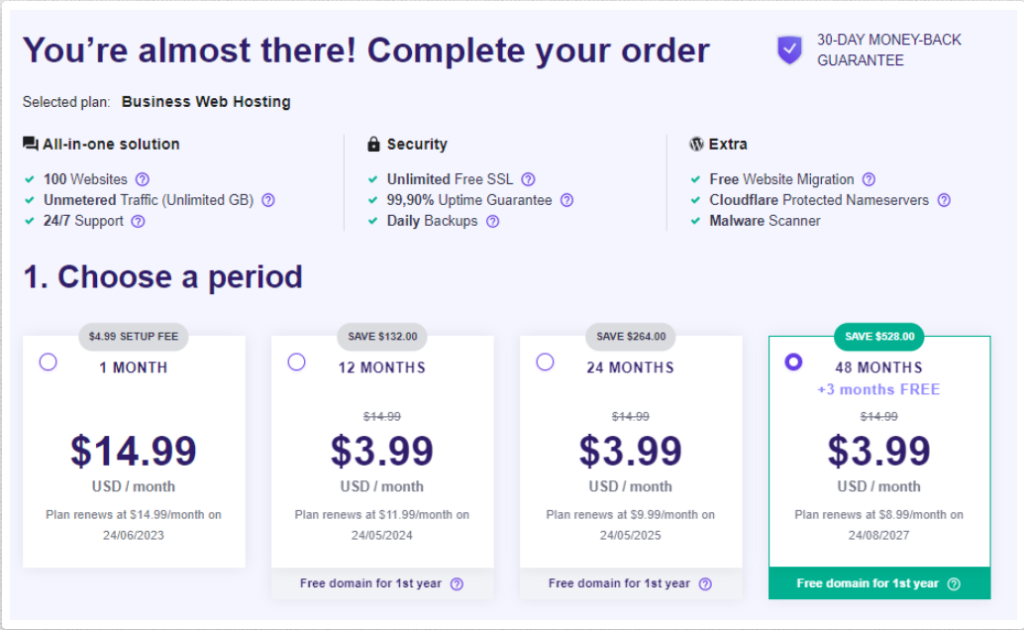 Cloud Hosting
Puzzled between cloud hosting and traditional shared hosting? Don't ponder much as Hostinger has tremendous offerings for you. What Cloud hosting does is makes things more flexible and ease of scalability by hosting your site in the cloud rather than on a single server.
For your knowledge, Cloud hosting plan open ups with the cost $9.99/months for the time period of 48 months. If this plan is not capable of handling needs, you can head for the next level plan, the professional one that begins at $14.99/month for 48 months.
And, if your website's appetite is much more, Enterprise plan will surely help you out in such a scenario, the pricing of Global plan will be $29.99/month for 48 months as the ritual goes.
You may wonder why there is such a huge margin between Professional to Global plan, it is because Global plan offers additional features as compared to Professional plan.
Which certainly includes 12 GB RAM, 6 CPU cores, notable three times rapid startup plan and much more.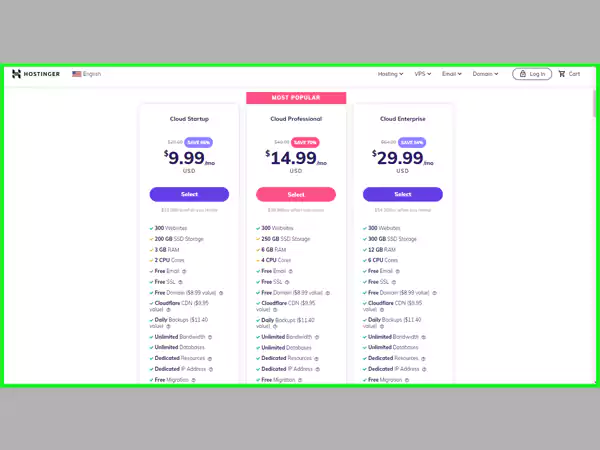 VPS Hosting
Are you planning to create waves with the help of your business' website, then grab VPS hosting without sparing any more seconds. For your information VPS stands for Virtual private server, and it simply states that you possess your own server and not willingly share it with other users.
When it comes to VPS hosting plans, Hostinger provides six varied hosting plans to choose from. The initial package starts from $3.99/month for 48 months commitment. With the initial VPS plan, you will get 1 GB RAM, 20 GB storage including 1 TB bandwidth.
You can also avail for VPS 8 plan with more additional features, in this plan, you enjoy 16 GB of RAM, 250 GB worth storage and 12 TB bandwidth and the price for that you have pay will be $77.99/month for 48 months.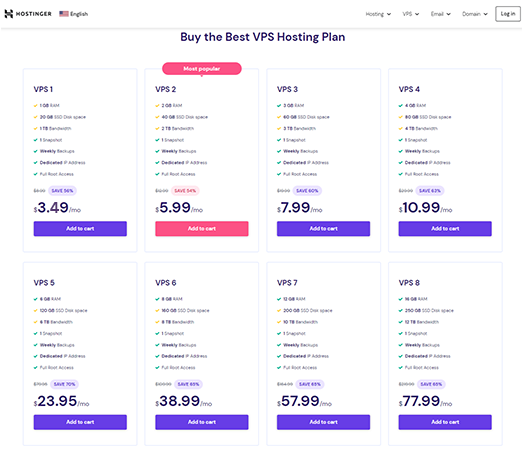 WordPress Hosting
Hostinger offers WordPress hosting plans from $1.99 /month and head up to $9.99/per month. With its base plan, you will get 1 website, 50 GB worth of SSD storage, free SSL and 100Gb of bandwidth.
And as far as the WordPress pro plan is concerned, you will enjoy the support of 300 websites, 200 GB SSD storage as well as services like free email and SSL and unlimited bandwidth.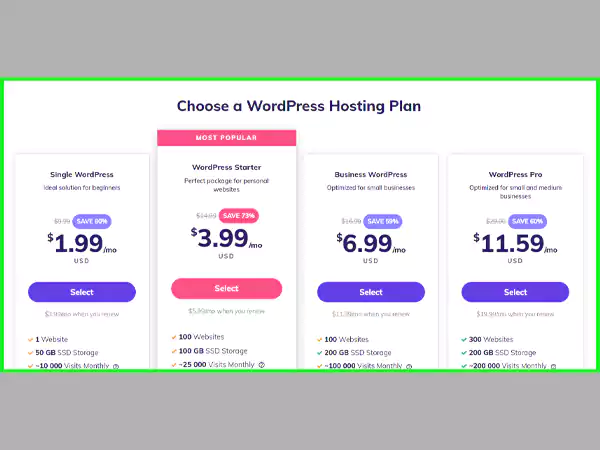 Minecraft Hosting
Minecraft, did this name just tickle your mind and put a smile on your face? I believe it sure does as it is one of the most popular games played across the globe.
Now, you must be wondering that's fine, but how out of the blue Minecraft comes into the scene, and how does it resonate with Hostinger?
Let us brief you.
By the time you have acknowledged that Hostinger is not some ordinary hosting service provider, it has that virtue that fascinates people and one of the captivating features is Minecraft hosting.
Minecraft hosting is a hosting service that is especially dedicated to gamers, it is one of the things that you will seldom see offered by other hosting services. After availing this alluring hosting plan you can even install your own game mods as well as other more interesting things.
The plans for Minecraft hosting range from $6.99/month for 48 months, and it steps up to $29.99/month for 48 months.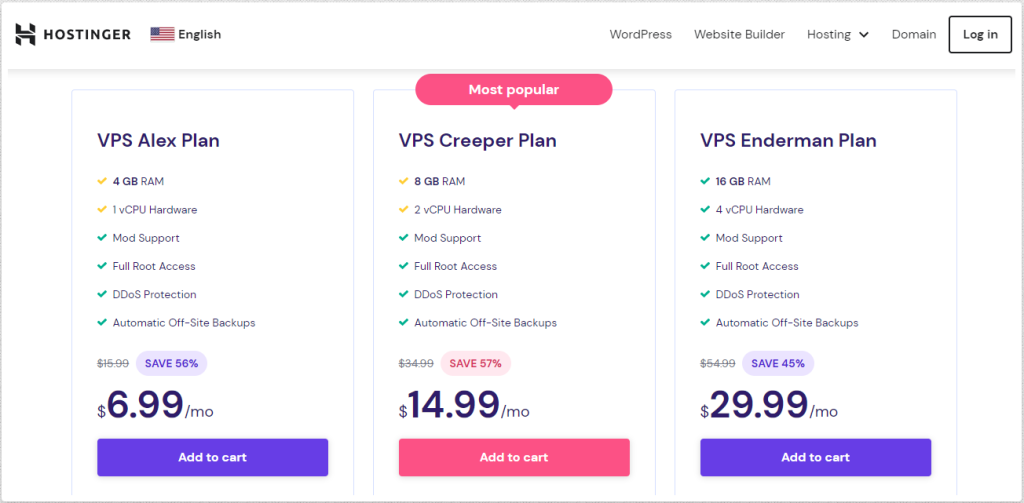 Hostinger Alternatives
There is no doubt Hostinger tops the chart of best and optimum web hosting services, however it will be good for the informational sake to know what are other options that have the acknowledging potential.
So, let's check out Hostinger Alternatives from which you can also make up your mind.
Alternatives:
| | |
| --- | --- |
| SiteGround | Profoundly known for keeping uptime |
| DreamHost | Great option for pay-as-you-go web hosting |
| HostGator | Best for levelling up small scale business facilely |
| Nexcess | Termed as elixir for Experienced WordPress users |
| InMotion Hosting | Suitable choice for hosting two plans in a sole plan |
Ending Note
If you are looking for a hosting service provider who can offer you top-notch tier hosting services and that is accompanied by your pocket, Hostinger is the one.
It is a compelling option for the traffic rich sites who desire to expand irrespective of switching providers.
In addition to the above, With Hostinger free website builder plan, you will get answers to all of your queries corresponding to creation of a website. As well as a solution to all of your hosting requirements at sole destination.
Also, I believe that the extensive information we have cited in this article centering Hostinger will aid you in acquainting better with its positive side and shady area along with the enchanting plans. We hope that you will become successful in finding an adequate hosting service provider for you that boosts your overall growth.

Frequently Asked Questions (FAQs)
ANS: You can log in into your Hostinger account simply by following the below-mentioned steps.
After that click on the "Login" button which you will see in the top right corner beside Cart.
Next, you have to input your Hostinger login credentials (email and password) and click on the "Login" button or else you can log in via your Google or Facebook account.
ANS: Hostinger upholds many pros and is possessed with enchanting virtues.I have listed some prominent ones below.
Faster Loading Time
Affordable
Money-back Guarantee
Free Domain and Website builder
Easy to Access