There are times when we can't keep up with Gen-Z and their new ways of communicating. One of them is using slang. And, oh boy, do they give a hard time?
Picture this:
You're surfing through the Instagram feed or reels section only to find a random hashtag added to a post.
And despite scrolling through the comments, looking for the answer, you could not find it. So if you are here, you may want to know what does CFS mean on Instagram.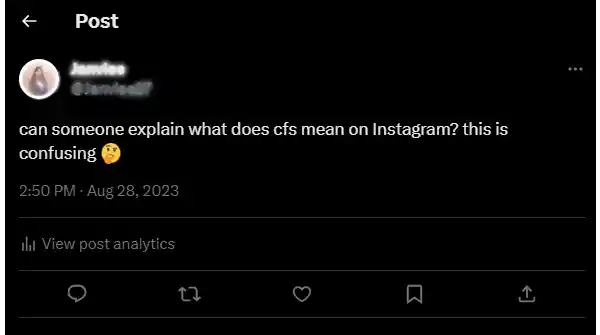 For a similar short form, some users also wonder what does NFS mean on Instagram. In case you have already heard of the acronym CFS but haven't come across CFS meaning on Instagram yet, we are here to tell it all about it and more.
Some users also ask whether CFS has other meanings as well. From creating a CF list to posting a CFS, everything is covered here. So let's get the ball rolling.
What Does CFS Mean on Instagram?
Coming across slang on social media is no exception. But understanding the latest bunch might not be everyone's task.
And the one that has been added to the bucket list is CFS. But before getting started with CFS meaning on Instagram, let's first understand what is CFS.
On Instagram, with lots of hashtags and acronyms floating around, CF stands for Close Friends. For those of you who don't know, it is an Instagram feature that lets users create a list of selected members that they consider their close friends.
Apart from that, you can share posts, add stories, and edit the list with them on it. Just so you don't get confused, whenever you post a CFS, that is, Close Friends Story will appear in a green circle for your close friends.
As shown in the image below, the left one is a normal story, and the one on the right is a CFS.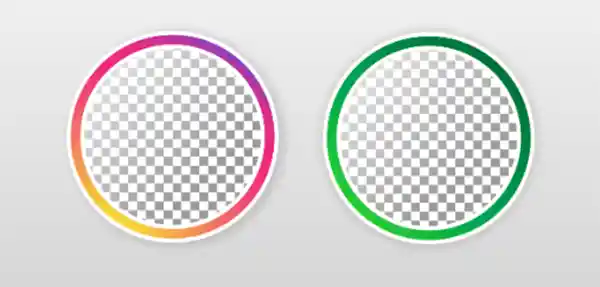 If you have seen a Close Friends Story (CFS) before, that means you are added to that person's Close Friends List on Instagram. And if this piqued your interest in creating one of your own, but you don't know how to, read on!
How to Create a Close Friends List on Instagram?
It is pretty simple to create a Close Friends list on Instagram using your iOS or Android if you know the right steps. They are as follows:
📝 Note: The process of creating a Close Friends list on Instagram can be done via the Instagram app only on iPhone/iPad, Android, and the Instagram Lite app.
Open the Instagram app and log in to your Instagram account.
Click on your profile icon from the bottom right.
Now tap on the Menu icon (three horizontal lines) from the top right of the screen.
After that, select the Close Friends option given at the bottom of the list.
Then click on Get Started to add users to your CF list.
Now you can search for the users by typing their names in the search bar or selecting them from the followers' list.
When you are done adding them, click on Done, and you're all set.
Now your CF list has been created, and it can be edited as well. So worry not in case you missed adding someone to the list or added anyone mistakenly! To edit the list:
Solution Synopsis: Profile > Menu icon > Close Friends > Edit > Add or Remove > Done
And now the required changes will be made. To move further with the process, learn how to post a CFS in the upcoming section.
📝 Note: When you edit the Close Friends list, the users who are removed or added don't get notified of the changes.
Steps to Post a Close Friends Story
Once you have your Close Friends Story created, you are ready to get started with sharing and posting on Instagram. While some users complain that they can't share posts to stories on Instagram, that isn't the case with CFS here.
Using some simple steps, you can easily share any post to your CFS. To do so, follow these steps:
Open the Instagram app and simply click on Your Story from the top left.
After that, either create a new story by taking a photo, reel, or video or select any media you want to share from the gallery.
Once you are done selecting, click on the Close Friends icon in green, and you will be good to go.
Tada! Now you've posted your CFS on Instagram successfully. By following this process, you can continue posting more. If your CFS did not get posted, it is possible that it's the case of Instagram stories not working at the moment.
However, if there is someone else's post or reel that you want to share on your CFS, how do you do that? Let's find out.
Sharing Other Posts and Videos on Your CFS
Apart from your own media, you can share other people's posts and reels as well on your CFS. Here's how you can do it:
Launch Instagram and tap on the search icon from the bottom bar.
Now type and search for the account whose post you want to share on your CFS.
Once it appears, click on it and go to the post you want to share. Then tap on the share icon given below the post.
Lastly, click on Add to Story.
Now, select Close Friends.
That's it! Now you can truly enjoy sharing your own as well as other users' posts and media on your CFS.
To make the best of the CFS feature, you can go through the tips given next.
Use CFS Feature Efficiently With These Tips
With the help of the sections given in the article, you will successfully be able to create a CFS list and post your CFS on Instagram as well. But wait, there is more.
Once you get started with the process, there are some tips that may help you out and make the CFS feature more interesting.
Be particular and selective about whom you let in the list of your close friends.
Keep the CF list short and only include your closest friends.
Ensure that you don't end up sharing too much personal or any sensitive information in the CFS.
Don't use the CFS feature too much. By doing so, your stories will seem irrelevant and monotonous.
You can keep your content relatable and personalized. The CFS feature will come in pretty handy for curating content that your friends will relate to.
And that's it for the guide! Now that you've learned what does CFS mean on Instagram, take up that phone – smile, click, and share on CFS!
READ NEXT: How to See Who Viewed Your Instagram Videos
FAQs
Ans: CFS meaning text Instagram means 'Close Friends Story' while in texting, CFS is used to refer to something or someone as 'cute, funny, and sweet'. 
Ans: In Snapchat, CFS stands for Click for Snapchat. It is a way that is used by Snapchat users to gain popularity and attract more followers. 
Ans: CFS, or Close Friends Story, is an Instagram feature that lets selective users be a part of someone's private stories. If they want to view their story, they have to be a part of the Close Friends List. 
Ans: CFS stands for Close Friends Story on Instagram. It is a feature that lets users keep their social media life private and limited. 
Sources
Create a Close Friends list on Instagram, Instagram Help Center