For every brand, there's a turning point that changes the entire scenario of their products significantly. For Apple iMac, it was when they launched the latest iMac 27-inch iMac refurbished in 2020. And it certainly changed the scenario for an even better cause when they started selling the same in its refurbished forms. The 27-inch iMac refurbished brought an impressive upgrade to the iMac and in this iMac Pro refurbished review, you will get to know all about this exceptional product.
Product Overview
| | |
| --- | --- |
| Original Release | December 2017 |
| Display | 27-inch, Retina 5K display |
| Resolution | 5120-by-2880 with support for one billion colors |
| Memory | 32 GB of 2666MHz DDR4 ECC |
| Storage | 1 TB SSD |
| Camera | 1080p FaceTime HD |
| Processor | Radeon Pro Vega 56 graphics processor with 8 GB of HBM2 memory |
| Audio | Stereo Speaker, Four microphones, and a 3.5 mm headphones jack |
What are Refurbished Products?
Most people might not know this, but Apple also offers refurbished products that are certified by Apple itself.
High-quality products are sent for rigorous refurbishment processes which are prior to the sale process. This is all covered by Apple's one-year limited warranty for the product along with Apple's 14-day return policy as well.
However, gift wraps and engravings aren't offered by Apple for its refurbished products as the supplies for these are limited.
Let's now have a look at iMac Pro refurbished device's features.
Graphics
The graphics for this one are known to be the beast behind the beauty. Featuring Radeon Pro Vega graphics, it delivers the most suitable workstation for every project, this is what one would expect from a classic Mac. This is the very first Mac to be featured with Vega architecture along with 16 GB of high bandwidth memory, this straight-up helps in rendering a significant jump in performances in each and every task, not just that, it can help you achieve a speed that is two times faster than any other Mac and almost three times faster than any GPU in Mac Pro.
The device also supports single as well as half-precision computing, hence the operations that don't require full 32 bits of precision can achieve a speed of twice as fast when compared to any other device.
Display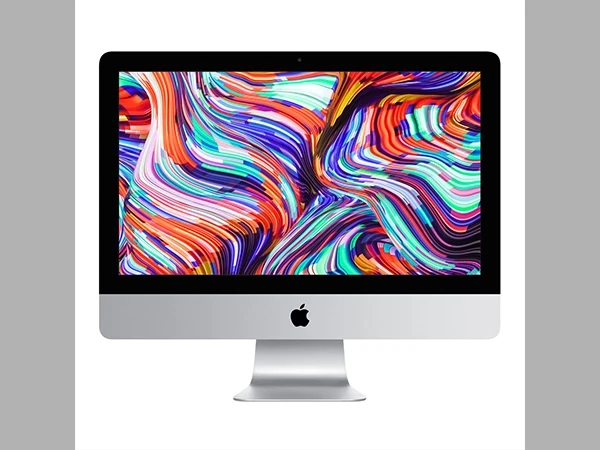 It is quite well understood that if it's an iMac, it'll come with an incredible display, then how can the iMac Pro disappoint its users? Apple said that their iMac Pro's 27-inch screen is the best to date that comes with 500 nits of brightness and 14.7 million pixels. Its sleek all-in-one design simply disappears behind its simple yet stunning screen design. With the support of one billion colors, it renders life-like images.
Storage and Performance
With up to 4 TB of flash- storage, it lets you work with large 4K along with HD projects. And not just that, it offers 3 GBs of throughput which makes loading larger files and documents, and launching apps faster than ever.
Integration and Security
This 27-inch iMac refurbished comes with an Apple T2 chip, which is their second-generation custom Mac silicon. It has certainly redesigned and integrated several controllers that are found in other Mac products and systems. These controllers include- an SSD controller, audio controller, image signal processor, system management controller, and many others.
The T2C image signal processor works with the FaceTime HD camera as well to serve tone mapping, exposure control, along with face detection. Not just with the image, the T2 processor also works with the other system of the iMac as well. It makes the system even more secure by assessing it with the Secure Enclave coprocessor that provides the latest encrypted storage along with secure boot capabilities. This way, all the data that you store on your SSD is fully secure and encrypted as it uses the dedicated AES hardware impacting zero effects on the SSD's storage.
Processor
You already read that this iMac Pro comes with multiple cores and I believe you already know that an iMac with 4 cores is already stunning enough. But have you ever wondered what about an iMac that is 8,10, 14, or even 18 cores? Well, that would be a totally different scenario that you can experience with this product.
Coming with a turbo boost speed which is up to 4.5GHz, while the iMac itself has the power and flexibility to get balanced with the multicore processing within a single thread performance.
Performance
Well, a pro machine would never disappoint. This 27-inch iMac Pro comes with numerous high-speed ports to create a high performance for every workstation. The 4 thunderbolts given with 3 ports enable you to connect with 25K monitors, which is for 44 million pixels total that lets you transfer data at a blazing 40 Gb/s.
Well, there's a little surprise with this one, something you wouldn't expect in an iMac. It comes with 10Gb Ethernet, which means sharing files between desktops, or working with any high-performance network storage system, is not just twice or thrice, but 10 times faster than ever.
Video and Camera Support
The device comes with a 1080p FaceTime HD camera while it also supports full native resolutions and simultaneously comes with a built-in display of 1 billion colors. Other key specifications of it are-
Two 5120-by-2880 (5K) external displays at 60Hz.
Four 3840-by-2160 (4K UHD) external displays at 60Hz.
Four 4096-by2304 (4K) external displays at 60Hz.
Thunderbolt 3 digital video output.
Native DisplayPort output USB-C.
macOS Features
Talking about macOS features, it includes-
Photos
iMovie
Pages
Numbers
Keynote
Siri
Safari
FaceTime
Mail
GarageBand
iMessage, notes
Calendar
Contacts
Reminders
Photo Booth
Preview
iTunes
iBooks
Apple Music
App Store
And more
Price
Now coming down to the iMac Pro refurbished prices, well, since it is a refurbished product certified by Apple, the prices might be a little too high, but as per everything explained above it becomes a cheap iMac only, and the prices are totally worth it.
The Refurbished 27-inch iMac Pro 3.0GHz 10-core Intel Xeon W with Retina 5K display- $4,929.00
The Refurbished 27-inch iMac Pro 2.5GHz 14-core Intel Xeon W with Retina 5K display- $5,269.00
The Refurbished 27-inch iMac Pro 3.2GHz 8-core Intel Xeon W with Retina 5K display- $5,519.00
The Refurbished 27-inch iMac Pro 2.3GHz 18-core Intel Xeon W with Retina 5K display- $5,609.00
Should You Go With the Refurbished iMac Pro 27-Inch?
Considering all the above-mentioned aspects, I would say why not. The refurbished iMacs are something that most iOS users don't consider investing in, but what they don't know is the number of features and benefits it comes with. But I guess now you do, hence, make your choice wisely.