The iMac Pro i7 4K 2019 model by Apple might be everything you are looking for. As per the reviews from users so far, it is all a professional may need. Are the features and pricing of it worth the hype? Let's find out.
The Apple iMac Pro i7 4K was built to be everything the iMac model can't be. And undoubtedly, it succeeded. Apple made a machine that was worthy of being called powerful yet beautiful.
The iMac Pro gives good hardware to professionals and is the most powerful Mac Apple has sold. It has high-powered multicore processing hardware and you won't get to see it on the desks of just any average office.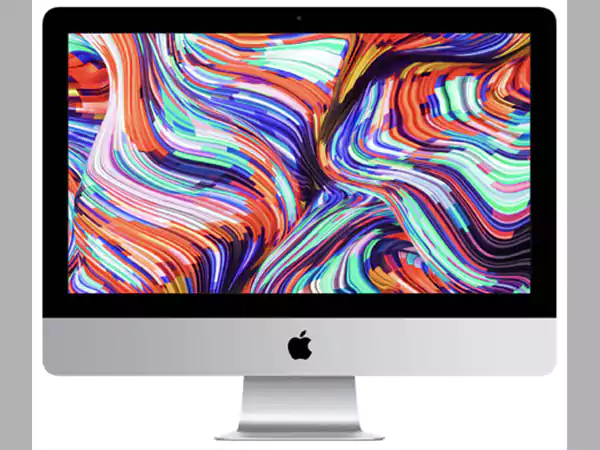 So what is it that makes this model any different from the other iMac and iMac Pro models of Apple? Let's find out.
In this article, we are going to talk about the pros and cons, specifications, features, and much more about iMac i7 4k model. So let's hop right in!
About iMac Pro i7 4K
Apple's iMac 21.5-inch is a superb all-in-one. It does everything the Refurbished iMac can do, but in an even better way. With 4K retina, this beautiful iMac Pro 2019 model gives excellent performance (it is an 8th-gen Intel processor with AMD Radeon Pro Vega graphics after all) with a sleek aluminum design.
With an upgraded processor and new graphics options, the 2019 model sure has some good things to offer. The device of course comes with Apple's wireless magic keyboard and magic mouse. It has 2 GB of video memory and an Intel core i7 3 GHz processor which brings out the best of performance even in heavy work. Apart from that, it has 8 GB RAM and a 3 TB massive internal hard drive storage.
Its cool and sleek display makes it unique and classy as ever. It is also rich with SD card readers, and ports. So now, let's talk about its pros and cons in detail.
Pros and Cons
Let's head over to what most of you would be here for – the pros and cons of the iMac Pro i7 4K. This section will undoubtedly help many of you decide whether to get it. So now, let's jump right in!
Pros
There is a sleek aluminum design as always.
Clear 4K Display
Powerful Hexa-core 8th Gen Intel Core i-Processors
Various ports to fill all bases
Gives strong performance
Unique design in space gray gives extension to wireless peripherals
Provides good computing power with the help of Intel Xeon CPU and AMD Radeon Vega
Cons
Massive bezels as per today's time
Expensive
Height adjustment still not provided
The results depend on the workflow.
Pricing
Now that you have pretty much got an idea about what are the pros and cons of getting the iMac Pro 2019 model, let's see what or if there are variants in the different price ranges.
Being an Apple product, the iMac Pro i7 4K is a bit expensive. It costs around $1500 USD. However, as per its functions and performance, and overall being an Apple product only justifies the price. The users might get to bag a good deal during discounts and offers as well.
General Information
Now, before getting into the depth of other specifications of iMac Pro, let's have a look at the basic info that it has to offer.
| | |
| --- | --- |
| Display | 21.5-inch |
| Grade | A |
| Processor Speed | 3.2 GHz |
| RAM | 16 GB |
| Screen Size | 21.5-inch |
| Graphics Card(s) | Radeon Pro 560X AMD Radeon Pro Vega 20 |
| Model | A2116 |
| Storage | 1 TB |
| Processor | 6-Core Intel Core i7 |
| Storage Type | SSD |
Design
Even though the iMac is an upgraded version of the previous one, what remains the same is its huge bezels. The design of a wide bottom bezel having an Apple logo on it hasn't changed.
Apart from the dated design up front, the silver aluminum body of the iMac is as good as new and on the back side, there is a simple silver frame with a classy black Apple logo. But! You still can't adjust the height of the stand, which is a disappointment for many, even though it is nothing new. In the model, the stand can be tilted around 35 degrees upward and 5 degrees on the downward side, meaning there isn't much room left anyway.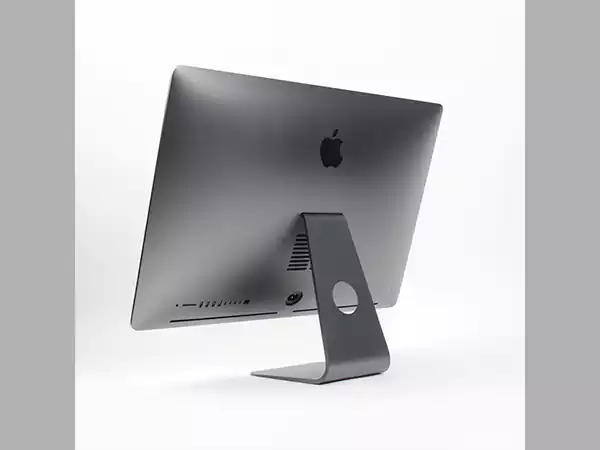 Weighing at 12.3-pounds, with 20.8 × 17.7 × 6.9-inches the iMac is no different from the 2014 Apple iMac 21.5 design, however, it surely is a lot slimmer and lighter compared to similar Asus and Dell models.
Ports
Apart from its sleek and classy design, the iMac Pro 2019 model also has a good number of ports to offer. At the back, there is a port for the headphones jack, 4 USB 3.0 ports, an SDXC card slot, an RJ45 Ethernet port, a Kensington lock slot, and 2 Thunderbolt 3 ports. There is pretty much anything to connect to the system using the ports.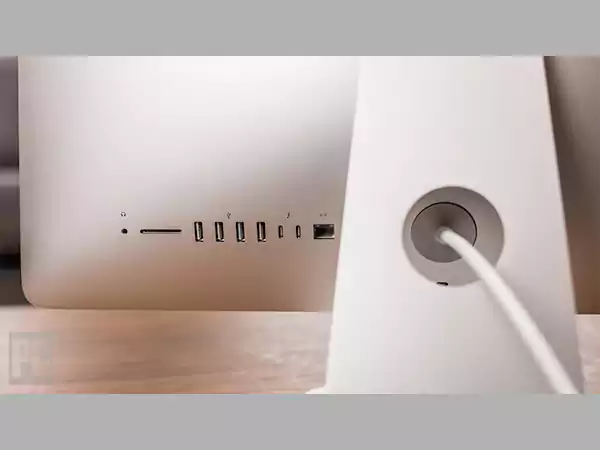 Display
The iMac Pro's wide bezels are outdated as per today's time and style, but it's 4096 × 2304 Retina display is for sure colorful, very rich in sharpness, and brightly crystal clear as well. Its display consists of a 126% sRGB color spectrum, which is a good enough color for taking over other models of PC. Apart from that, the color accuracy on the iMac's display is just fine. It for sure crushes the Inspiron 27 with 436 nits of brightness.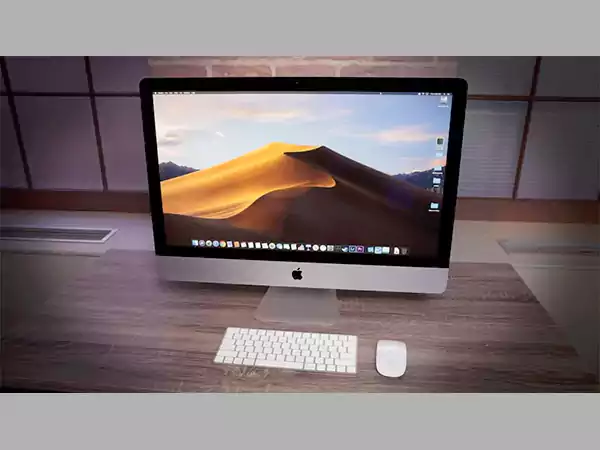 So to sum it all up, the iMac Pro is clearly the dealbreaker, giving other models tough competition when it comes to its display.
Keyboard and Mouse
As its name says, Apple's Magic Keyboard doesn't really go with it. Despite the low-key travel, the keys are clicky, and you will feel like you are typing on a desk. However, the keyboard itself isn't too comfortable as one would expect it to be. It sits 4-10 millimeters off the ground and even though it will feel shallow, the deck will take you to 15 mm above the surface that you are using.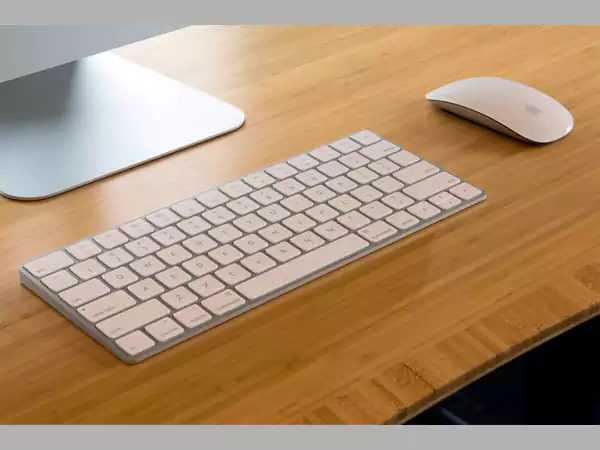 Well, this also varies from person to person and their preferences, as some like the fact that the mouse and keyboard, both, are wireless. The Magic Mouse 1 and Magic Mouse 2, both have their own variety of cool gestures like Smart Zoom, Mission Control, etc. However, there is no right-click option given by-default in the Settings.
Software and Warranty
For those who are already an old-Mac user, there is no need to explain the virtues of macOS High Sierra. The latest version of macOS has deep integration and 64-bit architecture along with other Apple products like iPhone, iPad etc. Not only that, the High Sierra also comes with various selected apps like Keynote, Numbers, Pages, Safari, Siri, and other creative apps just like in other Mac laptops and PCs.
And when it comes to the software, the high-octane hardware gives superb performance. Obviously, anything which has been available for the Macs so far will be eligible to work on iMac Pro as well. From heavy editing apps like Adobe Photoshop to Adobe Premiere Pro, all of them work just perfectly fine and smoothly giving the best graphics experience to the users.
In the iMac Pro too, just like the other products of Apple, one-year warranty (hardware repairs included) is given. If the user wishes to have an extended 30-year warranty, it is also available for $169. However, for free phone support, Apple only offers the first 90 days of the time that you own the product.
Just go for it. If you're an Apple fan who is looking for faster performance, then this one won't let you down. All you have to do is get your speakers pair. If you are wondering whether you should go pro
By now, you may have got an idea of what type of machine this super cool iMac Pro i7 4K is. So now you have to make the decision of getting it. It is an amazing gadget for those who don't mind having a painful effect on their wallet.
The iMac 21.5-inch may give a familiar look in its appearance, but it has the powerful performance to give what you are looking for. From students to those who are into editing or simply creative pros, the iMac 2019 model surely won't disappoint. It gives an impressive performance and might be a better deal for you on this basis compared to the other options available in the market for you.
FAQ
What is the warranty for the iMac Pro 2019 model

Just like most of the Apple products, the iMac Pro model also has a one-year limited warranty.
Why did Apple Stop selling iMac Pro?

The iMac Pro was discontinued, which was basically a makeshift between Mac Pro 2013 and Mac Pro 2019 model. It was costly and didn't belong to a lot of categories, either.
What is the resolution of iMac Pro

All iMac Pro models support 5120 x 2880 resolution for one billion colors..