Twitter Inc. was founded by Jack Dorsey, Noah Glass, Biz Stone, and Evan Williams in California, USA. The platform was inaugurated in 2006 and completed its first 100 million users in 2012. People on this platform share videos, photos, thoughts, and ideas and call them "Tweets". The respective platform is very popular among various big influential personalities like politicians, activists, actors, etc.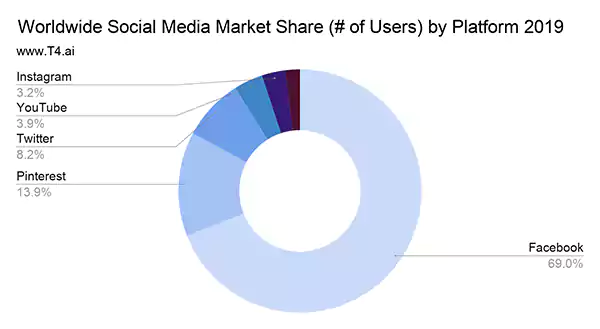 In 2019, It alone held 8.2% of the world's total social media user population. Its user base has kept on increasing exponentially since its release.
Then in October 2022, he richest man and founder of modern companies like Tesla and SpaceX, Elon Musk, bought Twitter Inc. for $44 billion. Since then, it has been facing various ups and downs.
Recent research by ExpressVPN denaoted the modifications Twitter has encountered after Musk's takeover. The respective study unravelled that Musk laid off half of the platform's employees (7500 in toal) and brought the headcount down to 1,800 people, which is less than the number of people working for the popular social media platform in 2012.
Elon Musk: Developer or Destroyer
Twitter was founded by Jack Dorsey and Noah Glass in March 2006. Since then, the platform has kept increasing its number of users like an epidemic. Each year, this platform has gained millions of users.
After 2022, when Elon Musk bought it, the ideas and opinions of users were polarised dramatically and give birth to an argument, "is it was a good move or not"? Many users argued that the platform would lose its free speech policy under Musk's umbrella.
Therefore, today's subject of discussion will be – Would Musk's takeover of Twitter be a success or failure?
Since Musk has taken over the Blue Bird, many arguments among the common public and experts have been made about whether it would help the Blue Bird fly high or not. And most importantly, will the Bird be able to survive the changes in the environment or not?
In this segment, we will cover the criticism that people are giving out to these events.
Musk as a Curse
Here are some key highlights of the opinions on how Musk, in the near future, can be the perfect storm for Twitter and its policies. Acknowledge these points thoroughly, as your opinion also matters.
The Coup
A very controversial and ultimatum-like email was circulated among the employees to prove their loyalty to the company. Employees were told to get ready for the wave of change in Twitter's corporate environment. All these things happening in the company were like a cliffhanger for everyone, which left them all with the question that what worse can happen to them.

To employees' and many critique's opinions, Elon Musk's rigid style of management will not work for too long. According to them, Chief Twit is creating an unhealthy working environment and not considering their life outside the workplace.
Unsafe Environment
Another big argument getting circulated is that Musk is not good for the safety and digital well-being of the users. Twitter is known for its free speech policy, and according to some people, this policy is in serious danger. Women, the LGBTQ community, various cast minorities, and other communities have faith in the platform that they can share whatever they think and believe without any fear of society.

But with the recent developments, these communities and the audience of the application are not happy. Musk has created an aggressive and unsafe environment for the users.

There are some tweets and statements from Musk's side that leave the public in doubt as to whether all these actions happening are for the good or not.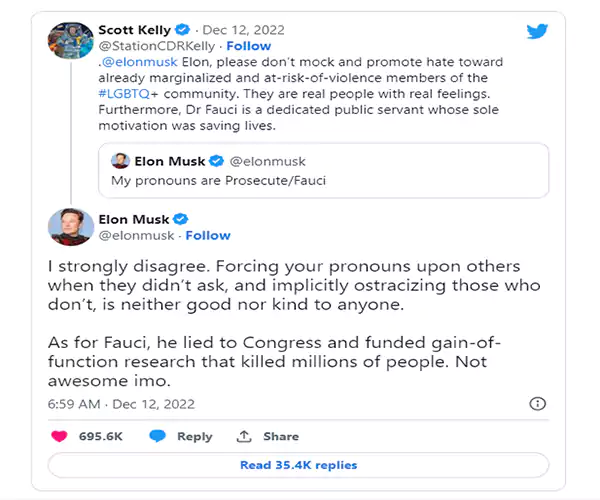 LGBTQ-supporting organizations like GLAAD (Gay and Lesbian Alliance Against Defamation) have criticized Musk for trolling and, as the CEO of Twitter, for very unprofessional behavior against the LGBTQ community.

"Twitter must do more to protect LGBTQ+ activists and organizations on the platform," ~ Michael Kleiman. This issue even knocked on the door of the famous Capitol Hill building in the USA. The pleadings of ex-employees and various congressmen were taken to the parliament but, unfortunately, did not cause any difference.
Twitter Blue on $11 Sale
One more blunder that Elon Musk made was to trade Twitter Blue. Twitter Blue is an exclusive feature that allows members to get the first updates on the platform and enjoy new features. Accounts with the blue tick can upload 1080p Full HD videos, edit tweets, and use reading mode. This massive bonanza sale for the company started with the price of $3 / $5 and also climbed up the rate to $8 per month.

Twitter Blue users also get a blue tick next to their name, which was only given to famous and influential people. This way, people were able to differentiate between the original and fake accounts. But with this move, anyone who can pay $11 as a monthly subscription can get a star. This will lead to losing the authenticity and credibility of the feature.

Due to this decision taken by Elon Musk, some news articles can be seen on the internet calling Musk a "Flea Market Salesman".


As mentioned earlier, the price hike of Blue tick started from $2 and is now currently available at $11. It is rumored that soon the price will hike up to $20 for one month of subscription.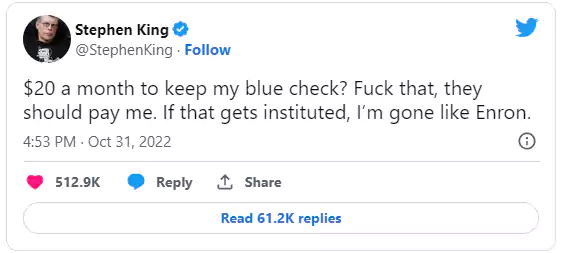 These were some arguments that were made by Musk's critiques. It depends on you what side you support. The opinions can be mixed among the public. For some people, this takeover can be considered a blessing for Twitter from the point of view of some Elon Musk supporters.
Can You Predict the Future?
As of now, judging the future of Twitter in one single-word answer is not possible. No one has seen the future or what is going to happen in the future.
There are no recent developments made that can give us a hint about the time ahead. It is too soon to give any kind of statement. Although, we can make some assumptions based on the behavior and common statements being made out in public.
Talking about the statements and opinions, it is evident that people out there and ex-employees are not happy with the new circumstances the company is currently in. Speaking of survival, in the current situation, it does not seem difficult for Musk to make the company survive. Since the purchase, many drastic changes have been made in the board, management, policies, and functions, but there is only just a slight decline in users.
Although this case has reached the doors of Capitol Hill, making any assumption regarding the future of the respective platform would be haste.
We all know that to replace something, there must be an alternative available in the market. And for now, even with so many alternate platforms, it is arduous to replace it. The twitter-like professional environment cannot be found easily.
Albeit, there is a platform called "Mastodon" that is allegedly known as the next Twitter. But, for now, calling out Elon Musk's Twitter as a success or failure is like a wild goose chase.
---