Chegg is a popular education technology platform that helps students to complete their homework and assignments. Founded in 2006, Chegg took little time to build a reputation among students. For those wondering, what is Chegg used for? It provides effective services to more than 5 million students.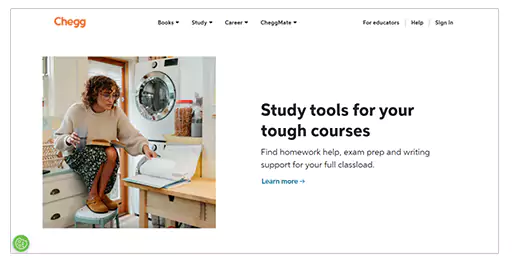 However, Chegg services come at a price, and some students may need to think twice before paying the Chegg subscription cost monthly. So, with the help of this in-depth review of this platform, you'll be able to make the right decision.
How Does Chegg Work
The term 'Chegg' is a combination of two words – chicken and egg. Its founders came up with this when they were struggling to find a job, as they had no experience.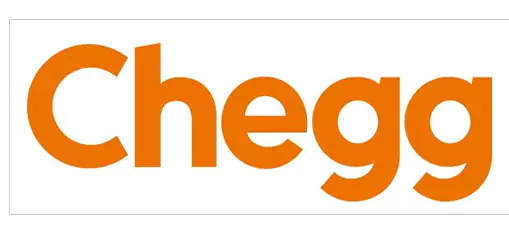 In early times, Chegg used to provide scholarship searches, college admission advice, and internship guidance. Later on, students were able to get textbooks on rent and even began to purchase them at good prices. Today, the platform offers more than 23,000 books on rent and provides homework help to several students.
So, if you're thinking about how does Chegg work, it offers various services and discounts to students. Students can use Chegg for completing their homework as it offers step-by-step solutions given by experts.
Moreover, tutors can also use Chegg as an earning platform. They just have to answer the questions and earn on a daily basis from the platform.
What Services Does Chegg Offer?
The effect of technology on education is clearly visible with the increasing demand for platforms like Chegg. As Chegg began to grow, the addition of services made it more beneficial to the students. From completing the homework to earning from Chegg, it has been providing all types of services.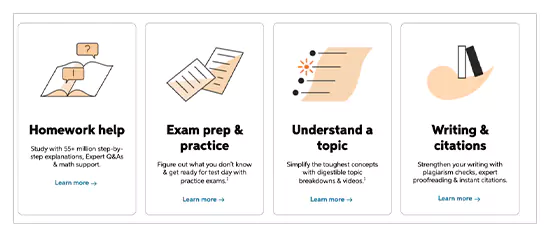 Firstly, Chegg offers a seven-day trial to its users, and after that, a paid subscription of $14.95/month begins. You can cancel the free trial anytime you like, and if you buy the subscription, you get other benefits.
Homework Help
Chegg is an extremely useful platform for students that need help in completing their homework or assignments. Students can easily seek help from the experts on Chegg and get step-by-step solutions for any question.
All they need to do is post a question and let an expert answer it. However, students may need to purchase a Chegg subscription for the answers.
Buying, Renting, or Selling Textbooks
Chegg holds the credit for being one of the first online textbook rental services. It allows users to buy or rent textbooks at cheap prices, and you'll find it in the "my books" section. Just enter the name of the book in the search bar, and you're good to go.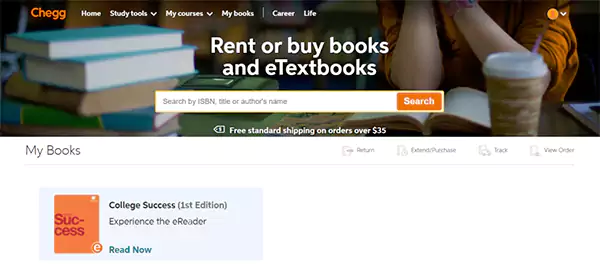 Buying Textbooks
If you've been wondering how much does Chegg costs in terms of book purchasing, you'll surely get good quality books at decent prices. Chegg allows you to buy or rent any book.
There's no need to visit a bookstore, as the platform will deliver them to your doorstep. Meanwhile, you can read the eTextbook version of the same book until it arrives. For example, we searched for the book "Biology, 11th Edition," published by McGraw-Hill Education.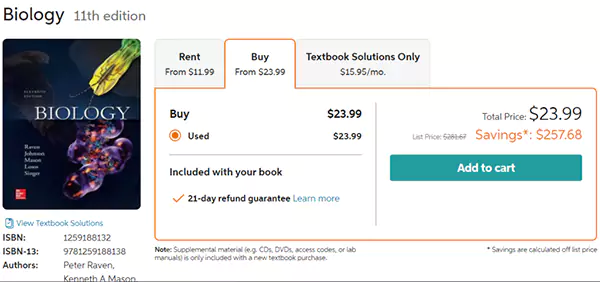 The used book is available at $23.99, and it also comes with a 21-day refund guarantee. However, the brand-new book is available at Amazon at $58.10. So, if you've been thinking about how does Chegg work regarding book purchasing, you may have no complaints if you use it.
Renting Textbooks
You can also get any book on rent with Chegg, and return it after a period. Once you're finished with the book, you can return it easily by using the prepaid return shipping label.
For example, the same book, "Biology 11th Edition," is also available for rent. Chegg charges $11.99 for the rental and also allows you to highlight any sections if you like.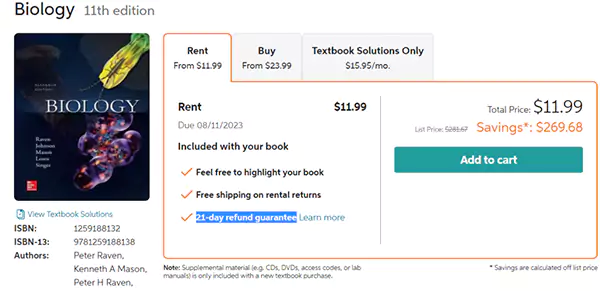 The books you get on rent have a little bit of wear and tear, but their shapes are intact. If you're not able to return the book by the due date, you'll have to pay an extra 25% of the original rental cost. It buys you 10 more days to return the book.
Notes
You don't get any supplemental materials like CDs, DVDs, lab manuals, etc., with the rentals as they are used books. For that, you need to purchase a new book.
Selling Books
Chegg used to provide the option of selling books to its users. However, the platform will direct you to the official website of GoTextbooks if you click on the "Sell Books" option.
Online Tutoring
Chegg is considered best for online tutoring. As a student, you can get one-on-one sessions with experts and get your queries solved within minutes. The platform claims that a Chegg expert will not take more than five minutes to answer your question.
Moreover, experts and skilled tutors can also use Chegg as an earning platform. On average, you can earn $20 to $30 by answering questions on Chegg. Also, a student can become a tutor and earn by helping other students with their homework and assignments.
Scholarships
Chegg also provides scholarships to students with various backgrounds and keeps updating them. The platform offers scholarships that sum up to $1 million. If you're a college student or about to apply for college, you can seek benefits from Chegg scholarships.
Chegg Subscription or Membership
As you begin using Chegg, you can pay the Chegg membership cost to get the additional features. However, Chegg Study is the most basic membership that Chegg offers.
Chegg Study
The basic Chegg subscription cost (Chegg Study) is $14.95 per month and is popular because of its Expert Q&A feature.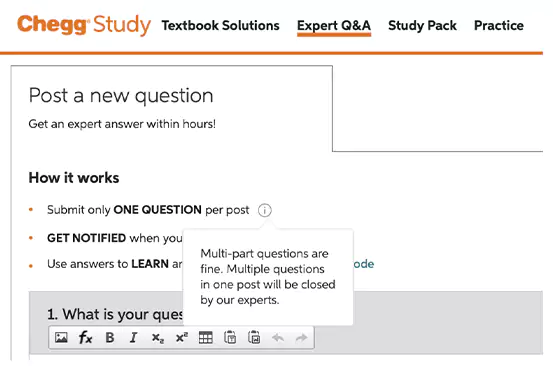 The Expert Q&A is helpful if you need help finding a solution for any specific problem or completing the homework. Of course, a "Chegg Expert" will give you the best solution. You can post up to 20 questions per month, and the expert will answer them within 7 minutes.
Chegg Math Solver
Next on this list is Chegg Math Solver, which comes at $9.95 per month. Maths is the least favorite subject among students, and they keep looking for expert advice when completing assignments or doing homework.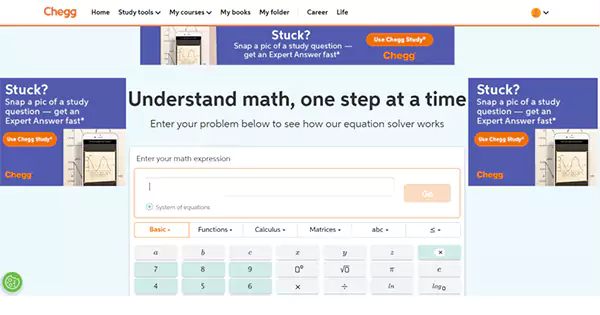 You'll find the Math Solver under the Study Tools category. And the moment you open it, you'll come across a calculator. All you need to do is type the mathematical equation or function in the space, and you'll get the solution for it within seconds.
Hence, Chegg Math Solver comes out to be a highly beneficial option for students weak in mathematics.
Chegg Writing
Chegg Writing helps you write a flawless essay. It points out grammatical mistakes and ensures that your paper is 100% plagiarism free.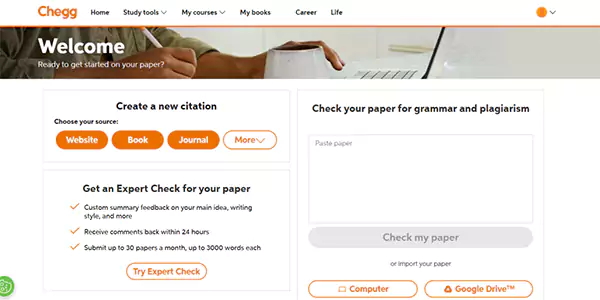 You'll find Chegg Writing under the study tools option. Once you open it, you'll see a space in which you can either paste your paper or import it from your device.
It is extremely fast and only takes 3 minutes to give you the result. The grammatical mistakes and copied content are highlighted separately so that you can see the difference. However, the plagiarism tool is a bit "extra," as it needlessly marks out similar wordings and reference information.
Chegg Study Pack
If you feel like all three services mentioned above can be pretty useful for you, you can pay the Chegg monthly subscription cost for the "Chegg Study Pack."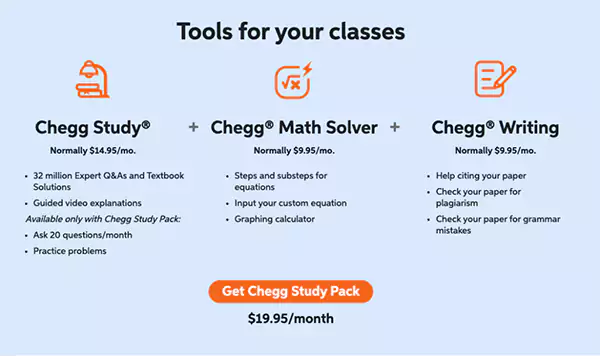 The Chegg subscription cost for Study Pack is $19.95 per month and offers some extra benefits along with the basic services. For example, you get 32 million Expert Q&As and textbook solutions with guided video explanations in Chegg Study.
Considering the overall price and features, Chegg Study Pack is a highly valuable option for students looking forward to getting homework help. You can also use the trial version to get free Chegg answers. But after the trial period ends, you'll have to pay for the subscription.
To get a brief summary of Chegg services, refer to this table:
| | | |
| --- | --- | --- |
| Service Plan | Chegg Study | Chegg Study Pack |
| Textbook Solutions | ✅ | ✅ |
| Access to Q&A | ✅ | ✅ |
| Post New Questions | 5 Per month | 20 per month |
| Flashcards | Basic | Premium |
| Practice Problems | ❌ | ✅ |
| Guided Videos | ❌ | ✅ |
| Math Solver | ❌ | ✅ |
| Writing Tool | ❌ | ✅ |
| PRICE | $14.95/month | $19.95/month |
Premium flashcards are generated by Chegg experts and publishers. On the other hand, the basic flashcards are not that effective and pretty half-baked when compared to the premium ones.
Is Chegg Safe and Secure?
Before using any online platform, we ensure that it is safe and secure. With up-and-coming cases of identity theft and online fraud, popular websites like Chegg also face security issues.
Chegg has suffered three data breaches so far, and the incidents took place consecutively. According to Business Insider, the information of more than 40 million customers on Chegg was leaked in 2018. However, websites like Chegg have always been a natural target for hackers. Considering this, the platform has taken numerous measures to improve its security.
Is Chegg Legal?
Chegg is totally legal if you're using it for homework help and tutoring sessions. Students pay for its subscriptions and get help with their assignments, which is legal as per the law.
However, it becomes a problem when students start using Chegg for their exams and cheat. There are several cases in which students were caught cheating using Chegg. Instead of getting good grades, they ended up failing their exams.
Is Chegg Worth the Subscription?
A Chegg subscription or membership is worth investing in if you want to seek the benefits of its tools. With a paid subscription, you can ask 20 million homework questions from the experts, and ask up to 20 new questions per month.
Chegg experts are credible enough to give you reliable answers and help you regarding any problem. Moreover, you get access to different textbooks, well-instructed solutions to various maths problems, and write plagiarism-free write-ups.
So, if you're able to pay for Chegg Subscription, it is definitely worth it.
How to Create Your Chegg Account
Ease of use is the most common quality that people depend on when choosing any online service provider. Chegg comes with a super-easy user interface and provides all options in front of you.
So, if you're about to create an account, you can sign in using your Apple, Google, or Facebook account. The other option is to create a new account with your email and password.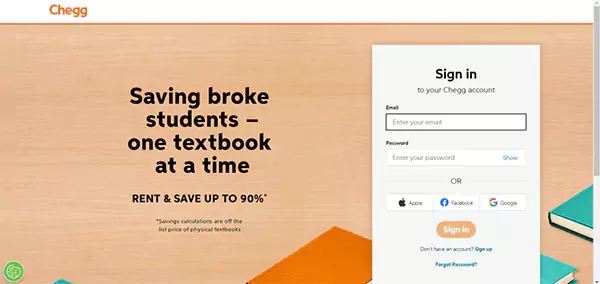 After filling in your email and password, you'll have to answer whether you're a student or a parent. So, if you proceed as a student, you'll have to mention your school or university and then provide other relevant information. That's it; you can use Chegg now.
You can also choose to pay the Chegg membership cost, but that is another story. So, if you're interested in the membership or would like to explore other services, go through the next section.
Final Thoughts
At last, we've come to a point where we have to decide if Chegg is worth it or not. Chegg is undoubtedly popular among college students because of its highly convenient textbook sale and rental services. Moreover, many students find the platform easy to use.
Furthermore, Chegg covers several topics in its library to help students with their assignments and homework. Whether it is preparing for exams or taking one-on-one tutoring sessions, Chegg offers the best possible help.
However, a majority of students find Chegg pricing a bit high and prefer other platforms. So, it is up to you how you would like to use Chegg and seek benefits from it. And if you feel like it is not for you, you can consider other best Chegg alternatives you can try.
Sources
Wikipedia – Chegg
Reddit – How is Chegg Legal?
Also Read: