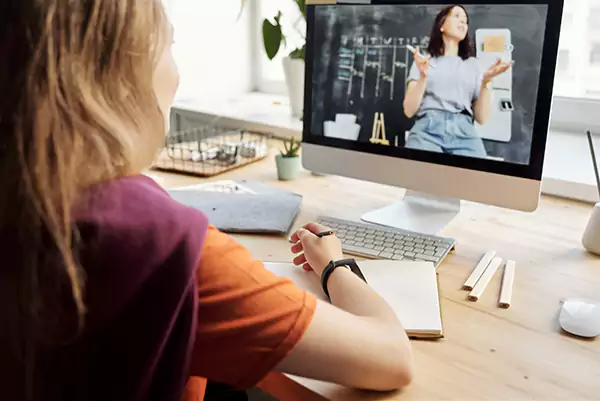 Nowadays, technology is running at a much faster pace. Different technologies are developed to aid people with convenience, independence, and affordability. In the past, people had to travel from one place to another to get an education. This was expensive for those who could not afford it.
In cases like this, individuals opting for courses from another state had to travel so far to complete courses. If talking about the new online education system, this system has various benefits attached to it. Those benefits are
It opens up the door for learning new skills.
People can gain education from their homes. Hence, they don't leave their homes.
The new online education system is more cost-effective than traditional methods.
No need to spend on travel and accommodation.
This option is viable for students unable to attend college due to their financial constraints.
A Brief History of Online Education
Online education systems are available since the mid-1990s. At that time, distance learning courses were practiced over the internet. One of the first online education programs was McGill University's "Distance Education in Nursing Science" which was held in the year 1995. From then, this system gains popularity amongst the people.
The major reason behind its popularity was, universities and schools realized that they can reach a larger audience in order to scale their programs. As a result, many universities today, are offering a range of online courses from bachelor's to doctorate degrees. However, this system attracts students more towards it.
The upgrade in Massive Open Online Courses (MOOCs) in the year 2012, can be considered a turning point in this industry. Because MOOCs serve course material to students from various world top universities. Getting course materials from the world's top universities, that too online, is what stands out for an online education system. MOOCs provide course materials from institutions such as Coursera, edX, and Udacity. That enables students to experience university just by accessing the internet connectivity only.
The past years have seen growth and advancement in online education technology. That includes virtual classrooms, interactive lectures, counseling sessions, and live chat sessions. Online education technology is enriching traditional ways of classroom teaching methods and results in the efficient delivery of courses and raises student engagement levels.
With that, we learned that online education technology has traveled a long way since its establishment in the 1990s. Online technology system development is benefiting us in a way that brings us closer to accomplishing personalized learning experiences. Keeping these advancements in mind, it is guaranteed that online education will be expanding in the coming year.
Online academic help
Most students believe that online education is more convenient than traditional methods of learning. Online learning provides online assignment services, and to complete them, students take help from several experienced professionals. While learning online, students can acquire advice from professionals on how to improve their work.
This service is found perfect for those who are unable to tackle complex topics and doesn't know how to start writing. So, via an essay writing service, students can complete their papers with accuracy and care. Online academics help paved a way for students to achieve top grades. Thus, students can access essay writing services at affordable prices that include discounts and special offers. Decisively, it's worth enrolling oneself in essay writing services to save time and money at the same time.
The Future of Online Education Trends
Now let's find out trends that are going to be prevalent in the future of Online Education:
Increased use of Artificial Intelligence (AI): AI can be defined as the stimulation of human intelligence processes by machines. That is why AI going to play a vital role in the development of online education in the near future. Al also contours personalized learning experiences and modifies tasks like course content delivery and assessment for students. AI-powered systems are responsible to analyze data trends with digital tools from student interactions during online classes and suggest how best the AI is to improve the learning outcomes.
Blended Learning: The term "Blended Learning" means that it's a combination of online and traditional classroom learning. Blending learning lets students educate themselves at their own pace and in their own place. Although, blended learning reaches heights with due course in time. Students have the freedom to study and complete their course from their own place, which enables teachers to adapt their lessons to the student's needs. Hence, numerous schools can use their resources more efficiently.
Microlearning: Microlearning is a concept of compact learning modules that is based mainly to keep the learner's fatigues in mind. This enables students to focus on small ideas rather than complex ones. Microlearning is a way of teaching, that helps students to learn more easily and students remember things for the long haul. Teachers believe that microlearning is a quick and easiest way to educate students on course materials without ignoring the quality and depth.
Gamification: Gamification is another trend that is serving for growth of the future of online education trends. Teachers or educators are now able to curate more engaging and wonderful learning experiences for students by combining gaming elements with traditional instruction methods. It boosts excitement among students, as it encourages students to compete with one another and gain rewards and recognition.
Virtual Reality (VR): Virtual reality technology is getting popular in the educational space. It provides a unique and interactive experience of learning to the students and is different from any other teaching method. VR lets students explore different settings, immerse in several environments, and show engagement with educational materials in depth.
Augmented Reality (AR): Augmented Reality is quite similar to Virtual Reality. It is the combination of real-world and computer-generated content. But keep in mind, instead of letting individuals experience a completely new environment, AR is responsible to add layers of digital information to the real world. That can be very helpful in online education settings. Because it provides students with a more hands-on way to learn. Detailed visualizations can be explored by students on their own via AR.
Mobile Learning: It has become an important trend in online education. The use of smart devices like smartphones and tablets is convenient for delivering course material on students' devices. Teachers can draft custom learning experiences specially designed as per each student's needs and preferences. That results in offering students the freedom to study at their own pace and according to their convenience.
Cloud Computing: Cloud computing is becoming one of the popular trends in online education. This trend is way more advantageous than one can think of. Because with the help of cloud computing, educators can access several educational materials from any device. However, it makes it simpler than ever before, to deliver course materials and assessments efficiently.
Personalized Learning: Personalized learning let educators design their lessons, especially, for each student's needs and preferences. Long story short, personalized learning utilizes the gathered data with digital learning tools from past interactions. Ultimately, personalized learning experiences can be developed to supply in accordance with each individual's strengths and weaknesses.
Open Educational Resources (OER): OER is the course materials that can be available in any format and medium in the public domain. It enables educators to access high-quality educational materials for free or at a low cost. It encourages educators to curate engaging and effective lesson plans for students. This trend is the most convenient way for students who are unable to afford traditional textbook materials.
Final Thoughts
With the evolution of technology. The scope for online education is unmeasurable. The online education trends let educators explore more to enhance their education methods and establish more engaging and interactive sessions for their students. Online education traveled a long way and could bring more in the future.
---