Chegg has been helping school and college students to complete their assignments since 2006. Whether it's about preparing for an exam or buying or renting a book, Chegg stands out as a service provider.
To get the most out of Chegg, students pay for the subscription and enjoy some extra perks. The good news is, Chegg offers discounts on its educational materials and study packages as well.
However, you can even access Chegg without an account, but you won't be able to get the Chegg student discount.
So, if you also want to get the Chegg discount code for students or any other discount, reading this article will be highly beneficial for you.
Chegg Offering Discounts – An Overview
From book rentals to tutoring services, Chegg has it all covered. In addition, you can also seek help regarding scholarships and internship opportunities.
However, to get extra benefits from Chegg, you can subscribe to the Chegg Study plan, currently available at $15.95 per month. The fact is, not every student can afford a Chegg membership. Some students even look for ways to get free answers from Chegg.
So, getting a Chegg student discount comes as a blessing for those who find the Chegg account price a bit expensive.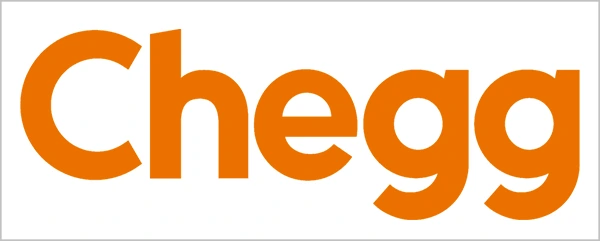 This year, Chegg has been offering a 25% discount for every student. The discount on the services will be only applicable for the first month of subscription only.
As per the research, there are several Chegg discounts for students on book rentals, but they keep on varying from time to time. However, you must ensure that you're eligible for the discount and know a few tips for getting them.
What Makes You Eligible for the Student's Discount?
If you want to avail of a Chegg student discount, the platform only confirms if you're a student or not. That's it!
If you verify yourself as a student, you are eligible for any discounts, deals, or coupons for Chegg.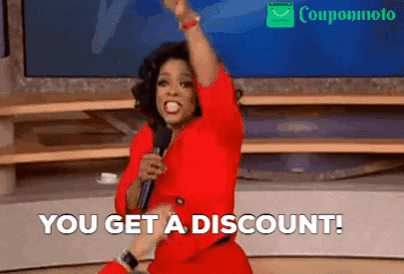 Notes
Chegg verifies your scholarship status while going through the registration form, which confirms that you're currently a student.
How Do You Get the Student Discount on Chegg?
Chegg is also a great platform if you want used books at a good price. You can easily buy or rent top-quality second-hand books from Chegg's official website or its mobile app.
So, if you also want the Chegg Student discount through the app, follow these steps:
Step 1: Install the Chegg study app.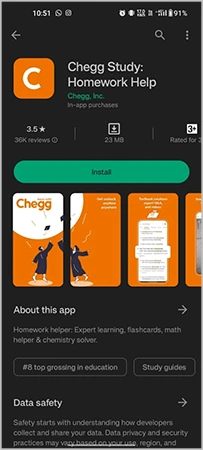 Step 2: Create your account or sign up and validate your studentship.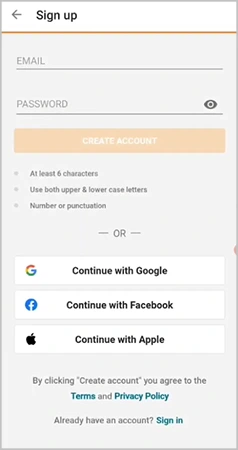 Step 3: If everything seems right, a free trial of the Chegg study plan will begin. You get a 30-minute free session with a tutor and up to 90% off on every book on rent until the free trial ends.
You can enjoy Chegg for free until the trial period ends. After that, you'll have to pay for the Chegg subscription cost.
Extra Tips to Get Discounts and Deals From Chegg
Chegg is a pretty popular online learning platform, but it often offers discounts to its discounts. Several students join every month and many cancel their Chegg subscription.
Tip #1: Follow Chegg on every social media platform if possible. They often provide exclusive deals to the followers, so ensure that you're up-to-date.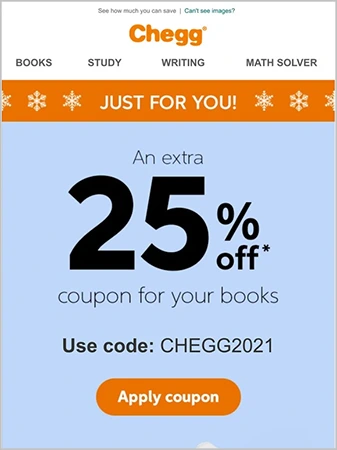 Tip #2: It is better to use Chegg coupons consistently to get more benefits.
Tip #3: You can sell your own books on Chegg. It works well if you want to save some money for the Chegg subscription cost.
Tip #4: Chegg offers a month's trial period to every student, and you can seek numerous benefits from it. For example, you can use it to read several textbooks and gain as much knowledge as possible.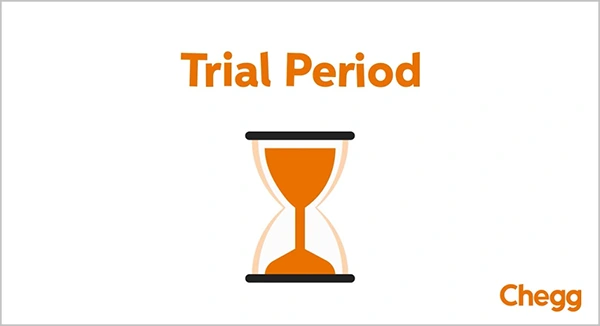 Notes
You can reactivate the free trial and use it again for only $14.95 a month.
How to Use a Chegg Coupon or Discount Code?
From purchasing textbooks to seeking help for assignments, Chegg coupon codes are very useful. But, if you have no idea of using the Chegg discounts for students, you can follow these steps:
Step 1: Choose the Chegg coupon you wish to use from the list of coupons available.
Step 2: Click on it, and you'll see the code that you need to copy.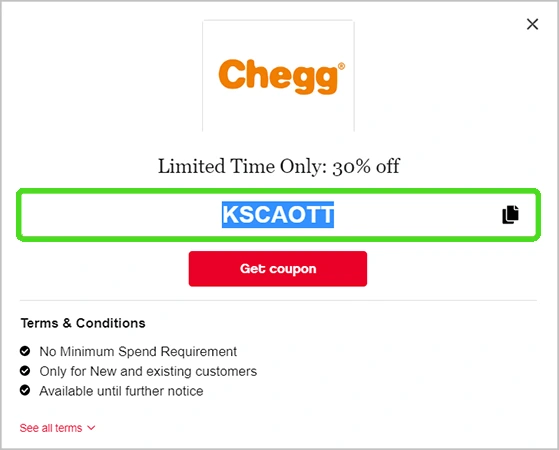 Step 3: Visit Chegg's official website.
Step 4: Choose the service or product you wish to use and tap on Add to cart.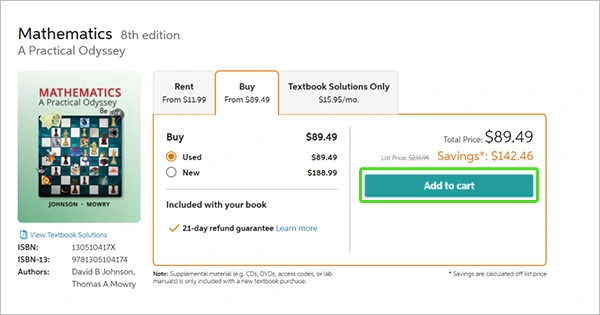 Step 5: After that, click on Checkout to confirm the purchase.

Step 6: Fill out the required information for checkout and click Continue to proceed further.

Step 7: At the Checkout page, you just have to enter the coupon code in the space available and click Apply.
Step 8: After clicking the Apply button, you can buy the item at the discount price.
That's it, you'll get the item at a discount and delivered soon to your doorstep.
Exciting Chegg Promo Codes and Coupons to Use
Chegg often offers discounts and promo codes to its users. For example, you can get a book without paying the shipping charges. Also, you can often find coupons that help you use features or purchase the subscription at a discounted price. With that said, let's take a look at some of the exciting Chegg discount codes for students you can get.
Coupons Available Currently
Below, you'll find a list of available discounts currently available on Chegg. You can go through it and choose the one that suits your requirement.
| | | |
| --- | --- | --- |
| Coupon Available | Perks | Link |
| 70% Coupon | 70% off for the first month | Click Here |
| 20% Coupon | Extra 20% of savings on Select Study Items | Click Here |
| 30% OFF | Straight 30% off on Chegg | Click Here |
| 20% OFF | Straight 20% off on Chegg | Click Here |
| Coupon | Free Shipping on any order | Click Here |
| $10 Coupon | 10% off on the first month of the Chegg Study Pack | Click Here |
| 25% Coupon | Extra 25% of savings on first month Study Pack Subscription | Click Here |
Recently Featured Chegg Promotion Codes & Coupons
You can also take a look at the recently featured Chegg discounts for students as Chegg might make them available again.
| | | |
| --- | --- | --- |
| Coupon Available | Perks | Link |
| 40% OFF | Straight 40% off on Chegg | Click Here |
| 90% Deal | Save up to 90% off Biology books | Click Here |
| $35 Coupon | $35 off on any purchase | Click Here |
| $10 Deal | Buy Chegg Math Solver at $10 per month | Click Here |
| 95% OFF | Save up to 95% Off the 20th Edition Economics Book | Click Here |
Most Used Promo Codes
Below are the promo codes that are frequently used by students for their benefit.
| | | |
| --- | --- | --- |
| Coupon Available | Perks | Link |
| 90% OFF | 90% off on all Textbook rentals | Click Here |
| 20% OFF | Up to 20% off on Chegg Study Pack membership | Click Here |
| 30% OFF | An extra 30% off on any product and service. | Click Here |
So, you can avail of the coupons or promo codes to get a Chegg student discount on a Chegg subscription cost or if you need free shipping for a book.
Notes
The coupons and deals mentioned above were only available around the date of publication. You may find some coupons/deals expired or some new exciting ones later.
FAQs
Ans: If you're a college student, you can seek help from Chegg Tutors, as it offers 30 minutes FREE to all new students.
Ans: The minimum price you can pay as a Chegg subscriber is $14.95 per month. You can purchase the Chegg Study plan with it.
Ans: If you fail to verify your account as a valid student just contact the company directly, they may ask for other verification proofs and verify you as a student later.
Ans: Some discounts are only for one-time use and some can be used each time you get them.
Ans: Tutors on Chegg get their payment on an hourly basis and on an estimate a tutor earns about $20 per hour.
Ans: No, there's no cashback option if you're buying anything from Chegg.
Sources
Wikipedia – Chegg
Forbes – Chegg Coupons
Glamour Deals – Chegg Promo Code – Save 70% in May 2023
Quora – Is there a Chegg free trial?
---
Also Read: