Many small businesses started, and some even got famous during the time of COVID-19; they have started to get recognition like they didn't before.
The number of employees increased with the rise in startups and businesses. However, due to the pandemic, most of the employees worked remotely. And hence, many businesses felt the need to have the security of data.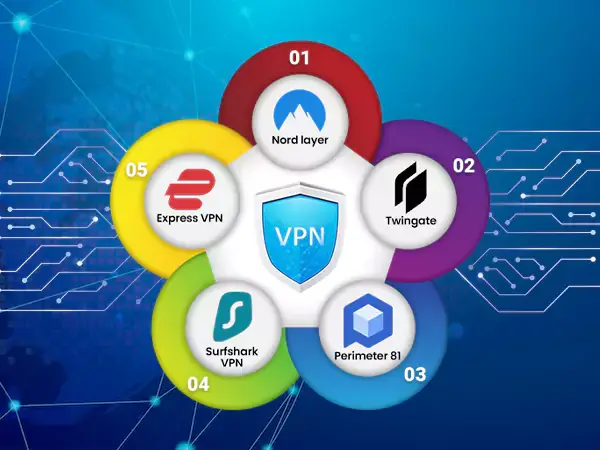 So this is where the business VPN steps in. As many businesses struggle to find the right business VPN, some don't understand the concept itself.
If you are an aspiring business owner or know someone similar, read on. In this article, we are going to explain the best VPNs for business, their comparison, and how you can find the best one by making the right choice!
An Overview of Business VPN
Just like a VPN, short for Virtual Private Network, is used by individuals to protect their privacy with a VPN server, the same can be done for businesses as well. After all, it is the best way to keep the data secure in transit.
Business VPNs make it easier for small businesses and organizations to keep their remote workers connected to them in a safe and secure manner. As there is a secure internet connection between the employees and the business, the privacy and the data will stay protected.
A business VPN especially comes into the picture when the employees working remotely have to access the restricted files of the organization, and the data has to be protected and kept safe. It is done with the help of a business VPN, as it encrypts the internet traffic and data despite the data being intercepted.
There are various businesses that keep access to the data restricted with the help of static IPs, which means only one IP address will be used for getting access to the files and data. So it is important to make the right investment when it comes to business VPN, considering the top VPN usage tips.
To help you figure out the right business VPN from the good lot, we will be providing a list of the 11 best business VPNs that you can pick from in the following section.
Best VPN for Business
Now, heading over to the part that most of you are here for – the best VPN for business! Below is a list of VPNs in business with their brief, features, and prices.
When it comes to VPNs, a familiar name that rings the bell is Nord VPN. Earlier known as NordVPN Teams, Nord Layer specializes in providing secure remote access to the office network and the internet.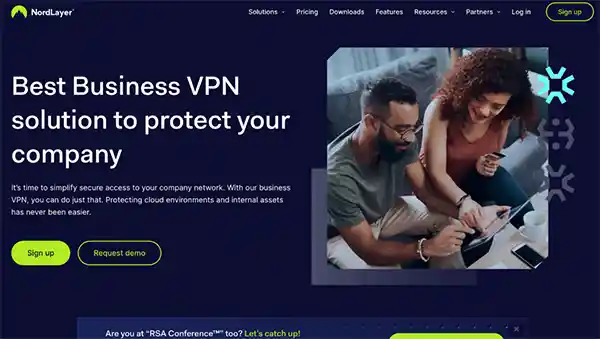 Strong Security
Cloud VPN
Site-to-Site VPN
Remote Access
Team Permissions
Centralized Billing
It offers a basic plan for $7 a month and an advanced plan for $9 per month. One can also contact them to get a customized plan.
If it is about unblocking streaming devices, AdGuard VPN does a great job. Its setup isn't complicated either and offers a decent range in the number of devices, compared to other VPN services out there.
10 simultaneous connections.
Choice of filtered/unfiltered apps in the device.
Blocks the internet access completely if connections get exposed.
Cheaper than most of the other VPN services.
Its monthly plan is $11.99, followed by a 1 year ($3.99/per month) and 2 years plan ($2.99/per month).
Even though Express VPN doesn't exactly offer a business plan, it is one of the best consumer VPNs out there. It works on almost every device and gives users a good time using it. The simple and easy-to-understand layout helps to get an idea of the basics right away.
Outstanding encryption.
Servers in 94 locations.
Works on most devices.
Kill switch is ultra-reliable
Secure DNS helps in protection from internet traffic.
It offers three subscription plans divided into a one-month plan ($12.95/month), a six-month plan ($9.99/month), and a 12-month plan ($8.32/month).
Another business VPN that one might want to consider is Surfshark VPN. It is full of privacy features and has secure protocols. Compared to the rest of the VPNs available, it is cheaper in price. Interestingly, there are more advantages of Surfshark VPN.
Easily accessible
Protects data and makes it secure
Available for various devices
Data and information are not exposed to malicious software
It costs around $12.95 a month, followed by a yearly and 2-year plan too.
What makes Perimeter 81 different from most of the other VPNs in the list is its specialization in being a business VPN. It lets businesses get securely connected with their employees safely.
30-day-money-back guarantee
Can control access rights
Application fencing provided
Protection for cloud accounts
The Perimeter 81 has four plans – Essentials at $8 a month, Premium ($12/month), Premium Plus ($16), which is apparently their most popular plan and Enterprise where you can talk to them about customizing any plan.
If you are someone who is new to the business VPN search, Atlas VPN can be the right choice for you. Since it is a beginner-friendly VPN, it focuses on being private and secure. It has various good features and has a good command of unblocking streaming devices.
Impressive connection speeds
Privacy protection
Security Shield
Lets users stream seamlessly
Access to various servers globally.
Atlas VPN offers a monthly (10.99 USD) and a 3-year subscription (71.49 USD). Pretty straightforward!
Just like the rest of the VPNs, VPN Unlimited also uses 256-bit AES encryption, but when it comes to privacy and security, VPN Unlimited is completely safe. This VPN in business has many benefits, and one of them is its ability to reset, hide your IP address, and give you a new one.
Provides trusted networks
VPN servers worldwide
Privacy and data security
Anonymity
Access to blocked content online
VPN Unlimited has three plans, monthly ($9.99), yearly ($5.00/month), and a lifetime ($99.99) one. There is another plan as well named MonoDefense 1 Year in which you can get added benefits by paying $1.67/month more.
With plus points like no data logging and giving a great experience while streaming Netflix, Proton VPN is a secure business VPN. It encrypts all the web traffic and replaces the IP address which makes it less likely to get hacked if one is using unknown or public Wi-Fi.
Access to blocked content
Has a strict no-logs policy
NetShield Ad-blocker
Speed up to 10 GBPS
P2P/BitTorrent support
Just like most of the other business VPNs, Proton VPN also has three plans – monthly, year, and a 2-year plan. But here's the twist! The users get to make a choice out of two options in every plan, that is, the VPN Plus ($5.99/month), which they claim to be their popular plan, and Proton Unlimited ($9.99/month).
Cyber Ghost has set a benchmark for itself with its no-logging policies. What makes it even better is that it does not access and share the users' data. It costs $12.99 a month and is often compared to Nord VPN, despite not being as popular as the latter. And so, there are various comparisons made for Nord VPN vs. Cyber Ghost.
256-AES encryption
Supports multiple devices
Automatic Wi-Fi protection
24/7 customer support
Cyber Ghost offers a monthly plan priced at $12.99, with two other plans which are for 6 months ($6.99/month), and a 2-year + 2 months plan ($2.19/month).
To be really honest, Strong VPN isn't the best when it comes to fast speeds. But its plus point is that you can run it almost anywhere. It even lets you connect up to 12 devices simultaneously and gives a whopping 250 GB storage of SugarSync cloud. Now that's a good deal!
No WebRTC, IP or DNS leaks
Reliable speed
P2P and torrenting access on all servers
30-day-money-back guarantee
No-logs policy
It comes with a monthly plan of $10.99 and an annual plan of $3.66 (Billed $43.99 a first year) with a 30-day-money-back guarantee.
TorGuard is an expert-level VPN if you are looking for a business VPN that gives good configuration. Despite having a slightly complex interface, it has advanced features along with great apps. It supports the use of up to 8 devices simultaneously. So that's a plus too.
TorGuard has two anonymous VPN plans; one is monthly at $9.99 and the other is a yearly plan for $59.99 a month with a 7-day money-back guarantee.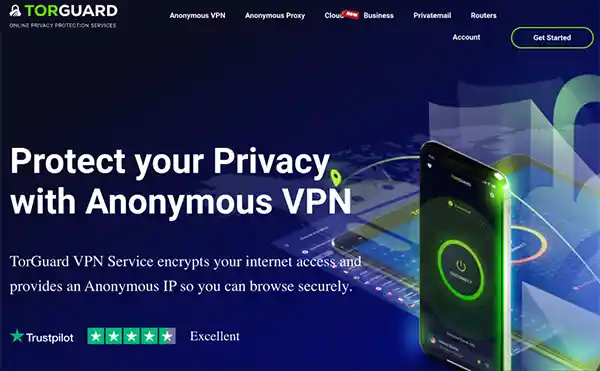 Big number of servers
One of the fastest VPNs
Use of up to 8 devices supported at a time
Powerful kill switch
So these were some best business VPNs to help you get an idea of what they have to offer. We are also going to provide a comparison table below for business VPNs, so it is easier for you to go through their features and ratings.
Comparison Table of VPN Price and Features
Now we are going to compare some of the listed VPNs on the basis of their vital features and pricing as well. Let's see who turns out to be the winner!
| | | | | | |
| --- | --- | --- | --- | --- | --- |
| Business VPN | Website | Total Servers | Average Speed in MBPS | Pricing (Per Month) | Editor's Rating ⭐ |
| Nord Layer | Nord Layer | 30+ | 100+ Mbps | $7.00 | 4.5/5 |
| AdGuard | AdGuard | 1,000+ | 90+ Mbps | $11.99 | 4.2/5 |
| Surfshark VPN | Surfshark VPN | 3,200+ | 58.46+ Mbps | $12.95 | 3.9/5 |
| Atlas VPN | Atlas VPN | 1000+ | 200+ Mbps | $10.99 | 4.6/5 |
As per the research and use of the listed VPNs given in the comparison table above, the business VPN that suits most of the requirements and the one we recommend is Perimeter 81.
With good pricing and a pretty decent number of features, Perimeter 81 stands at a good position in the chart and has a lot to offer much lesser pricing compared to the rest of the business VPNs.
Difference Between Consumer VPN and Business VPN
Even though the aim of a business VPN is almost the same as a consumer VPN, that is, to keep the user's data and privacy secure, there are still some notable differences between the two.
| | |
| --- | --- |
| Consumer VPN | Business VPN |
| Designed to conceal or hide the user's IP address. | Build with the aim of keeping access to data limited and restricted. |
| Consumer VPN apps are usually built with the idea of being used by a single individual to protect their privacy. | A business VPN can support multiple users at the same time, and sometimes the admin and control the other users as well. |
| Consumer VPN isn't the best choice when it comes to the indicator of identity since it gives a single IP address that can be shared by various users. | Business VPNs provide a single and dedicated IP address to only be used by a limited number of users, which increases the security factor. |
These are some points that may help in understanding the difference between consumer VPN and business VPN. The major basis of the difference between the two is basically personal and business use. Now, let's have a look at the points that might help in making the right choice for choosing the best business VPN.
How to Find the Best VPN for Business?
As every business has its own different requirements needed from a business VPN, depending on the business type, there are different features that one may look for in the business VPN.
There are some points below that might help one understand the essence of choosing the best business VPN for their business.
The first and foremost thing to look for in a business VPN is the privacy and security that it provides.
The business VPN that you are going for should be easy to use.
The VPN should be business oriented and have a good speed.
Make sure that your business VPN has strong encryption.
Check the different features to suit the requirements of your business.
Get a business VPN that allows private internet.
Ensure that you have a dedicated static IP address on a personal server.
Only invest in the business VPN that provides you value for money.
Searching and selecting a good business VPN depends on your business type and what kind of VPN properties it requires. So choosing the right one can vary from business to business, and you can go for it based on the factors listed above.
Conclusion
There are many businesses that have remote works that, at times, require having access to the private files or data of the business. Hence, protecting one's business data that may be sensitive is of utmost importance. And so, having a business VPN that promises to provide the best security and privacy is a must.
Before selecting a business VPN and deciding on finalizing it, there are a few things to look out for before getting a VPN, depending on their business type. So to help the readers in making the right decision, the article focuses on providing a list of the best business VPNs and making a fair comparison of them with their prices and features.
FAQs
Ans: The answer to this depends on what type of business one has. If it is a small-scale business, a good consumer VPN might do the job. However, consolidating payments and assigning or revoking accounts might not be possible if it is not a business VPN.
Ans: Here are some of the features that one should consider while looking for a business VPN:
Strong encryption and security.
Scalability
Well-designed dashboard
Support
Certified network administrator
Segmentation
Ans: Most business VPNs cost around $7-11 on a monthly basis.
Ans: VPNs are legal in some countries like the US, Canada, Europe, and India as long as they aren't used for illegal purposes. However, the use of VPNs is banned in countries like Russia and China.
Ans: In order to have access to blocked websites and protect their business from any possible security breach, the companies use VPNs. This way, only a limited number of employees can have access to private data.
Sources:
---
Read More: