For the best gaming experience, a trusted source of gaming headsets is beneficial. Headphones with the best sound system, battery backup, noise cancellation, convenient controls, and design remain the priority for most gaming users.
Astro is a trusted name for building reliable and sturdy gaming headsets. Astro A40 has got balanced features from the flashy premium design to appropriate breathability, which promotes long gaming sessions. One may get a little disturbed by the call/music control system; nevertheless, the in-line remote provides multiple other controls.
Audiophiles will be pleased after meeting this excellent built-quality headset Astro A40 TR reviews which includes brief specifications, a pros and cons chart with customer reviews, and price details.
Specifications of Astro A40
Astro A40 TR is speculated to have the best noise canceling capabilities with a decent soundstage. This headphone model is also renowned for providing comfort and stability so let's acknowledge its specification by the convenient table.
| | |
| --- | --- |
| Features | Specifications |
| Style type | Over-ear |
| Wireless | No |
| Weight | 0.83lbs |
| Clamping Force | 0.9lbs |
| Call/Music Controls | No |
| Volume Controls | Yes |
| Microphone Control | Mute/Unmute |
| Channel Mixing | Yes |
| Price | $218 |
| Year | 2015 |
| Noise Cancelling Controls | No |
| Additional Controls | Presets and surround sound |
| Bass | 2dB |
| Treble | 4.29dB |
| Battery | Passive headphones(Battery not needed) |
How Good Are Astro A40 TR + MixAmp Pro 2017 Headsets For Gaming?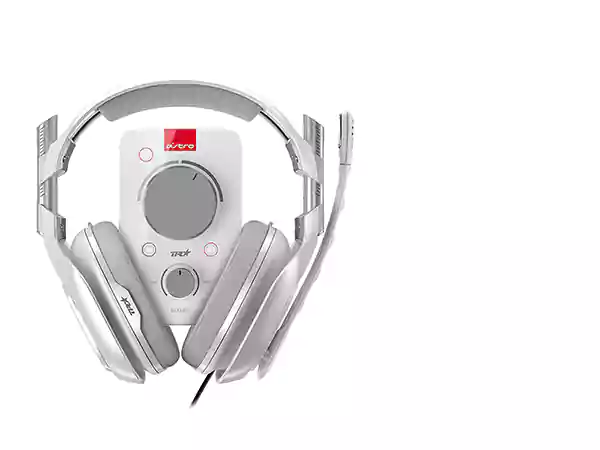 What do the best gaming headphone sets sound like? Majorly users desire the most comfortable headset cups with adjustable headbands and noise-cancellation properties.
Features of Astro A40 TR
This Astro-based headset provides unmatched performance from the built design to the best audio production. A comprehensive extended detailed feature of this headset is studied below to justify its worthy existence.
Design: These wired headphones have a sturdy design with a bulky and flashy layout. They stand out from the Astro A50 model as you can easily remove the mic and feel confident with the upgraded headphone design version. Astro A40 TR Headset + MixAmp Pro 2017 has a competitive look among the other present models.
Weightage and Clamping Force: The weight of 0.83 lbs is a rather bulky version. Gamers will love to fit in a comfortable cup of a large and spacious size. The soft ear cup with the padding headband provides the fittest look where the bulky size is perfectly balanced. Once stays far from discomfort while wearing it, thanks to the clamping force of 0.9 lbs.
Controls: We all desire an active control system in headphones, and guess what? Astro A40 TR MixAmp Pro 2017 is gifted with the best quality gaming voice control. Unfortunately, gamers do not get call and music control management, which should not bother the gaming geeks much. The in-line remote control gives access to the mic-mute button. One also gets a volume knob, power button, and channel mixing for providing a mix of chat and game audio.
Sound Quality/Sound Range Performance: some fall for the built quality, while some require an awesome sound quality in their next desirable headsets. Well, the Astro A40Mix Amp Pro 2017 headphone model won't leave any complaints and rather provides a decent sound range performance.
The bass frequency, treble ranges, and low-frequency extension are excellent compared to the other competitors. You may experience thump and rumble with a boomy and muddy bass response, and most probably will be loved by many users.
Breathability: Technically, for noise isolation, we require the best headphones configuration(perfect-built, including cup size and headband), but a bulky set makes it inconvenient. One cannot hold Astro A40Mix Amp pro-2017 for too long. Nevertheless, the pad has a great seal to maintain the airflow. Sports users are not recommended to use it because of the heavy size and bulky background of this Astro headset.
Portability: You can easily remove the mic whenever you want, as the cups in A 40 MixAmp pro-2017 model cannot be changed into a compact form but can be swiveled to lay flat. It is highly preferred to use these headsets only for gaming rather than for any physical activity or sports event.
Built-quality: Astro has invested a lot in the built quality as we can easily gauge the sturdy premium build-up of the headphones. It's an exquisite headset model where the cups can survive various accidental moves. The plastic headband is partially hollow but a little resistant in comparison with the headsets with a metal frame.
Microphone Style: The mic has an excellent quality that transfers clear sound and speech across. The boom microphone is removable and is attached to the left ear cup. Its low-frequency extension(LFE) of 20Hz and HFE with 4.6kHz is decent. The microphone may create a little muffled voice tone due to a lack of openness.
Drawbacks in Astro A40 TR MixAmp Pro 2017
Though Astro-A 40 TR headphones might have tempted you with highly tempting built-up and a stupendous sound quality and microphone setup, there are some drawbacks that should be heard too. For example,
Unpleasant for Physical Activities: The headphones may be a portable set with breathable air cups, but you cannot consider these headphones for sports activities or too much movement.
Weak Control System: There is not much volume control with the in-line remote but chat, and music control is essentially required in multiplayer gaming sometimes.
Worst Noise cancellation: Being open back makes headphones' noise cancellation abilities worse. You may suffer a lot while being in an open and loud environment.
Pros and Cons
A novel approach to the pros and cons chart will give you a clear gist of the Astro TR headset.
| | |
| --- | --- |
| Pros | Cons |
| Excellent midrange and high-bass | Poor leakage performance |
| Decent Soundstage | Bulky built-up |
| Convenient to wear | Noise cancellation is poor |
| Better performing microphone | Expensive |
| Awesome breathability | |
Should You Buy an Astro A40 Headset?
The top reason to buy this headphone model would be its efficient sound system with breathable earcups, and a cool build-up (appearance). Though it's a rather expensive option among the various competitors present in the market, the soundstage accuracy with the combination of a perfect design is hard to be matched.
Yes, It is one of the best options for current gamers' needs, but not for the person who does many physical activities because the bulky design with the 0.9 lbs clamping force will be completely inconvenient. You may struggle a lot by fixing it every time you make some large movement.
Customer Reviews & Price Details
The customer review through the rating chart has been drawn to have a quick look at the various benchmarks which counts the efficiency of this gaming peripheral.
| | |
| --- | --- |
| Feature | Rating |
| Design and Built | 5 / 5 |
| Microphone | 4.5 / 5 |
| Sound Quality | 4 / 5 |
| Portability | 3 / 5 |
| Controls | 3.5 / 5 |
| Breathability | 3.8 / 5 |
| Comfort | 4.5 / 5 |
| Price | 2 / 5 |
Binding Thoughts
A gaming nerd will definitely go for buying this perfect headphone with unmatchable sound stage, pro-quality built up, awesome microphone attached with a decent range performance, but the $218 price is a bit hefty. Various competitors like LucidSound LS31 Wireless headset have competing features and are a prize-worthy option in comparison.
FAQs
Ans: TR in Astro headset is "tournament ready," as it is appreciated among the masses for providing the best multiplayer experience.
Ans: The open-back enclosure makes the noise control a little worse, but the microphone has the best noise-holding capabilities.
Ans: In the box, you are provided with the headset, MixAmp Pro, daisy chain cable, USB to Micro USB cable, ⅛ TRRS cable, optical cable, and a manual.
Ans: The four different modes on Astro MixAmp are Astro+, Bass, Natural, and Tournament to provide different headset sound experiences for the users.
Ans: Yes, through the stream port(secondary output) you can connect a set of speakers with Astro MixAmp.
Also Read:
11 Top Notch Gaming Laptops for Sims 4 in 2023 – Complete Review
Best 7 iPhone XR Card wallet cases in 2023
7 mistakes to avoid when reselling your Mac