ASTRO Gaming has been entertaining its audience with gaming lifestyle technology that commits to improving the gaming experience of users. It discovered itself the part of the multi-brand company Logitech, working crazy for the past 11 years and successfully bringing numerous professional gaming equipment.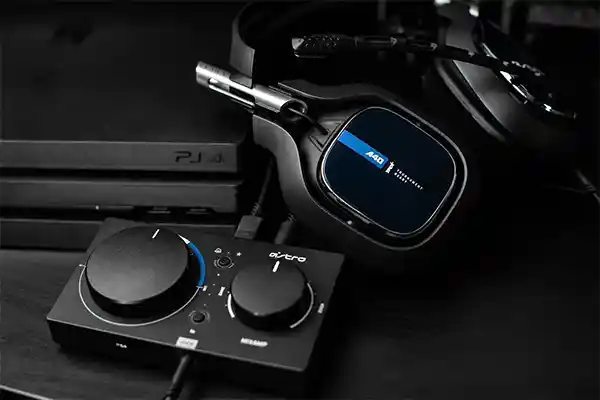 Astro is advancing the world of video gaming and in this article, we will discuss one of its gaming headsets, "Astro A40 TR Headset + MixAmp Pro 2019" speculated to be evolved from Astro A40 TR Headset 2017 version. Let's watch its specifications first and get an insightful overview of its features and quality.
Key Takeaway: The Astro A40 TR MixAmp Pro 2019 model has excellent sound quality from bass, and treble to the mids ensuring the best gaming experience. You will find sturdiness in its look. Users can suffer most probably from its noise isolation properties, which is usually experienced in open-back headphones.
Specification Table of Astro A40 TR Headset + MixAmp Pro 2019
Astro TR Headset + MixAmp Pro 2019 gaming peripherals are highly preferred for the noise cancellation and best sound support when connected with the system. The table below is about the specifications of the gaming headset.
| | |
| --- | --- |
| Features | Specifications |
| Type | Over Ear |
| Enclosure | Open-Back |
| Year | 2019 |
| Wireless | No |
| Clamping Force | 0.9 lbs |
| Microphone | Yes |
| Call/Music Control | No |
| Volume Control | Yes |
| Noise Cancelling Control | No |
| Weight | 0.82 lbs |
| Price | $ 250.0 |
After watching the specifications a discussion on these features will help us scale the capabilities of this gaming Astro A40 TR 2019 version.
Discussed Performance Benchmarks
In the headset box you will most probably find Astro A40 TR headphones, MixAmp Pro, USB to micro-USB cable, 1/8″ TRRS cable, Optical cable, Daisy chain cable, and Manuals. Let's walk through the benchmarks and have a brief discussion on the performance and capabilities of this gaming headset.
Design: The design is practically identical to previously launched headsets. The only difference is, the new look has more premium touch with an all-black frame and the MixAmp now sits whole horizontally. The headphones can be customized by swapping the speaker tags and removing the mic for a more casual look. The most fantastic fact is that there are various options in colors and designs to try.
Weight and Clamping Force: If you were looking for a companion for your long-hour gaming sessions, Astro A40 TR 2019 have commitments to make. They are extremely comfortable, thanks to their soft padding and large spacious cups. Never mind the bulky construction of the headset, but that too is distributed evenly across its configuration.
Control System: Being specially designed for gaming, these headphones don't allow any call and volume controls specifically. Though, one gets a mic mute button in the in-line remote that comes with it. The audio cable connected to MixAmp allows various other controls like a volume knob and a channel mixing knob. There is also a button that allows you to move across the EQ presets and enable/disable Dolby Surround Sound.
Breathability: Technically, these Astro A40 headsets are quite breathable. Being an open-back type, they still trap a considerable amount of heat in comparison to closed-back headsets. For the same reason, it is not preferable for gym freaks, jogging, and trekking because they are not ideal options for any heavy sweat exercises.
Build Quality: The build quality is quite impressive and strong. It is identical to the previous headphone designs. The earcups are quite dense which makes them super comfortable and would survive multiple accidental drops without any damage. The headband is flexible and doesn't provide any resistance. Embarrassingly, they are not water resistant, which is an essential feature of a headset.
Sound Support: These Astro A40 models are loved for providing awesome sound quality with the best sound effects for gamers. The mid-range is balanced, which rather provides a bit of dark and veiled sound, and the dialogue sounds clear due to this. You can highly consider these headphones for podcasts and online learning sessions but not for the office or gym.
Frequency Response: The headset has a decent frequency response with consistent mid-range delivery. The bass and treble delivery depend on the fit and positioning of the headphones, thus you can experience a drop in the sound quality. A good fit can surely provide you with the best sound response.
Noise Isolation: The noise isolation property of the headphone is quite dissatisfying due to their open-back type. They won't be able to isolate you from the environmental disturbance or the transport engine sound. They aren't suitable to be used in a noisy environment.
Pros and Cons Chart
The table below will shortly illustrate both the excellency and downside of the Astro A40 TR Headset + MixAmp Pro 2019 and help understand the real functions performed by it.
Sturdy Design
Effective Clamping Force
Stable while sitting and gaming
Awesome passive soundstage
Good build quality
Multiple colour options
Little Bulky Outlook
No Call and Music Controls
Don't compact to be carried along
Audio cable might snag
Poor noise isolation
After looking at the pros and cons, you may be able to figure out the substantial performance of the Astro A40 headphone in brief. Now, let's hear some criticism on the gaming headset and get a gist of its performance on the ground.
Criticism Around Gaming Headset Astro A40 TR 2019
Here are some of the criticisms the gaming headset Astro A40 + MixAmp Pro 2019 has received.
They don't compact and thereby are not an option to be used out and about. Meanwhile, the earcups can swivel to lay flat and the mic can be easily detached.
Not breathable enough and can surely cost a lot of sweat in return.
The audio cable is a problematic element as it can snag on something, causing the headphone to pull OFF. Interestingly, the cables are detachable too.
The headphone's sound quality has been found to be changed after using it through the USB on the Xbox series.
As the headphone Astro A40 has a disturbing noise cancellation feature, one should look for other options for having an exemplary gaming experience.
There are huge sound leakage issues with the headphone, though the sound quality is fantastic while playing or conversing the voice can be heard out.
Astro A40 TR 2017 Vs. Astro A40 TR 2019 Version
It's imperative to compare the Astro A40 TR 2019 model with that of 2017, which will provide the user a clear view of choosing a capable gaming companion for them.
The Astro 2019 version is lighter than the 2017 model which makes it more portable and comfortable while used for long hours of gaming sessions.
After watching the features and construction, Astro A40 TR 2019 seems much more expensive than the competitors.
Both the headset models have a competitive look and design, with a bulky look, embarrassing breathability, and considerably zero noise cancellation qualities.
The control system in Astro A40 + MixAmp Pro 2019 is quite decent with various buttons to have sound, volume, and chat controls whenever required through the cables or the in-line remote.
Should You Give It A Try?
It is quite clear that the headphones are quite decent with perfectly modernized design, awesome sound performance, and robust quality, but issues like least noise isolation, quite worst breathability, and quite an expensive price make it similar to its old models.
The open-back model brings it a mess and poor leakage performance therefore bad sound quality, but the control system is highly appreciable which makes the game's sound and the audio separately audible.
Users cannot experience joy while having lengthy gaming sessions, and they are also not suitable while watching TV, and are least recommended for sports and gym enthusiasts.
Closing Thoughts
The article tried to bring a credible discussion on the Astro A40 TR + MixAmp Pro 2019 headset through a pros and cons chart, scaling benchmarks, specification table, and critical points. This might help you make a suitable decision on whether or not to choose this Astro Gaming A40 TR 2019 model for your next online gaming sessions.
FAQ
What does TR in the Astro A40 TR + MixAmp Pro 2019 signify?

The term TR signifies "tournament ready" as it is loved among the masses for providing the best gaming experience.
Is the treble frequency of the Astro A40 TR 2019 model decent?

The treble frequency is of mediocre quality as the low treble range lack details and the sound seems veiled. The treble also depends on the size and fit of the user, so it may depend on the positioning of the headphones too.
hat is the boom mic recording quality of Astro A40 Mic?

The headset's boom mic is quite incredible as the recorded voice sound is deep, full, clear, and easy to understand.
How are headsets different from headphones?

Headsets are simply headphones with a microphone connected to it.
What are some of the important features that are scaled for a perfect gaming headse .

The primary important benchmarks are the built quality, microphone performance, noise isolation, and comfort.