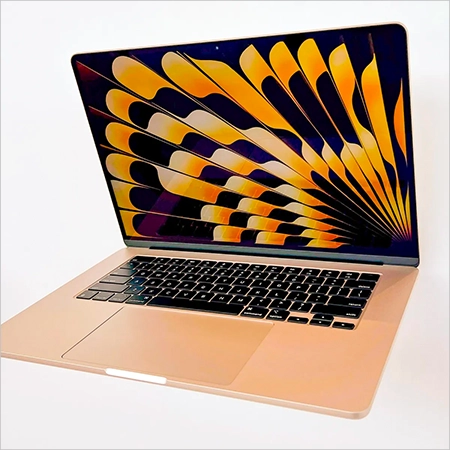 Apple has been elevating the expectations of its users every year with new launches. For example, a few days ago, on the 5th of June 2023, during Apple's worldwide developer conference, this new Mac launch, the MacBook Air 15-inch, was introduced with highlighted specific changes in camera quality, audio, or camera pixels and many other features.
As shared by Apple's Senior Vice President John Ternus, "We're thrilled to introduce the first 15-inch MacBook Air. With its incredible performance and striking design, the new MacBook Air is the world's best 15-inch laptop. And it's only possible with Apple Silicon".
In the article, we will be learning about the new features of the Apple MacBook 15-inch, which has also joined the queue of the lightest laptops of 2023. Information regarding the release date, prices, availability, and much more is also provided. Without any further ado, let's begin.
Enchanting Features of 15-inch Apple MacBook Air
So, not just the screen size of the new launch been altered, but various other features like processing, portability, and price have also shifted. Let's learn about those changes one by one.
Display: Bigger display laptops are currently the talk of the town, and so has Apple tried extending its previous MacBook Air 13-inch model into 15 inches liquid-retina display. The brightness of 500 units is similar to previous models like Apple Air MacBook Pro 2020. This is a slimmer version in the market available with only a 5mm border, easy to slip into its bag. Apple considers its Mac Air launches the world's biggest-selling laptop, whereas the new launch of the 15-inch Mac Air also promises to stand on those expectations.
Keyboard: The Magic Keyboard is known for its less noisy keys, which promotes smooth working throughout. Whereas there is a touch-ID too to unlock the screen, plus the power button is charged by a MagSafe charging port.
Processing: There are no major changes to be seen in the new 15-inch MacBook Air due to the same M2 chip, custom-designed Apple chips for impressive performance, plus a 10-core CPU and 10-core GPU. Together the Mac 15-inch model has smooth liquid processing, giving users the best experience throughout. With the fastest Intel-based Mac, users will be astonished by its 12× faster performance.
Camera: Face-time camera is an essential need, and the 15-inch MacBook Air has got major changes in it. Yes, this time, users get a 1080p Facetime camera capable of holding peaceful video sessions or meetings other than the previous degraded quality of 720p in previous Mac models.
Ports: There are no major changes in the availability of ports in Apple MacBook Air 15-inch models. Users get a MagSafe charging spot, a 3.5mm headphone jack port, and two Thunderbolt ports, too, for other helpful connections. Therefore, the ports are numerous to connect with other possible devices.
Battery Life: This 15-inch MacBook with efficiency cores is going to deliver seamless performance for up to 18 straight hours, beating previous models like MacBook 12in M7. While the MacSafe charging port is one of the coolest parts of the Mac, with fast-charging support.
Speaker: With the new launch, speaker quality has also been improved with 6-speakers this time instead of four. Users can have the best FaceTime experience, and video calls with a three-mic array for clear audio throughout. The six-speaker sound system comes with two tweeters and two sets of force-canceling woofers, providing a worthy sound experience throughout.
After learning about the features of Mac Air 15-inch, it would be interesting to know about the release date of this mind-blowing discovery.
Release Date of 15-inch Apple MacBook Air
Apple made its 15-inch Apple MacBook Air launch announcement on the 5th of June, 2023. This product is speculated to come on the market by the 13th of June, Tuesday, 2023. Users can tighten their seat belts to grab this first epic launch with pleasing features and quality.
Interestingly, users can rummage through various online stores like Amazon, eBay, and BestBuy to find the best offers on the market.
Price and Availability of 15-inch Apple MacBook Air
Of course, the price of this model will be higher than the previous Apple MacBook M2 model, which cost $1200 and above. The previous models have up to 8-core CPU and 8-core GPU, while this new launch of a 15-inch display might extend its price up to $2000, for sure, due to a 10-core CPU and 10-core GPU. There are various reasons for its high price because the quality of the camera, speaker, display, and ports-availability has been extended.
As the 13-inch MacBook Air with an 8-core GPU and CPU carrying 8 GB of RAM plus a 256GB SSD has gone down to $200 off, the 15-inch MacBook Air price will surely get short till next year, 2024. Users can either wait for short prices or run to stores on the 13th of June this year to grab the first launch itself. The Apple website also allows users worldwide to book their slot if they are interested in grabbing the first 15-inch Mac.
Why Should One Buy a 15-inch Apple MacBook Air?
There are surely various reasons that might bind a user to the decision to buy a 15-inch Apple Air MacBook. Some of them are listed below.
In order to have the experience of a big display with much resolution power, users can really consider a 15-inch Mac as their next 2023 purchase.
As the FaceTime camera quality has been extended to 1080p instead of 720p, the 15-inch Apple Mac is definitely a nice deal for working professionals.
With the same M2 chip, the battery backup has reached up to 18 hours of long continuous support, perfect for gaming users.
A fine smooth keyboard experience and multiple port options in a 15-inch Apple Mac draw it as a steal deal for the current generation.
These were some of the pretty reasons to buy a 15-inch Mac Air this year.
Closing Thoughts
The new launch announcement by Apple must have gotten an adrenaline rush in various users' systems, and why not this time with a much-enhanced display and performance quality? With a speculated release date of 13 June, 2023, the Apple MacBook is currently the top trending product in social media, whose price and release are awaited. Users who can invest up to $800 more in a big 15-inch display, camera quality, and speakers should definitely wait for its release date in the market.
This product is going to be helpful for working professionals, gamers, and video editors because of its outstanding features. Otherwise, users under budget can either wait for the sale and offer time or buy the same M2 chip Mac but with a 13-inch display, which may cost only $1100-$1200.
FAQs
Ans: The Apple Worldwide Developer Conference was held between June 5 and 9 June 2023.
Ans: Currently, after the announcement of Apple, it is clear that a 15-inch display Apple Mac will soon be available to users. The speculated date is around 13 June 2023.
Ans: Yes, Apple has the 14-inch and 16-inch MacBook Pro.
Ans: Currently, the MacBook Pro 16-inch model with the M2 Pro and M2 Max chips is the largest Mac model available.
Ans: M2 Pro has the ability to work faster than M1 because the former has a 40% stronger neural engine plus a 20% faster CPU and 30% faster GPU.
Sources
Press Release, Apple Introduces the 15-inch MacBook Air, Apple, 05 June 2023
Dan Ackerman, MacBook Air 15-inch: Apple Just Announced Its Biggest Air Ever, CNET, June 5, 2023
---
Also, Read
MacBook Model A2251: Is it worth buying in 2023