If you are not familiar with the name, Xfinity is one of the top cable TV service providers in the USA. Most of the people get confused between Xfinity and Comcast, thinking it to be one and the same. And yes, that's true; Xfinity is the trade name of Comcast Cable Communications, LLC, a subsidiary of Comcast Corporation.
Xfinity is mainly known for offering internet, telephone, and wireless services and that's when people keep on searching for information related to Xfinity, its login process.
Before I proceed, here's the guide you need in case you want to know more about Comcast email- Guide to Log in to Comcast Email.
Here, you will get all the information regarding how to log in to an Xfinity account, and the issues that you might face on the way. So, let's jump in.
Sign In to Xfinity on Different Devices
On a Web Browser
You can simply log in to your Xfinifty email account on a web browser by following the steps listed further:
Launch a browser, go to my.xfinity.com and hit the 'Email' icon given in the top-right corner.
Alternatively, you can log in to your Xfinity account via Comcast.net as it will also direct you to the Connect.xfinity.com i.e., Xfinity login page.
Clicking on the link will direct you to the Xfinity login form; type in your Xfinity ID and password and then click on 'Sign in'.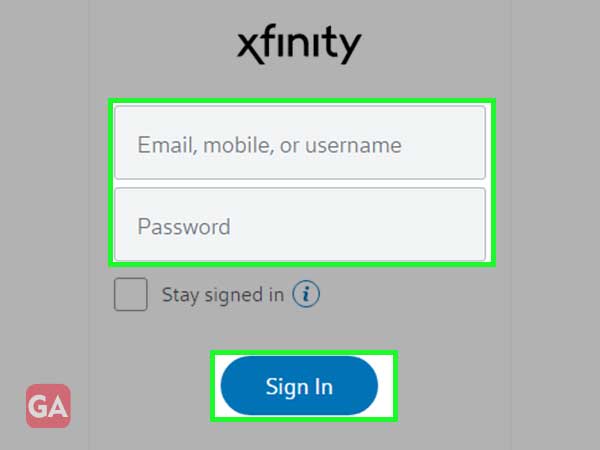 Upon entering the correct login credentials, you will be successfully logged in; thereafter, you will see Xfinity Connect, which is the dashboard of your Xfinity account; that's how you will be able to access Comcast email and voicemail service.
To access your email account at Xfinity, click on the 'Mail' button.
On Mobile Device
To log in to your Xfinity account on your mobile device, you will need the Xfinity My Account app; once you are ready with the app installed on your mobile, using your Xfinity ID (email, mobile, username), you can log in by following the given instructions:
Follow the links to download and install the Xfinity My Account app on your mobile device- Apple and Android.
Once the installation of the app is complete on your Android or iOS device, type in your Xfinity ID and password in the login form and tap 'Sign in'.
Once signed in, you can manage your account's settings whenever you want.
On X1 TV Box
You can even sign in to your Xfinity account on your voice-enabled X1 TV Box. For that, press and hold the microphone button on the remote and say "My Account."
Now, use the arrow keys of your remote to be able to access your account control.
The other way to log in is to press Xfinity on your remote control, go to 'Settings', and choose 'My Account'.
Troubleshooting Tips to Fix Xfinity Login Issues
With technology comes glitches; at times, you can face several issues with Xfinity while logging into your email account. This can happen due to entering an incorrect username or password, or the issue can be as minor as a network glitch. So, in order to fix the login issue, you need to know why the issue is happening in the first place; for that, go through the troubleshooting steps listed below and find what works for you:
1. Basic Troubleshooting
Follow these basic troubleshooting steps to fix the Xfinity login issues at their earliest level:
Make sure the device you are using to log in to your Xfinity account has access to the internet and is giving the required signal strength.
The device to be used for logging into an Xfinity account must have the updated operating system.
Check if the Xfinity official website is down for maintenance or is facing any outage; if this is the case, you need to wait till the issue gets resolved on its own.
If using the Xfinity mobile app, make sure it is up-to-date.
Also, ensure that the web browser you are using to access Xfinity's official website is supported by the brand.
To keep your account active, make sure to log in to your Xfinity/Comcast account once every 12 months. Not doing so can get it deactivated or inactive; this could be one reason, you are not allowed to log in. Under such situations, Comcast can also delete all your data, but it will notify you before doing so.
Important- If your account has been deleted by Xfinity, there is no way to get the data back of your account; you can only get your account back using the ID and password.
2. Recover your Xfinity Username
This has come across as the most common issue faced by most of the Xfinity users. If you are using the wrong email address or username to log in to your Xfinity account, you will be stopped from doing so. Fret no more, as Xfinity is kind enough to give you the option to recover your User ID by simply following the instructions listed below:
Mobile phone number
Email address
Social Security Number
And then click 'Continue'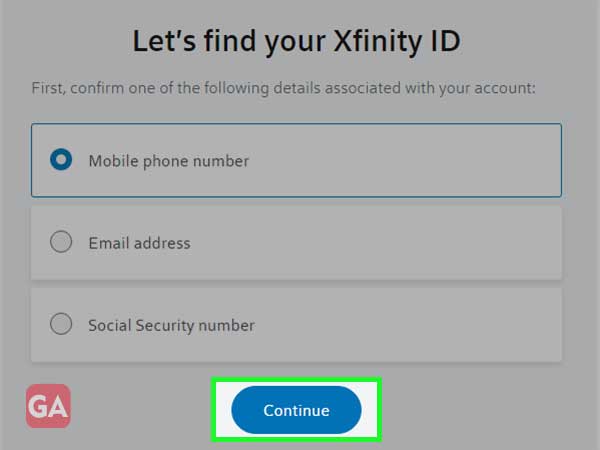 Thereafter, go with the instructions shown on the screen, and you will be easily able to recover your Xfinity ID.
3. Reset the Xfinity Password
The other most common reason for not being able to log in to your Xfinity account is entering the incorrect password, or you have forgotten it completely. Nevertheless, whatever is the reason, here is how you can simply reset your Xfinity password: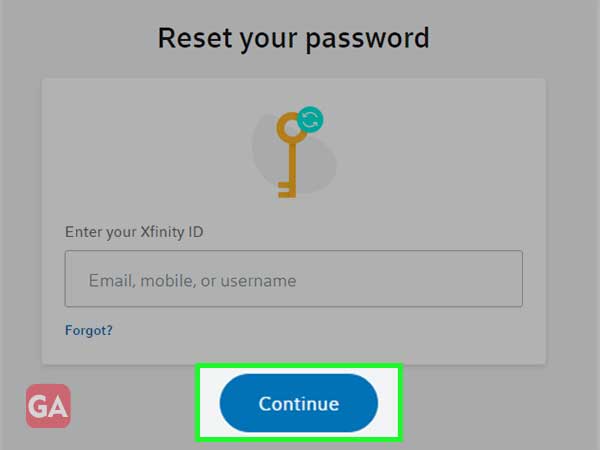 Go through the security check; click 'Continue'.
To reset the password, pick any of the following option:
Email Me
Text Me
Call Me
Answer my secret question
And click 'Continue'
Upon selecting the 'Email Me' option, you will receive the password reset link via email.
For the 'Text Me' option, you will receive a code via SMS.
If you opted for 'Call Me', enter the code provided on the call.
For the 'Answer my Secret Question' option, answer the question asked.
You will be allowed to create a new password for your Xfinity account once you have successfully completed the verification.