'Please verify your identity'– you must have read this phrase several times before, especially when working with email services. You need to verify your identity at different points when you use email service and that's done to ensure that only the authorized owner of the account i.e., you are making the changes and no one else.
To make it more secure, email giants like Yahoo have introduced an extra layer of security that is known by the name of two-step verification. In case you haven't read this term before, 'Two-step verification, is an additional layer of security that protects your account from unauthorized access. If you set up two-step verification for your Yahoo account, you or the person who is trying to log in will have to enter a verification code in addition to the password, mainly when using a new or unrecognized device'.
Similarly, Yahoo often sends verification links as well to your recovery email address; that is another way to ensure authorization.
Now, the good news is it offers security from hackers; the bad news is sometimes Yahoo may not send you the code, making you stay stuck on the login page or the password reset page even after being the legitimate owner of the account.
So, if you are wondering why Yahoo is not sending you the verification code and how to get out of this situation, this article has all the related information compiled in one place.
List of Yahoo Verification Code Problems
Before you begin with troubleshooting, have a look at the list of all the possible scenarios that you may experience due to Yahoo's verification codes, so that you can deal with it accordingly:
You are not receiving the verification code while resetting your password via text or email.
You are not receiving the two-step verification code.
The verification link or code you have received is no longer valid or has expired.
You can't receive the verification code due to lost recovery information.
Reasons to Face Issues with Yahoo Verification Code
The next important thing to do is to know what leads to issues with Yahoo verification codes and links; so that you can avoid making the same mistakes in the future:
One reason why Yahoo is not sending the verification code is you have entered incorrect recovery information or you no longer have access to your recovery phone number or email address.
Moreover, you need to enter a mobile number in order to receive verification codes; entering a landline number is not going to do the job.
The device you are using to receive the verification code is facing some hardware issues or doesn't have sufficient memory to receive the code.
Problems with Yahoo verification codes can also arise when the email with the code ends up landing in the spam folder of your account; as a result, you are not able to find it.
Steps to Fix Errors and Issues Related to Yahoo Verification Code
Here are the step-by-step instructions for you to start troubleshooting the problems you are facing due to verification codes sent by Yahoo:
1. Check the Yahoo Server
The first and foremost thing you need to do is to verify that Yahoo is working at its best or not by checking its server status. Yahoo servers can be down at times, due to which you may not receive any code from them. To check if Yahoo is down, go to this link- https://downdetector.com/status/yahoo/ and this website will tell you if every Yahoo user is facing issues, or it is just you. 
If Yahoo is down or facing an outage, you can only wait till their services get restored, and then you can request the verification code again.
2. Check your Internet
If it is not Yahoo, it can be your network that is not letting you receive the verification code only if you were expecting it on your recovery email address. So, ensure that your Wi-Fi or cellular data is working and is giving the required speed.
Also, ensure the email service you are using to get the code is not down, and you are able to receive emails on that. After ensuring all this, if you still didn't receive the code, move on to the next step.
3. Look into the Spam Folder
Many times, even the genuine email ends up landing in the spam folder of your account and this can happen with Yahoo too. So, whenever you think an email is missing, don't forget to check out the spam folder of your email account, and this goes for Yahoo as well. If you are not able to find the email with the verification code or link, make sure to check out the spam box as well.
4. Hit the 'Resend' Button
Whenever you request Yahoo for a verification code, you always get the 'Resend' button at the bottom of the screen. This is done as a preventive measure to avoid any sort of technical or network issues while receiving a code from Yahoo.
Hence, if a few minutes have already passed while waiting for the verification code, try pressing the 'Resend' button and see if this time you receive the code or not. The 'Resend' button gets activated after a few seconds of requesting the code, and you can even use it more than once. But keep in mind that even this option has a usage limit and may disappear after 3-4 attempts; in that case, you may be required to wait for 24 hours to get your next attempt.
5. Try a Different Browser
Just like all other email services, Yahoo even has its set of supported browsers and if you are using one other than from the set, Yahoo may not cooperate with you in the usual way. So, it is always recommended to use one of the browsers supported by Yahoo that include Google Chrome, Mozilla Firefox, Safari, or Microsoft Edge.
6. Check the Available Storage Space on your Device
If you have requested the Yahoo verification code through your recovery email address, make sure its inbox has sufficient storage space to receive incoming mails. You can try creating some space by deleting some unimportant emails and then try to get the code again.
If you have requested the code via text message, make sure your mobile device has enough internal storage to get a new text message. You can delete some of the old SMS that you no longer need to create some space for the new text messages.
7. Update your Recovery Information
You need to add recovery information such as an alternate email address or phone number in order to receive verification codes. Moreover, if you haven't updated the recovery information of your Yahoo account for a while and the information has gone outdated, you are definitely going to face issues while receiving codes.
To fix this, you will need to update your recovery information, but for that, you need to be logged into your Yahoo account. Check if you are already logged in to your account on a browser or the Yahoo Mail app, and then follow these steps to update the recovery information.
On a Web Browser
Click on your profile name in the top-right corner and then click on 'Account Info'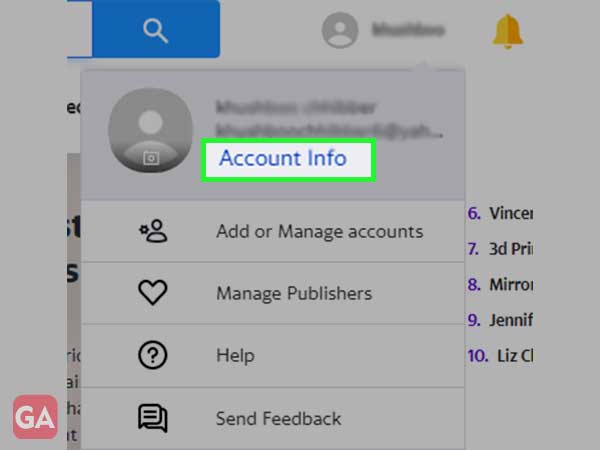 Click on the 'Account Security' option given in the left column.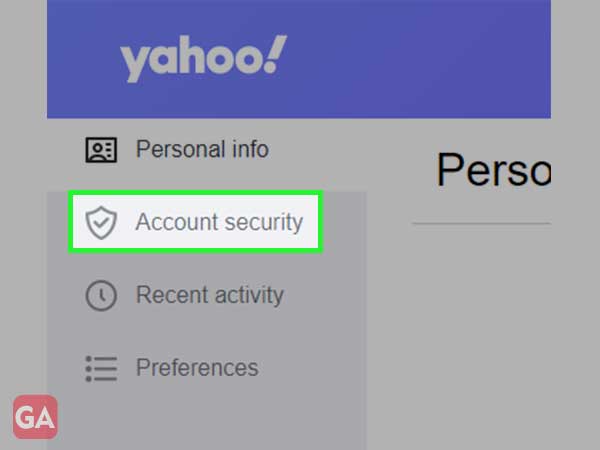 Scroll down to the bottom and you will see all the recovery information already added to your Yahoo account. Click on 'Edit' if you want to remove the already existing information, or click on 'Add email address' or 'Add phone number' to add a new one.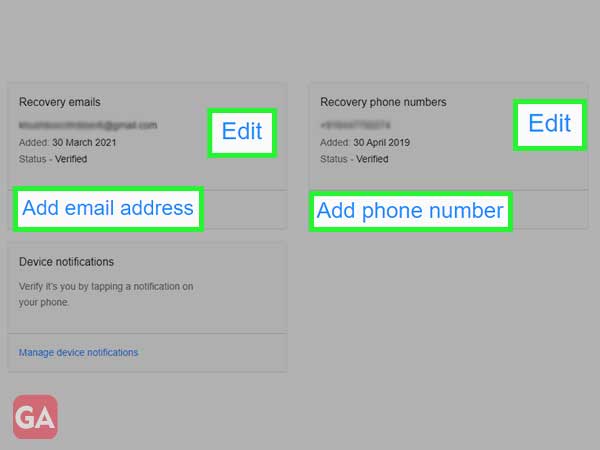 To edit your information you will need to know your Yahoo password and to add a new email address or phone number, you simply have to enter the new one, get it verified and you are good to go.
On Yahoo Mail App
Launch the Yahoo Mail app and make sure you are signed in.
Tap the profile icon in the top-left corner of the screen.
Then tap 'Manage accounts'
Next, tap 'Account info' placed under your Yahoo account.
Select the 'Security Settings' option
Scroll down to the bottom and there you will see all your recovery information; use the 'Edit' option to remove the existing information or simply tap 'Add email address' or 'Add phone number' to add a new one.