Nowadays, we don't see people ranting or crying around about their storage getting lesser! Now, there is a choice for internal and external storage in devices. While internal storage is set by default through the manufacturer, external storage can be extended by purchasing.
When it comes to memory cards, there are a lot of options to choose from in the market. Memory cards come in different sizes, varying on the needs of different devices like mobile phones.
Lately, there has been confusion going on about whether TF card and Micro SD card are the same or if they are related at all. Well, say less because we have got it covered for you!
If you are unfamiliar with the term TF or TransFlash card and heard it for the first time in your life, then we will be explaining it all to you. We will also talk about the difference between TF cards and Micro SD cards and how we can format the two.
I know that's a lot to take in at once but bear with us!
What is a TF Card?
TF Card, also known as T-Flash, stands for TransFlash card. In 2004, these micro-secure digital SD cards were produced by SanDisk, just like the SIM card, but only in appearance. TF card was said to be the smallest memory card that can store the data in digital format. It was the TF card that led to the Micro SD card that we use today. The major difference between the two is the improvement, which often occurs in technology.
TF Card and Micro SD Card: Similarities and Differences
Even though Micro SD and TF cards are both popular memory cards that are used in different devices to store data, you might get confused about which one you should go for.
And if you are here to clear the doubt, then keep reading. For that, you will first have to know what's the deal about these two?
Let's start with the TransFlash card which was considered a digital storage device but only as a part of the third category of digital storage devices. Mini SD and SD memory cards are the other two.
Then SanDisk changed its name to Micro SD card and started producing the products which are now used as standard memory storage chips in most mobile phones.
Now, moving ahead to Micro SD card, which refers to Secure Digital card. It is mainstream for mobile phones which was developed as TransFlash in the beginning by SanDisk. Since it was introduced as the smallest external storage worldwide, after its success, it was taken over by the current Digital Storage Organization SD Card Association.
Regardless of being designed on the basis of the original TransFlash card, there are some differences between the Micro SD card and the TransFlash card. However, they share some similarities as well.
| | |
| --- | --- |
| Similarities | Differences |
| Both are memory cards without a doubt. | Micro SD cards can perform several other functions that are not related to memory like Bluetooth. |
| No technical or physical differences in their specifications. | The SD card is designed with a switch built into the device itself to protect the device, unlike the TF card. |
| Both have the same storage capacity. | The maximum available capacity of TF is 128 GB, while it's 2 TB for an SD card. |
| Both cards are completely compatible. | The capacity of the SD card is larger than that of the TF card. The TF card has a volume of 15 mm x 11 mm x 1 mm and the standard SD card size is 24 mm x 32 mm x 2.1 mm. |
Now that you know what a TF and Micro card are, and what their differences are, we will move ahead by understanding how to format them.
Why You Might Want to Format Your TF card?
There can be a n-number of reasons for someone to format their TF card. We have listed some of them below:
To get rid of the data that you stored on your TF card for more space.
Your TF card is damaged or has a virus in it which needs to be fixed.
You may want to change the format of your TF card like exFAT or FAT.
Your TF card is corrupted.
Not only that, but you may want to use your TF card on another device and hence, need formatting for that.
How to Format TF Card/Micro SD Card?
If you want to learn techniques for how to format TF or Micro SD cards in Windows and Mac in a jiffy, then follow the given methods.
For Mac
It is pretty easy to format a TF card by following the steps we have provided using Disk Utility. 😉
Insert your TF card into the SD card jacket and wait for Mac to connect it after detection.
Launch Disk Utility by going to Finder > Applications > Utility and search for it in Spotlight search.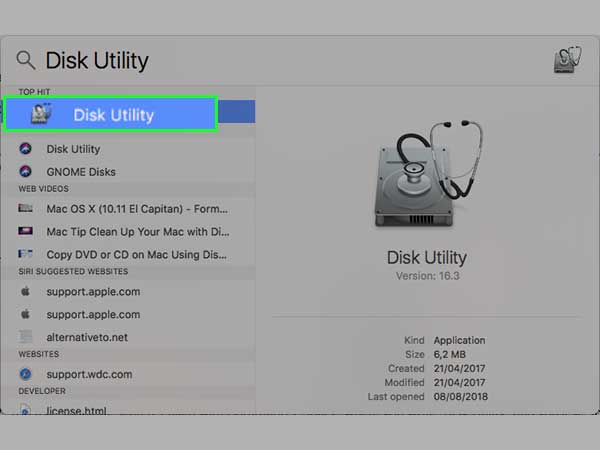 From the left menu, select your SD card and on top of the screen, press Erase.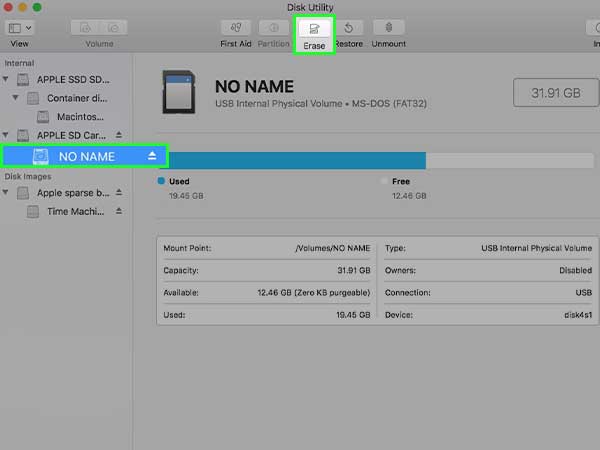 Now, a new dialog box will pop up to rename your card. After you are done, press Erase and your TF card will be formatted successfully.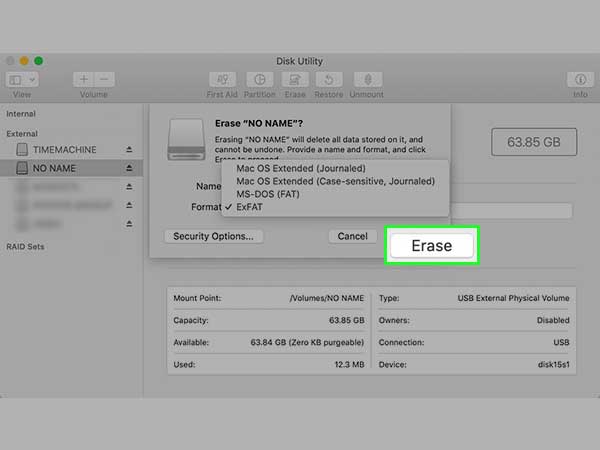 For Windows
Here are two methods to format your TF or Micro SD card on your Windows:
METHOD 1: Via Windows Explorer
Formatting through Windows Explorer is a common technique for formatting cards on Windows. To format the card in a preferred file system, here are some steps:
Insert your TF card into an SD card slot and connect it to your Windows computer.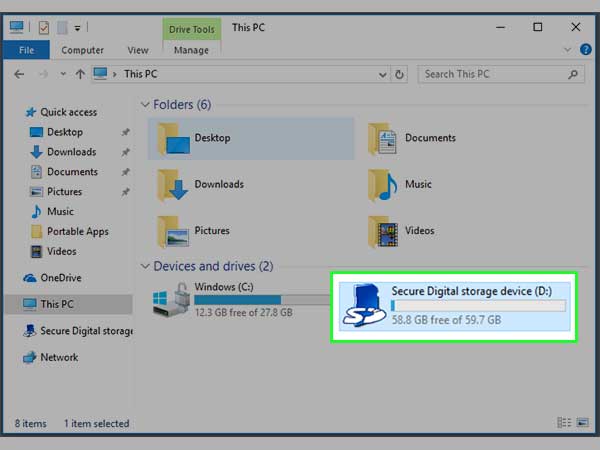 Then right-click the TF icon and choose to format the TF card.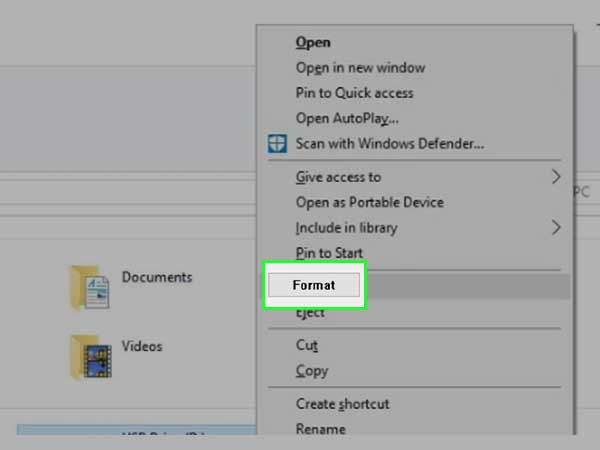 After the formatting window appears, select a preferred file system or partitioning style.
Click on the "Start" button and wait for a while as it will wipe your SD card.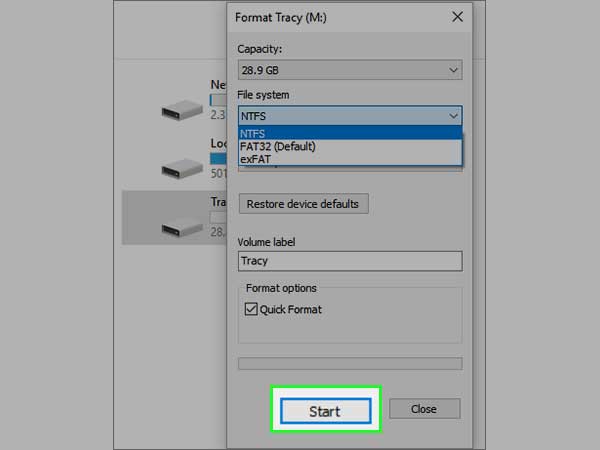 METHOD 2: Via Disk Management
If you were not able to understand the process of formatting your TF card via Windows Explorer, then worry not! We have got another way for it through Disk Management on Windows.
Insert your SD card and make sure that it is connected to your computer.
Then, go to the Start Menu and open the Run prompt. Then load 'diskmgmt.msc' and press OK.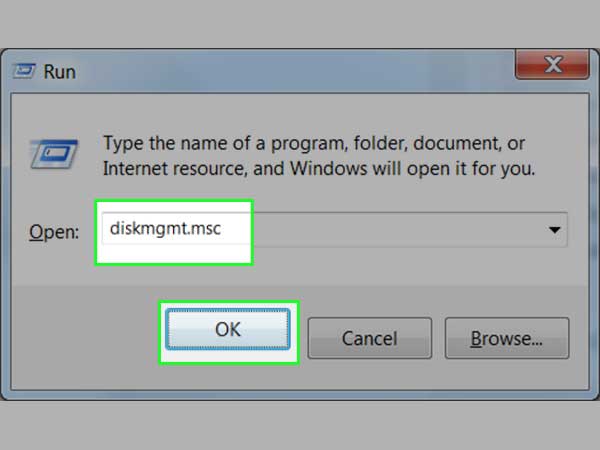 After it opens, your TF card's name will be visible under External Devices. Then right-click on it and tap on Format as shown in the picture below.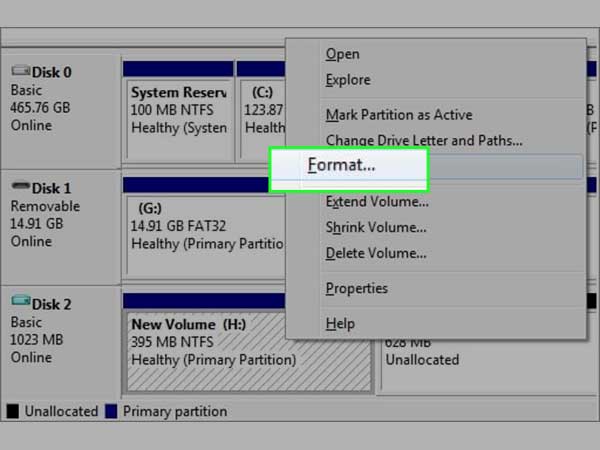 Now, you can rename your card and also choose the partitioning style for it. Then choose a quick format and press OK.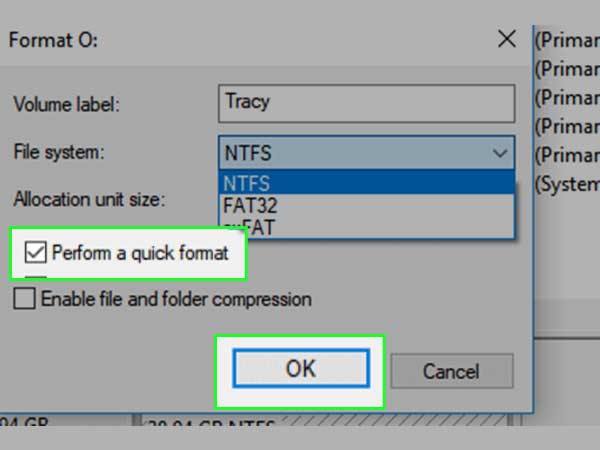 After that, a warning dialog box will appear. Press OK and wait as your card gets formatted.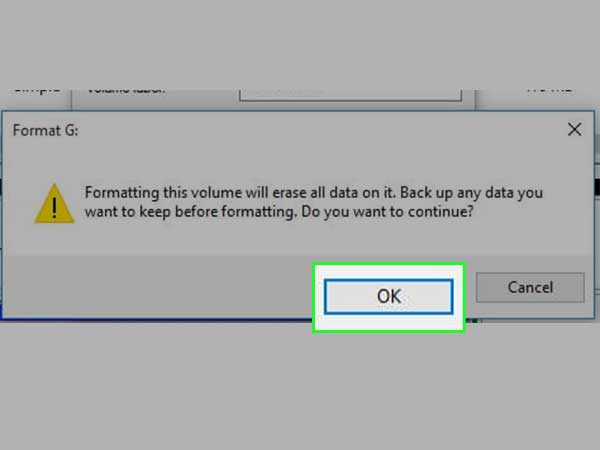 By following the above steps, your TF and SD card should get formatted securely and successfully.
Tips to Manage your TF Card
Check the health of your TF card
Format your TF card every 6 to 12 months
Insert and remove your TF cards safely
Keep enough free storage available
FAQ
Is a TF card the same as a SIM card?

No, a TF card is a memory card that provides additional storage for any device whereas a SIM card provides a network connection to phones with limited storage.
Can we put audio or music files in a TF card?

Yes, a TF card can store all types of data like photos, videos, documents, music, etc.