E-bikes are everywhere. They are popular and everybody wants them. Why is that? Why are they so popular? Well, they are an environmentally friendly, affordable, and efficient way to get around. The E-bikes are fun too. Different from the traditional bike, E-bikes are the modern and contemporary upgrade that modern people need today. No matter if the bike is your primary transportation choice or just a way to get some physical activity done, everything today is in the light of the e-bike.
When it comes to picking an electric bike, there are different designs that a persona can consider. With so many varied offers on the market, the choice can be quite challenging. Buying an E-bike is an investment that is certainly going to pay off. That is why it is important to select the e-bike that will best suit your needs, and your lifestyle too. For example, there is no point in getting an E-bike with sports properties if you are never going to use it for that purpose.
Himiway, as a leader in the market for the best E-bikes, offers a variety of options. Besides the different designs and properties, each bike is unique in what it offers. So, before we head to what type of e-bike to choose, here is some general information that you might find useful regarding e-bikes.
General Information About E-bikes
E-bikes, also known as electric bicycles, are bikes that have integrated electric motors and batteries that are used for propulsion. The majority of E-bikes can reach a top speed of 20 miles per hour (32 km/h). The general range they cover is 20-35 miles (35-56 km), which is how much the E-bike can cover with only one charge, on average.
These e-bikes are not new. They have been present for around 100 years, but their popularity instantly grew over the last 5 years, especially taking the pandemic into consideration. All the cyclists today, or the ones who are wanting to become ones, want to get an E-bike for themselves. The market offers a variety of options. There are folding bikes, mountain bikes, road bikes, fat bikes, commuters, and many more.
When it comes to choosing the right e-bike, there are several things that need to be taken into consideration. They are:
The type of E-bike and controls – this means whether the e-bike is pedal assist (pedelec) or throttle
Motor – the type of motor can vary from hub-drive to mid-drive; the size of the motor, placement, etc.
Battery – battery is important in terms of capacity, specifications, placement, covering range, and technology
Price – including the cost of maintenance too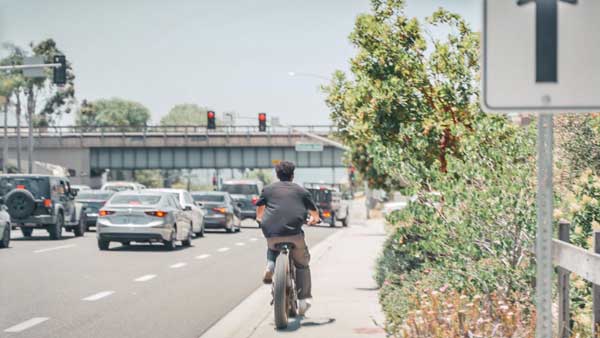 Also Read:- The Truth About Fat Tire E-Bikes: Are They Good for Seniors?
What Electric Bike Should I Choose?
Similar to traditional bikes, e-bikes also come in different designs. That is because they are meant for different uses and different needs. Depending on the lifestyle and the overall plan on how to use your E-bike, there are different options that one can decide from.
E-road Bike
An e-road bike is also known as an electric road bike. It is a combination of lightweight frame designs with a powerful motor. That combo delivers an efficient climbing performance, even on the most demanding uphill terrain. Similar to the conventional road bike, the e-road bike has similar geometry and can reach a great speed on flat and smooth terrain. This type of e-bike comes with little or no accessories, but it can be upgraded per personal preference. It is a great choice for the aging group of riders and those who are experiencing fitness issues.
E-MTB
E-MTB stands short of an electric mountain bike. It is the best choice for casual riders who want to enjoy and explore the unique experience of mountain biking. This is a type of bike that has a heavier frame. This means that the heavier design asks for a more powerful motor that can climb different terrain and keep the rider safe on the bike. The braking systems also tend to be stronger, with a reliable positioning when it comes to the wet and slippery ground.
E-commuter Bike
The commuter bike is the best option for urban commuters. With an upright and comfortable design, this bike is great for busy city streets. Whether the commute to the workplace takes longer, this is the type of bike that will make it comfortable even after a long day on the saddle. The commuter E-bike comes with a high-capacity battery. That maximizes the riding range.
E-fat Tire Bike
The fat tire e-bike is also very popular. They come with larger tires than the regular ones, which allows them to access any type of terrain. Even on snow and in the mud, this is the type of e-bike that will pull through. These properties make the fat-tire E-bike perfect for those looking for extra adventure.
All these E-bikes are available at Himiway. With the highest quality and properties that will offer an unforgettable ride, make your choice according to your needs.
---