It is no longer the case that filling up the gasoline tanks for everyday commutes places a strain not only on one's financial resources but also on their environmental footprint.
The introduction of the electric bike and e-trike has completely revolutionized the world of commuting by delivering a mode of transportation that is hassle-free, environmentally friendly, and cost-effective.
E-trikes have been a part of the automotive industry for quite some time now, but due to recent advancements in both their design and functionality, they have recently seen a surge in popularity.
There is a wide selection of e-trikes available on the market today to cater to the numerous requirements that riders may have.
One of the most widespread kinds of electric tricycles, folding electric trikes for seniors offers numerous advantages to their riders and has become more common in recent years.
Because of its small frame, the e-trike is much simpler to store or transport to any location of your choice.
The e-trikes for seniors are convenient for riders in many ways, including their small size and portability.
However, riders place equal value on its ability to perform its functions well.
Therefore, it is necessary that you look for folding trikes that are durable and long-lasting, in addition to having components and features that are innovative and cutting-edge.
DID YOU KNOW?
According to the Market Statsville Group (MSG), the global electric tricycle market size is expected to grow from USD 3,117.9 million in 2021 to USD 12,228.9 million by 2030 at a CAGR of 16.4% from 2022 to 2030.
Your hunt for the best folding electric trike may end here, as Addmotor has just introduced what it claims to be the greatest folding electric trike of 2023.
(Buy Citytri folding e-trike now and get $100 free gifts!)
This product has the potential to revolutionize your commute in a variety of ways, including ease of use, comfort, safety, and even style.
The freshly introduced Citytri E-310 has been packed with all the latest technologies and components that have the potential to completely transform your daily commute.
Therefore, let's take a look at how the Citytri E-310 trike can be a game-changer in your life and a game-changer for your commute.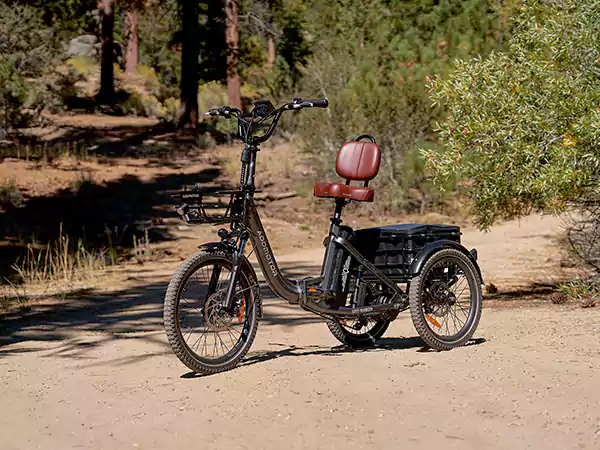 Conquer Every Imaginable Type of Terrain
Folding electric bikes for seniors has come a long way since the days when their heavier weight and lower motor power limited riders to only being able to ride on perfectly smooth roads.
You won't need to put in nearly as much work when riding the Addmotor Citytri E-310 folding tricycle, regardless of if you're going up hills, following sandy beaches along the coast, or traversing any other type of inclined surface.
The motor of the Addmotor e-trike generates 750 Watts of power.
This enables the rider to ride easily over a wide variety of terrains as it provides amazing performance and acceleration while needing less effort from the rider.
Travel Long Miles Without Stressing Over the Battery
Due to the fact that the battery would need to be recharged so frequently, riding an e-trike might only be practical for relatively short commuting distances.
However, because the trike is equipped with a high-capacity 48V*20 Ah Samsung lithium-ion battery.
You will be able to travel considerable distances on a single charge. You can expect to travel up to 90 miles on a single charge with the e-trike because it comes equipped with a high-capacity Samsung battery.
Aside from that, riding the Citytri E-310 provides you with the ability to do so in a risk-free and worry-free manner because its battery has been UL-certified in accordance with international safety requirements.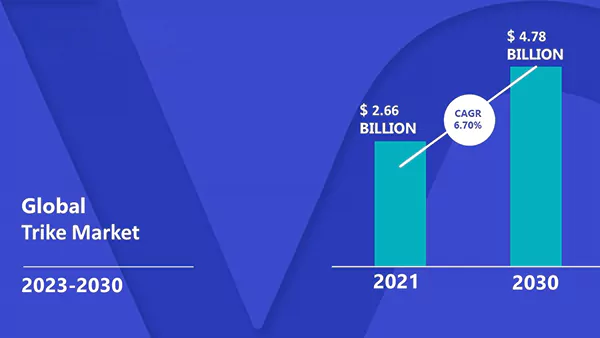 Subtitle: Global Trike Market Cap Forecast 2021-2030
Make Sharp Turns Like an Expert
Because of their low center of gravity, broader base, and two wheels at the rear, folding trikes for seniors are infamously difficult to maneuver in tight spaces.
Although an e-trike is steadier than a two-wheeled electric bike, many riders are anxious about turning it because of the single, solid axle.
The riders are concerned that they will lose control of the trike as they make turns or ride it up hills, slopes, or uneven terrain.
The latest version of the Citytri E-310 incorporates a differential to prevent this and provide a fearless and comfortable riding experience.
Turning is made easy and safe by the folding e-trike's differential, which allows each wheel to rotate at its speed.
The trike's differential improves its stability and makes it simpler to navigate in a variety of conditions, including hills, mountains, snow, and muddy highways.
Park Your E-trike Anywhere You Want
The parking brake feature of the Addmotor folding trike is another feature that may make your trip significantly more convenient.
In the past, the riders were unable to leave their trikes on inclined surfaces because the vehicles would roll away from where they were parked.
But thanks to the parking brake system, you can leave the e-trike parked wherever you like without having to worry about it moving from its position.
Using the parking brake feature will enable you to park it on slopes or other inclined surfaces, such as hills, and it will not roll away from where it is parked.
You won't need to keep an eye on the folding electric trike, so you can relax and spend time with your friends.
Ride the E-trike With Optimum Comfort
There aren't too many trikes for seniors that offer the highest level of comfort.
However, if you have this e-trike, you will be able to take pleasure in your journey without sacrificing your level of comfort.
It offers a lower seating position, which provides enhanced stability and control, as well as a comfortable saddle that has an adjustable backrest to provide full support for your back as you are riding.
A U-shaped handlebar that has an adjustable stem is included as well in the latest Addmotor e-trike, giving you the ability to put yourself in a comfortable riding posture.
Not to forget about the front suspension fork; it smooths out the ride by absorbing all the bumps and holes that you encounter along the way.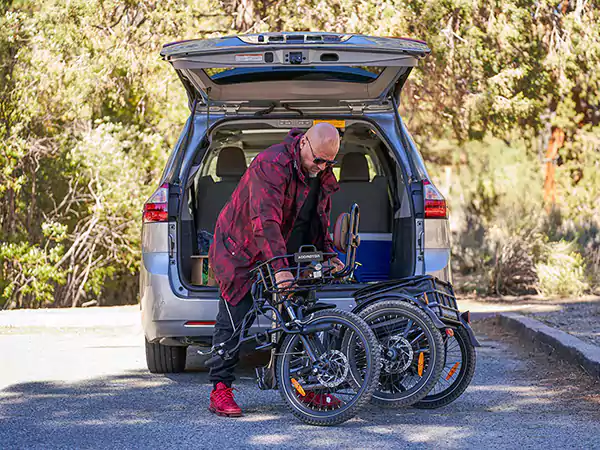 A Folding Electric Trike for All
The latest model of the e-trike is available in three distinct iterations: The Citytri E-310, the Citytri E-310 tiny, and the Citytri E-310 plus.
The three distinct versions of the electric trike have been introduced so that it can accommodate riders who fall within a certain height range.
The three versions also come with a variety of tire sizes, allowing riders to select the model that best suits their preferences.
Therefore, this Addmotor folding e-trike is suited for all riders, even though their heights and requirements may vary.
With the brand-new electrical trike, your daily commute will never again be the same as it was in the past.
It is outfitted with all the most innovative features and components that are required for a revolutionary mode of transportation.
Therefore, immediately visit our website to learn how our most recent folding electric trike can completely alter your way of life.
---