Imagine wanting to text your high school friend to reconnect with them only to find the "This Person is Unavailable on Messenger" error message on Facebook Messenger. Well, that must be saddening. As the excitement comes all the way flushing down.
In this article, we are going to discuss what the error "This Person is Not Available on Messenger" means and what the possible reasons could be causing it. We are also going to explain some easy fixes using which you will be hopefully able to get rid of this issue. Now let's dive right in without wasting another minute!
Read More: Easy and Quick Fixes for "Facebook Messenger Notification Won't Go Away" Issue
What Does "This Person is Unavailable on Messenger" Mean?
When you see the message "This person is unavailable on Messenger" on Facebook Messenger, it does not always mean that you are blocked by the other person. It can. But, it is not the only reason.

This message can have different reasons and meanings. The other person may have deactivated their account or there could be a fault from your end like not having enough internet to load the messages on the app.
Even though Facebook itself has a help center to guide its users to fix the most common problems, you may not always have solutions for everything there. So, let's discuss some reasons and how to get around those issues.
What Are the Causes for the "This Person is Unavailable on Messenger" Error Message?
The message "This Person Is Not Available on Messenger" may appear in your Messenger for a number of reasons. The following is a list of several causes for why a user might see this message and be unable to message:
The person has deactivated the account.
The user has blocked you.
Facebook suspended the account.
Messenger has crashed or stopped working.
The user deleted their Facebook or Messenger account.
The profile may be private.
You blocked them mistakenly.
The user does not have the Messenger app installed on their phone.
The Account is Temporarily Unavailable.
Read More: How to Remove Someone from Messenger?
Steps to Fix "This Person is Unavailable on Messenger" Issue
There are many possible fixes by which you can get rid of the error "This Person is Unavailable on Messenger". Now, we are going to share some easy methods and all you've to do is follow the given steps one by one. So without further ado, let's get started!
Check if You Are Blocked
As discussed earlier in one of our reasons why the message appears, the possibility of getting blocked can go the other way around as well. You must first determine whether the user has blocked you or not. You will receive an error message saying "This Person is Unavailable on Messenger" if the user has blocked you. To see if you've been blocked or not, take the following actions:
Open Facebook and use the search function to look up the profile of the person you are attempting to message.
Try searching the user's profile from a different Facebook account if you are having trouble finding the user's profile. Another option is to browse through a friend's account.
Now, if the account appears on a friend's account, it indicates that the user has blocked you on Facebook and Messenger.
Check your Facebook Memories
Facebook Memory can help with checking your account status on Facebook. You can find out previous likes or comments using it. If the username of the user is in blue color or can be clicked (which allows you to his/her profile), then it is an indication you are not blocked by the user. If you can't do the whole process, you are most likely blocked.
For phone:
Open the Facebook app on your phone.
Go to the search bar and search for "Memories" and click on it.
For PC:
Go to the official Facebook website.
Under the "Explore" option, on the main page sidebar, tap on "See More".
Scroll down and click on "Memories".
Make Sure You Haven't Blocked the User
Hey, it can happen. It might be that you accidentally blocked the friend you're trying to contact. Or it could be that you did it a long time ago and don't remember. Don't worry, you can check if this is the case, and simply unblock your friend so you can send them a message.
By following the steps below, you can quickly determine if you've blocked someone:
Open Facebook and select the downward-pointing arrow in the upper-right corner of the display.
Click on Settings & Privacy and then select Settings.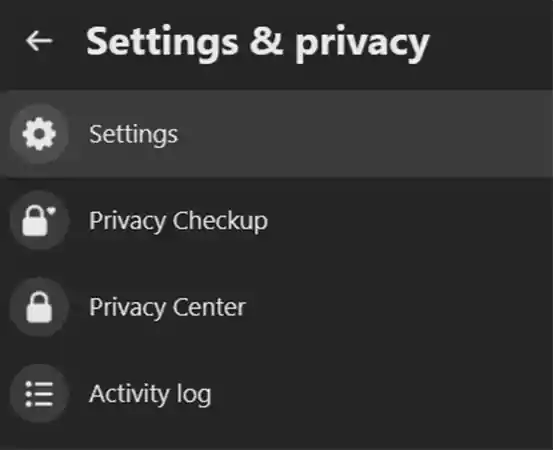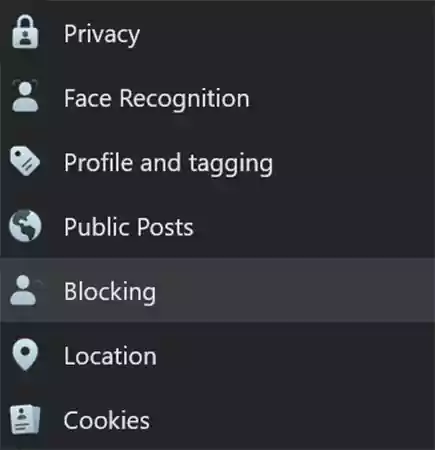 Locate the Block Users and choose Edit.

If your friend is on this list of blocked users, just click the Unblock button to make them visible again.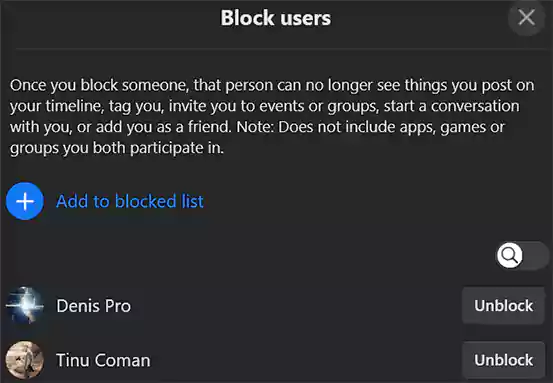 Check Your Internet Connection
One of the best ways is to check your internet status. Sometimes having a weak connection makes the app act a bit out of place and stops the smooth functioning of services. You can open a chat with a different person or send a message to see the same happen to that chat. If you can send a message, then your internet connectivity is stable.
Try Facebook Lite
If you are doubtful that there might be some glitch or bug within the application itself, then using Facebook Lite might do the trick. All you have to do is follow the steps given below:
Go to the Play Store and search Facebook Lite.
Then tap on the Install icon.
After that, log in using the credentials of your Facebook account and see if you are able to contact the person now.
Check if the User Has Deactivated their Facebook Account
Another important factor that you should do is check if the account of the person whom you are trying to chat with is active or not. The person may have deactivated their account or have permanently deleted it. To find this out, you can search the user by name or email address and if their account appears, this means their account is not deactivated or deleted.
Similarly, you can check their account status via a mutual friend as well. All you have to do is simply send them a message from a different account and see if you get the same message. If you get the same message, then their account is most likely inactive.
Update the Application
First, check if there is a new update for the app on Google Play or App Store. In some cases, installing the latest version can resolve the problem easily.
Use the Web Version
Even when the Messenger App is up to date, things can still occasionally go wrong. Instead, try launching Facebook in a web browser and getting in touch with your friend there.
Simply uninstall and reinstall the messenger from the app store if you are able to communicate with your friend without any issues via Facebook's website but are still receiving error notifications when using the app.
Contact Facebook Team
Even though it might not be the case, if none of the above-mentioned steps worked for you, we have got one last final resort left for you. If you are thinking that there is no issue from your end, and now you want Facebook to look in that direction, you always have the option to contact Facebook. If you want to know more about your problem, you can simply email them at [email protected].
Note: In case you lost access to your account and need to recover it, you can contact them at [email protected].
Now that you know why this annoying message keeps popping up in your inbox and preventing you from chatting with your friends, hopefully, it makes sense to you. Additionally, our advice will assist you in locating the problem's main cause and resolving it.
Read More: How to See Unsent Messages on Messenger?
FAQs
Ans: You can understand if someone blocked your Facebook account on the Facebook Messenger app by checking your Facebook Memories.
Ans: Blocking on Facebook removes the person as your friend and also blocks them on Messenger. However, blocking Messenger only blocks the person's calls and messages.